It's hard to deny, we live in a digital world. Everything is digital now, you don't need to remember your friends' phone numbers because your digital smart phone already has them stored, you don't need a watch because your phone already has one, you don't need a calculator because your phone can do that, heck, you don't even need a computer, your phone can handle most of your "surfing" needs. We now have digital currencies, digital art, and even digital land (in the form of NFTs). We're losing manual gearboxes, being replaced by automatics and CVTs, and we're even losing those, which are being replaced by digital car i.e., electric cars.
But there's one brave little soul that is going against the grain and staying relevant against all odds. We're talking about our perennial favorite, the Mazda MX-5 Roadster. Which as mechanical as you can get, and it feels so good!
The Mazda MX-5 Miata has been around since 1989 and has sold over 1 million units, making it the world's best-selling roadster. The current generation MX-5 is the fourth redesign of this popular little roadster, first introduced in 2015. The 2019 model year saw an increase in power from 155 to 181 HP and increase of torque from 148 to 151 pound-feet, which was a welcome surprise.
The Mazda MX-5 is offered as a soft-top roadster and a hardtop RF model. The soft-top is offered in three trims; the base MX-5 GS trim has a starting price of $33,300, the GS-P starts at $37,300, and the top-of-the-line GT has a starting price of $40,400. The mid-trim GS-P can be equipped with the Sport Package ($4,400), which adds Brembo front brakes with red calipers, 17" BBS forged alloy wheels, and Recaro seats with Nappa leather and Alcantara trim upholstery. The above prices do not include Freight & PDI, which adds $1,850 to the price.
The as tested price for our review 2022 Mazda MX-5 GS-P came to $39,600 with freight & PDI and the optional Soul Red Crystal Metallic ($450), which is an amazingly beautiful color and highly recommended.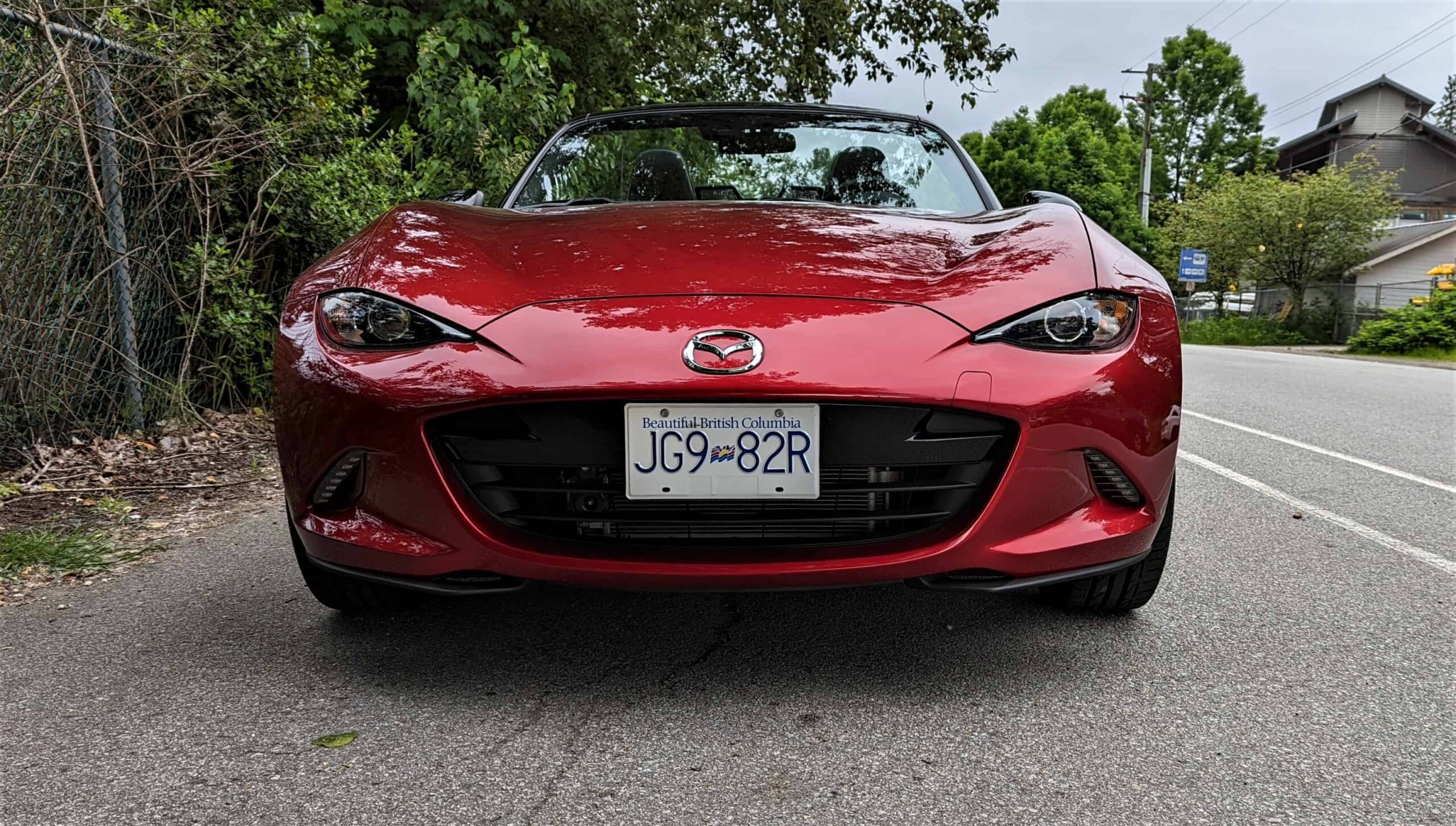 The 2022 model year sees the addition of Kinematic Posture Control (KPC) system, platinum quartz paint, terracotta Nappa leather seats, and dark blue convertible roof for the soft-top convertible.
All trims of the 2022 Mazda MX-5 are powered by a 2.0-liter Skyactiv-G naturally aspirated 4-cylinder engines, producing 181 horsepower at 7,000 rpm and 151 pound-feet of torque at 4,000 rpm. Power is sent to the rear wheels via a 6-speed manual or automatic transmission. Mazda doesn't discriminate based on the transmission; both are priced the same.
The addition of KPC is something new to the MX-5, which Mazda describes as:
For ride comfort and stability during everyday or spirited driving, the MX-5's rear suspension is already designed to help keep the vehicle planted to the ground when the brakes are applied. UPC takes advantage of this and applies a very slight brake to the inner rear wheel during high-g cornering. This pulls down on that corner, suppressing body roll, and making steering response feel more linear through tight or rough corners. Slightly stronger braking is used when accelerating through a corner, enhancing the limited slip effect.
In simple terms, it's torque vectoring by braking.
I personally didn't really feel any difference but I can't really compare the feeling of the 2022 MX-5 with KPC to last MX-5 I reviewed about year ago, my memory is not that good. Maybe an extensive back-to-back test of an MX-5 with and without KPC might make the difference more apparent.
But one thing I do know is, driving the Mazda MX-5 for a week was a hell of fun experience. I know I've reviewed this car many times, I usually review it at least once a year and I still can't get over how much fun I have with it. In a world filled with crazy high powered electric family CUVs with hundreds of horsepower and torque figures, the MX-5's output numbers may not seem like much, but the MX-5 is not about all-out power. The feeling you get behind the wheel is something so pure, only true car lovers would understand it. There is so much connection between the driver, the car, and the road, which is the basic philosophy of "Jinba-Ittai". What is Jinba Ittai, it's a Japanese term meaning "oneness of horse and rider", which is exactly what driving the MX-5 feels.
The increase in horsepower staring in 2019 made me love the MX-5 even more. Driving the MX-5, even at low speeds, makes you feel like you're going much faster than you are and you have just as much fun as you would in a high-performance sports car. Only in this case, you don't need to worry about getting speeding tickets. Finding twisty roads on a nice summer day is what the MX-5 is meant for, manually shifting gears on the short-throw gear stick sent me back to my young days. I don't mean to sound cliché, but driving the MX-5 makes you forget about all the problems currently surrounding us as a society, it's a form of therapy. We could go with a sensationalist headline like "The Mazda MX-5, hated by therapists" or something like that, but maybe not.
Styling wise, nothing has changed over the 2021 model year, at least I couldn't tell. I think the MX-5 is a cute design and it still turned a lot of heads during the week I had the car. The Soul Red Crystal Metallic paint really pops, especially when it's clean, and is priced fairly; this is the paint scheme I'd personally go with.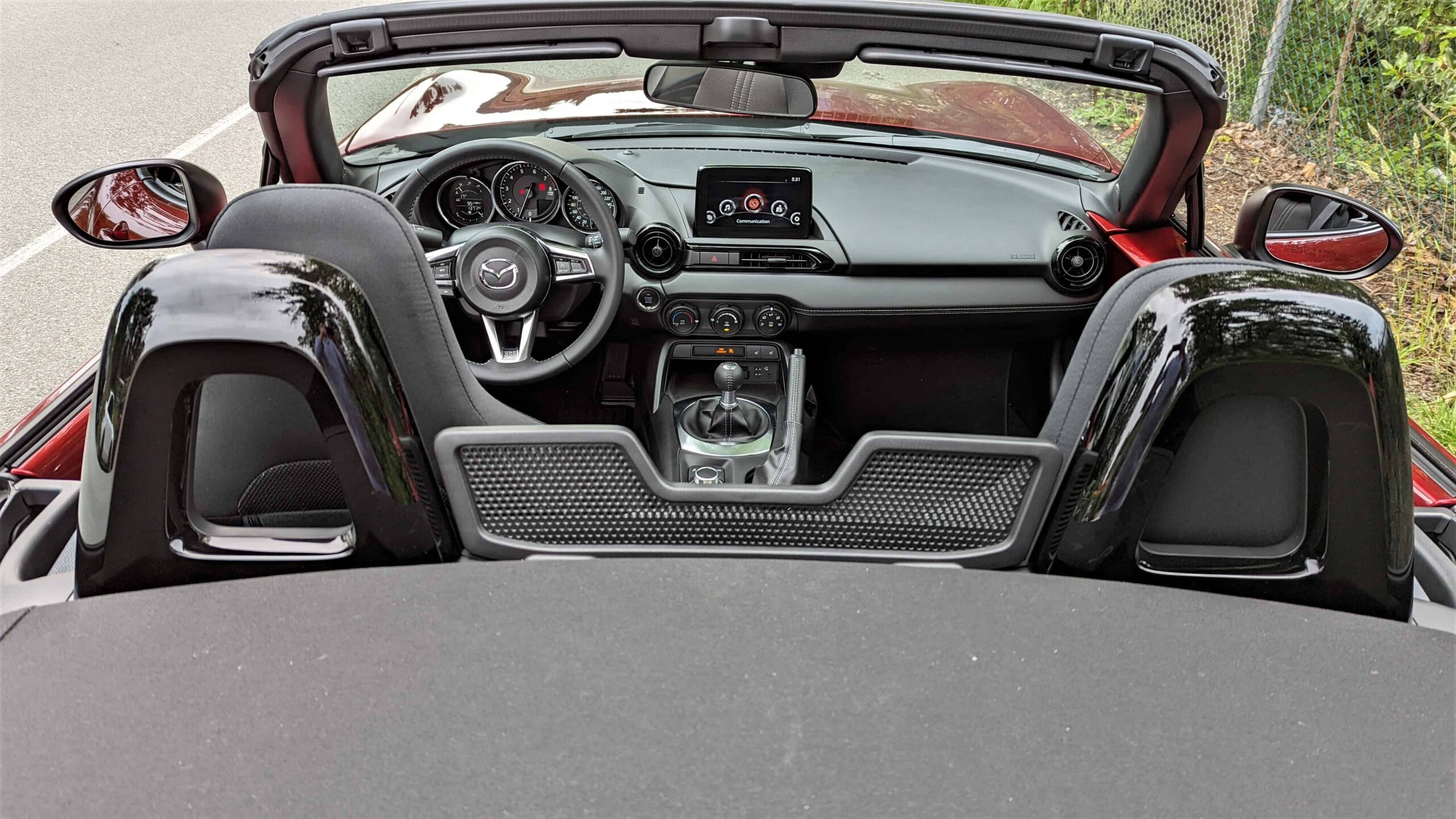 The interior has a clean and simple layout, reminding us of the sports cars from back in the day when you had buttons and knobs to control the various features, instead of massive touchscreens that you have to go through multiple menus just to perform the most basic of functions. The interior still features some modern tech like an infotainment screen with back up camera, navigation (if equipped), Android Auto and Apple CarPlay. The center stack houses three knobs for the climate system; the left one changes the temperature, the middle one controls the fan speed, and the right one controls the air direction. Below it is a small storage space for a phone, heated seats buttons, and a couple of USB ports.
Overall, I really enjoyed my time with the 2022 Mazda MX-5 GS-P. It's always a pleasure to drive such a fun little car; a car that reminds us of the simple joys of life and motoring. I had a smile on my face every time I went for a drive. No matter how many times I review the MX-5, I still get impressed with it and I seem to like it even more than the previous time I reviewed it.
If you're looking for a relatively affordable sporty roadster, well, you don't really have any options other than the MX-5; there's the BMW Z4 roadster, but that has a much higher starting price and it doesn't offer a manual transmission. But even if there were more affordable roadsters currently for sale in North America, the MX-5 would still come out at the top. It has been around for decades and is the best selling roadster in the world for a reason. Mazda has worked out the formula perfectly and we hope to see the Mazda MX-5 continue its success in the decades to come.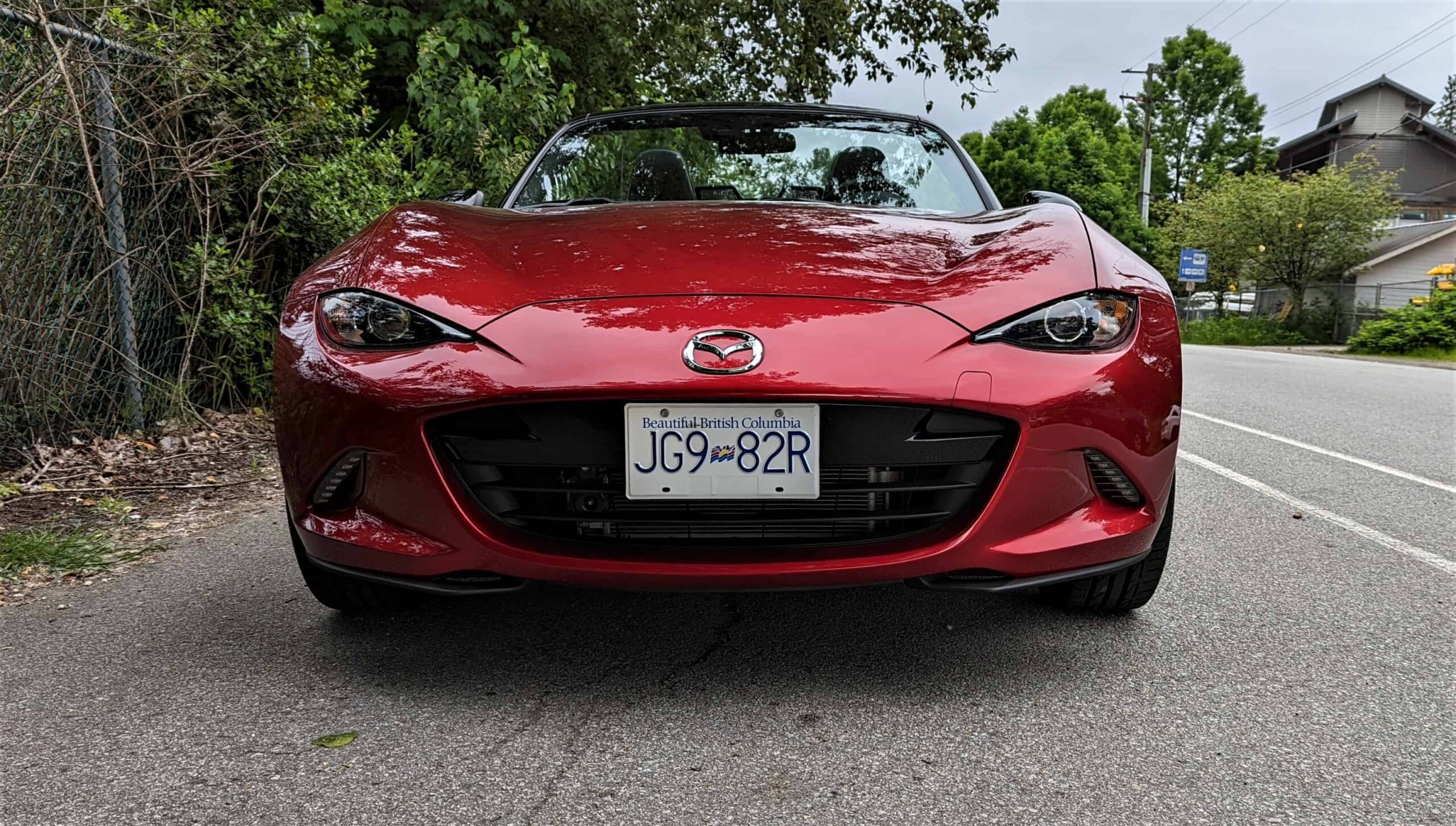 For more information, please visit Mazda Canada's website.