It's hard to believe, the Ford Escape has been on sale for over two decades. The Escape is quite a popular CUV, but there is a lot of competition in this segment. Ford introduced the fourth generation in 2019, as a 2020 model year, so it's still a fairly new vehicle.
Unlike the original Escape from back in the year 2000, you can now buy an Escape Hybrid and even a plug-in hybrid. We reviewed a 2020 Ford Escape Hybrid about two years ago; last week I finally got the opportunity to review the 2022 Ford Escape Plug-In Hybrid. Below are some of the questions our followers asked us to answer in this review.
What is the Ford Escape PHEV Range?
How much is the Escape PHEV tax credit?
Comparison of Ford Escape PHEV vs Rav4 Prime
Ford Escape Canadian Prices
Like many Ford vehicles, the Escape can be had in a lot of different configurations and trims, in a big range of prices. The base Escape S has a starting price of $29,099 and the most expensive Escape Titanium Plug-In Hybrid starts at $43,549. Below is a list of all the trims and their prices.
| | |
| --- | --- |
| Trim | Price |
| Escape S | $29,099 |
| Escape SE | $31,099 |
| Escape SE Hybrid | $33,699 |
| Escape SEL | $33,849 |
| Escape SEL Hybrid | $35,949 |
| Escape Titanium Hybrid | $37,649 |
| Escape Titanium | $40,149 |
| Escape SE Plug-In Hybrid | $38,449 |
| Escape SEL Plug-In Hybrid | $41,249 |
| Escape Titanium Plug-In Hybrid | $43,549 |
Our review car was the 2022 Ford Escape Titanium Plug-In Hybrid, with a sticker price of $48,744. Our review car came with the Titanium Premium Package ($2,300) and Class II Trailer Tow Package ($600). The price also included $1,995 for Destination & Delivery.
Answering one of the questions from above, how much is the Escape PHEV tax credit? In Canada, you do get money back from the government, depending on the size of the battery, and some provinces even throw in extra incentives. It's not a tax credit, like in the USA. The "credit" or incentive is applied at the point of sale, which is a better way to do things in my opinion. The Ford Escape PHEV only gets a federal incentive of $2,500 because it doesn't require the minimum battery size of 15 kWh, the Escape is equipped with a 14.4 kWh battery pack. I think Ford could've done a better job at getting the maximum rebate for buyers by increasing the battery size to 15 kWh, other manufacturers have done "creative accounting" type of stuff to get their buyers the maximum rebate.
Ford Escape PHEV Engine/Motor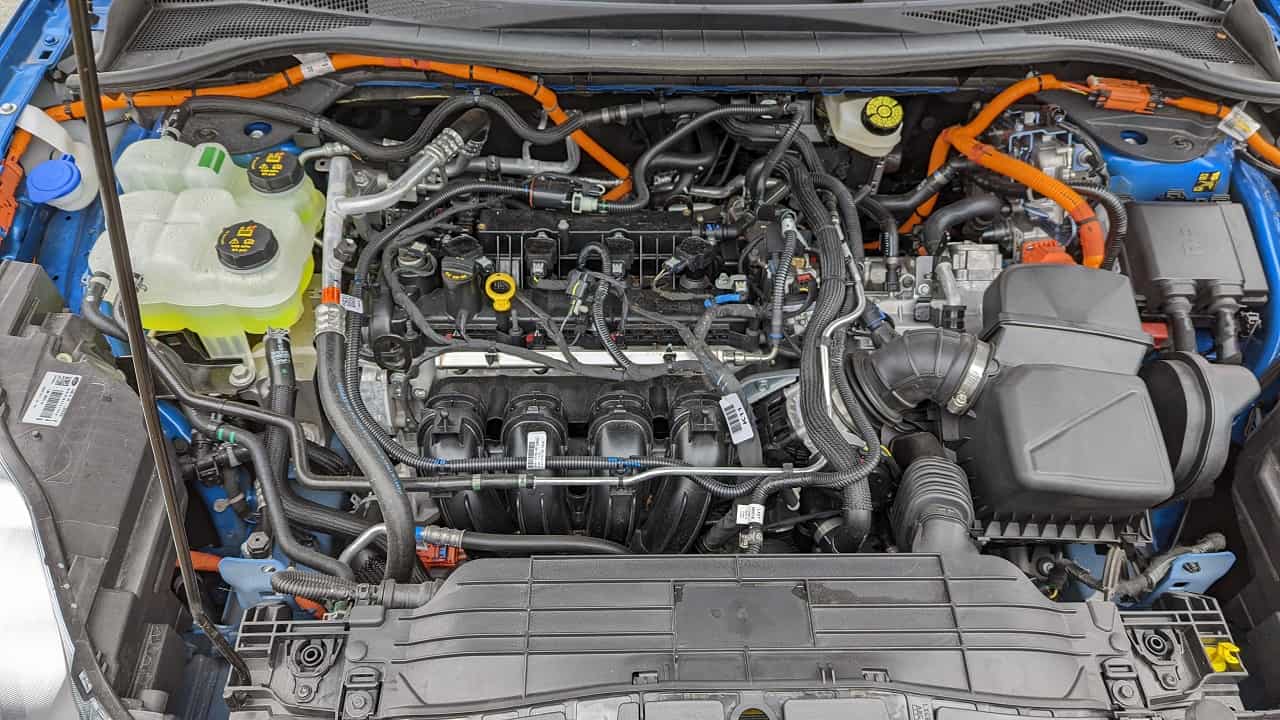 Depending on the trim, there are a variety of powertrain options on the 2022 Ford Escape. Ours was the Plug-In Hybrid, so we'll just focus on that. The 2022 Escape PHEV is equipped with a 2.5-liter 4-cylinder engine and a 96-kW electric motor. The electric motor is powered by a 14.4-kWh lithium-ion battery pack. The combined output from both is 221 horsepower at 6,250 rpm and 155 pound-feet of torque at 4,500 rpm. Power is sent to the front wheels via an Electronic Continuous Variable Transmission. Unfortunately, there is now AWD option available on the Escape PHEV.
What is the Ford Escape PHEV Range?
The Ford Escape PHEV's claimed all-electric range is 60 kilometers (which I couldn't find on Ford's website, I had to spend a lot of time trying to figure out the battery size, electric motor power, and theoretical range. It would've been nice of Ford to just list that on their website). When fully charged, the trip computer showed between 51 and 61 kilometers, which depended on how cold it was and how I had driven prior to charging the batteries. To charge the batteries, it takes about 10 hours on a regular 120-volt regular household outlet and it takes 3.5 hours on a 240-volt level 2 charger.
Unlike a fully electric vehicle, you don't necessarily need to install a 240-volt level 2 charger. There's enough time in the day to fully charge the batteries, for example you have a 2-hour commute and 8-hour work. You still have 14 hours to charge it on a 120-volt outlet, which is more than enough time to fully charge the batteries.
The 60-kilometer range might not seem like much, especially when compared to modern EV's that are getting close to 500 kilometers of range. But that's not the point of the Escape PHEV, it provides you more range than the average Canadian commute, so in theory you never have to use gasoline for your daily commutes. And when you do need more than 60 kilometers of range, there is no range anxiety because you have a gasoline engine. Once the electric range is fully depleted, the Escape PHEV acts like a traditional hybrid Escape.
Driving the Escape PHEV is exactly what you'd expect a hybrid/plug-in hybrid to drive like. It's tuned to be as efficient as possible, you want to have fun, buy an all-electric or a good old fashioned gasoline vehicle. The Escape PHEV isn't a bad car at all, as long as you keep your expectations in line with this vehicle is all about. I found it quite relaxing to drive the Escape PHEV; it's based on the Ford Focus, so it drives more like a car than an actual SUV, which is a good thing. The Escape PHEV glides over bumpy roads and is, as expected, quiet in the electric mode but even when the engine comes to life, it's not too loud.
With the batteries fully charged, most of the times the Escape PHEV will start you off in all electric mode and continue that way until the batteries are depleted. But if you need more power, when passing or going up steep hills, the gasoline engine comes to life to give you the extra power needed. Also, in cold conditions, the engine occasionally turns on to help with heating the cabin and to get the oils and fluids circulating.
The Escape PHEV comes with the standard driving modes like Eco, Normal, Sport, Wet/Snow etc. And with in the EV mode, there are four separate modes: Auto EV (which lets the computer decide what to do), EV Now, EV Later (which saves the battery power for later usage), and EV Charge (which uses the engine to charge the battery). I left it in the Auto EV and let the computer decide what was the most appropriate mode of powering the Escape PHEV.
According to Ford, the Escape PHEV should consume 2.2 Le/100 km in city and highway driving. Once the battery is fully depleted, the Escape PHEV should consume 5.8 L/100 km combined. For our weeklong review, the computer showed 1.4 L/100 km. This number will be a lot different for others based on their driving styles. I would say most of my driving was in the city and I drove it to maximize fuel efficiency.
Comparison of Ford Escape PHEV vs Rav4 Prime
I haven't driven the Toyota Rav4 Prime, so I can't really give a good comparison of the Escape PHEV vs Rav4 Prime. But I can compare the battery size, range, and incentives of the two vehicles.
| | | |
| --- | --- | --- |
| | Toyota RAV4 Prime | Ford Escape PHEV |
| Battery Size | 18.1 kWh | 14.4 kWh |
| Range | 68 kilometers | 60 kilometers |
| Horsepower | 302 | 221 |
| AWD | Yes | No |
| Fuel Consumption | 2.5 Le/100 km | 2.2 Le/100 km |
| Federal Incentive | $5,000 | $2,500 |
| Starting Price | $44,900 | $38,449 |
Comparison of Ford Escape PHEV vs Toyota Rav4 Prime
2022 Ford Escape Styling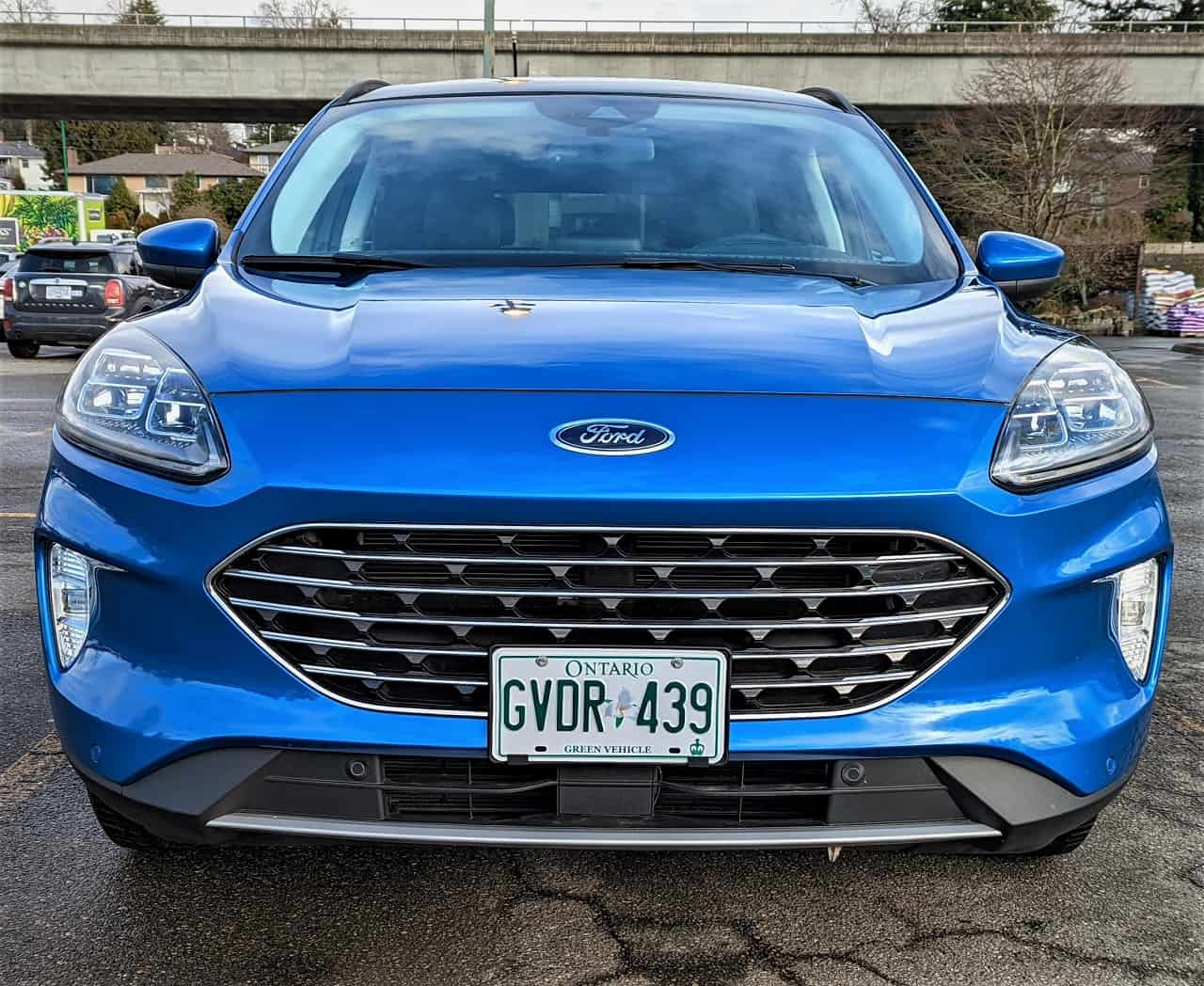 The Ford Escape is a decent looking CUV, in my opinion. It does seem to borrow some of its styling cues from the Porsche Macan, but looks like a more generic version of that vehicle. The design is inoffensive and it just blends into the crowd. If you're looking to make a styling statement, then you're better off with the more off-road looking Ford Bronco Sport, which is also based on the same platform.
Ford Escape Interior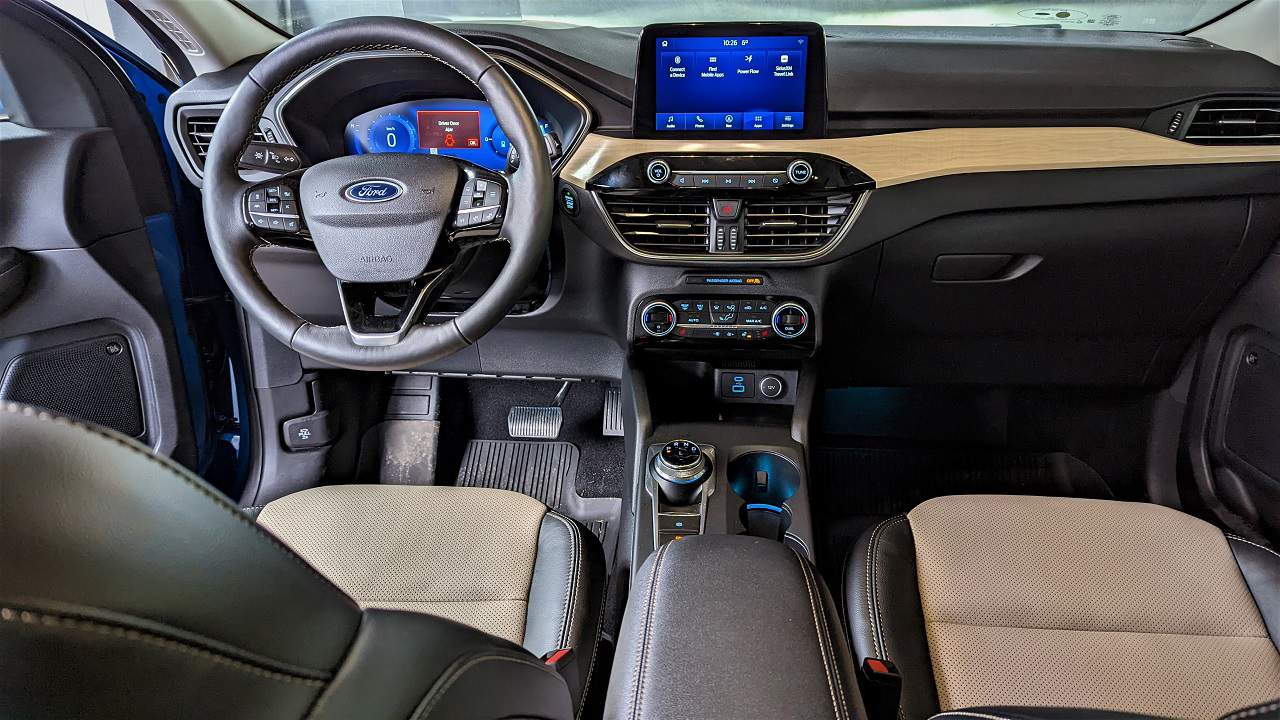 The interior on the Escape is quite "traditional" looking, which is what people want in this segment and the target audience will not be too happy with a massive touchscreen that controls every aspect of the car. One of the first things I noticed about the Escape PHEV's interior was the fake wood trim on the dashboard. It has to be the fakest fake wood I've ever seen on a vehicle. I'm not sure if there are options to change to a different color or materials, our Escape Hybrid review car also came with fake wood trim but it wasn't as bad looking as this one.
Our 2022 Ford Escape Titanium Plug-In Hybrid came with an 8" infotainment system that's responsive enough and has good looking graphics. Below it is a pair of knobs for volume and tuning and a few buttons between them for the radio and screen on/off. Lower on the center stack is a separate section for the climate control, which is simple and easy to use. Below this section is the gear selector, which is now a rotary gear shift dial. Behind the steering wheel you'll find a 12.3" digital instrument cluster that changes its graphics depending on the driving mode and can display different information depending on driver preference.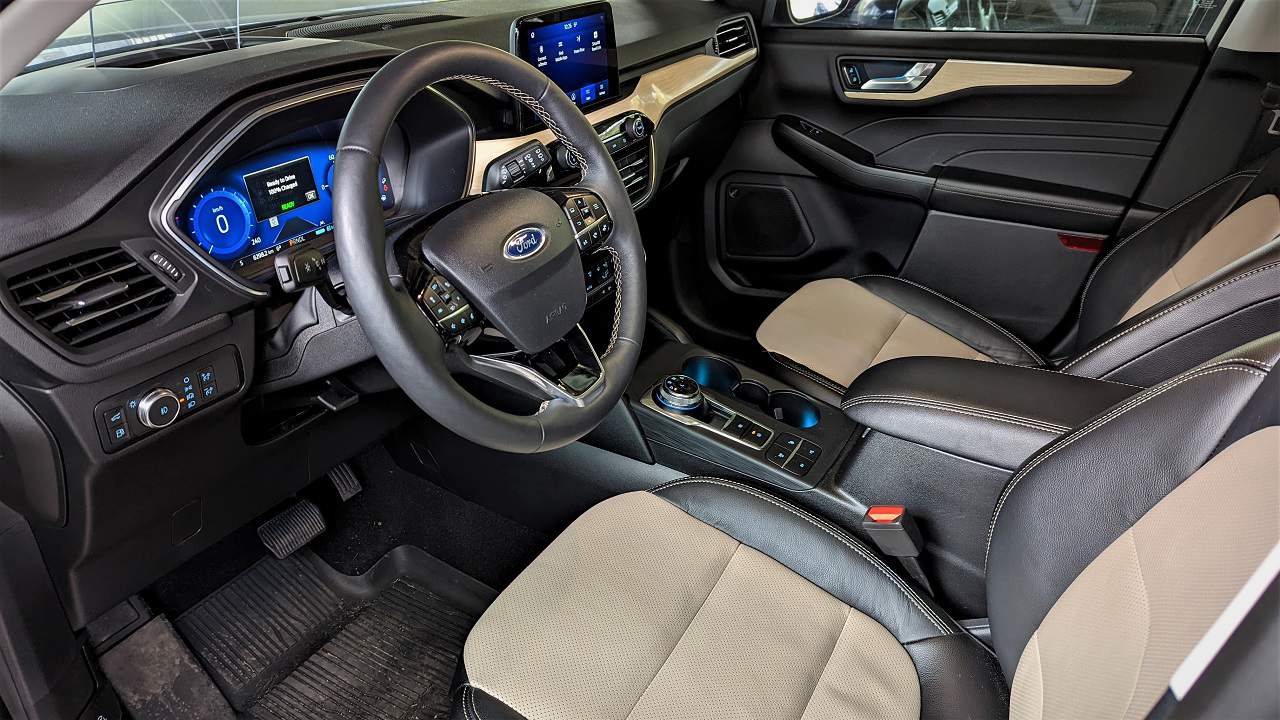 The interior is quiet and a comfortable place to be in. Thanks to the electric motor, you don't have to listen to the gasoline engine much, but even when the gas engine is on, the noise inside isn't too bad. The interior is also quite roomy, the Escape looks small from the outside but I found it to be comfortable in the front and rear seats, the rear seats can be adjusted forward and backwards and can also be reclined. I found there to be plenty of head room, even taller passengers in the rear seat should find plenty of leg and head room.
You do lose some trunk space to the batteries, but there's still more than enough room for large items and if you need more room, you can always fold down the second-row seats.
Tech/Safety/Convenience Features
The 2022 Ford Escape Titanium PHEV comes with most of the tech features we've come to expect from modern cars, not all features are available on the lower trims. Below is a list of some of the features available on the 2020 Ford Escape:
Intelligent Access with Push-Button Start
Remote Start System
Dual-Zone Electronic Automatic Temperature Control
Power Driver Seat – 10-Way
Power Passenger Seat – 6-way
Heated Steering Wheel
Wireless Charging Pad
Auto-dimming rear view mirror
Power Windows with One-Touch-Up/Down Front and Rear
Head-Up Display
SYNC 3
Active Park Assist 2.0 with Reverse Parking Aid and Front Parking Aid
Pre-Collision Assist with Automatic Emergency Braking (AEB)
Lane-Keeping System
BLIS (Blind Spot Information System) with Cross-Traffic Alert
Final Thoughts
Fully electric and plug-in hybrid segments of vehicles is expanding quite rapidly, every year there are more and more fully electric cars and a majority of car manufacturers are offering either hybrid or plug-in hybrid versions of their most popular vehicles. The Ford Escape PHEV is in good company, some of its competitors include the Toyota Rav4 Prime, Tucson Plug-in Hybrid, and the Santa Fe PHEV. All of the competitors are offered with AWD, while the Escape PHEV is only offered with FWD.
The Escape PHEV is quite a competent vehicle and you should definitely take one for a test drive, if you're in the market for a plug-in hybrid crossover.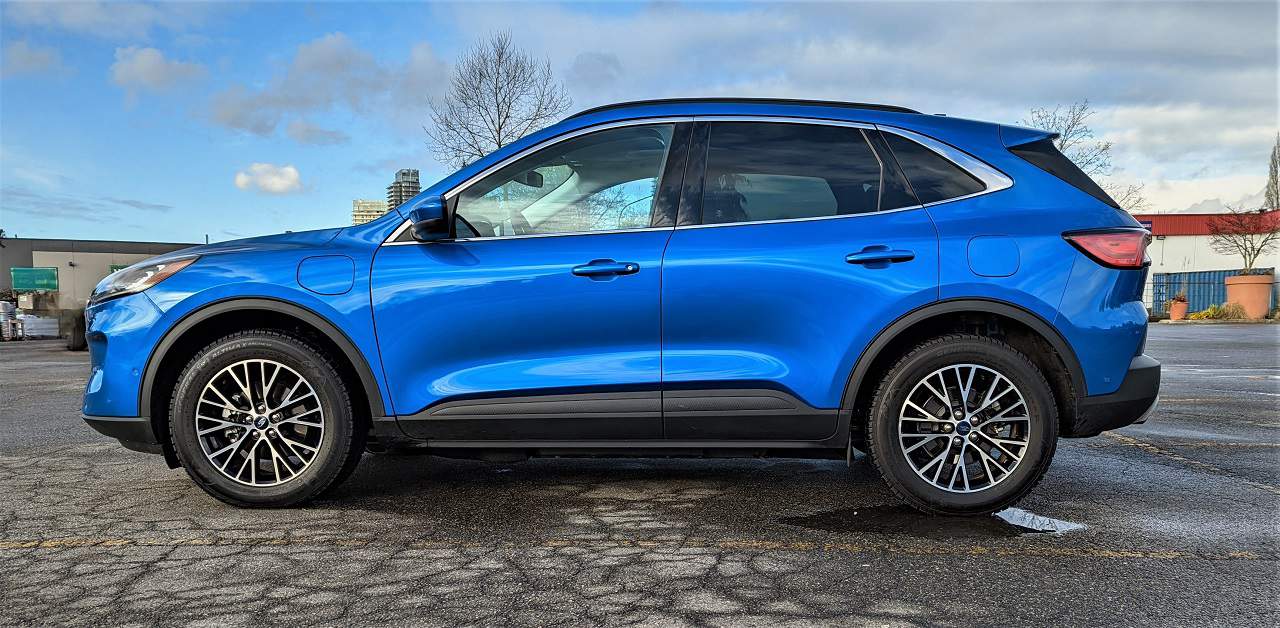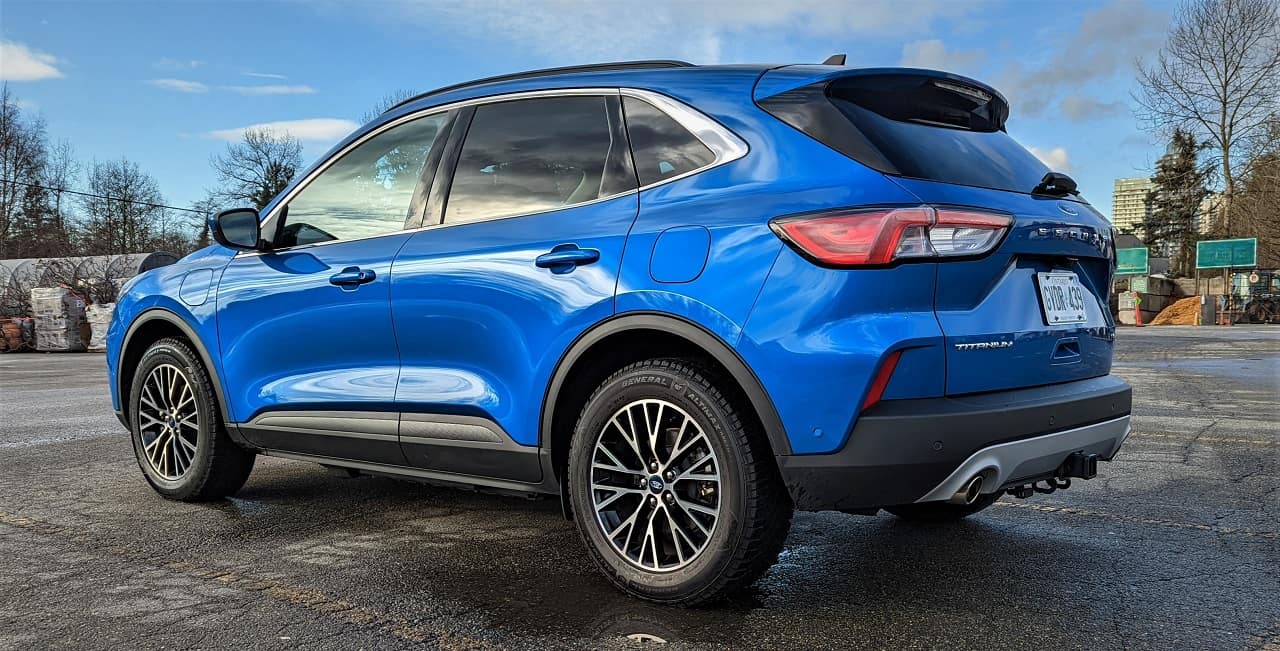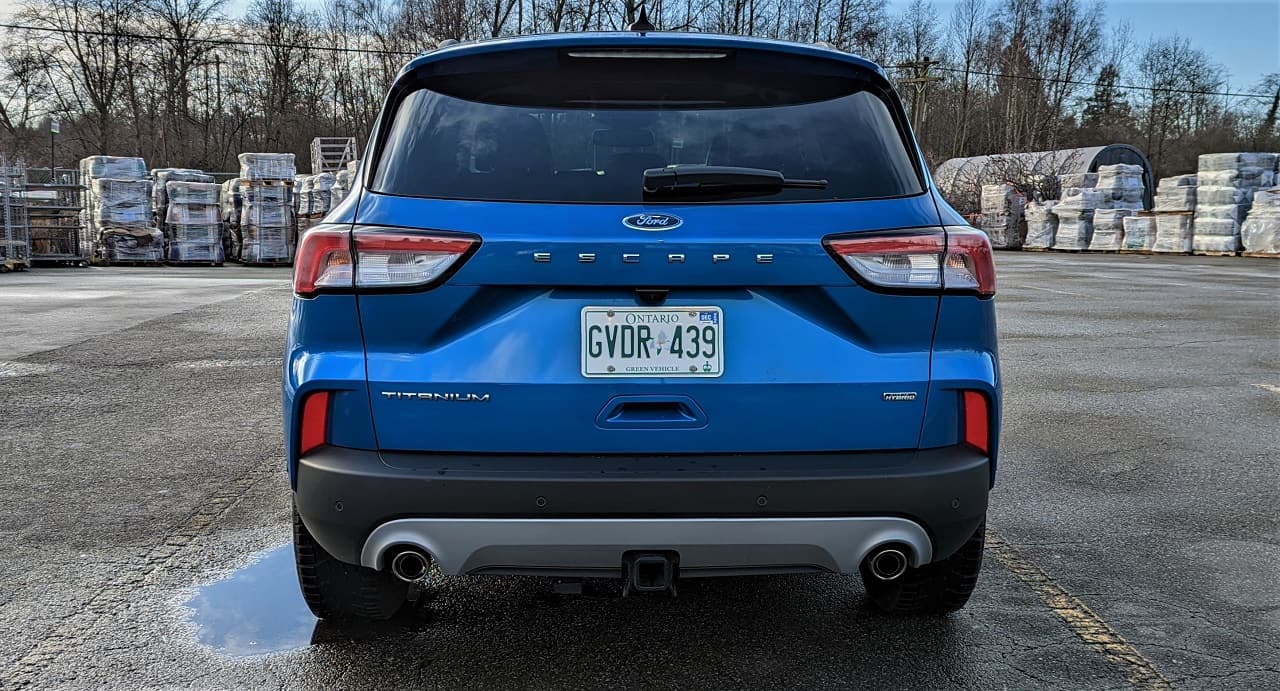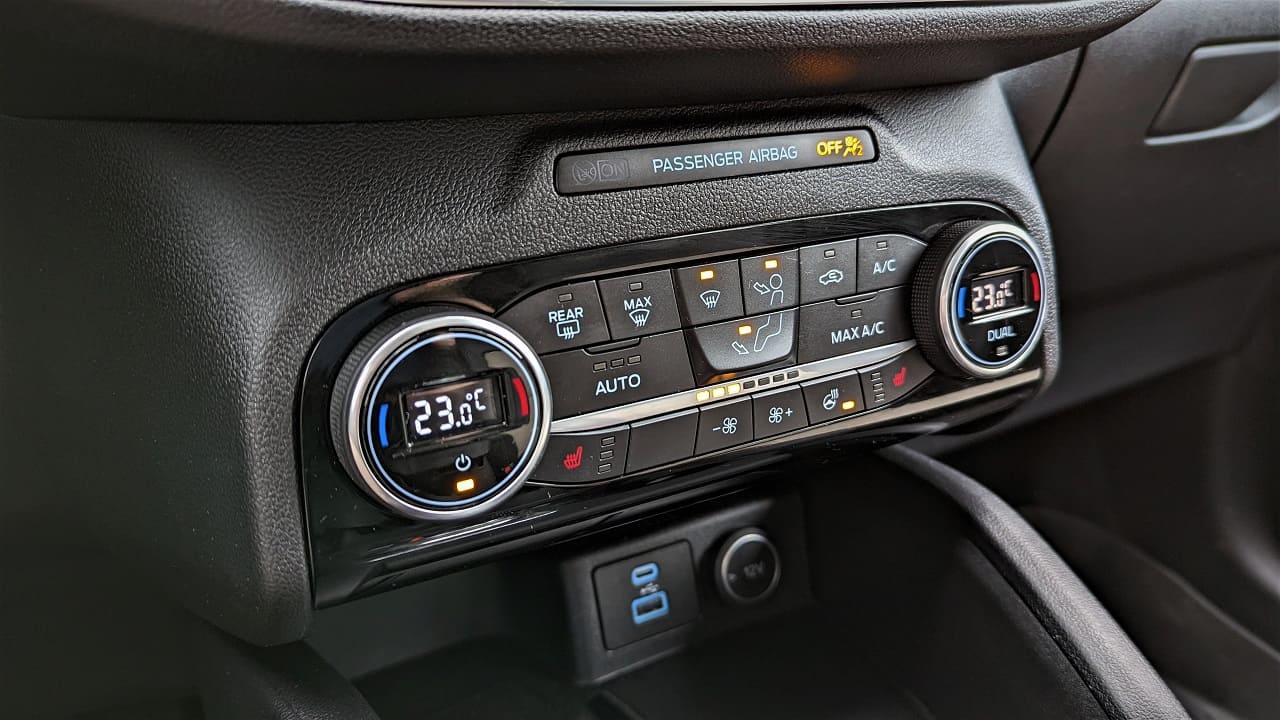 For more information on the Escape and other Ford vehicles, check out Ford's Canadian website.