Lately, it seems like every other car we've been reviewing has been either a hybrid or plug-in hybrid, this is the future we're heading into, maybe all cars will be electric in the future. We're not there yet, but there are more and more electric/hybrid cars coming out of the factories of most of the traditional automobile manufacturers every year.
Last week we had the opportunity to review the Hyundai IONIQ Plug-In Hybrid Vehicle (PHEV). In my opinion, plug-in hybrid is the way to go currently, if you can't afford a longer range fully electric vehicle (Tesla). Hopefully in the future fully electric cars will become more affordable and have a very long range (like 1,000 km+).
Trims/Prices
The 2018 Hyundai IONIQ comes in three different configurations: IONIQ Hybrid, IONIQ Electric, and IONIQ Electric Plus. The IONIQ Hybrid is a regular Hybrid, with a gasoline engine and a small battery pack that stores energy from braking, the IONIQ Hybrid has a starting price of $24,299 and comes in four trims. The Hyundai IONIQ Electric is a fully electric car, without a gasoline engine, it comes in three trims and has a starting price of $35,649.
For our weekly review, we had the 2018 Hyundai IONIQ electric plus, which is a plug-in hybrid, using both electricity and gasoline to get you to your destinations. The IONIQ electric plus comes in SE and Limited trims, the SE starts at $31,999 and the Limited starts at $36,499. Our review car for the week was the Limited trim, with a total price of $38,204 (price includes $1,705 delivery and destination fees). There are government incentives in some provinces, which will bring the price down if you live in the right province.
Engine/Driving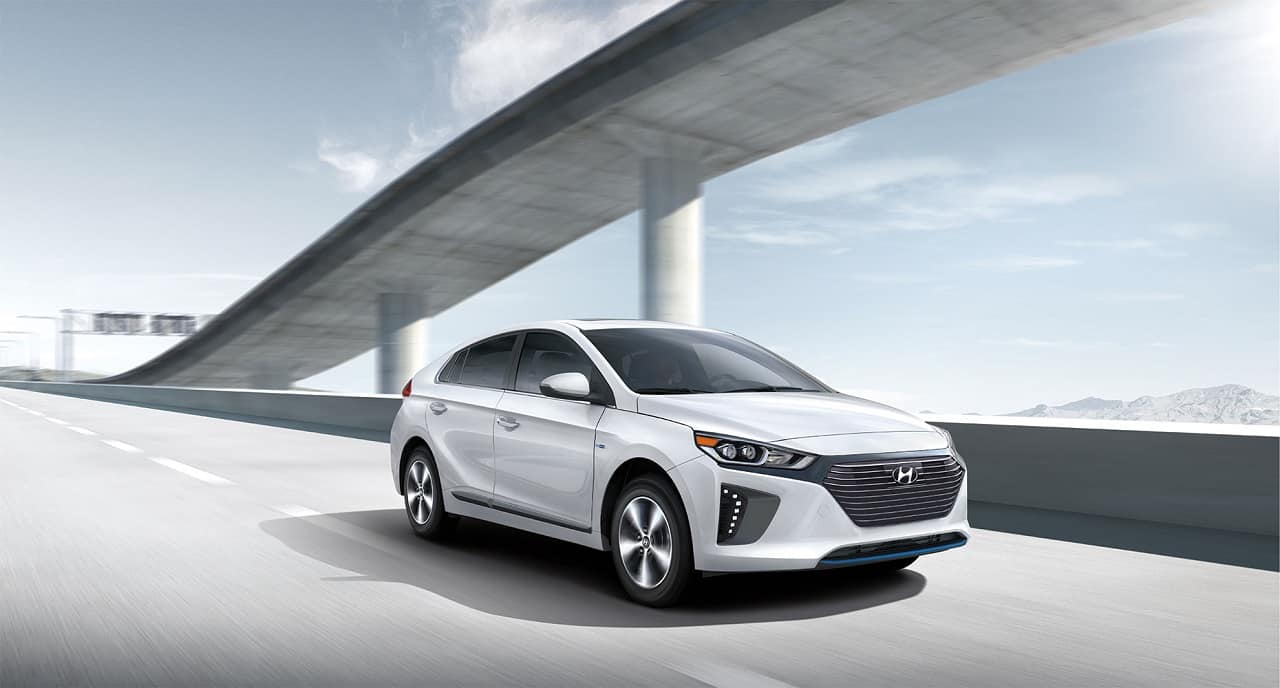 The Hyundai IONIQ electric plus is powered by a gasoline engine and an electric motor. The gasoline engine is a 1.6 liter 4-cylinder with direct injection, producing 104 horsepower at 5,700 rpm and 109 pound-feet of torque at 4,000 rpm. The electric motor is an "Interior permanent magnet synchronous electric motor", producing 45 kW (60 HP) and 125 pound-feet of torque, with an 8.9 kWh battery pack. The total system output is 164 horsepower and 195 pound-feet of torque, power is sent to the front wheels via a 6-speed dual clutch transmission with paddle shifters.
It takes between 7 – 8 hours to fully charge the battery on a standard 120 volt outlet, which is what I use for my plug-in review cars. On a 240 volt outlet, the charge time drops to about 3 hours, which is pretty good. The battery is rated at 47 km of electric-only range and can power the car up to 120 km/h. Hyundai claims a combined range of 1,000+ km on a fully charged battery and a full tank of gas.
Fuel economy is what the IONIQ line of cars is about (and less tailpipe emissions), the IONIQ electric plus is rated at 2.0 L/100 km in mixed driving using both the electric motor and gasoline engine, and 4.5 L/100 km on just the gasoline engine. Like I've mentioned in my previous plug-in reviews, most of my commutes are short, so the battery was more than enough to meet my daily driving goals, so I didn't use any gasoline in my weeklong review. However, looking at the fuel economy history for the life of the car, the computer showed 2.9 L/100 km.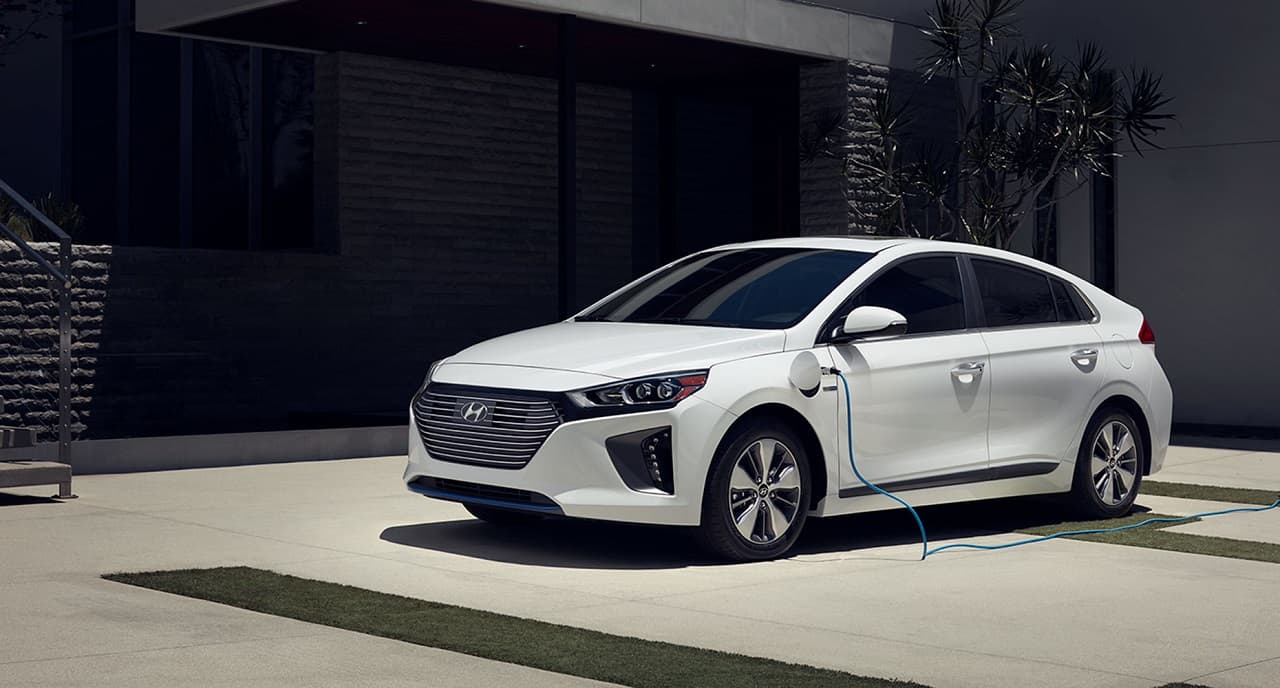 Driving the 2018 IONIQ PHEV feels like driving a regular hybrid, the non-plug-in type. I recently reviewed the 2018 Honda Clarity, which is also a plug-in hybrid, however the Clarity felt like driving an electric car vs a hybrid. What I mean is the Clarity had that electric torque punch to it when you take off from standstill, it felt good. The IONIQ seems more concerned with saving the battery pack for driving for a longer range, and it also has less power and a smaller battery pack.
For the average consumer, the IONIQ is a fine driving automobile, it's not going to break any acceleration records, but it will save them quite a bit at the gas station. The IONIQ's hybrid system is also tuned differently than the Clarity's, on the IONIQ, when you accelerate slightly hard, the gasoline engine quickly comes to life to assist you with acceleration, even in full electric mode. I would have liked the gasoline engine to stay out of the equation when I wanted to drive in full electric mode.
The IONIQ comes with two driving modes, Eco and Sport. The modes are self-explanatory, in the Eco mode you save the most fuel, the throttle response is very sluggish, which makes you accelerate slower and therefore you save on electricity and gasoline costs. In the Sport mode, the car becomes much more fun to drive, however, in those mode the gasoline engine is also turned on to give you all the horsepower, which takes away from fuel efficiency. I would have liked to have a "Normal" mode, which is in between the two modes, a mode with a bit better throttle response and less reliance on the gasoline engine.
Styling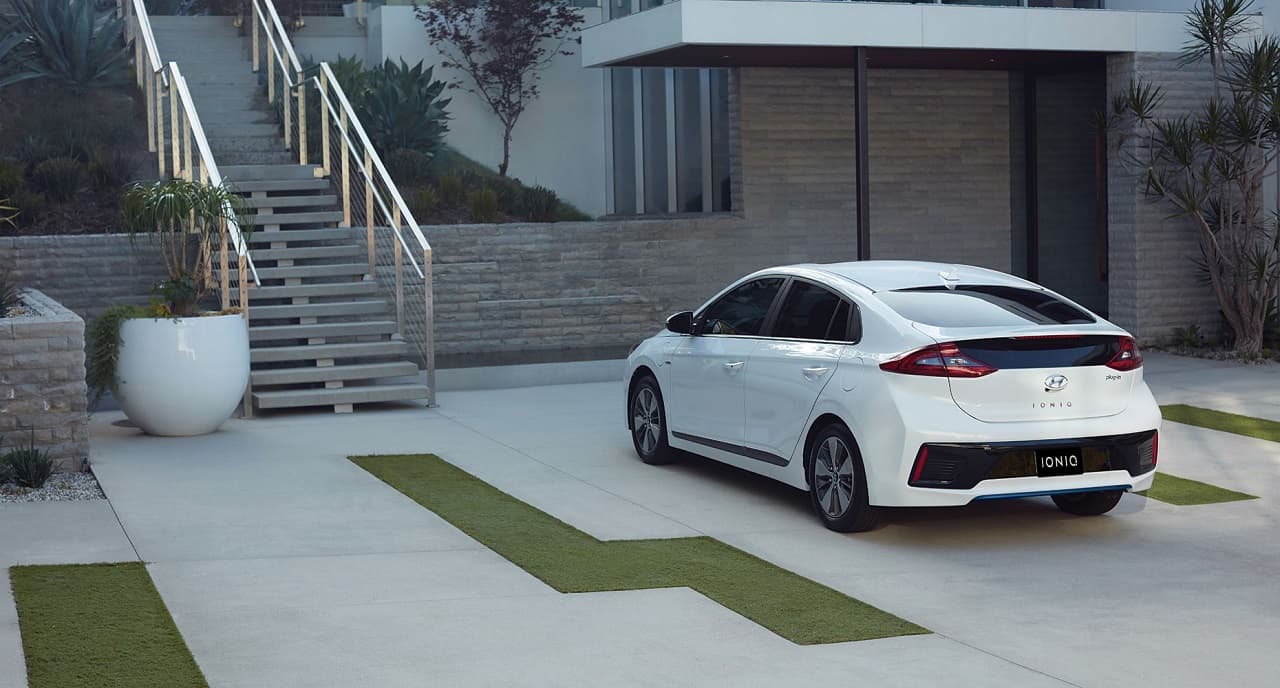 Like in every one of my reviews, I'll open this segment with the disclaimer that styling is a very subjective matter, what one person likes might be hated by another person. I personally like the way the IONIQ looks, I think it's one of the best looking hybrids you can buy. I'm not saying this is an amazing work of art, it's just that it looks so "normal". Sometimes looking normal is a good thing and I really can't stand a lot of these hybrids by other manufacturers that looks so weird, for the sake of looking weird. I'm sure the designers on those car would say having a sculpted rear glass (Prius Prime) reduces 0.001 L/100 km or something like that.
I like the simplicity of the design on the IONIQ, it doesn't look like it's trying too hard. If the IONIQ were a human, it would be the opposite of what a hipster is. It's just cool and normal and isn't trying too hard to look like "something special".
Interior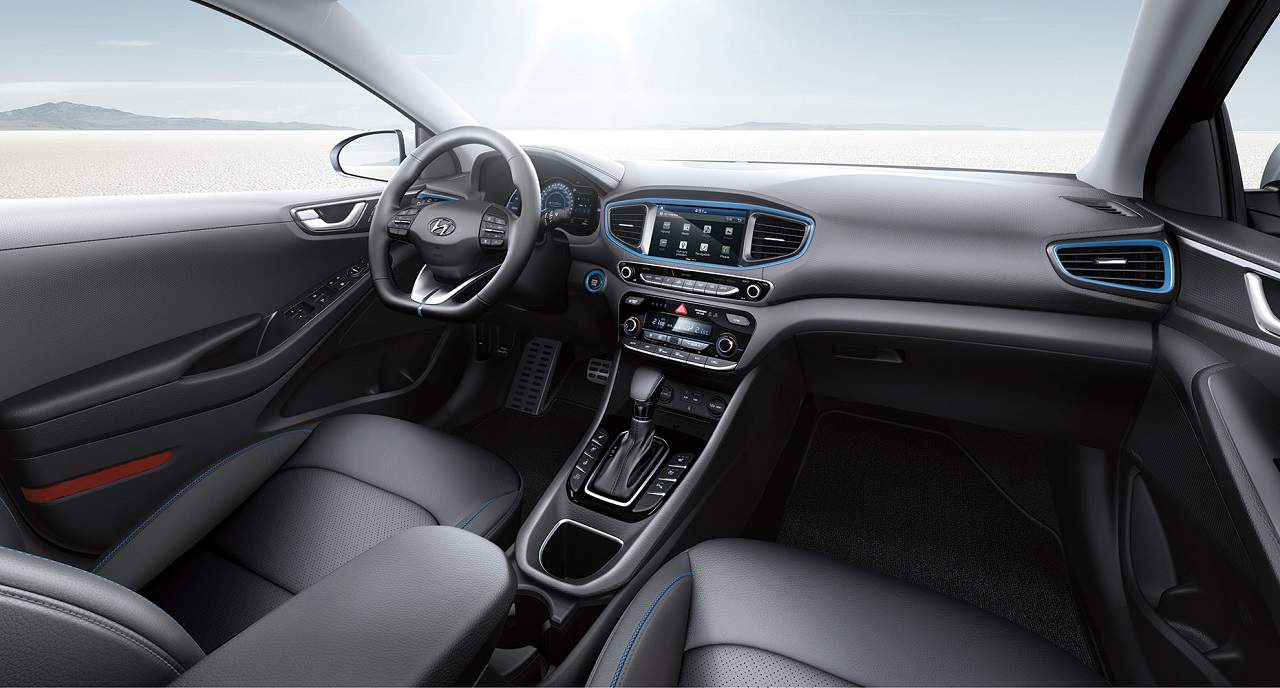 The interior on the Hyundai IONIQ is very pleasant place to be in, everything is laid out in a simple easy to understand manner. At the center of the dashboard is an 8" touchscreen that displays various outputs like maps, entertainment, rear camera view, battery/gasoline engine usage, and Android Auto/Apple CarPlay output. The touchscreen is responsive, and the graphics are crisp. Below it is a small LCD screen that displays the HVAC information.
The gauge cluster is a 7" TFT LCD display, it displays battery information, it also shows whether the car is using electricity, or the batteries are getting charged during declaration. The gauge cluster displays different information depending on which of the two driving modes you're in, in the Eco mode it displays a standard looking speedometer with the total expected range (battery and gasoline combined) right in the middle, and in the Sport mode, the display changes to a tachometer with speed in the middle.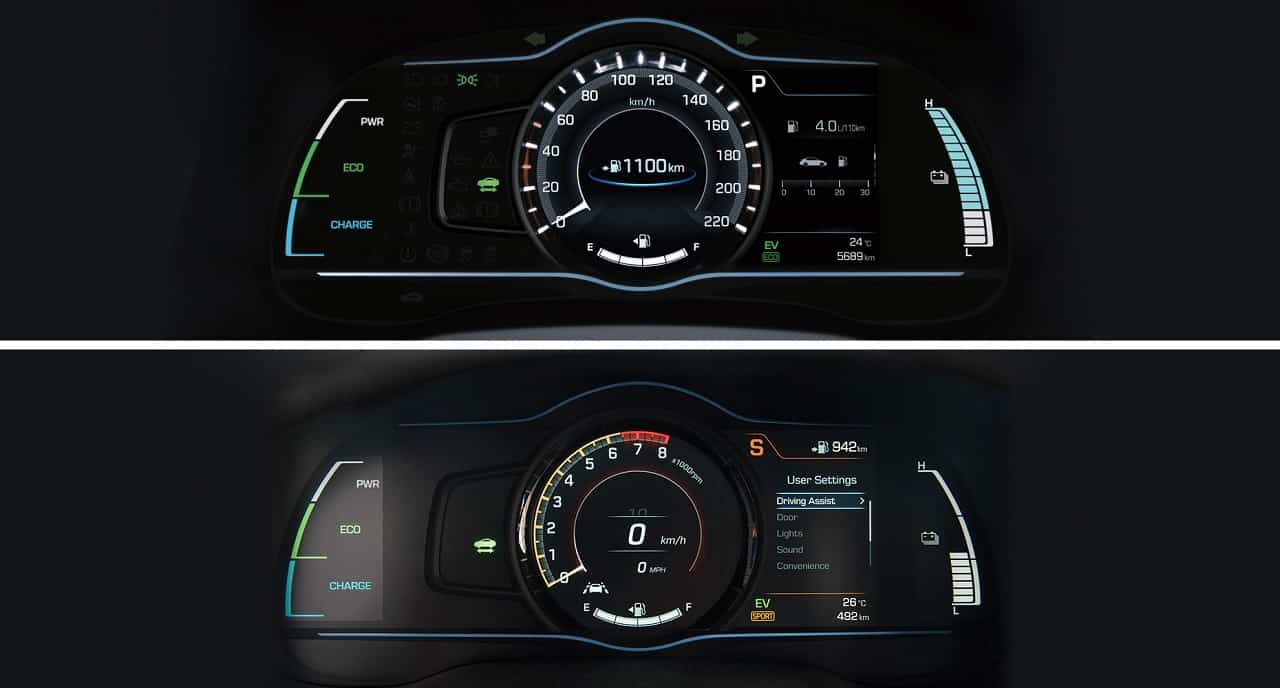 I found the interior to be quiet and roomy, there is plenty of room for driver/passenger over 6 foot at the front, the rear seats also have a good amount of leg room, however, taller passengers will find head room to be tight, due to the rake of the roof. The IONIQ is a 5 passenger vehicle, but the middle rear seat is left for emergency uses only. The trunk is also on the shallower side because of the battery pack, but if you don't have rear passengers, the back seats fold flat for extra cargo room.
Tech/Safety/Convenience Features
Our top of the line 2018 Hyundai IONIQ Limited was packed with loads of features, which we've come to expect from Hyundai vehicles. Below is a list of all the available technology, safety, and convenience features on the 2018 IONIQ Limited plug-in hybrid:
Automatic Headlights
LED daytime running lights, headlights, taillights, and side mirrors turn signal repeaters
Heated steering wheel
Heated front and rear seats
8-way power adjustable driver's seat and 6-way manually adjustable passenger seat
Dual-zone automatic climate control
Bluetooth connectivity
Apple CarPlay and Android Auto
Proximity key with push-button start
Adaptive Cruise Control
Rear parking assist sensor
Vehicle Stability Management
Electronic Stability Control
Blind Spot Detection with Lane Change Assist
Rear Cross Traffic Alert
Lane Keep Assist
Autonomous Emergency Braking with pedestrian detection
Final Thoughts
As I mentioned at the beginning of the article, if you're looking for an "eco-friendly" vehicle that's more than a standard hybrid but not a full on electric car, then buying a plug-in hybrid is currently the best option. Fully electric cars either don't have long range batteries or are quite pricey currently. Having a car that has a decent amount of range and can then switch to gasoline is a great way to commute.
Personally, most of my daily driving is less then 25 km/day, so for me a plug-in hybrid like this is great, the 47 kilometer claimed electric range is perfect. In my weeklong review, I didn't use any gasoline at all, and if I needed to drive longer, the gasoline engine would be right there, without any range anxiety.
The 2018 Hyundai IONIQ plug-in hybrid is a good little eco car, it does what it promises and comes with a lot of features that most of us are looking for in new cars. The IONIQ is also a very normal looking hybrid, which a lot of people might like.
For more information on the Hyundai IONIQ, please visit hyundaicanada.com.