The Ford Escape cross-over has been on sale since the year 2000, over the last 20 years there have been four iterations of this popular CUV. The new fourth generation Ford Escape was showcased in April 2019 and went on sale later in the year as a 2020 model. Last week we had the chance to drive the all-new 2020 Ford Escape Hybrid.
The Hybrid Escape is back for the fourth generation, the third generation didn't offer a hybrid powertrain; hybrid vehicles are becoming ever more popular nowadays and many of the mainstream vehicles have at least some sort of a hybrid option. So, it makes sense for Ford to bring back the Hybrid Escape, as Toyota and Honda have introduced RAV4 and the CR-V hybrids.
2020 Ford Escape Trims & Prices
Like most Ford vehicles, the 2020 Escape comes in many different trims. With the base S starting at $28,549 and the top of the line Escape Titanium Plug-in Hybrid starting at $43,649. Below is a list of prices for all the trims of the 2020 Ford Escape.
Ford Escape S – $28,549
Ford Escape SE – $30,549
Ford Escape SEL – $33,549
Ford Escape Titanium – $40,149
Escape Titanium Hybrid – $36,649
Escape SE Plug-in Hybrid – $37,549
Escape SEL Plug-in Hybrid – $40,549
Escape Titanium Plug-in Hybrid – $43,649
Our review car had a starting price $38,049 (base price is $36,649 for the FWD model) and the options below, for a before tax price of $42,599.
Floor liners $150
Cargo Mat $150
Titanium Premium Package (panoramic roof) $2,300
The final price includes $100 for Federal Excise tax and $1,850 for destination and delivery.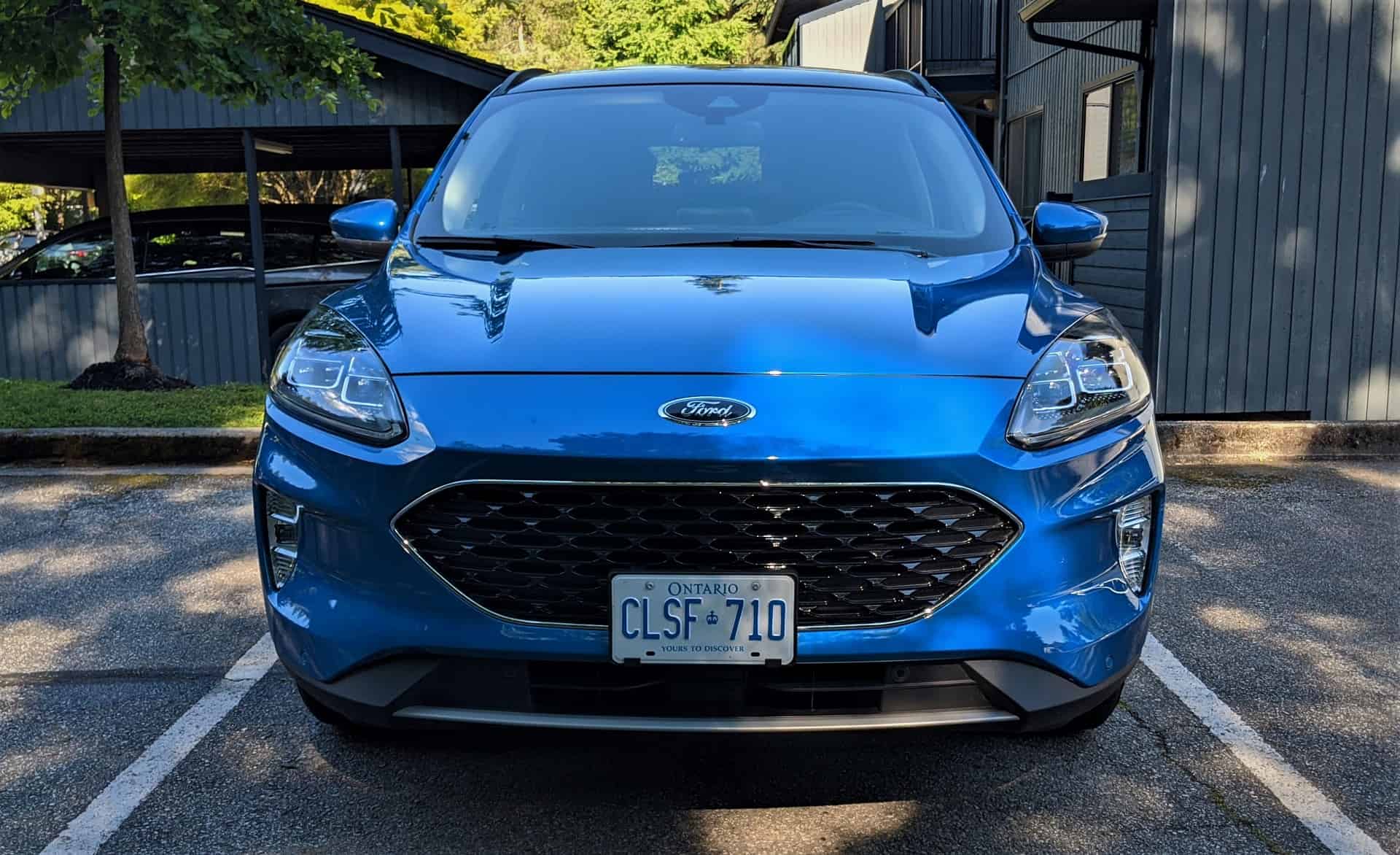 2020 Ford Escape Engines
Not only is the 2020 Ford Escape available in many trims, there are also quite a few different power terrain options, there's plenty to choose from and all these trims/engine choices should attract a wide range of customers.
The base engine is a 1.5-liter EcoBoost 3-cylinder, producing 181 horsepower at 6,000 rpm and 190 pound-feet of torque at 3,000 rpm. There's also a more powerful gasoline-only engine available in the form of a 2.0-liter twin-scroll EcoBoost 4-cylinder, producing 250 horsepower at 5,500 rpm and 280 pound-feet of torque at 3,000 rpm (on premium fuel).
The next power terrain option is the Escape Hybrid, which comes with a 2.5-liter 4-cylinder engine, and an 88-kW motor that's powered by a 1.4 kWh battery pack. This combination produces 200 horsepower at 6,250 rpm and 155 pound-feet of torque at 4,500 rpm. The fourth power terrain option is the plug-in hybrid, using the same gasoline engine and electric motor as the hybrid, but with a bigger battery pack with a 14.4 kWh capacity, for a combined output of 221 HP at 6,250 rpm and 155 lb.-ft of torque at 4,500 rpm.
The 1.5-liter EcoBoost is rated at 8.6/7.1/7.9 L/100 km in city/highway/combined driving, while adding the AWD option to this engine increases consumption to 8.9/7.6/8.3 L/100 km. The 2.0-liter EcoBoost consumes 10.4/7.5/9.1 L/100 and only comes with AWD.
The Escape Hybrid is rated at 5.4/6.2/5.8 L/100 km, while the plug-in hybrid is 2.3 Le/100 km and has an electric-only driving range of 61 kilometers and a charge time of 3.3 hours on a 240V outlet.
For our weeklong review of the Ford Escape Hybrid, the onboard computer showed 5.7 L/100 km in city-only driving, which is pretty close to the claimed number.
Driving
The 2020 Ford Escape Hybrid drives as you'd expect it to, nothing too exciting and you won't be winning any drag races, this is a vehicle that's all about fuel efficiency after all. I personally didn't mind driving around in it, it does what it's supposed to do.
Starting the car, there's no drama, you start in the battery mode and might get confused the first time or two because the engine doesn't come to life when you hit the start button. Driving off gently will let you drive in electric only mode, after a kilometer or two the gasoline engine kicks in. The transition between battery and gasoline is very smooth and not too noticeable. The gasoline engine isn't very noisy at all in normal driving, it only gets noisy under harder acceleration. I was pretty impressed with the lack of noise when the engine was on.
The Continuously Variable Transmission isn't too bad either, it doesn't have that elastic band feeling of the old CVTs. The Escape Hybrid is not a fast car but it's able to keep up with city traffic and isn't bad on the highway. It comes with a few driving modes like "Eco", "Normal", "Sport", "Slippery", and "Snow". The Sport mode does make it feel more powerful but at the expense of higher fuel consumption.
Styling
While many of the competing manufacturers are trying to make their CUVs look tough, Ford has gone the other way with making the Escape look much softer. I wouldn't say I'm a fan of the design, especially in the front, which just doesn't look right to me for some reason. It's very car like and reminds me a bit of the European Ford Focus (which will not be offered in North America anymore).
Other than my gripe with the front styling, the rest of the styling is actually not too bad. There's nothing exciting about it, but this a car that's meant from getting from point A to B in the most efficient way possible.
Interior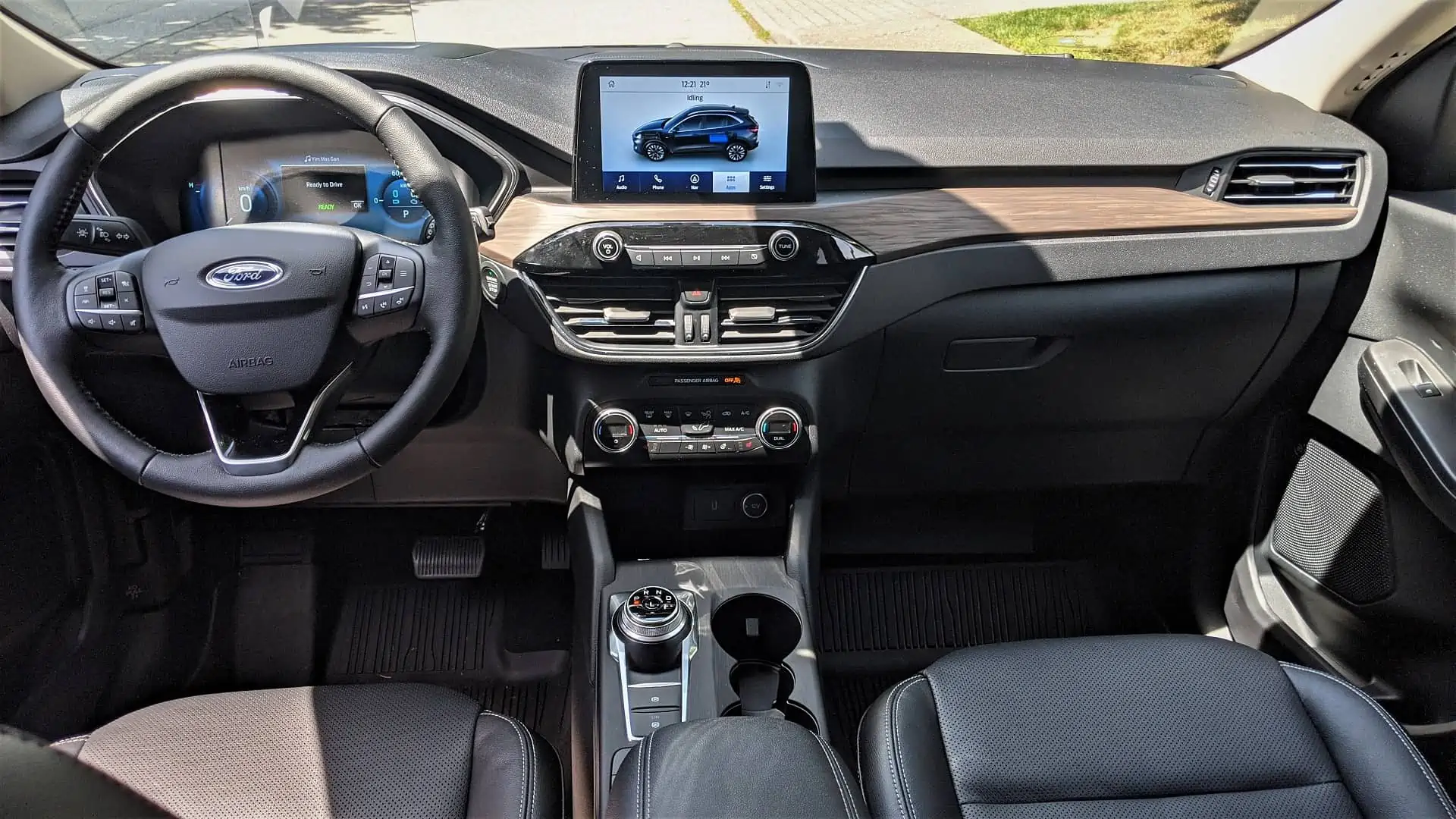 The interior layout is very clean and simple and unfortunately, it's full of hard plastics. This segment isn't known for luxury, but the Escape's interior could use a lot more soft-touch material and I'm not even going to compare it to the Mazda CX-5's interior, which feels like a Rolls Royce compared to the Escape's interior.
Our 2020 Ford Escape Titanium Hybrid came with an 8" infotainment system that's responsive enough and has good looking graphics. Below it is a pair of knobs for volume and tuning and a few buttons between them for the radio and screen on/off. Lower on the center stack is a separate section for the climate control, which is simple and easy to use. Behind the steering wheel you'll find a 12.3" digital instrument cluster that changes its graphics depending on the driving mode and can display different information depending on driver preference. Below this section is the gear selector, which is now a rotary gear shift dial. This layout does save space, but I'm personally not a big fan of these, I'd much rather prefer an old-fashioned gear lever.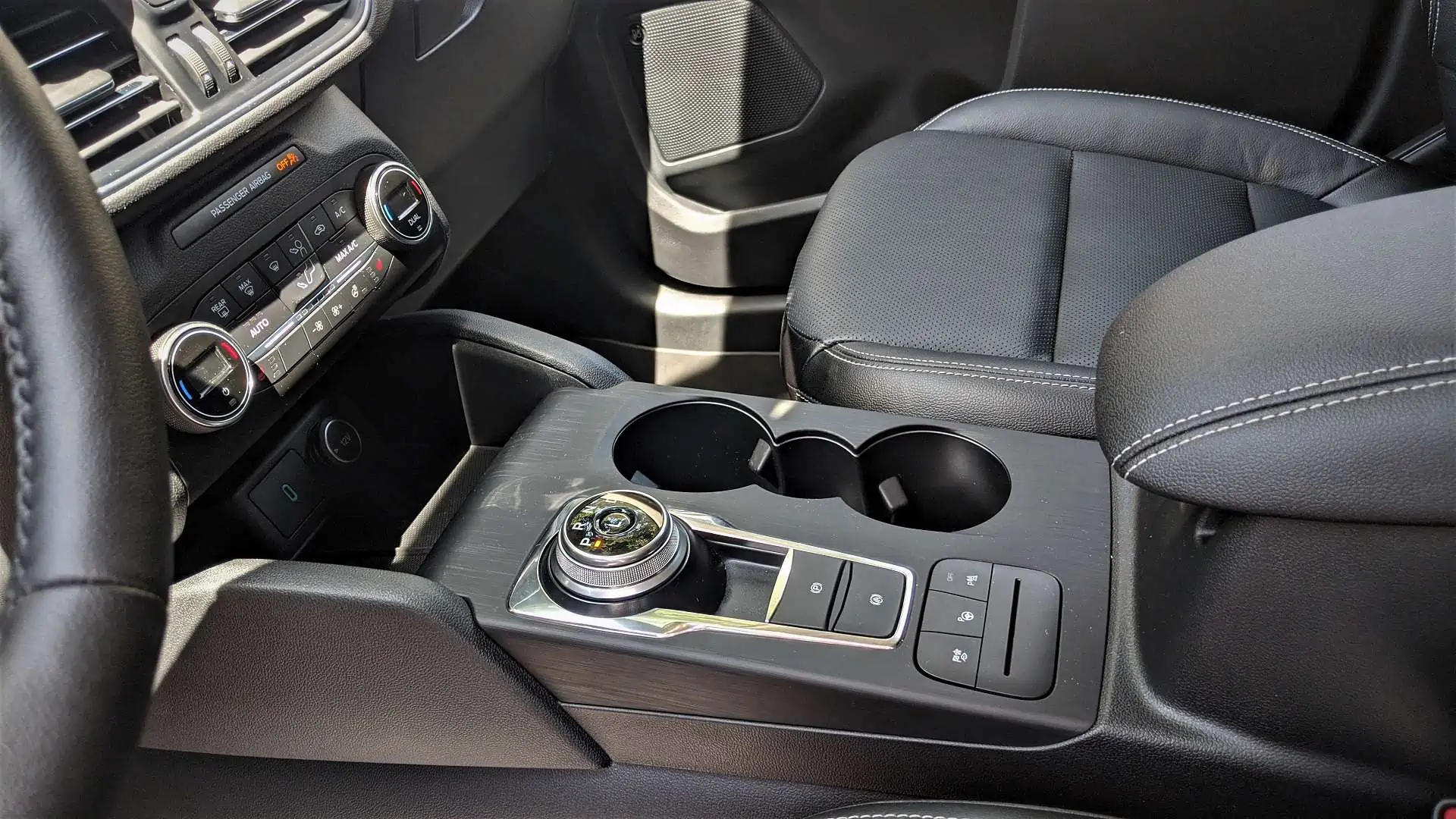 The interior is well-insulated, you don't get to hear too much of the outside noises, which was a pleasant surprise. The interior is also quite roomy, the Escape looks small from the outside but I found it to be very comfortable in the front and rear seats, the rear seats can be adjusted forward and backwards and can also be reclined. I found there to be plenty of head room, even taller passengers in the rear seat should find plenty of leg and head room.
Technology
The 2020 Ford Escape comes with most of the tech features we've come to expect from modern cars, not all features are offered on all models, but Ford gives you plenty of options to choose from. One of the new features on the Escape is the Active Park Assist 2.0, it's Ford's next generation of parking assist. It works with both parallel and perpendicular parking, but unlike before, once the car finds a parking spot, simply holding the park assist button lets the car complete the full parking cycle. In the previous version of this system, you still had to control the brake/accelerator and shifting between drive and reverse.
Below is a list of some of the features available on the 2020 Ford Escape:
Intelligent Access with Push-Button Start
Remote Start System
Dual-Zone Electronic Automatic Temperature Control
Power Driver Seat – 10-Way
Power Passenger Seat – 6-way
Heated Steering Wheel
Wireless Charging Pad
Auto-dimming rear view mirror
Power Windows with One-Touch-Up/Down Front and Rear
Head-Up Display
SYNC 3
Active Park Assist 2.0 with Reverse Parking Aid and Front Parking Aid
Pre-Collision Assist with Automatic Emergency Braking (AEB)
Lane-Keeping System
BLIS (Blind Spot Information System) with Cross-Traffic Alert
Final Thoughts on The 2020 Ford Escape
Overall, I think the 2020 Ford Escape Titanium Hybrid is a pretty good vehicle, it's quite fuel efficient and not as boring to drive as I was expecting. It has a large interior that should comfortably seat four large adults and still has a good amount of cargo area in the back. It may not have the most luxurious interior but it makes up for it with interior space, quite cabin, and fuel efficiency. For more information on the 2020 Ford Escape Hybrid, check out ford.ca.
2020 Ford Escape Titanium Hybrid Review Photo Gallery