When the Ford Bronco was introduced in 1966, it was an instant hit. It was rugged, reliable, and had a go-anywhere attitude that appealed to both outdoor enthusiasts and city dwellers alike. The Bronco quickly became one of America's favorite vehicles and remained in production for 30 years.
After a 20-year hiatus, the Bronco is back, and it's better than ever. The all-new 2022 Ford Bronco 2-Door is a true off-road powerhouse that will turn heads on the trails and streets. If the 2-Door Bronco is not practical enough for you, there's also a 4-door version we reviewed earlier this year. Ford also sells the Bronco Sport, a vehicle that's aimed at the general public.
2022/2023 Ford Bronco is offered in 8 trims for the 4-door version and 6 trims for the 2-door version. The top two trims of Bronco Everglades and Bronco Raptor are not offered in the 2-door configuration.
Prices start at $43,199 for the base 2-door trim and can top out at $99,995 for the top Bronco Raptor trim. These prices do not include $2,095 for Freight & PDI and taxes. Below are the starting prices for all six of the 2-door Bronco trims.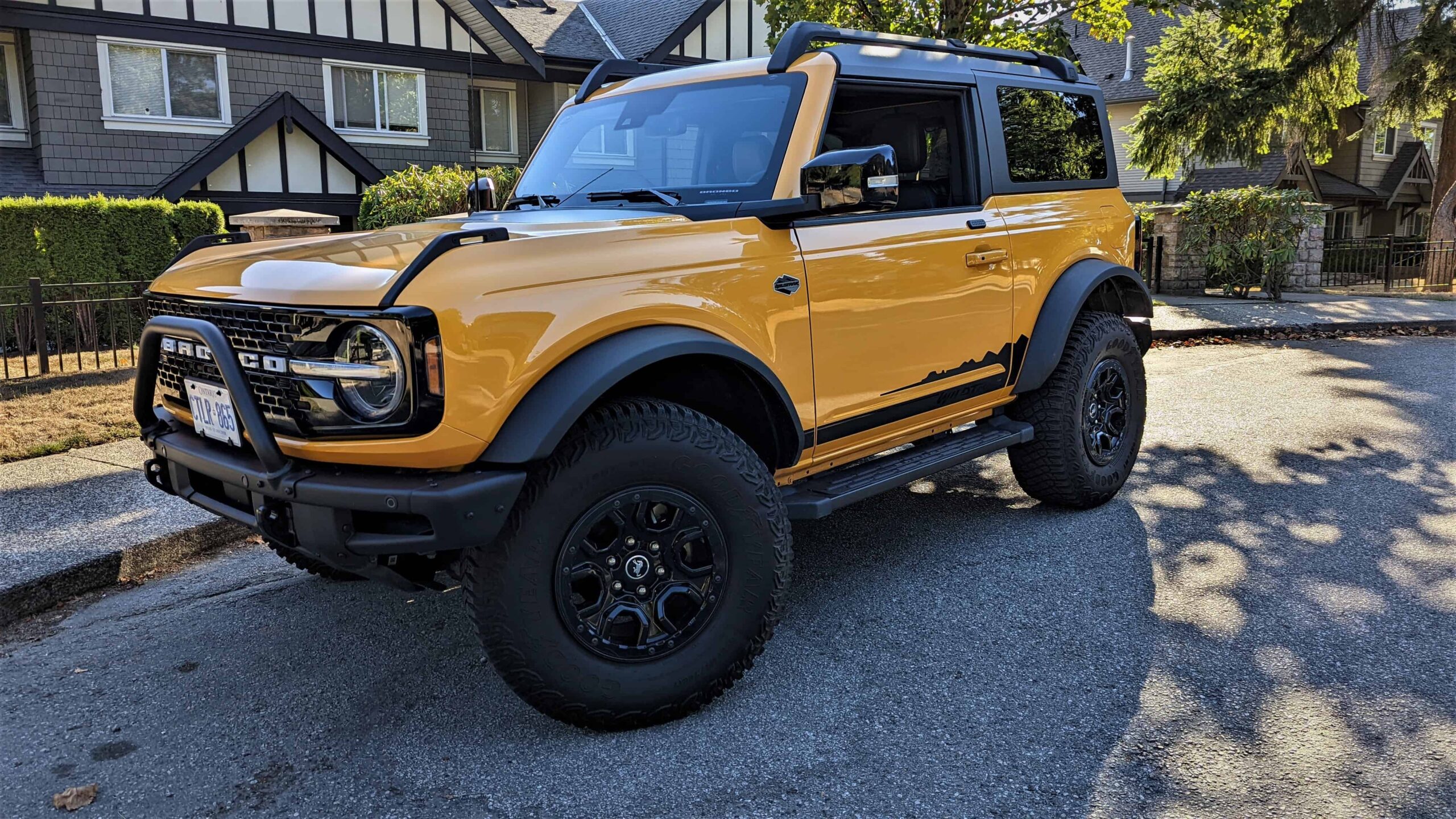 | | |
| --- | --- |
| Bronco 2-Door Trim | Price |
| Base | $43,199 |
| Big Bend | $44,699 |
| Black Diamond | $49,199 |
| Outer Banks | $49,849 |
| Badlands | $56,749 |
| Wildtrak | $60,649 |
Our review car was the 2022 Ford Bronco Wildtrak, which comes standard with the Sasquatch package and a few added accessories; it had a price tag of $69,434. The price included options like Lux Package ($3,995), Cyber Orange paint ($550), Roof Rails with Crossbars ($545), Heavy Duty front bumper ($1,050), Tub Step ($450), and Freight & PDI.
Both the 2-door and 4-door Broncos are offered with 4 and 6-cylinder engines. The base engine is a 2.3-liter EcoBoost 4-cylinder, producing 275 horsepower at 5,700 rpm and 315 pound-feet of torque at 3,400 rpm on regular fuel. If you want more horsepower, you can put premium fuel in your Bronco, resulting in 300 HP at 5,700 rpm and 325 lb.-ft of torque at 3,400 rpm. The optional 2.7-liter EcoBoost V6 produces 315 horsepower at 5,500 rpm and 410 pound-feet of torque at 3,250 rpm. Power is increased to 330 HP and 415 lb.-ft with premium fuel. The 4-cylinder engine comes standard with a 7-speed manual transmission (6-speeds plus a crawler gear); it can be upgraded to a 10-speed automatic transmission. The V6 is offered with the automatic transmission only.
Our review Bronco Wildtrak comes standard with the 2.7-liter V6 engine, which is quite a nice engine. It provides plenty of power to move this heavy off-roader. The engine is smooth and works well with the 10-speed automatic transmission. It doesn't feel overpowered at low speeds, which is great for slow off-road driving, but putting your foot down gets the Bronco going, and highway passing is a breeze.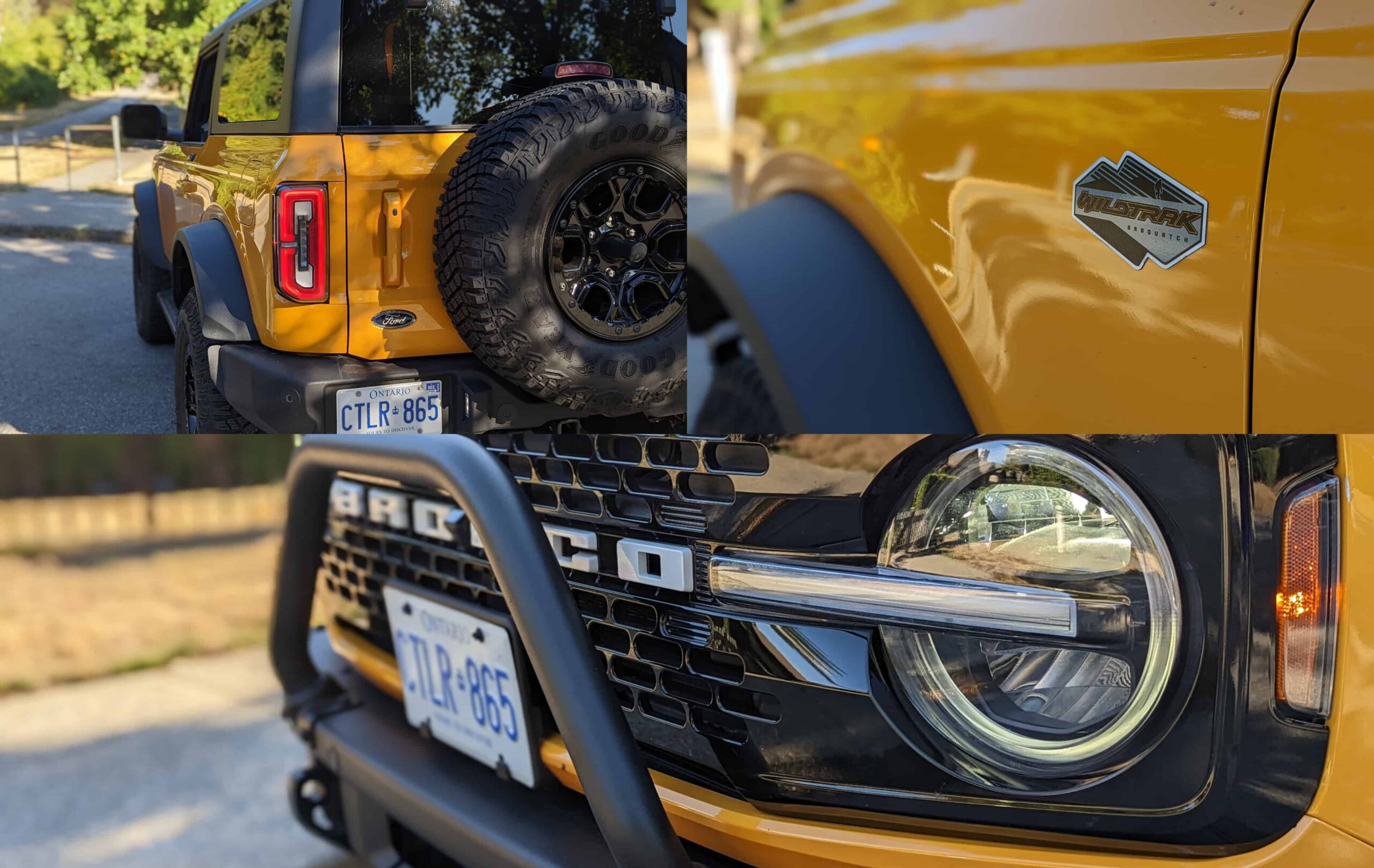 Speaking of off-road driving, the Bronco is quite a capable off-roader. I personally didn't test it because there aren't any off-road places in the big city I live in, and I couldn't justify taking a 150+ kilometer roundtrip to test out the capabilities of the Bronco. I'm also not well-versed in off-road driving; I'm a professional on-road driver. But hundreds of videos are available online showing the Bronco's mettle if you want to see what the Bronco can do on rough terrain.
Unlike other SUVs, which spend 99.9% of their time on paved roads, Bronco owners take their beloved SUVs off-roading. But to get to those places, you must drive on the road. The Bronco does quite well on paved roads. I expected the Bronco 2-door to have a truck-like ride and move around even when going straight, but it behaved very well on city streets and highways. The ride was surprisingly compliant, which was a pleasant surprise.
The Bronco is no luxury SUV, though. It gets loud at speed, thanks to the giant tires from the Sasquatch package. You start noticing the noise at speeds above 50 km/h, and it becomes pretty loud above 80 km/h. The biggest culprit creating the noise, besides the tires, is the hard top. The hard top comes in multiple pieces, and the seams let in quite a substantial amount of noise, especially at highway speeds. But after driving it on the highway for a couple of hundred kilometers over a weekend, I got used to the noise level.
As capable as the new Bronco is, and many owners take full advantage of its GOAT modes and off-road suspension, many customers still buy the Bronco because it just looks cool.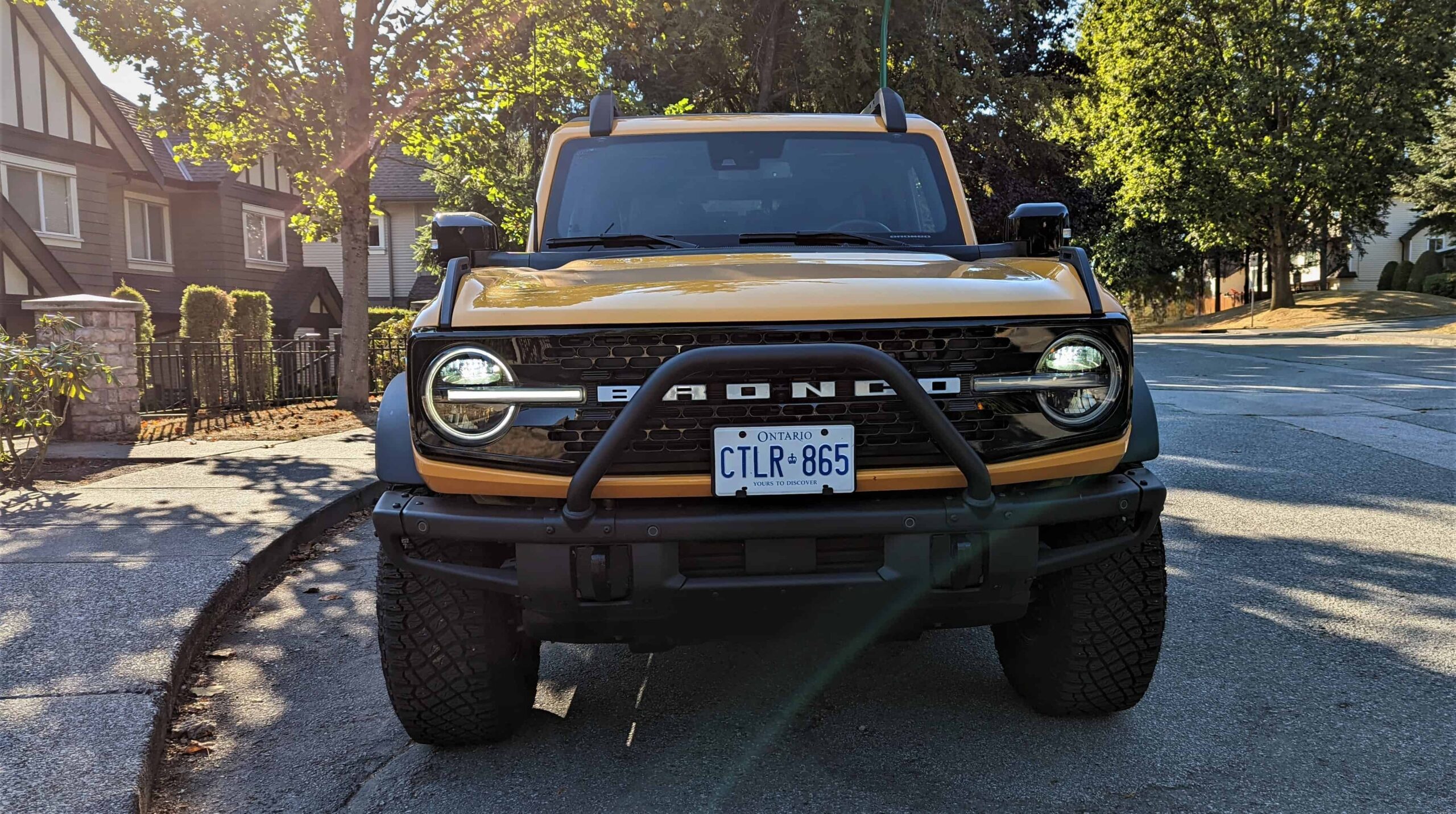 Deciding whether a vehicle looks cool or not is subjective, but I personally think the Bronco is one of the best-looking off-roaders you can buy. I liked the looks of the 4-door Bronco we had earlier this year, but the 2-door looks even cooler, in my humble opinion. It looks like a toy for big boys, especially with our review car's orange paint, which reminded me of a Tonka toy. The Bronco takes heavy inspiration from the original Bronco from the 1960s but adds a modern flavor.
The Ford Bronco comes with a choice of top materials. You can either get a soft top or a plastic hard top. Our review Bronco Wildtrak had the hard-top, which can be fully removed. The front two pieces on the 2-door Bronco are easy to remove and can be stored in the small trunk. The area covering the back seats is a big piece that includes the rear side windows and rear hatchback window. Removing this section requires a bit of work and is a two-person job. Our review 2-door Bronco came with the optional roof rack, which adds a few more steps to the top removal process. The doors can also be removed.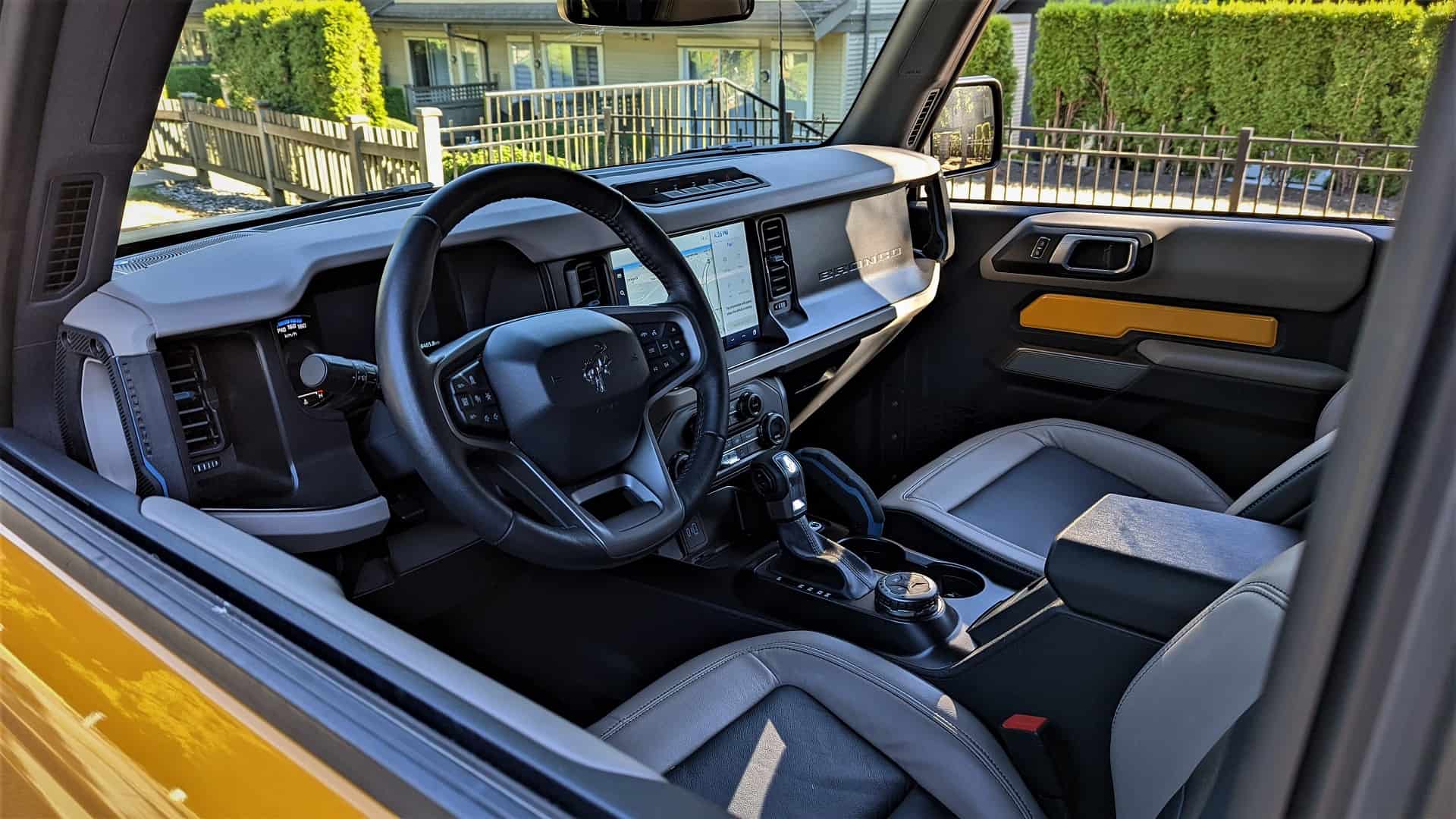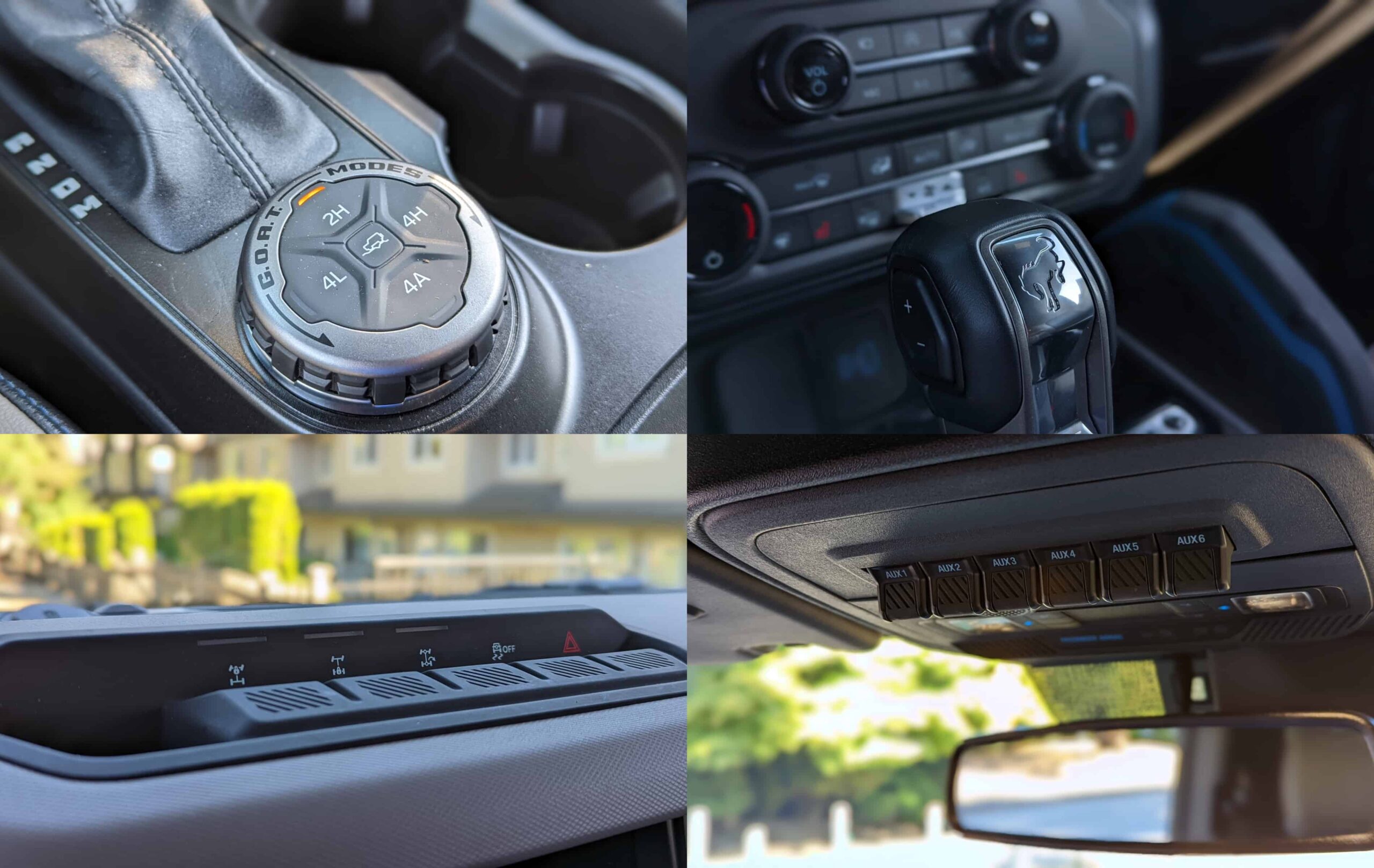 The interior of the Bronco 2 and 4-door is the same for the front occupants; the rear seats have less room, which is to be expected in a smaller vehicle. Getting in and out of the back seat is an exercise in acrobatics, but once you're in there, the rear seats are surprisingly roomy.
The interior is truck-like, which is a good thing in this application. The interior is mostly hard plastics, which would normally be a negative in a normal car, but the Bronco isn't your average car. Since you can take the roof and doors off, the interior is expected to get dirty. So having hard plastic all over the place would be easy to clean.
Whether you're looking to tackle the toughest trails or just want a stylish and capable vehicle for your weekend adventures, the all-new Ford Bronco 2-Door is a perfect choice. There aren't too many options to choose from if you're looking for a vehicle like this, a vehicle that's off-road capable, can have its roof and doors taken off, and comes in 2 or 4-door configurations.
Check out Ford Canada's official website for more information on the Bronce and other Ford vehicles.