The current generation of the Ford Bronco was introduced in mid-2020 as a 2021 model. It's been a long time since it was revealed, and there are hundreds of reviews of these tough off-roaders online. I have been looking forward to getting my hands on one, and after all that wait, I finally got the chance to review a 2022 Ford Bronco Badlands with the Sasquatch package. We did review the baby Bronco (Bronco Sport) last year, which is a nice little CUV.
The original Ford Bronco went on sale in 1966 and has had five generations, with production stopping in the year 1996. The most famous Bronco is the 90's white Bronco; I remember waking up early on a Saturday or Sunday morning to watch cartoons only to be disappointed by the slow police "chase" of the "juiced" white Ford Bronco.
It has taken quite a long time to get our hands on the new 6th generation Bronco and things have already changed since it was first introduced. There are now two additional trims that weren't available at the initial launch, which I'll discuss later. One of them is quite exciting and I'm hoping to be able to review that; judging by the current issue with vehicle production, I'm expecting that to happen in a couple of years.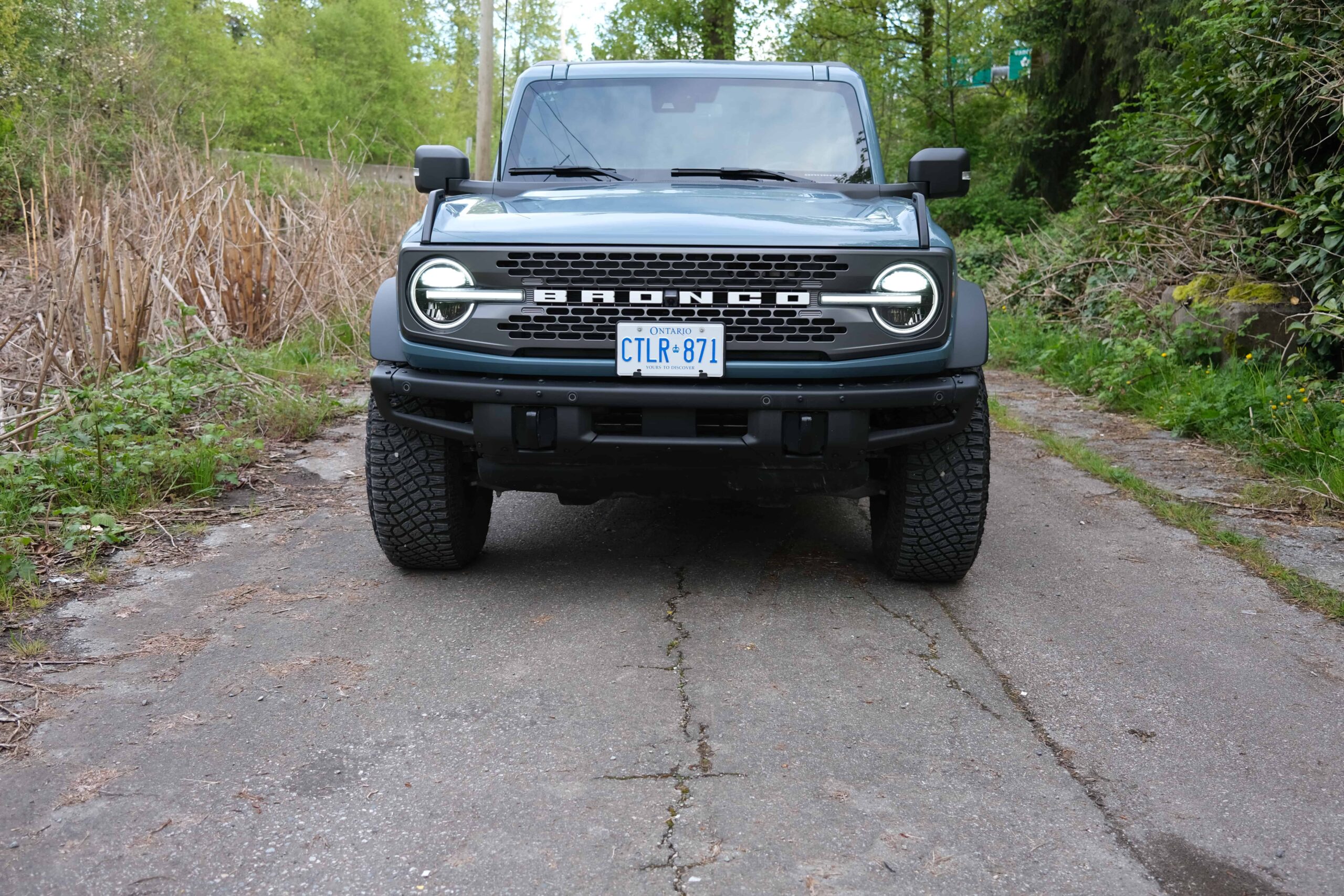 Like most Ford vehicles, the 2022 Ford Bronco comes in many different trims (8 total trims). There are two-door and 4-door models, soft-tops and hard-tops, and Sasquatch and non-Sasquatch packaged cars. The base 2-door has a starting price of $43,199, and the top-of-the-line Raptor starts $5 short of the $100,000 mark. These are not cheap vehicles. I'm most excited about the Bronco Raptor.
The Raptor and Everglades are the newest additions to the trims on the Bronco, and these are the most hardcore off-roaders.
Our review car for the week was the Bronco Badlands, which would've been one down from the most off-road worthy Wildtrak trim at launch, but now slots somewhere in the middle of the pack. The starting price for the 2-door Bronco Badlands is $56,749, and 4-door starts at $59,699. But that's just the starting price; our review car came with an eye-watering $16,000 worth of optional packages. With a total price tag of $78,484 including $1,995 for Freight & PDI. These prices do not include local sales taxes.
Our Bronco Badlands had optional equipment group 334A, 2.7-liter EcoBoost engine, 10-speed automatic, the Sasquatch package, and a few smaller miscellaneous items like storage bags for the roof/door and rubber floor mats.
The Bronco is offered with two engine choices. A 2.3-liter EcoBoost 4-cylinder engine, producing 275 horsepower at 5,700 rpm and 315 pound-feet of torque at 3,400 rpm on regular fuel. If you want more horsepower, you can put premium fuel in your Bronco, resulting in 300 HP at 5,700 rpm and 325 lb.-ft of torque at 3,400 rpm. The optional 2.7-liter EcoBoost V6 produces 315 horsepower at 5,500 rpm and 410 pound-feet of torque at 3,250 rpm. Power is increased to 330 HP and 415 lb.-ft with premium fuel. The 4-cylinder engine comes standard with a 7-speed manual transmission (6-speeds plus a crawler gear); it can be upgraded to include a 10-speed automatic transmission. The V6 is offered with an automatic transmission only.
Our review Bronco had the upgraded 2.7-liter V6 engine, which is quite a nice engine. It provides plenty of power to move this rather large off-roader. The engine is smooth and works well with the 10-speed automatic transmission. It doesn't feel overpowered at low speeds, but putting your foot down gets the Bronco going, and highway passing is a breeze.
The real test of the Bronco should be off-road, which I didn't get a chance to test out because, living in a big city, there is no place to try out the off-roading capabilities of a vehicle like the Bronco. And with the way gas prices are ($2.229/liter today), it's hard to justify a trip out to the country for off-roading. But there are hundred (maybe thousands) of videos online showing how capable the new Ford Bronco is. I did have a chance to drive it on some pothole-filled dirt roads, and I was impressed by the smoothness of the drive while going quite fast. The Bronco seemed to glide over rocks and ruts thanks to the large tires from the Sasquatch package.
Driving on paved surfaces is not too bad, either. The Bronco isn't a luxury SUV (although the price tag would suggest otherwise), but it has a fairly compliant ride. Although the tires are extremely loud on our smooth Vancouver highways at speeds above 80 km/h, I can't imagine how loud the tires would be on American concrete block highways, which are notorious for being loud.
The exterior design of the Bronco is quite beautiful, in my opinion. I know this is a subjective matter, but I didn't meet anyone that didn't like the design of the new Bronco. The design has been a hit since the first Bronco images were released in 2020. It takes a lot of design elements from the original Bronco and brings them to the modern world. Our Badlands trim with the Sasquatch package (larger wheels and fender flares) looked absolutely badass.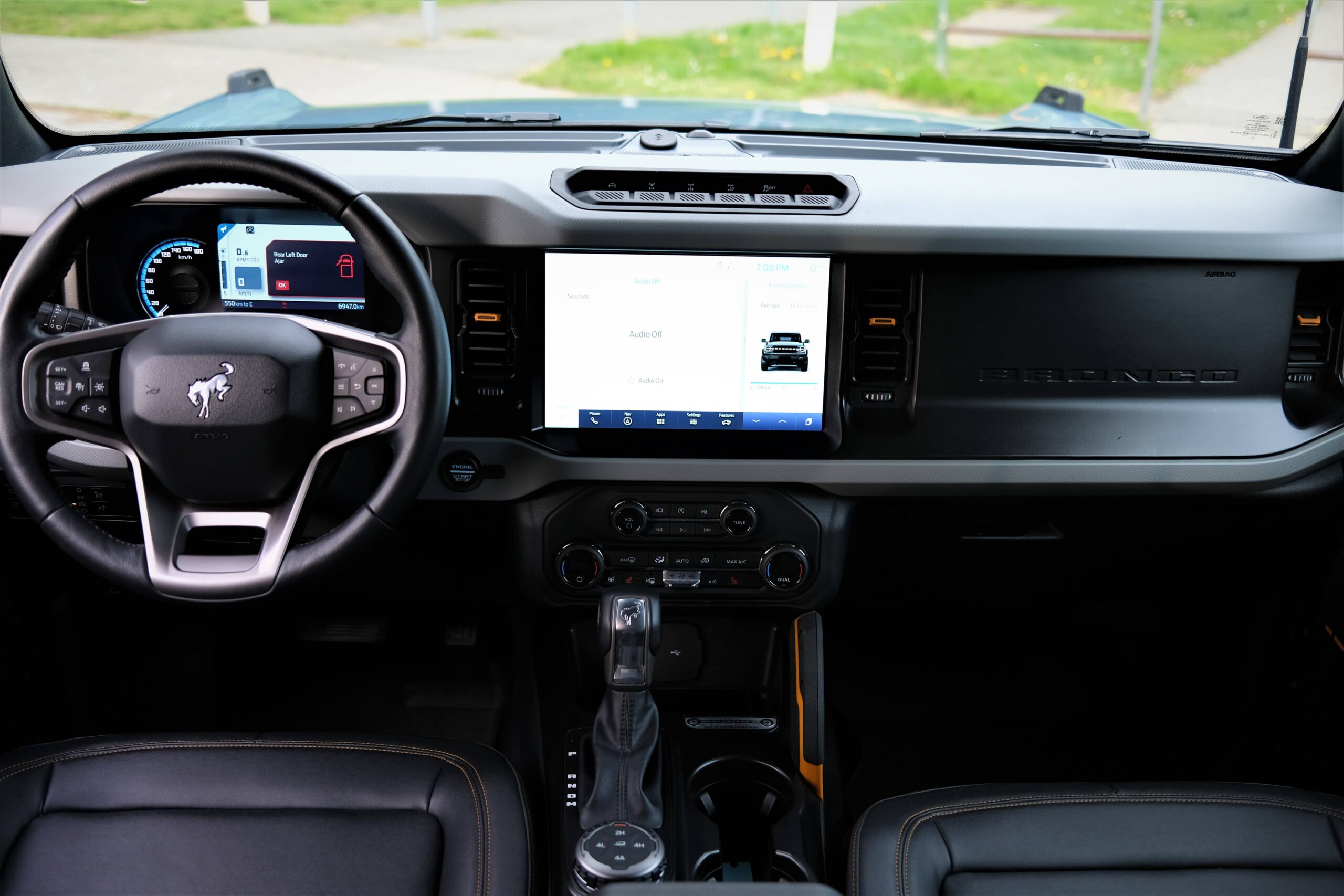 The interior is quite loud at highway speeds, with lots of wind noise coming from the plastic hard tops. I haven't driven a Jeep Wrangler in a while, which is the Bronco's main competitor, but I believe the Wrangler's top doesn't let as much wind noise in. The Bronco's top also made a decent amount of creaking noises. I hope Ford can refine it more; I know this is a tough off-roader, but a bit more refinement would be great.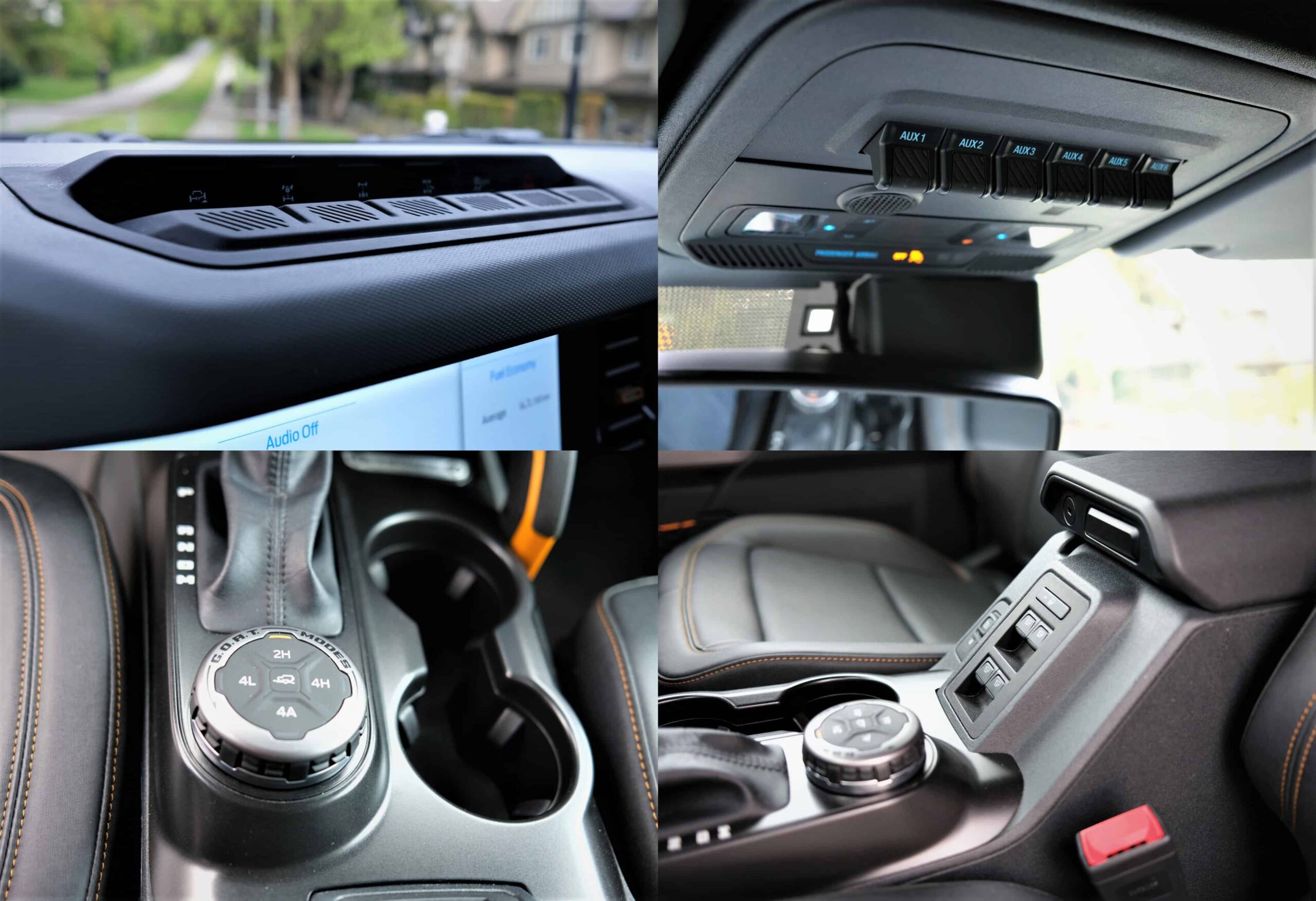 The interior has a tough look, with lots of hard plastics. Normally I would complain about hard plastics on a vehicle in this price range, but in the Bronco, it's by design. Every surface needs to be hard plastic because the Bronco is technically meant to be thrashed around in the dirt, mud, sand, and everything else you can think of. And with the ability to take the roof and doors off, the interior will get dirty. So having hard plastics makes sense for ease of cleaning. To be brave enough to thrash around your brand-new $90,000 ($78k plus tax) Bronco is another story.
The interior layout is quite simple and truck-like. All the buttons/knobs are large, and the interior is angular, like the exterior. You get modern amenities like power windows, heated seats/steering wheel, power mirrors, navigation, Sync 4, and smart cruise control. The interior is fairly comfortable if you ignore the road noise from the large tires and the plastic roof.
Overall, I was impressed with the 2022 Ford Bronco. Unfortunately, I didn't get to test its off-roading capabilities, but I did enjoy spending time with it. I didn't enjoy the gas bill; it averaged 14.7 liters/100 kilometers when I had it for a week. It's also quite expensive, but then again, what isn't expensive nowadays?
For more information, visit Ford Canada's official website.