The world if filled with crossovers and so-called SUVs, it's nice to see there are some manufacturers that are still producing old-school body on frame real SUVs. The Infiniti QX80 is one such vehicle, based on the Nissan Armada, which is based on the Nissan Titan truck.
A couple of weeks ago I had the opportunity to review a 2021 Infiniti QX80 7-Passenger ProACTIVE AWD, below are my thoughts on this full-size SUV.
2021 Infiniti QX80 Canadian Prices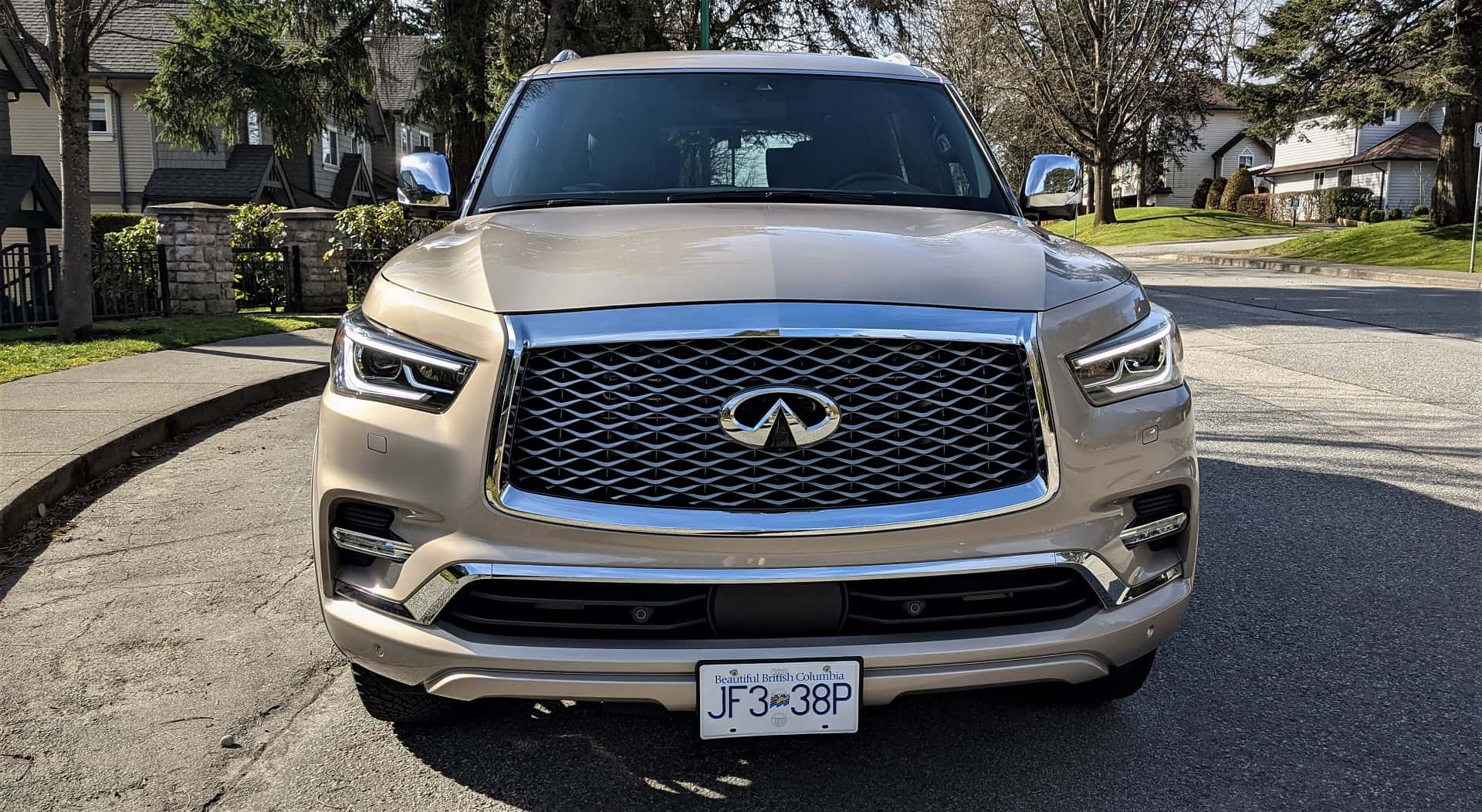 The 2021 Infiniti QX80 is offered in two trims, the QX80 LUXE and QX80 ProACTIVE. The LUXE trim starts at $79,998 and the ProACTIVE has a starting price of $87,998. The only options you can choose from are the exterior colors and a few accessories. Both of these trims come with seating for 7, however, the ProACTIVE trim does offer seating for 8, which is priced $500 less than the 7-passenger version.
Our review 2021 QX80 ProACTIVE had a total price tag of $90,093, which included $2,095 for Freight & PDE.
As expected, these prices are higher than the Nissan Armada, the QX80 is the more luxurious version of that car.
2021 Infiniti QX80 Engine
Like the Armada, both trims of the Infiniti QX80 are powered by a 5.6-liter V8 engine, producing 400 horsepower at 5,800 rpm and 400 pound-feet of torque at 4,000 rpm. Power is sent to all four wheels via a 7-speed automatic transmission. The Armada is rated at 3,856 kg (8,500 lbs.) of max towing capacity.
When you buy a vehicle like this, fuel consumption would be expected to be quite high. The 2021 Infiniti QX80 is rated at 17.4/12.2 liter/100 kilometers in city/highway driving. On our weeklong review, the onboard computer showed 18.5 L/100 km in 80/20 city/highway driving. I wasn't really shocked by this fuel consumption number, as I remember the hit my pocket took on the Armada's week-long review.
Driving
The 2021 Infiniti QX80 is an old school body-on-frame SUV, it drives just as you'd expect a big SUV like this to drive; it drives like a big floating couch, which is great for soaking up bumpy roads and even better for going off the beaten path. I quite like the way the QX80 drives, it's comfortable to drive on paved roads and when you go off-road (not that a lot people do this sort of thing with a $100k SUV) the suspension takes care of all the bumps and rocks and whatever you decide to drive over.
The V8 engine has plenty of power to get this heavy SUV up to highway speeds and driving in the city, it feels like a "normal car. Although it does hurt looking at the fuel gauge as you're stuck in a traffic jam.
The QX80 would also be great for long highway driving and towing your boat to the lake. It is somewhat efficient on the highway, considering the aerodynamics and size of this thing, I'd say it's respectable.
The 2021 Infiniti QX80 comes with a few driving modes, which are controlled via the rotary dial below the gear lever. It lets you select between Auto, 4H (4 high), and 4L (4 low), with a button for "Snow" and "Tow Mode". For a majority of buyers, the Auto mode is what will be used most of the time, and that's the mode I left it in.
It was kind of fun to drive around in the city in this big SUV. You sit so high up, it makes you feel like the like king of the road. Parking in most city lots is pretty easy, the QX80 does come with cameras at the front, back, and sides. Although I would've liked much crisper graphics found on newer more modern vehicles.
Styling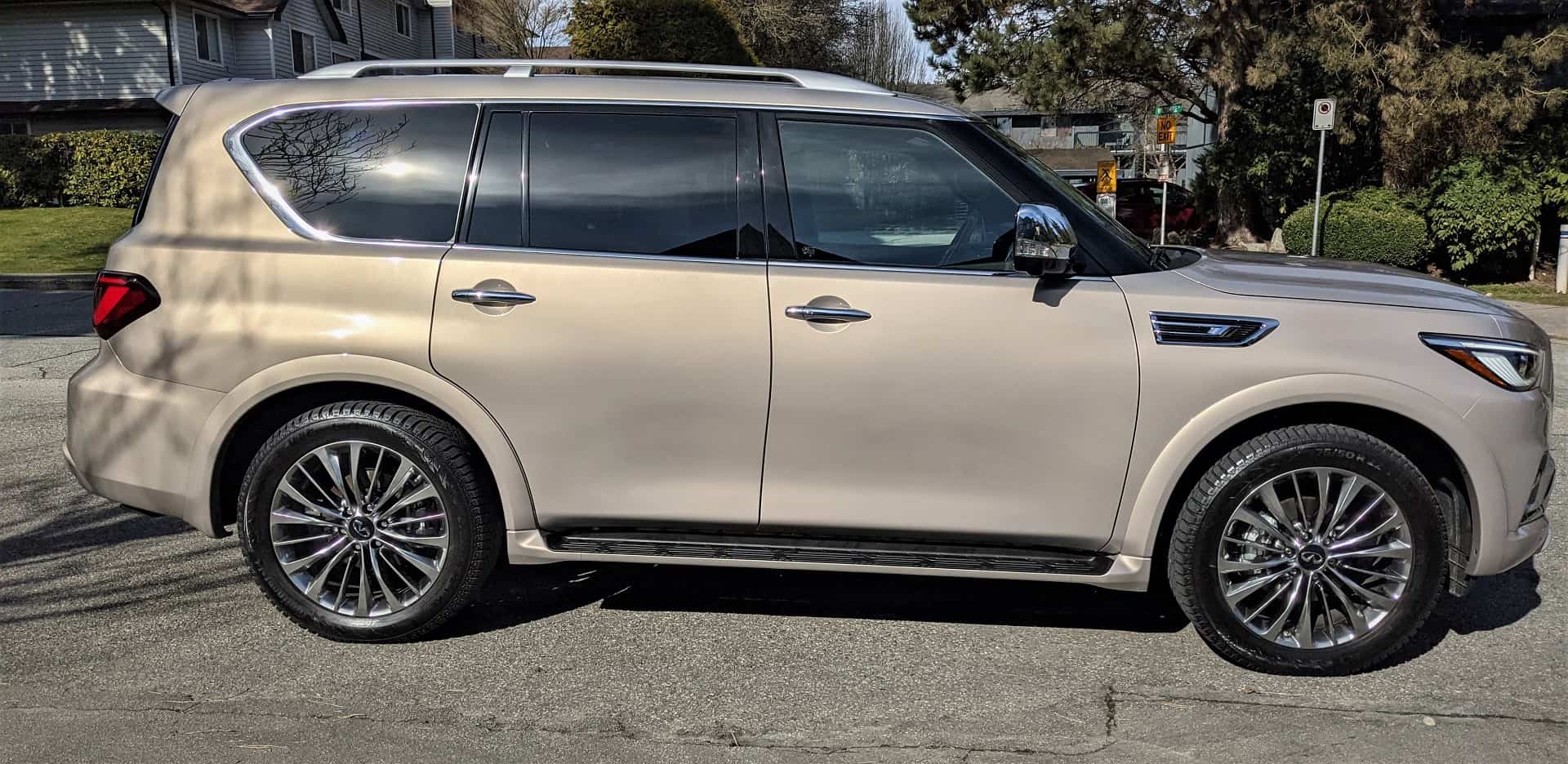 The overall shape of the 2021 QX80 is identical to the Armada's, they're basically the same vehicles. I personally liked the look of the Armada, but after seeing the QX80 in person, I like the QX80 much more. The QX80's design differs from the Armada's at the front and rear, the front and rear of the QX80 has a more refined look. The QX80's front and rear make it look like a more luxurious vehicle, which it is.
I really like the overall stance of this vehicle, it's very macho and is reminiscent of days gone by. Times when a vehicle's shape wasn't dictated by drag coefficients and fuel economy numbers. There are only a handful of vehicles like this and hope these vehicles stay true to their form.
Interior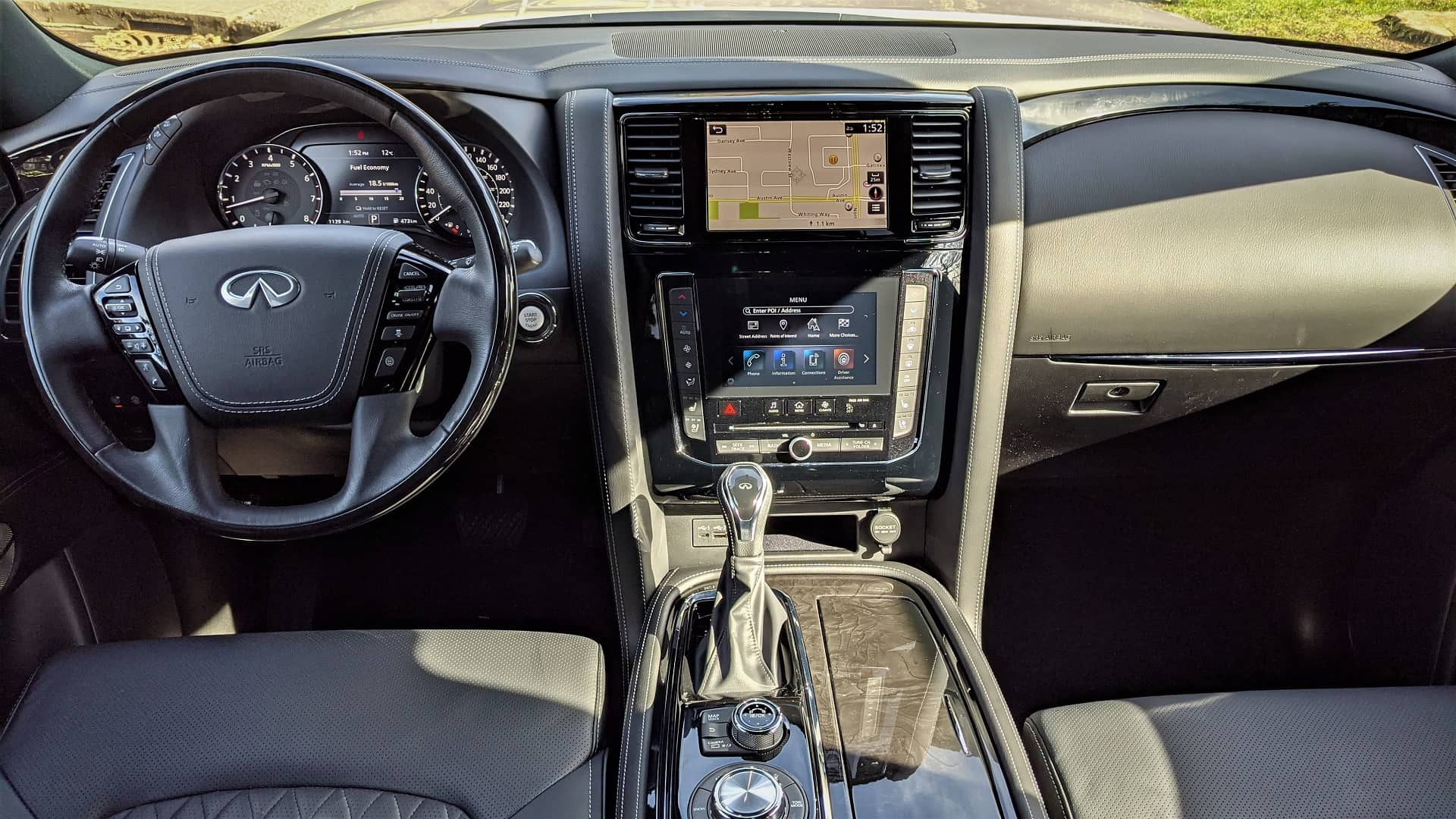 The interior on the Infiniti QX80 also has many similarities to the Armada's. However, it has a bit more modern look to it compared to the Armada. The QX80 has a larger infotainment screen and features another screen below it, instead of a bunch of physical buttons found on the Armada.
However, it's still an older interior that has been modernized, it looks dated compared to other large modern SUVs. If there's a brand-new Armada/QX80 in the works, I'm sure that would have an interior that we've become accustomed to.
I would still call the interior quite nice, it's certainly nicer than the Armada's. The interior is quiet and has loads of room. There's lots of room for all the occupants, even those sitting in the third-row. This is a perfect people hauler; it would be especially great on long road trips.
Overall Impressions
I enjoyed spending my time with the 2021 Infiniti QX80 SUV. It's a vehicle that may not be for everyone but it certainly fills a niche. I personally love big vehicles like this, so for me, it was an awesome week. It's an option for those looking for large body-on-frame SUVs. It may not be the most modern large SUV currently available, but it certainly is luxurious and cool looking.
For more information on the Infiniti QX80, visit Infiniti Canada's website.