Data storage companies worldwide are striving to offer huge internal storage devices. The world will soon see a popular hard disk manufacturer's first 20TB hard drive. However, an average computer user doesn't have access to high-end devices that support these enormous storage devices. Although laptops and desktop PCs now come with generous internal HDD if you are a downloading or gaming fan, these internal devices are just insufficient. You will easily become short of space; sometimes, choosing what data to keep and which to let go of is tough.
For commercial uses keeping a record of office data for an extended period is essential, and most of the time, it exceeds the limits of what your computer can hold. Data is essential and valuable to everyone. Whether you are a domestic user who wants to keep their stack of family videos safe or a business owner who doesn't want to lose its crucial data, in both cases, the best option is to back up all information on cloud storage or an external hard drive. Despite being a safer option, cloud storage platforms are costly, and the subscription is a big hassle. On the contrary, investing in a reliable external hard drive like WD-My Passport is much more cost-effective and simple. In today's article, we will discuss WD My Passport external storage drives, the causes of data loss from them, precautionary tips, and practical hard drive data recovery methods.
So let's begin.
Overview of WD My Passport Hard Drive:
Western Digital is a notable manufacturer of hard drives and storage devices released under various brand labels that the company is operating. The three primary ones the tech leader owns are SanDisk, WD, and G-Technology. My Passport is an external hard drive product line released WD brand of the company that includes six models. These external hard drives compact size and high storage capacities make them outshine other competitors' products. Let's briefly examine the salient features of WD My Passport hard drives.
Compact design and slimness enhance its portability. The thickness varies with its storage capabilities.
It is available in multiple colors, such as Black, Blue, Red, and White, to suit the user's personal style.
The external hard disks come in multiple storage capacities. The capacities range from 1 TB to 5TB
Easy connectivity with a laptop or desktop PC via USB 2.0 or USB 3.0 port. The package includes a Superspeed USB cable and a quick install manual.
The trademarked WD-Backup™ software allows users to schedule and automate the backup process to avoid data loss.
The external HDDs are password protected with an additional security layer by hardware encryption to reduce data theft.
Other prominent features include connectivity with cloud and social media platforms via the patented WD Discovery™ to backup online data on the portable device and a 3-year limited warranty.
Tips for WD External Hard Disk Data Recovery 
WD external HDD has made storing huge volumes of data very convenient. From all your high pixels photographs to critical data, you can back up all in a single place. The only limitation of these super functional devices is their non-exemption to data loss. Various factors are involved in data damage, although whatever the issue is, losing accumulated data in the blink of an eye is a terrible experience. Before we head on to discuss effective ways to recover lost data, let's look at some primary reasons people get deprived of it and some tips to ensure that any data restoration method is successful.
Causes Of Data Loss From WD- My Passport External Hard Drive:
Similar to built-in hard drives, these portable ones are exposed to numerous things resulting in data erasure. This could be all-time famous accidental deletion to some logical issues. Some fundamental reasons for data loss in My Passport hard drives are.
Viruses and malware attack external these portable HDDs in the same way as regular ones. When a user connects them to infected devices or transfers corrupted data, the accompanying malware and viruses lead to data loss.
These hard drives have their own system files to function properly. In any case, they are lost or deleted; the stored data is lost. Partition corruption is another main reason for it.
Sudden power failures, human errors like unintentional deletion, and physical damage to these storage devices also result in the loss of stored files.
Precautionary Steps to Make Data Retrieval Easier:
Stop Using The WD Passport Hard Drive:
Data loss comes with great confusion, and people panic soon after they can't spot their precious files. The first and the best thing to do in such a situation is to stop using it because if you don't, the chances of overwriting the data increase, making data recovery near to impossible.
Never Format The WD- External Hard Drive:
When people observe missing files in the storage device, especially when the device is corrupted or attacked by viruses, they are inclined towards formatting, which is not the right approach. Formatting hard drives will create a new partition table, and recovering deleted files becomes more challenging.
Don't Repair The Hard Drive on your own:
When some damage occurs to the device, never try to repair it on your own. There are tons of complexities involved that an ordinary user is unaware of. Data recovery specialists recommend recovering and backing up data via any effective method before repairing the hard drive.
How to Recover Data from WD Passport External Hard Drive?
Before you reach out to other people for WD My Passport data recovery and spend big money, you can do something highly effective to get back all your deleted files. Wondershare Recoverit is an effective and affordable tool for WD Hard drive data retrieval without any troubles. The user-friendly software is designed to yield quick results and recover damaged, lost, deleted, corrupted, or even formatted data. Recoverit supports diverse formats and file types. Whether you lost some invaluable photos, or a music collection, or your office data stored on a WD Passport, the tool manages to recover it all for you. Just follow the below-mentioned self-explanatory step to get back all desired deleted files.
Step 1: Download Wondershare Recoverit:
Quickly install the software on any of your PC. The tool is compatible will Windows XP/7/8/8.1/10 and Mac devices. Once the download is complete, before beginning, don't forget to connect your WD Passport hard drive and ensure that the operating system detects it.
Step 2: Select WD- Passport Device:
When you have connected the device, you will find the WD Passport drive in the external device recovery section on the software's easy-to-navigate UI. Please select it and click on the start button to begin the recovery process.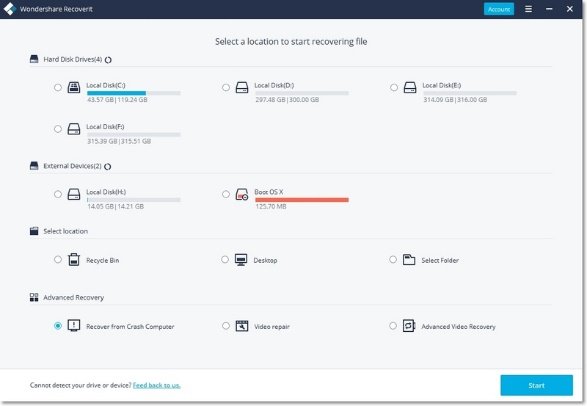 Step 3: Begin the Scan
After selecting the device from the menu:
Click on the "Start" button. The scanning from the My Passport external drive will start.
Be patient and let the process complete. This may take a few minutes, and if you are unable to find it on the first go, move to the next step.
Select the All Round Data recovery option, which takes longer to continue but offers a more powerful recovery rate.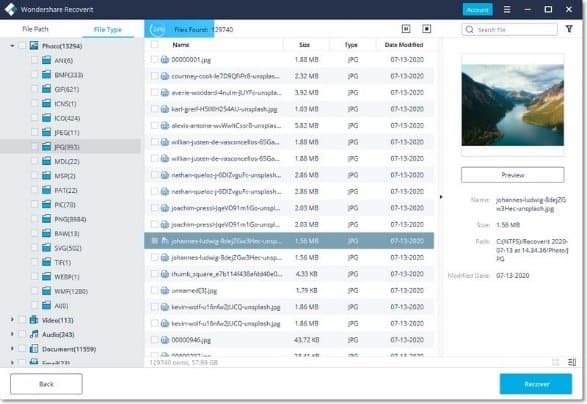 Step 4: Preview and Recover Lost Files:
When the scanning process is completed, Wondershare Recoverit allows you to preview all rescued files.The files will be sorted with the file types, but you can easily use the filters to find the desired ones. Once you have found the one you need, it's best not to recover them on the WD device where you lost them. Recover it as another safe space to avoid future deletions and losses.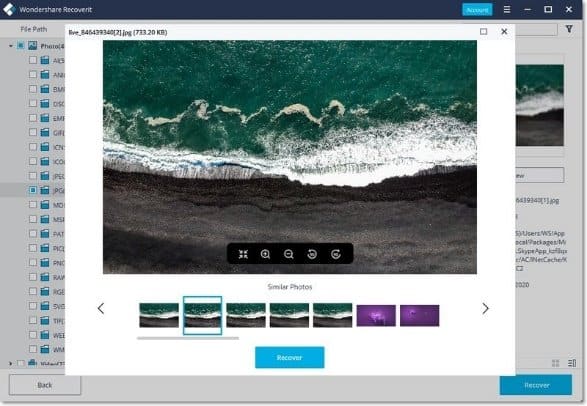 Ending Note:
Our laptops and PC are exposed to myriad risky things that can cause viruses or other harmful things to attack them. When you connect external devices to these infected computers, there is an increased risk of data loss. On the other hand, humans make mistakes all the time. Accidental deletions are more common than you think. WD-My Passport devices are super helpful for data backup, but Wondershare Recoverit is your ideal friend when that backup fails. It is one of the best data recovery software you can buy and will help you recover all your valuable data without any hassles. The software is easy to use with a high recovery percentage. The purchasing plans are flexible, and 24/7 customer support makes it even more desirable.