I have reviewed the 2nd generation Jaguar XF on a couple of occasions, the first was the gasoline powered V6 S and the second time was the 2.0-liter diesel engine. I enjoyed driving the car a lot on both occasions and particularly enjoyed the savings at the pump when I reviewed the diesel version.
Last week I had an opportunity to review the 2019 Jaguar XF S, which doesn't really see any changes as far as I could tell from the previous XFs we reviewed.
The Jaguar XF competes in a class of well-established European sports sedans like the Mercedes-Benz E-Class, BMW 5-Series, and Audi A6. There is also some competition from the Japanese brands Lexus and Infiniti, and American competition from Cadillac.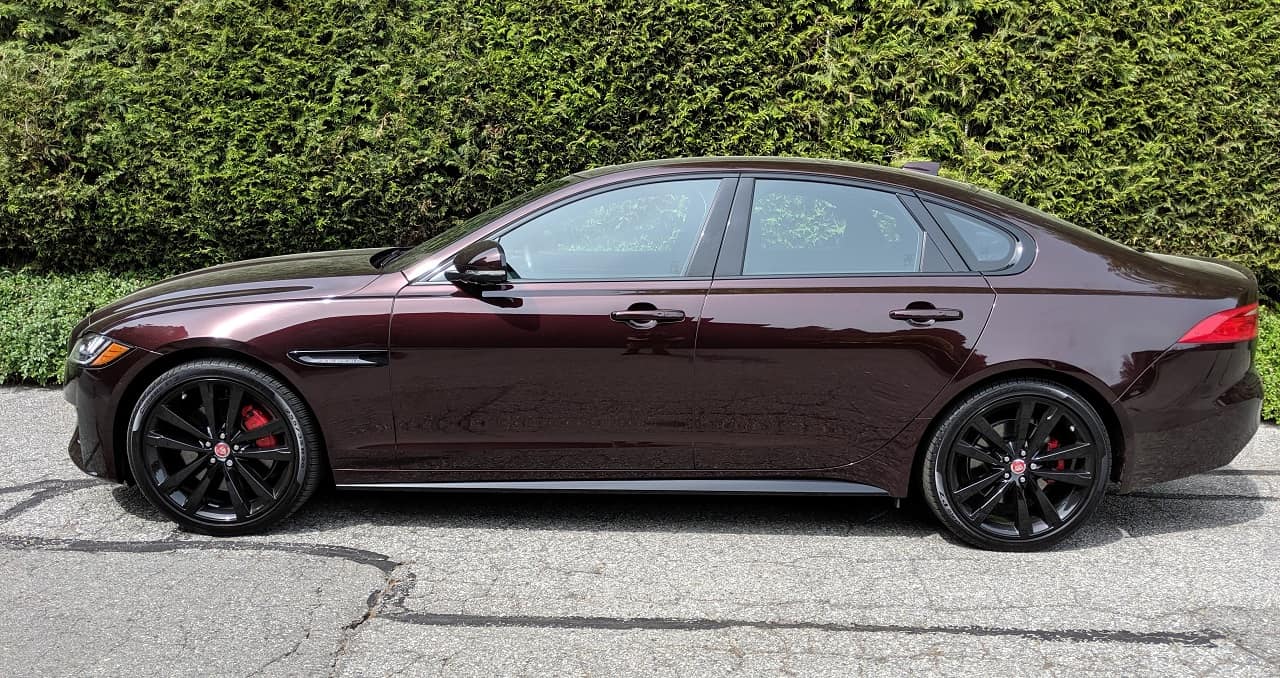 Engines
Since I last drove the XF, there has been a slight change in engines you can equip the XF sedan with. Before you had the option of a 2.0-liter diesel, a 2.0-liter gasoline, and a 3.0-liter V6 with two different horsepower outputs, depending on the trim; this V6 is found throughout Jaguar's vehicle lineup.
Things are a bit different now. You still have the 2.0-liter 4-cylinder diesel engine, which 180 horsepower at 4,000 rpm and 318 pound-feet of torque between 1,750 and 2,500 rpm. The 2.0-liter 4-cylinder gasoline engine now has two outputs, 247 HP or 296 HP (the more powerful engine is called "Ingenium"). The 3.0-liter supercharged V6 now only has one output, which is 380 horsepower at 6,500 rpm and 332 lb-ft of torque. All trims come with AWD and are equipped with 8-speed ZF auto transmissions.
Prices
The way the 2019 Jaguar XF is configured is also different now. Each engine is offered with different trims: Prestige, R-Sport, 300 Sport, Portfolio, and S. Prices start at $66,500 and can go all the way up to a starting price of $75,300 for the 2019 XF S. If you click all the options, price can easily go above $90,000. These prices do not include $1,600 for Freight & PDI.
Driving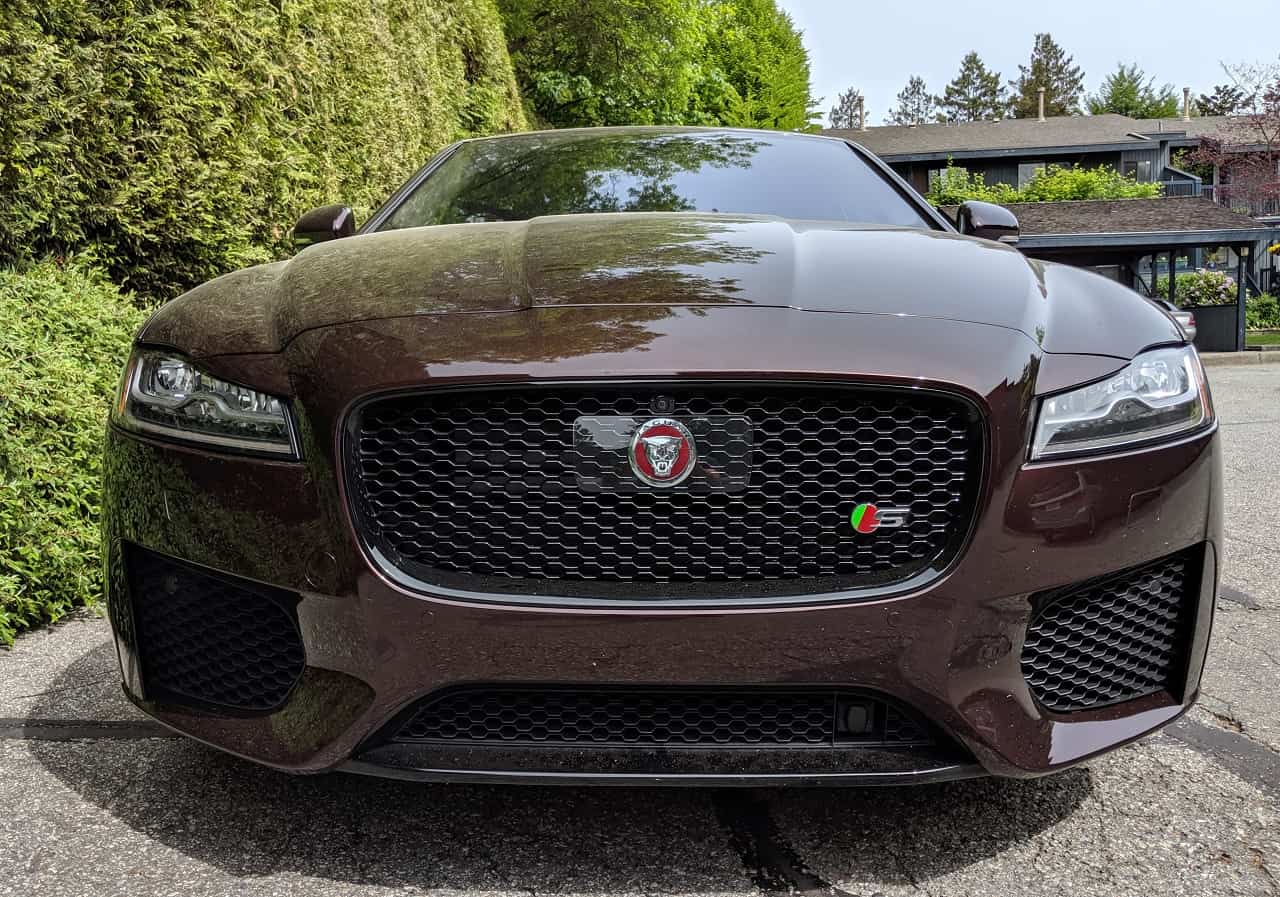 Driving the new 2nd generation Jaguar XF S is quite fun, the supercharged V6 engine makes some very nice exhaust notes and has a lot of power. According to Jaguar, the XF S does the 0 – 100 km/h (0 – 62 mph) sprint in 5.3 seconds and reaches a top speed of 250 km/h. It is a very fast car and the AWD system puts the power down very nicely, with the help of the excellent 8-speed ZF transmission. Shifts are very quick and fun, especially in the sport mode, gears can be manually selected via the steering wheel mounted paddle shifters.
In normal and eco modes, the XF is a quiet and relaxed driving luxury sedan. Put it into the "Dynamic Mode" and the kitty wakes up, for more fun shift the transmission into "S" and the XF turns into an ever more vicious animal. The steering wheel becomes much firmer and shifts are held much longer. This is the mode to have some real fun in.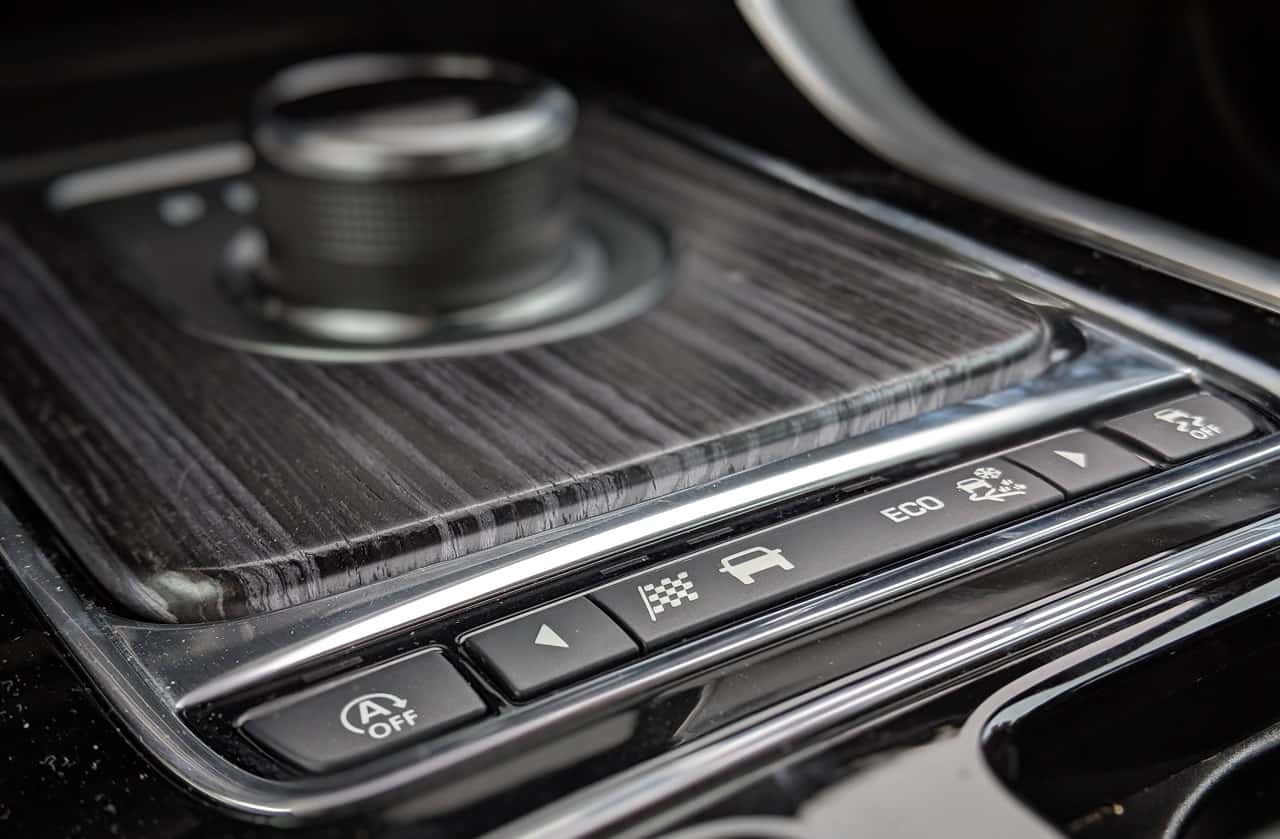 Changing between modes is done via pressing the left or right button on the center console, behind the gear selector, see photo above. However, I found it a bit annoying as you have to scroll left and right to go between the different modes, I would've preferred buttons that let you click them and directly go into the desired mode, rather than going from Eco to Normal to Dynamic or vice-a-versa.
As fun and powerful as the Jaguar XF S is, it's still pretty good on fuel. According to Jaguar, the XF S should consume 12.0 L/100 km in city driving, 8.4 L/100 km on the highway, and 10.4 L/100 km combined. For this review, I drove the car in all city driving, with a lot of short trips, which increased fuel consumption, the on-board computer showed 13.5 L/100 km.
Design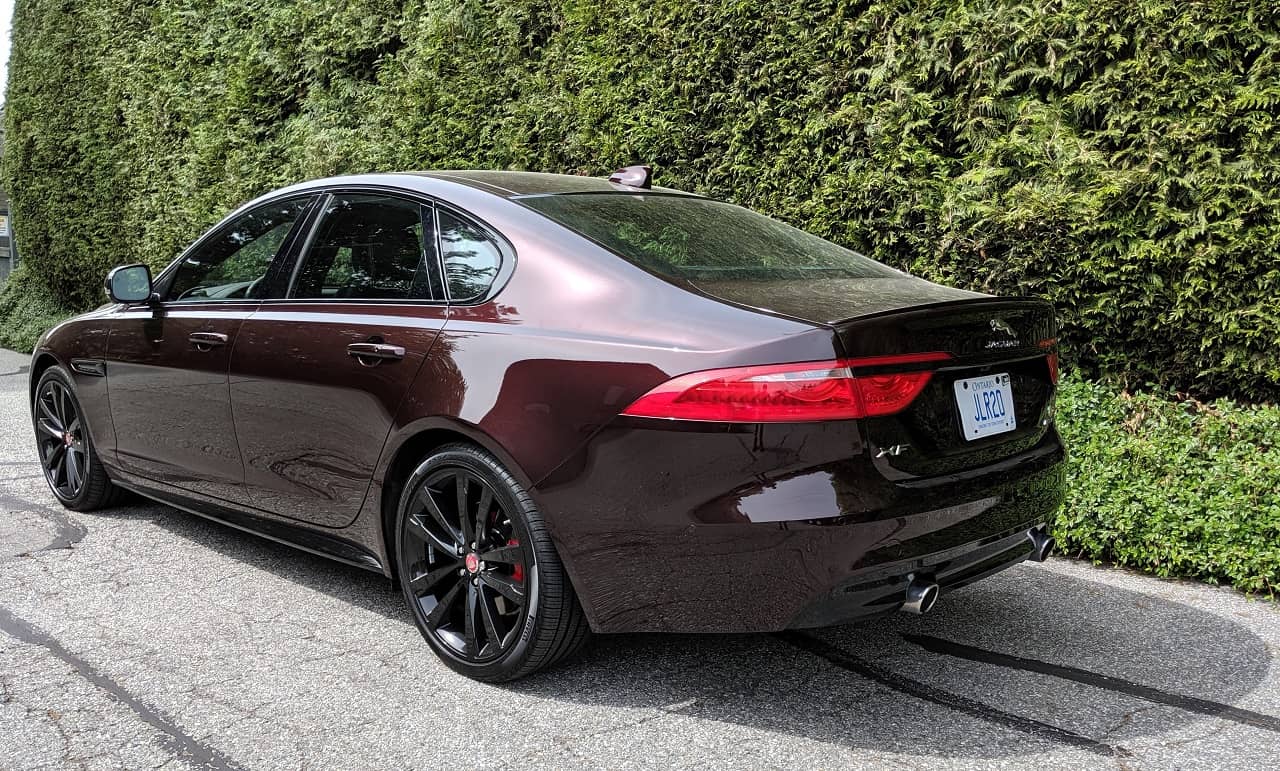 The exterior design on the 2019 XF doesn't see any changes from the previous year, as far as I could tell, and the design itself was an evolution of the previous generation car. I think it is a good-looking sedan, it looks sporty and still turns heads.
Interior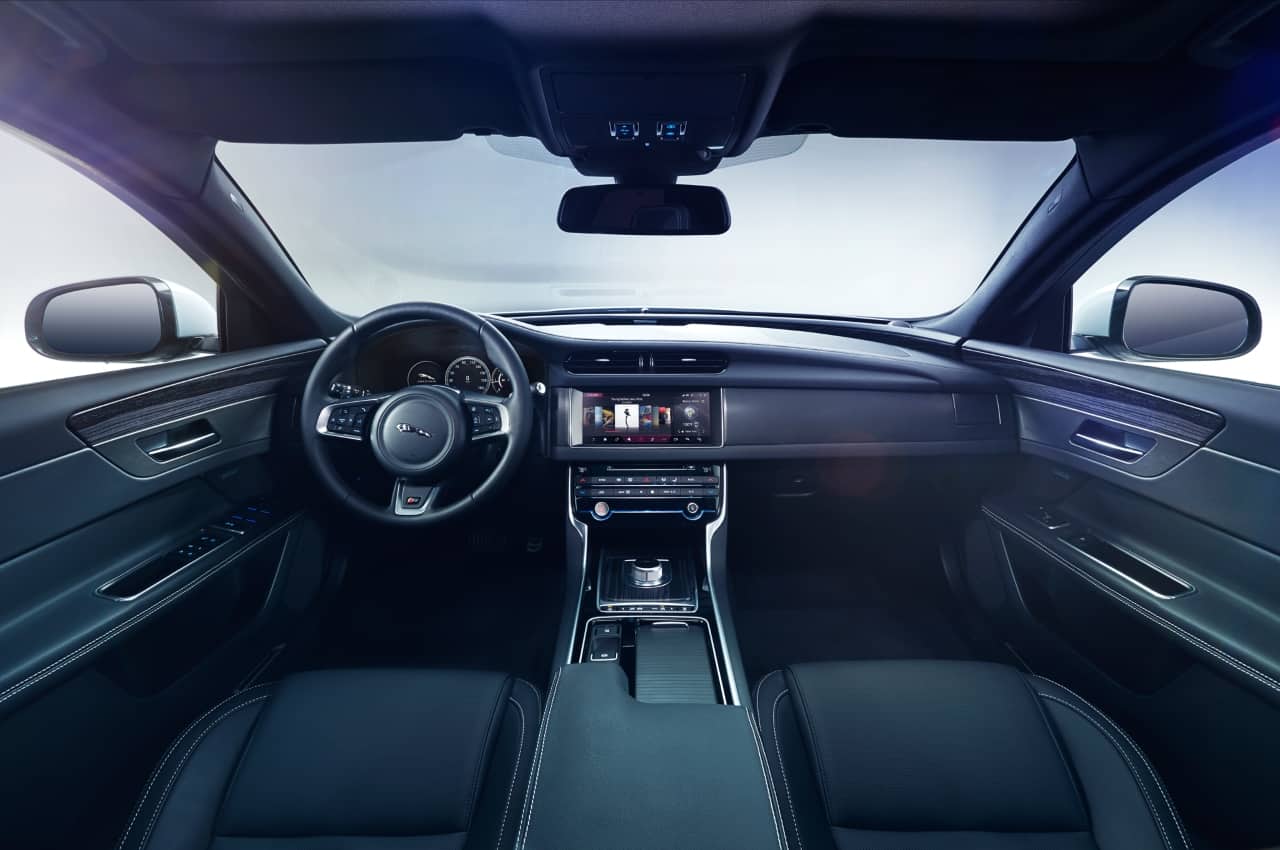 The interior on the XF hasn't changed, it still comes with its signature pop-up gear lever and the auto-closing/opening vents. Although the interior has a very clean look and I used to think it was pretty nice, after driving so many cars over the last two years, some premium and some mass-market vehicles, I think the XF's interior is now its biggest letdown, in my opinion. It just doesn't feel premium and looks dated, the competition (and cars that are way lower on the pecking order) are way ahead. I personally think the interior on the Mazda3, which is a mass-market compact sedan/hatchback, feels more luxurious than the XF's.
This is unfortunate, because I think the XF is a very fun to drive car and it has great exterior styling.
The interior is quiet and roomy, I did however notice quite a bit of wind noise at highway speeds, where the window meets the top of the door. There is a lot of room for the front occupants and the rear passengers also have a lot leg room and a good amount of head room.
Technology
The 2016 Jaguar XF can be loaded with lots of tech gadgets, below is a list of some of the main tech and safety equipment available on the XF.
Jaguar Smart key system – Keyless Entry
Push-button start
Acoustic Layer windshield
Automatic headlamps
Puddle lamps
Partial LED rear lights
Headlamp Powerwash
Tire Pressure Monitoring System (TPMS)
Auto-dimming Rear View Mirror
Power Adjustable Steering Column (reach and rake)
Perimeter sensing alarm and immobilizer
Hazard lights under heavy braking
Rear Parking Aid
Front Parking Aid
Lane Keeping Assist & Driver Condition Monitoring (LKA with DCM)
Blind Spot monitor with Closing Vehicle Sensing and Reverse Traffic Detection
Autonomous Emergency Braking (AEB)
Emergency Brake Assist
Adaptive Surface Response (AdSR)
All Surface Progress Control (ASPC)
Hill Launch Assist
Jaguar Drive Control
Torque Vectoring by Braking (TVBB)
Cruise Control with Automatic Speed Limiter
Dual-zone climate control
8″ Capacitive Touchscreen
Audio AUX In
1 USB socket
iPod Integration
Bluetooth telephone connectivity and Audio Streaming
InControl Touch (SD) Navigation
InControl Protect
InControl Remote
InControl Apps
Dynamic Stability Control & Traction Control
Closing Thoughts
The 2019 Jaguar XF is a good driver's car, it has a nice comfortable ride and is also very sporty, and the 380 horsepower is more than enough to keep a smile on your face. The car drives like a much smaller car and in the Dynamic mode, it can put many sports cars to shame. Unfortunately, the interior was the biggest letdown for me, the interior needs to be a lot more luxurious to demand a price tag of $75,000+, the competition is miles ahead. Hopefully Jaguar will do a much better job on the next generation of the XF.