The Jaguar XF sedan was introduced in 2007 as a successor to the S-Type sedan, since then it has seen a facelift and an all-new 2nd generation complete makeover, introduced last year. Last week we had the opportunity to drive this British mid-size luxury/sports sedan.
The XF is in a class of well-established European sports sedans like the Mercedes-Benz E-Class, BMW 5-Series, and Audi A6. There is also some competition from the Japanese, from Lexus and Infiniti, and American competition from Cadillac. But mainly the XF would be cross shopped with the three European cars mentioned above.
The 2016 Jaguar XF is offered in four trims in Canada, the base trim is called "Premium" with a starting price of $60,000 for the 2.0 liter turbo diesel equipped cars and $62,000 for the 3.0 liter supercharged V6 gasoline engine equipped cars. The next higher trim is "Prestige", with a starting price of $65,000 for the diesel and $67,000 for the gasoline engine equipped cars. Next up is the "R-Sport", with starting prices of $68,500 and $70,500 for diesel and gasoline engines. The top of the line trim (for now) is the "S", which is only offered with the 3.0 liter gasoline engine, it has a starting price of $74,000.
Engines
The turbocharged 2.0 liter diesel 4-cylinder engine produces 180 horsepower at 4,000 rpm and 318 pound-feet of torque between 1,750 and 2,500 rpm. The 3.0 liter supercharged V6 gasoline engine, on the first three trims, produces 340 horsepower at 6,500 rpm and 332 pound-feet of torque between 3,500 and 5,000 rpm. The "S" has the same gasoline engine, but in this trim it produces 380 horsepower at 6,500 rpm and 332 lb-ft of torque. These are the same figures for the F-Type sports cars equipped with the same V6 engine. All trims come with AWD and are equipped with 8-speed ZF auto transmissions.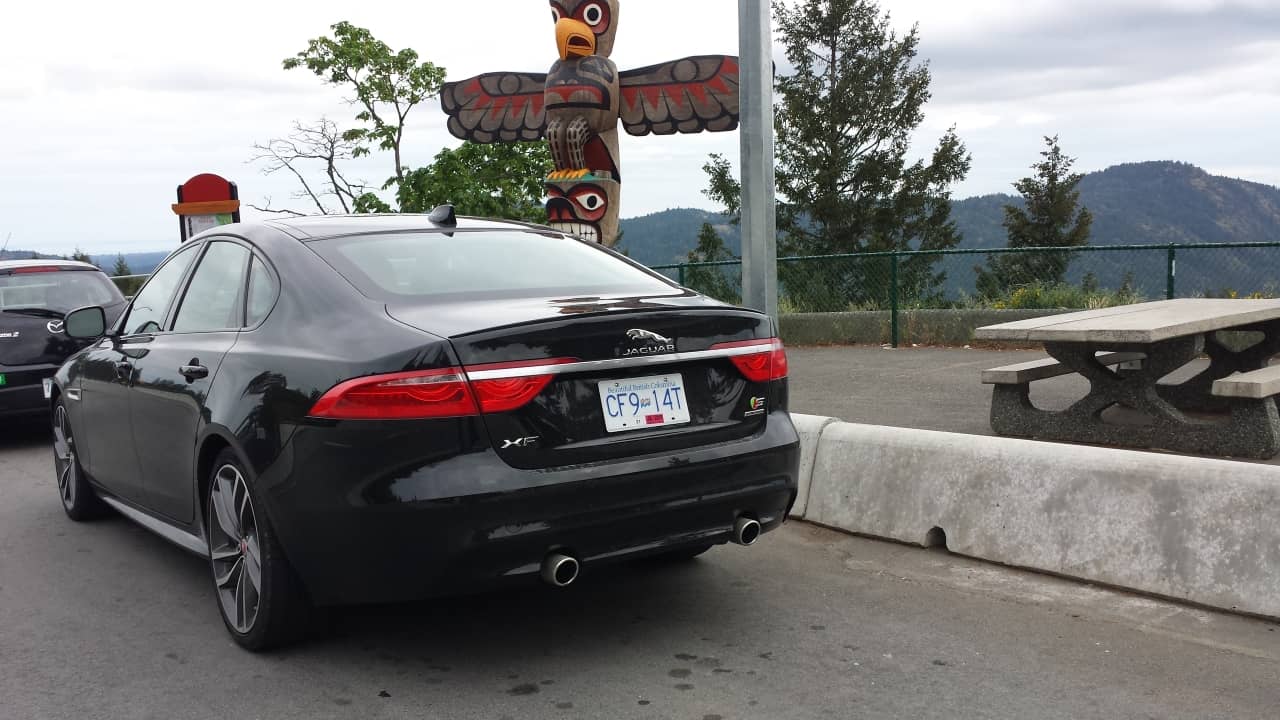 Review Car Equipment
Our review car for the week was the 2016 Jaguar XF S AWD, with a sticker price of $81,525, including Destination & Delivery ($1,375) and Green Tax ($100), plus local sales taxes. Options included 20" Labyrinth wheels ($750), Ultimate Black paint ($600), Heated Windshield ($400), Navigation System ($700), Veneer Satin Grey interior trim ($400), In Control Package ($1,150), and Comfort & Convenience Package ($2,050). The last package included 3-stage heated and cooled front seats, and heated rear seats, power trunk lid, and soft closing doors.
Driving
Driving the new 2nd generation Jaguar XF S is quite fun, the supercharged V6 engine makes some very nice exhaust notes and has lots of power. According to Jaguar, the XF S does the 0 – 100 km/h (0 – 62 mph) sprint in 5.3 seconds and reaches a top speed of 250 km/h. It is a very fast car and the AWD system puts the power down very nicely, with the help of the excellent 8-speed ZF transmission, which is found in a lot of new European cars. Shifts are very quick and fun, especially in the sport mode, gears can be manually selected via the steering wheel mounted paddle shifters.
In normal mode, the XF is a quiet and relaxed driving luxury sedan. Press the "Dynamic Mode" button and shift the transmission into "S" and the leaping cat really wakes up. In these modes the XF S becomes a very angry car, urging you to chase down other cars and hit up some twisty roads. The steering wheel becomes much firmer and shifts are held much longer. This is the mode to have some real fun in.
The 2nd generation XF also benefits from some wight loss, the is 11% lighter than the outgoing model, weighing 265 pounds less, thanks to extensive use of aluminum, 75% of the car's body/chassis is made out of aluminum. The XF is also 28% stiffer and 9% more fuel efficient than the outgoing model.
As fun and powerful as the Jaguar XF S is, it's still pretty good on fuel. According to Jaguar, the XF S should consume 12.0 L/100 km in city driving, 8.4 L/100 km on the highway, and 10.4 L/100 km combined. We took a road trip in the XF S, so 95% of the driving was either highway or side roads with no traffic lights or stop signs, the on-board computer showed 9.5 L/100 km.
Interior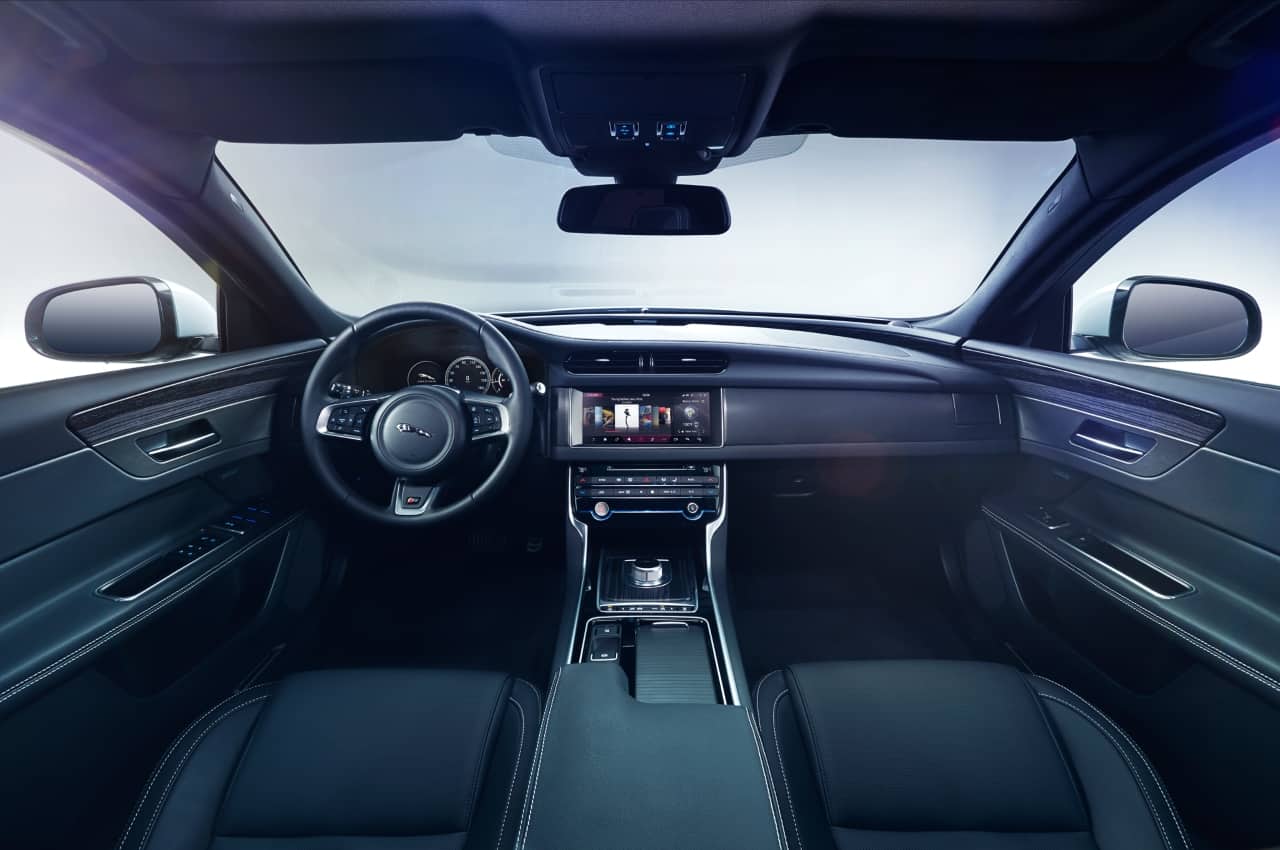 The interior on the XF is similar to the outgoing model, but it has been updated and it looks more modern. The pop-up gear lever and the auto-closing/opening vents are still present. The 2016 XF features a new infotainment system, which is a big improvement over the previous system; typing on the touchscreen is much faster, the lag between pressing a key and getting a result is non-existent. The touchscreen on our review car was the 8" unit, an optional 10.2" unit is also available. There is also an optional large, 12"+ TFT screen, available, which replaces the gauges and digitally displays speed, rpm, maps etc.
The interior is also very quiet and roomy, I did however notice quite a bit of wind noise at highway speeds, where the window meets the top of the door. There is lots of room for the front occupants, and now there is extra room for the rear passengers thanks to the extended wheelbase.
Technology
The 2016 Jaguar XF can be loaded with lots of tech gadgets, below is a list of some of the main tech and safety equipment available on the XF.
Adaptive Surface Response (AdSR)
All Surface Progress Control (ASPC)
Hill Launch Assist
Jaguar Drive Control
Torque Vectoring by Braking (TVBB)
Cruise Control with Automatic Speed Limiter
Acoustic Layer windshield
Automatic headlamps
Puddle lamps
Partial LED rear lights
Headlamp Powerwash
Tire Pressure Monitoring System (TPMS)
Auto-dimming Rear View Mirror
Power Adjustable Steering Column (reach and rake)
Dual-zone climate control
8″ Capacitive Touchscreen
Audio AUX In
1 USB socket
iPod Integration
Bluetooth telephone connectibity and Audio Streaming
InControl Touch (SD) Navigation
InControl Protect
InControl Remote
InControl Apps
Garage Door Opener (Homelink)
Rear View Camera
Keyless Start
Autonomous Emergency Braking (AEB)
Remote control central locking with deadlocks and drive-away locking
Emergency Brake Assist
Dynamic Stability Control & Traction Control
Perimeter sensing alarm and immobilizer
Hazard lights under heavy braking
Rear Parking Aid
Front Parking Aid
Lane Keeping Assist & Driver Condition Monitoring (LKA with DCM)
Blind Spot monitor with Closing Vehicle Sensing and Reverse Traffic Detection
Jaguar Smart key system – Keyless Entry
Design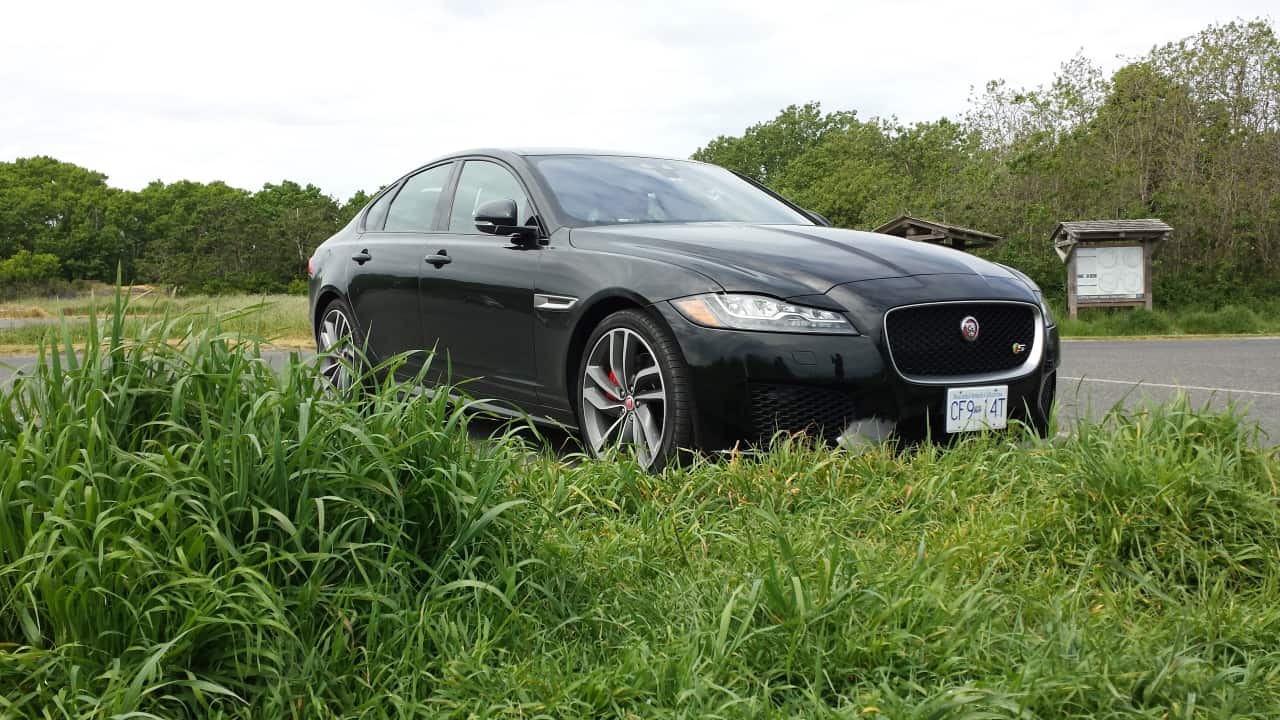 The exterior design on the new XF is an evolution of the previous generation car, if you just look at the pictures. But seeing it in person, it does look a lot different and if you park the 2015 and 2016 XF next to each other, then you'll see major differences. The styling on the 2016 XF has matured and it looks fresh, our review car had lots of heads turning. I personally was a big fan of the previous generation car and I think the new XF looks very striking.
The overall length of the car is 1/4" shorter than the car it replaces, but the wheelbase is 2" longer and the roof is lower. Giving the car an even more athletic look.

Closing Thoughts
I think the 2016 Jaguar XF is an excellent car, I wasn't too sure about the design of it when I first saw pictures of it last year. But seeing it in person, I can definitely appreciate the subtle changes in the design and I think it is a very handsome looking car. It's definitely a good alternative to BMW and Audi's design, which are hard to tell apart from different generations.
The XF has a nice comfortable ride and is also very sporty and the 380 horsepower is more than enough to keep a smile on your face. And if history is to repeat itself, we're definitely going to see more powerful "R" versions of the XF, which could/should have 500+ horsepower, perfect for those looking for maximum thrills from a sedan.
2016 Jaguar XF S AWD Review Photo Gallery