Last year we reviewed the second generation 2016 Jaguar XF S, that car was a brand new design for 2016. For 2017, nothing much has changed in terms of design or interior, but our review car had a little something different under the hood. For the second generation XF, Jaguar is offering a diesel engine in North America, giving diesel lovers an option, as sales of a lot of the German diesel cars are currently on hold in North America.
We spent one week reviewing the 2017 Jaguar XF R-Sport with a 2.0 liter 4-cylinder diesel engine. Which is the mid-range car, Jaguar offers five trim levels on the XF.
Prices
The five trims offered on the XF are Premium, Prestige, R-Sport, S, and Portfolio. Prices start at $58,900 for the base model with a 2.0 liter gasoline engine, add $2,000 for the diesel engine. The top of the line XF Portfolio has a starting price of $79,900.
Our review car was the XF R-Sport with a diesel engine, with a starting price of $68,500. Options on our review car included Comfort & Convenience Pack ($2,050) – this package includes power trunk, heated and cooled front and rear seats, and soft-close doors. Other packages included were Adaptive Dynamics ($1,000), 20" wheels ($2,100), Heated Windshield ($400), and Head-up Display ($1,300). For a total price of $76,850, including $1,500 for Delivery & Destination.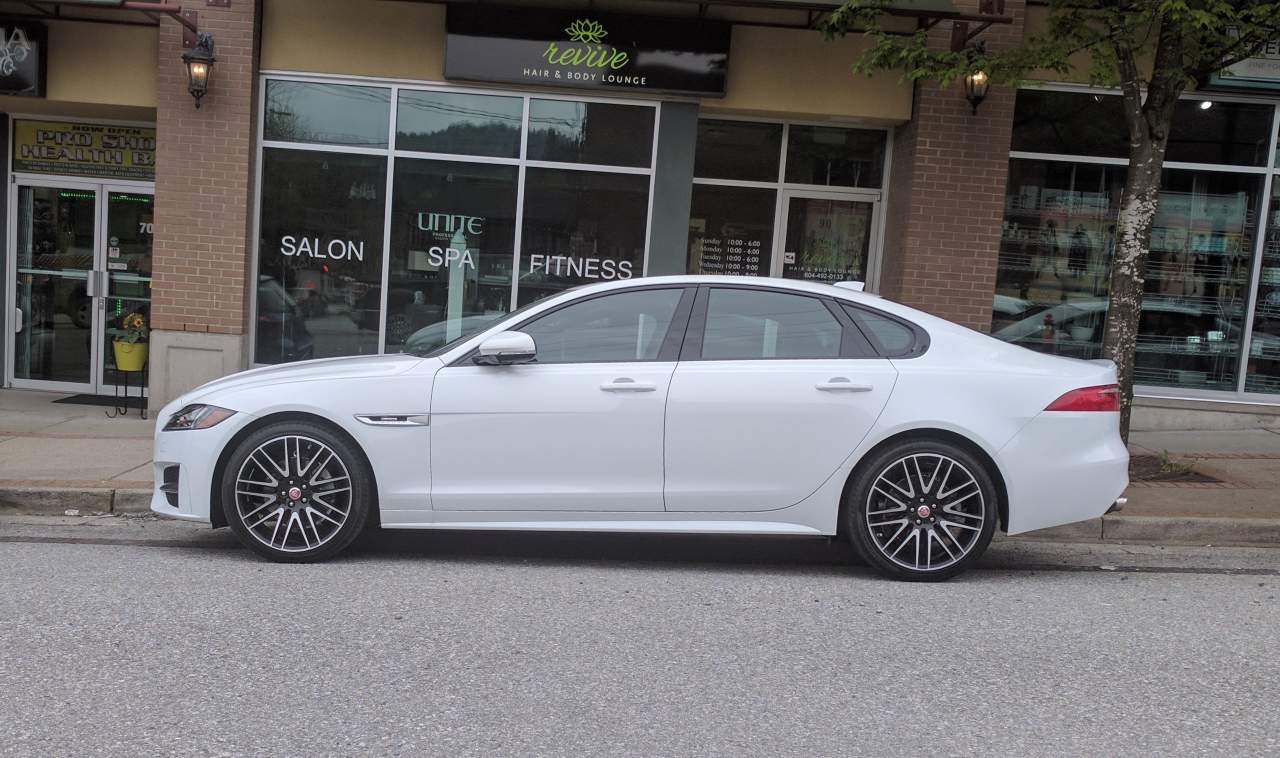 Engine
Unlike the last XF we reviewed last year, the 2017 XF is offered with three engine choices and four output levels. The first three trims are offered with gasoline or diesel engines and the top two trims are offered with supercharged V6 engines.
The 2.0 liter 4-cylinder turbocharged engine produces 247 horsepower at 5,500 rpm and 269 pound-feet of torque between 1,200 – 4,500 rpm, with a 0 – 100 km/h time of 6.6 seconds. The turbocharged 2.0 liter 4-cylinder diesel engine produces 180 HP at 4,000 rpm and 318 pound-feet of torque between 1,750 – 2,500 rpm, with a 0 – 100 km/h time of 8.4 seconds.
The Portfolio trim is offered with a 3.0 liter supercharged V6 engine, producing 340 HP at 6,500 rpm and 332 pound-feet of torque at 4,500 rpm, with a 0 – 100 km/h time of 5.4 seconds. The XF S is also offered with this engine but horsepower is increased to 380 at 6,500 rpm and torque remains the same, with a 0 – 100 km/h time of 5.3 seconds. These are the same engines/output from the F-Type and F-Type S.
All engines are mated to 8-speed ZF automatic transmissions and are only offered with AWD in Canada.
Jaguar Canada's website currently doesn't have fuel consumption numbers posted for the 2017 XF diesel, however the US Jaguar site states 30/40/34 mpg city/highway/combined, which translates to 7.8/5.9/6.9 liters/100 km, when the Canadian numbers are posted, they might be different because of differences in how both countries measure these things. In our week-long review, the on board computer showed 8.0 L/100 km (28.7 mpg) in all city driving, driving in "Normal" mode.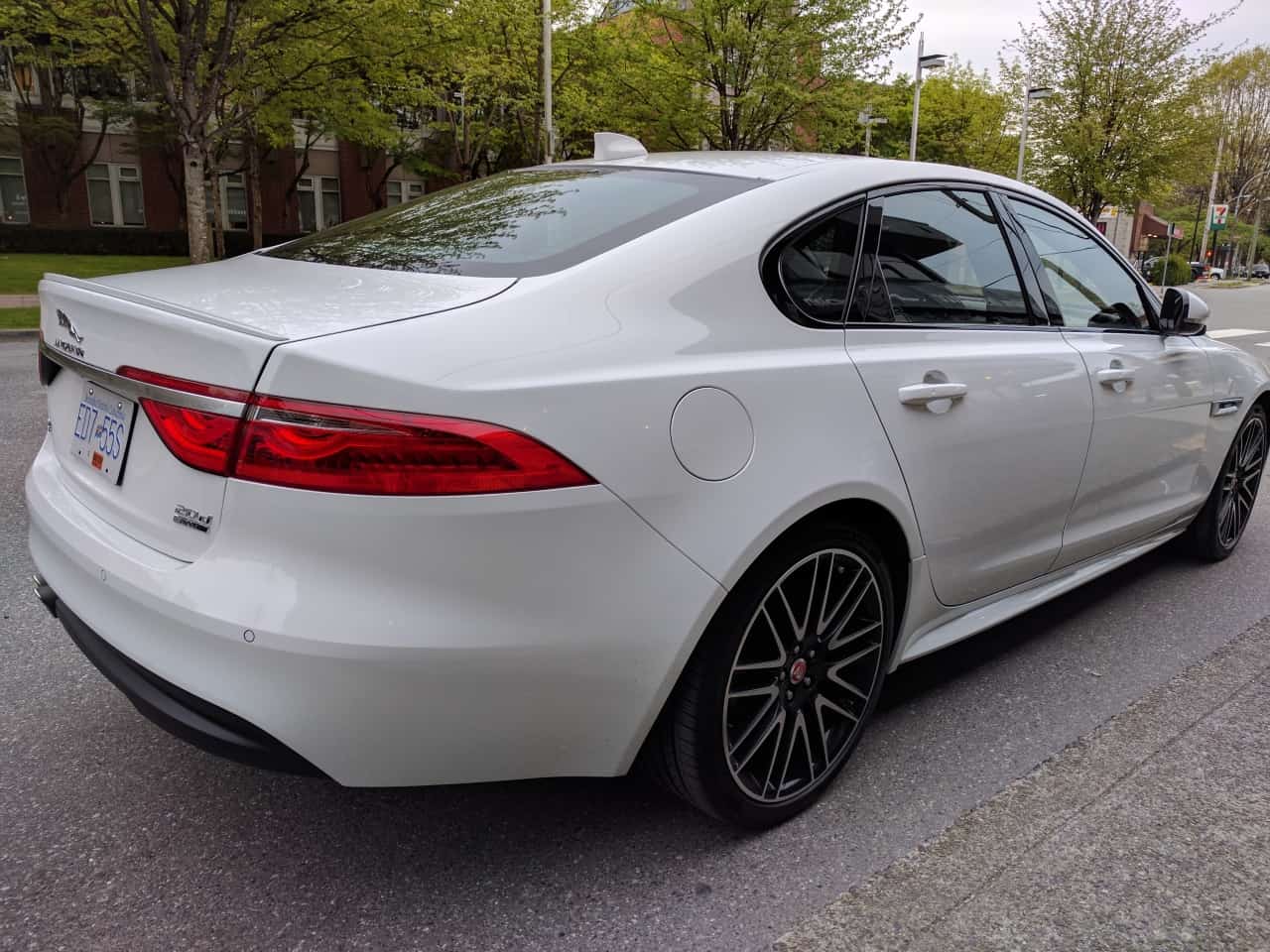 Performance
When you start the XF diesel, the first thing you notice is the amount of noise the diesel engine makes. I know diesel engines are supposed to be loud, but this is an eighty thousand dollar luxury car, I was expecting it be a lot quieter. The Range Rover Sport diesel I reviewed last year was way quieter (different engine). I expect this amount of diesel engine noise from a VW Golf, not an expensive luxury car.
Other than that, the diesel engine is pretty strong. You get three modes, Eco, Normal, and Dynamic. In Eco mode, the car is very slow and it's not really worth driving in this mode in my opinion, maybe some highway cruising. Normal mode makes the car feel much more powerful and it becomes quite fun. In the Dynamic mode, the car is really fun and this is the mode you'd want to be in to have some fun. In the Dynamic mode, the car keeps the revs in the sweet spot of the max torque, between 1,750 and 2,500 rpm. You can also put the transmission in S and make things even more fun and can manually change gears via the paddle shifters.
The transmission is the same great 8-speed ZF automatic unit used in all of JLR cars and a lot of other luxury cars. The transmission shifts smooth and quick, making the best use of all the available power. As I mentioned earlier, according to Jaguar the XF diesel AWD should get to 100 km/h (62 mph) in 8.4 seconds, but it felt much quicker to me.
Interior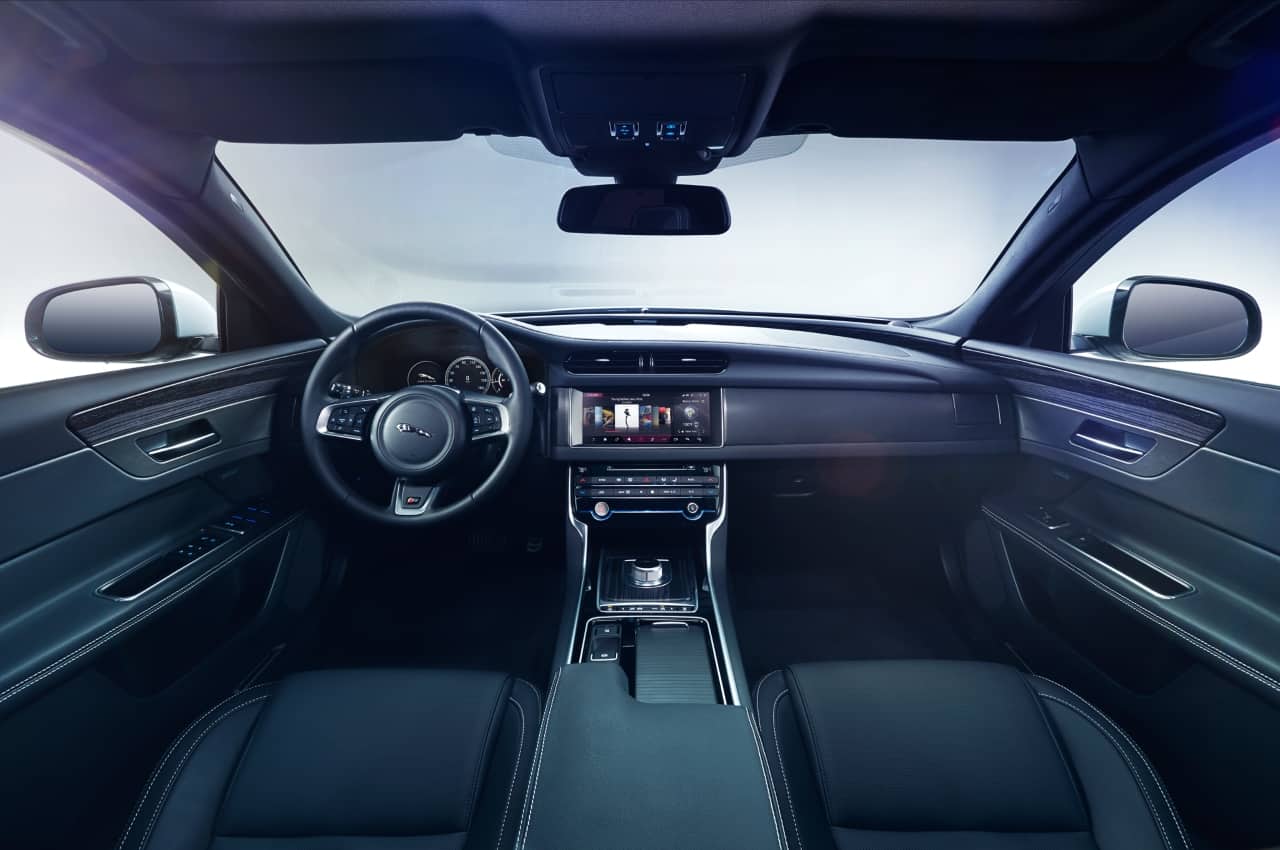 There aren't any changes on the interior from the 2016 model year, the interior has a nice clean layout and is easy to understand. Like I mentioned above, the interior is not very quiet thanks to the loud diesel engine. However, when diesel engines are at speed they tend to quiet down quite a lot and that's the case on the XF diesel as well. At cruising speeds above 60-65 km/h, the engine quiets down a lot and then the interior feels like a luxury car's interior should.
Materials used on the interior are a mix of soft and hard plastics, I did notice the outsides of the center stack had hard plastic and the way I drive is I lean my right knee to the right, hitting the hard plastic of the center stack, which made my knee quite uncomfortable. In some of the other luxury cars this area is padded or in most cars the area is curved away from the knee, so I (and you) don't hit it.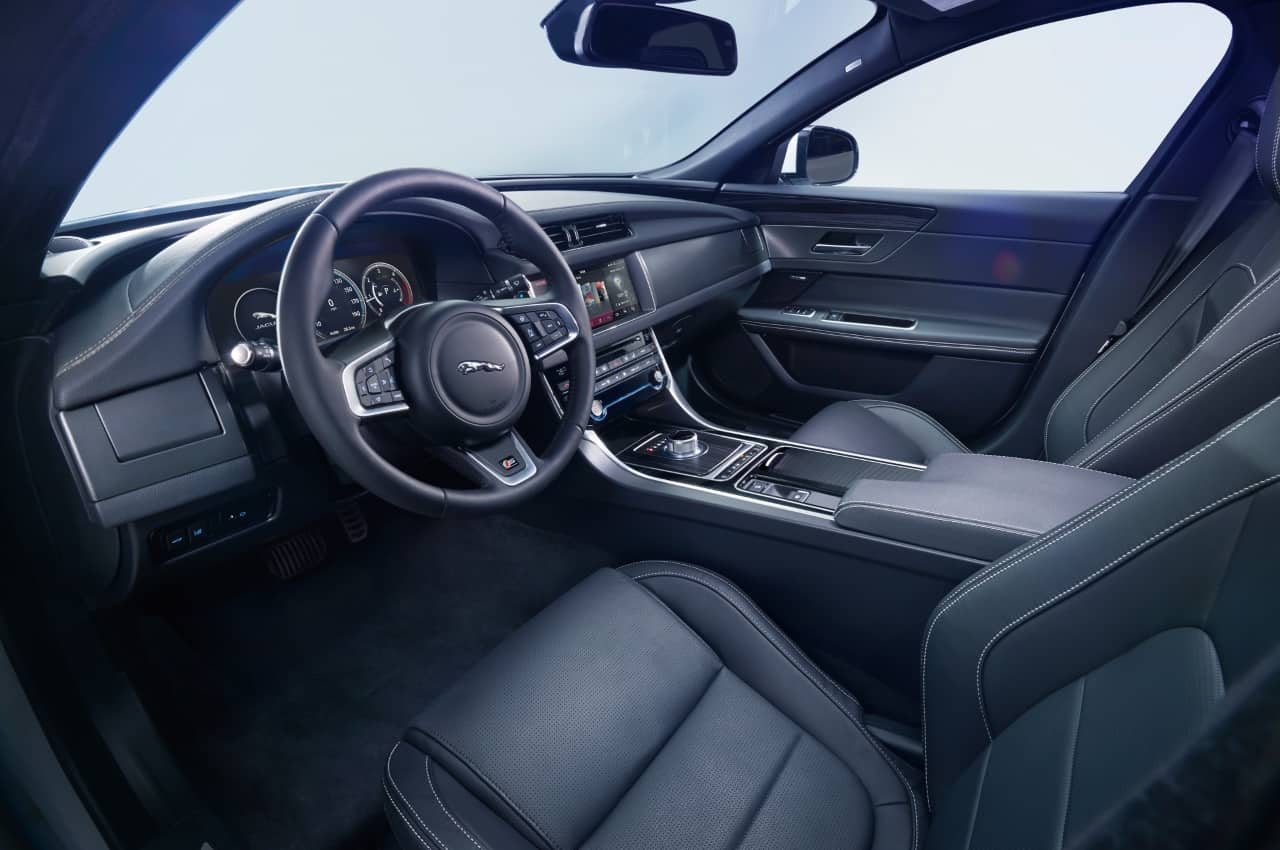 My other pet peeve was turning on/off the climate control, I could turn it on using the buttons on the console, but I couldn't turn it off from there. I had to go to the touchscreen and then go to the climate control screen and then turn it off from there, I got very annoyed with that. After I returned the car, I was told you can turn the climate off using the fan speed buttons on the console but the climate system had to go through some cycle first (maybe after a certain amount of time?). Whatever the case may be, I wasn't impressed with this small inconvenience.
The rest of the interior is a nice place to be in, it's comfortable and quite (above certain speeds). There's plenty of room for all passengers and the trunk is quite large.
The XF can be equipped with all sorts of tech gadgetry available in most/all luxury cars, for a complete list of what's available, please see my review of the 2016 Jaguar XF.
Impressions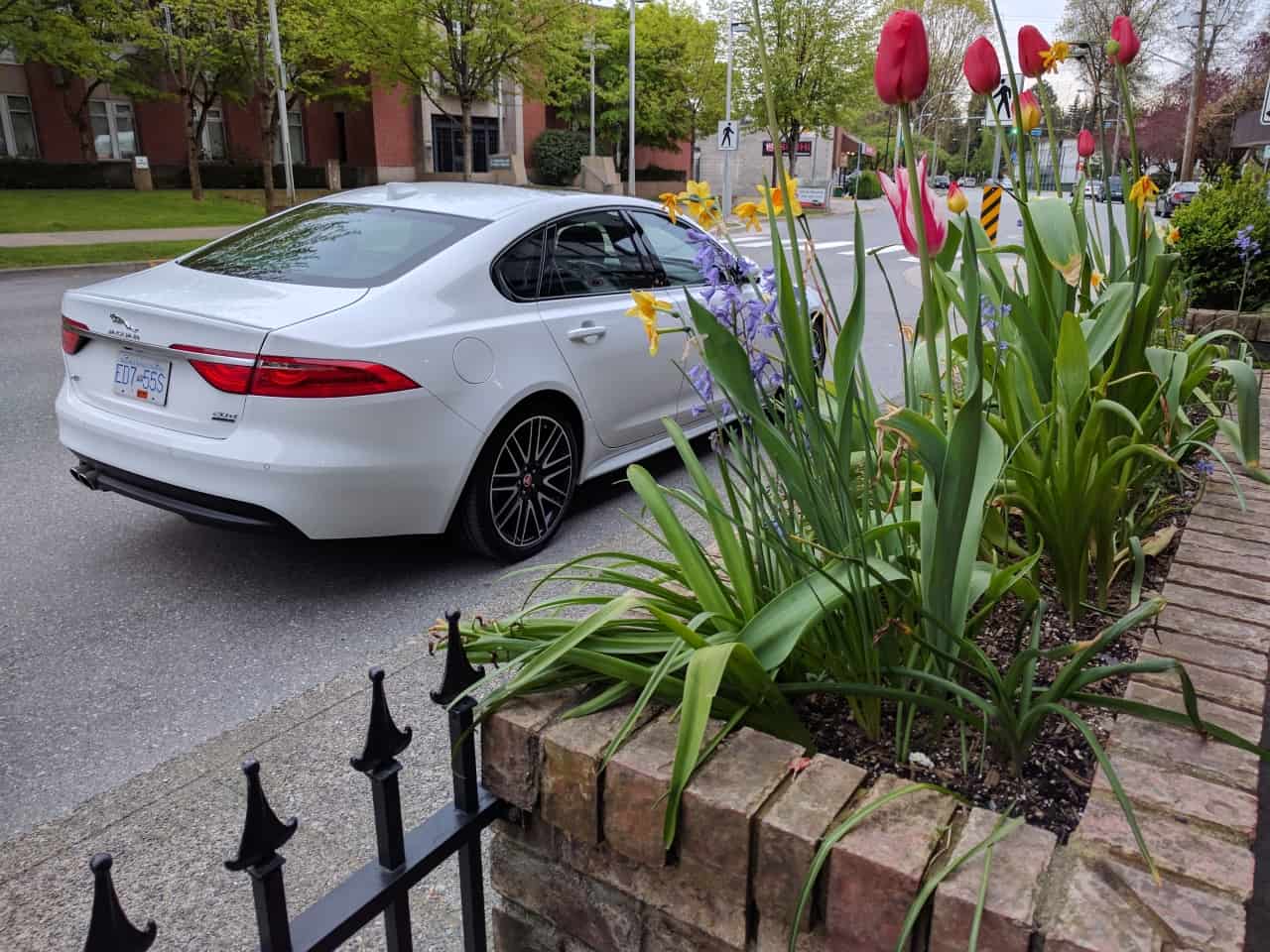 Overall I like the Jaguar XF, I had a great time in the car last year. However, I'm not a big fan of the diesel engine, I generally like diesel engines in big cars but when they're done properly (like in the Range Rover), it was just too loud for my liking.
If you're looking at the XF, I suggest you test drive the diesel engine, maybe it won't bother you. But do also test drive the other two engines for comparison purposes.
For more information on the Jaguar XF, visit jaguar.ca.