The highly anticipated 7th generation 2014 Chevrolet Corvette (C7) was unveiled today at the Detroit Auto Show, Chevy is calling it the Corvette Stingray because this is a "special car" (GM's words) and it marks the 60th anniversary of the "original American sports car"; the first Corvette C1 was unveiled on January 17, 1953.
I'm somewhat of a fan of Corvette cars, with the exception of a few models, but I think I've become a bigger fan of the car with the introduction of the C7.  The 2014 Corvette Stingray has similar lines as the C6 Corvette, but this is a completely different design.  The car looks like it was designed by the Italians and looks very sporty.  The only thing I don't like about the new C7 Corvette is the rear, I actually hate it, it reminds me of the Chevy Camaro, a car I'm not too big of a fan of.  If the designers would've been a little creative and come up with something different, this would've been an amazing looking car.  But still, I don't think it's a deal breaker.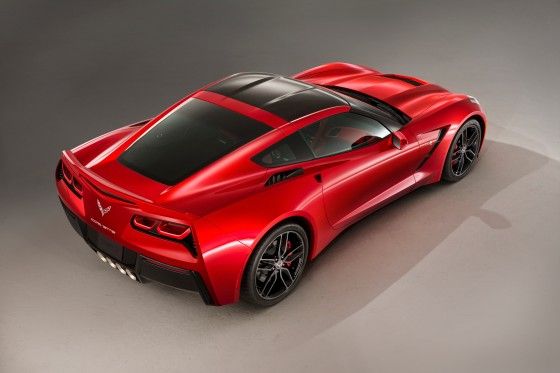 One of the biggest complaints with the previous generation Corvette was the ugly interior that had materials that looked very low quality; the C7 Corvette's interior looks pretty good and the materials used look quite high quality, I'm basing this solely on the images provided by GM.
In addition to looking good, the 2014 C7 Corvette Stingray also packs a nice punch when it comes to performance and I can't wait to hear the rumble of the small-block V8 engine.  The Corvette Stingray's 6.2 liter LT-1 V8 engine pumps out 450 horsepower and 450 pound-feet (610 Nm) of torque, sent to the rear wheels via a 6-speed automatic transmission with paddle shifters or a, Corvette first, 7-speed manual gearbox.  According to GM, the 2014 Corvette should be able to do the 0 – 60 mph sprint in under 4 seconds.
I think the 2014 Chevrolet Corvette Stingray is a pretty hot looking car that should be able to keep up with the best of them, and the best part is the price should be pretty reasonable.  I really like the exterior design, minus the rear end, and the upgraded interior should satisfy those of us that like to sit in cars that have a bit of luxury and sportiness to them.  I'm looking forward to seeing the C7 Corvette in person and hopefully taking it for a test drive/a full review.
2014 C7 Chevrolet Corvette Stingray Photo Gallery