People living in the USA and Canada have it pretty good when you compare the living conditions to the rest of the world. We pretty much have access to whatever the hell we need or could possibly ever want…. except for vehicles that is. Sure, we have plenty of options here but sometimes it feels like all the "cool cars" are just out of reach.
A perfect example is the newly refreshed 2013 Toyota Mark X sedan. For those who are unfamiliar with this vehicle, the Mark X is a mid-size sedan which shares its platform with the Lexus GS (previous generation) and the Toyota Crown. The Mark X is only available in a V6 engine and the option of an AWD or RWD system. All models come standard with a six-speed automatic transmission.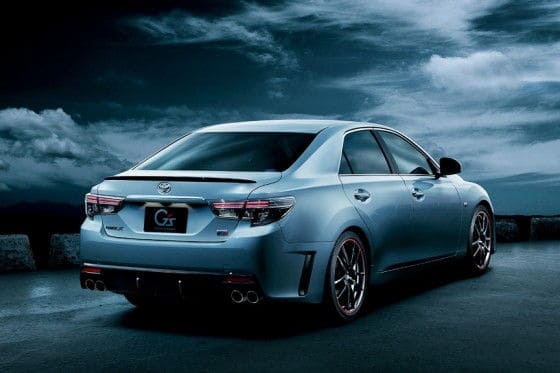 I can see some design similarities between the Mark X and the Camry but what I really like about the Mark X is the fact that it's rear wheel drive. The updated look for the Mark X includes a redesigned front bumper, new grille, and featuring Bi-Xenon and LED daytime running headlights. The rear lights have also been changed and the rear bumper has been re-sculptured to create a smooth flow from front to back. Adjustments to the chassis have also helped improve handling and thanks to the use of damping materials, the car is now quieter than previous models.
The 2013 Toyota Mark X is a good looking car but the G's version is the variant that needs to come to North America ASAP! Developed by Toyota's racing partner, Gazoo Racing, the Mark X G's features aggressive exterior styling featuring a new front grille and bumper with a rather large center opening, side skirts, rear lid spoiler, clear tail lamps, a diffuser with quad tail pipes, and a set of 19-inch alloy wheels. Interior upgrades include white instrument panel gauges, leather steering wheel and shifter with red stitching, carbon fiber trim, and sport seats with red accents and stitching.
Gazoo Racing's improvements are mainly aesthetics. Performance upgrades are limited to the sports exhaust system and a new sports suspension allowing the ride height to be dropped by 20mm.
The 2.5-liter V6 produces 272 horsepower while the 3.5-liter V6 produces 314 horsepower. In Japan, the base 2.5L model starts at $30,500 and goes as high as $53,400 for the 3.5L G's version. I have no idea how well this car would do in North America but at least it looks cool.