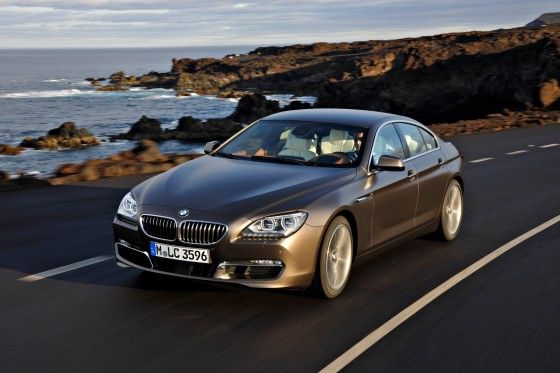 BMW has finally joined the "four door coupe" party which was started by Mercedes-Benz with the CLS back in 2004.  The Bavarian manufacturer's four door coupe is called the BMW 6 Series Gran Coupe and is based on the 6 Series coupe that has been stretched and gets an added pair of doors.
From the front and back, the Gran Coupe looks identical to the 6 Series coupe. Obviously the side profile is different and looks a lot better than the coupe in my opinion.  The Gran Coupe is 4.4 inches longer than its 2-door sibling; most of the added length benefits the rear passengers.  BMW classifies the 6 Series Gran Coupe as "4 + 1", I'm assuming this means the car can seat four people comfortably and an extra person can be seated in "emergency" situations.
The 2013 6 Series Gran Coupe will be unveiled at the 2012 Geneva Auto Show in March and will be available at dealerships in early summer.  In the U.S. the car will initially be offered as a 640i Gran Coupe model which will come equipped with a 3.0 liter turbocharged inline-six engine producing 320 horsepower and 332 pound-feet (450 Nm) of torque.  The 650i Gran Coupe will be available a little later with a 4.4 liter turbocharged V8 engine producing 450 horsepower and 479 pound-feet (650 Nm) of torque.  The 650i will come in rear-wheel drive or optional xDrive all-wheel drive formats.  Both of these models will come with eight-speed automatic transmissions.
A more powerful M6 Gran Coupe will be available later with a turbocharged V8 engine with a 7-speed dual-clutch automatic transmission that should produce around 560 HP. In Europe, BMW will offer the 640d Gran Coupe model powered by a turbo-diesel 6-cylinder engine producing 313 horsepower and a massive 465 pound-feet (630 Nm) of torque with around 50 mpg fuel consumption based on the European cycle.  No word on whether BMW will bring the diesel Gran Coupe model to North America.
BMW 6 Series Gran Coupe Picture Gallery:
[Source: BMW]