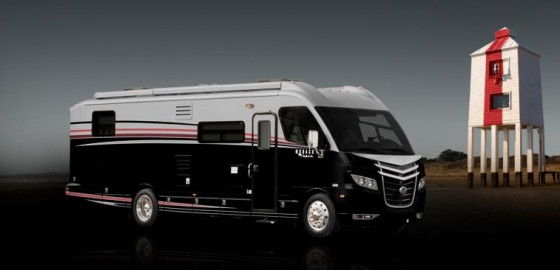 I've always wanted to do a road trip from British Columbia all the way down to Miami, FL and I think I'm going to skip out on renting an SUV and go all out (if finances permit). The new Monaco Vesta 2 PBS takes road trips to a whole new level with the ridiculous amount of luxury that can be found on board the luxury motor home.
The Monaco Vesta luxury motor home is a beast on the road measuring 8-feet in width, 32-feet in length, and 11-feet and 7-inches in height. The motor home features a massive 6.4 liter V8 diesel engine mated to an Allison 2500 MH transmission, full air suspension, and air brakes. The engine maker for this vehicle, Navistar, have developed an engine that produces low emissions and offers better fuel efficiency through advanced EGR emission controls. In this class of motor homes, diesel coaches are generally pretty uneconomical when it comes to burning fuel.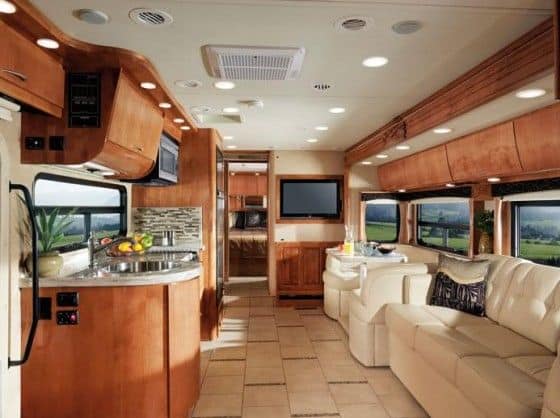 The framing of the Monaco Vesta is made up of aluminum while polystyrene insulation is used along with fiberglass skin which helps add durability and keeps the weight of the main chassis in check. The floor plan of the luxury motor home is divided into three sections which include the driver's area, private resting area, and the sitting area. The driver has access to a sophisticated control panel to manage all the vehicle settings through one panel. The sitting area features a soft leather sofa bed in pearl white with surrounding woodwork done in Italian Sienna hardwood complete in a fine polish. The kitchen on the Monaco Vesta also happens to be better equipped than what I have at my own place. The kitchen onboard features wood cabinets with curved surfaces, Corian worktops, and a stainless steel sink. The back of the motor home features the resting and private area which features a bath and a bedroom which can also be transformed into a dressing area. The bedroom also features a king size bed.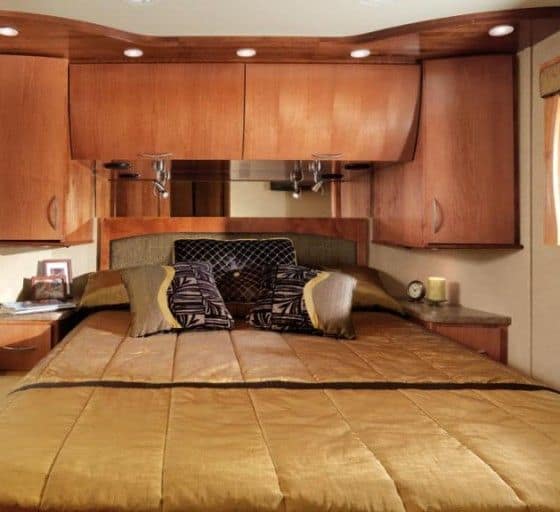 The Monaco Vesta 32 PBS features an Onan 6.0 KW Diesel generator, 50 amp coach distribution system, a 1200-watt inverter, and a 32-Inch LCD television in the sitting area. To keep cool during the hot summer days, a 13,500 BTU air conditioning system can be taken advantage of. And for the cool climates, a 30,000 BTU heating system is also available to keep you nice and toasty. Other options available for the Monaco Vesta 32 PBS include a GSP navigation system, a satellite TV, and a Home Theater system.
If you have $203,850 laying around, the Monaco Vesta 32 PBS is worth a look.