Up until recently I had never heard of Tron or what it was about; I still don't know what the movie is about, but at least I've heard of it now and made a post.  I was thinking of watching the movie, but after my last post, I know it will be a let-down.
I have compiled a list of some cool and not so cool Tron Legacy inspired merchandise.
The Light Cycle
Just like the Light Cycle from the movie, you too can ride in style on this street-legal version of the motorcycle for only $55,000.  Built by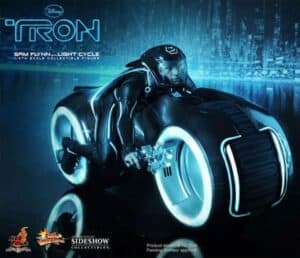 Monster Phones
Disney collaborated with Monster Cable to come up with these cool looking Tron-styled headphones.  Not sure if they're featured in the movie, but they come with the signature blue LED lights and feature "cutting edge sonic technology" and will cost you
Ice Hotel
You too can spend a night in a room that looks like Kevin Flynn's holding chamber in Tron.  The room is created by two British designers at Sweden's famous Ice Hotel.
Gunnar 3D Glasses
Disney collaborated with eye-wear company Gunnar to create these Tron-branded 3D glasses which are compatible with RealD's 3-D screens.  Now you don't have to wear those crappy 3D glasses provided by the movie theaters, while still experiencing Tron Legacy just the way god Disney intended it.  Cost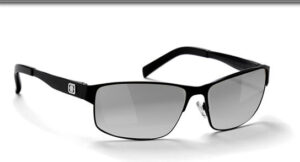 Siren Shoes
Not for dudes, but still Tron related, the Siren shoes can be bought at the Tron pop-up store at RoyalT in Culvar, California.  They are the same shoes worn by the siren programs in Tron.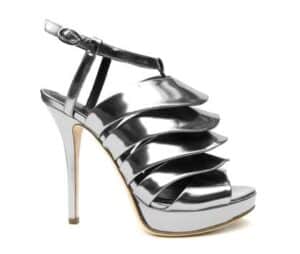 iPod Disc
Designed to look like the discs carried in the Tron movie, which are used as storage containers-and also act as weapons (this movie is going to be weird!)- the iPod Disc is a docking station for your iPod.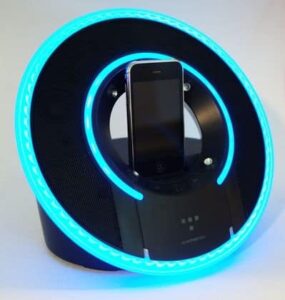 Snow Boots
These boots are also available at Disney's Tron pop-up store: the shoes are worn by male programs in the movie, but you can just use them to walk in the snow.
Medicon Action Figures
Disney and Medicon has made these weird little toys based on Tron programs (they may look familiar to Daft Punk fans).  They will be available next year and will cost $20 for the pair.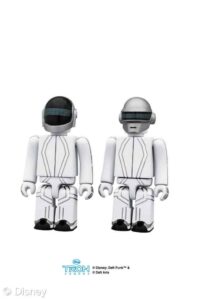 12-Inch Doll Action Figure
For the ultimate geeks, Disney and Medicon created this detailed 12-inch doll action figure for a cool 230 bucks each.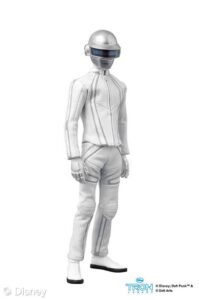 Tron Skatecycle
Based on the Skatecycle, this Tron Skatecycle gets some much-needed LED lights to make it look like a mini Light Cycle.  Created by Alon Karpman, as a DIY project.
I was pretty excited about writing this article but as I went along my excitement faded, and now I'm starting to think Tron is pretty lame… I was almost ready to trash this post.  The fact that Disney seems to be whoring the Tron merchandise pretty badly didn't help either.  I feel like I should have been paid to write this article.