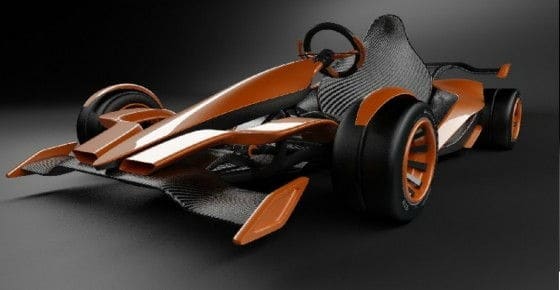 The future is here! We present you the GK2G (Go Kart 2 Go), designed by Beau Reid of Beau Designs.  This is one of the coolest go-karts I've even seen, it's so sexy, I would buy one in a heartbeat when/if it's available.
The GK2G is designed to look like a Formula1 car and I believe they achieved that by the pure sexiness of the design (can you tell I really like this thing?).  The GK2G is an electric go-kart; it's powered by lightweight lithium batteries and can reach a top speed of 60 miles per hour.
Like F1 cars, the GK2G was built with lightweight materials, the entire bodywork and chassis are made out of carbon fiber and the final result is a light weight go-kart that only weighs 65 pounds.  Another cool feature of the GK2G is that it can be folded up into a package measuring 30" x 30" x 15" for easily carrying it around in your car trunk.  The folding dimensions are achieved by removing the wheels and steering wheel and folding the chassis in half.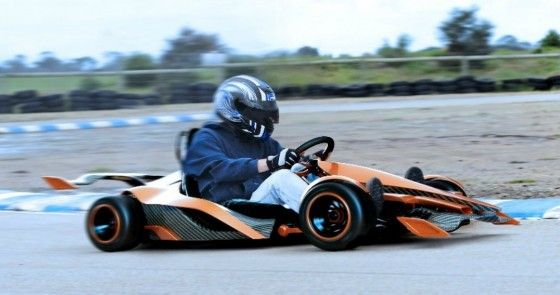 The thing I don't understand is the presence of steering wheel mounted shifters, I thought electric vehicles had only one forward gear?  Maybe they're there for something else or they're purely aesthetic.  The other problem I see is the front and rear wing not lasting more than a few laps; if you're familiar with go-karting, you'll know there is a lot of bumping involved.