It might sound stereotypical, but as a guy who lives alone, I can tell you that the microwave is a bachelor's best friend. For most of my adult life, if I ate something besides a sandwich or bowl of cereal, it's usually been leftover takeout food. From time to time, I'd throw a microwaveable burrito in and nuke it if I wanted something "homemade." If I felt like going full-out Martha Stewart, I'd actually preheat the oven (the real oven!) and make a frozen pizza.
That kind of eating started catching up to my waistline after a while. It was clear that I needed to make some changes and my doctor told me that the best step was to start cooking nutritious meals at home. And no, he informed me – the beans in a cheesy bean burrito do not count as one serving of vegetables.
A Non-Cook Moves Into the Kitchen
Short on time and unwilling to shell out a bunch of cash for different pots and pans, I started researching the best way for me to make a variety of meals with as little equipment as possible. One name kept popping up: the Instant Pot.
As I read up on it, I learned that it's more than just a pot. It works as a pressure cooker, rice cooker, a device that can sauté and brown foodstuffs, a steamer, and a yogurt maker. In all honesty, I'm zero percent interested in making my own yogurt, but the other items sounded interesting. Pressure cooking would allow me to cook things that need to cook all day in just a fraction of the time, while I put it in slow cooker mode and leave for work, only to return to the smell of amazing deliciousness. Those two features alone sounded like they'd work well for my crazy schedule.
Another cool thing I liked about the Instant Pot? The company that makes it was founded by engineers – not chefs. I don't want to spend time tinkering around in the kitchen; I just want a cooking product that works well. That's what the creators of Instant Pot were hoping to build. The device became a raging success based on word of mouth from bloggers and users who absolutely loved it. That sounded like a winner to me!
The Instant Pot is also incredibly energy efficient. I try to do right by the environment when I can (and save a few dollars on my electrical bill, if possible), and the Instant Pot saves up to 70% in electricity compared to other cooking methods. It does this by greatly reducing cooking time. That's a win-win, in my book.
The current Instant Pot is the third generation of this device. The first one was essentially an electric pressure cooker with a mechanical timer. In the second generation, a digital controller made life easier, as it allowed users to delay cooking and use a countdown timer to see when the cooker had reached the right pressure. This third generation Instant Pot is phenomenal. It has all of the temperature and safety features of the first two (it won't cook if the lid isn't locked), in addition to smart programming and a microprocessor to make sure that everything runs smoothly from the time you start the cooking process on through the very end.
Bringing It Home
I felt really good about the Instant Pot as soon as I unpacked it and saw the user-friendly buttons on it: Meat/Stew, Bean/Chili, Soup, Sauté, and Steam – among others. Even me, a cooking newbie, couldn't get this wrong. I set it up right on my counter, where it takes up about as much space as a slow cooker or pressure cooker.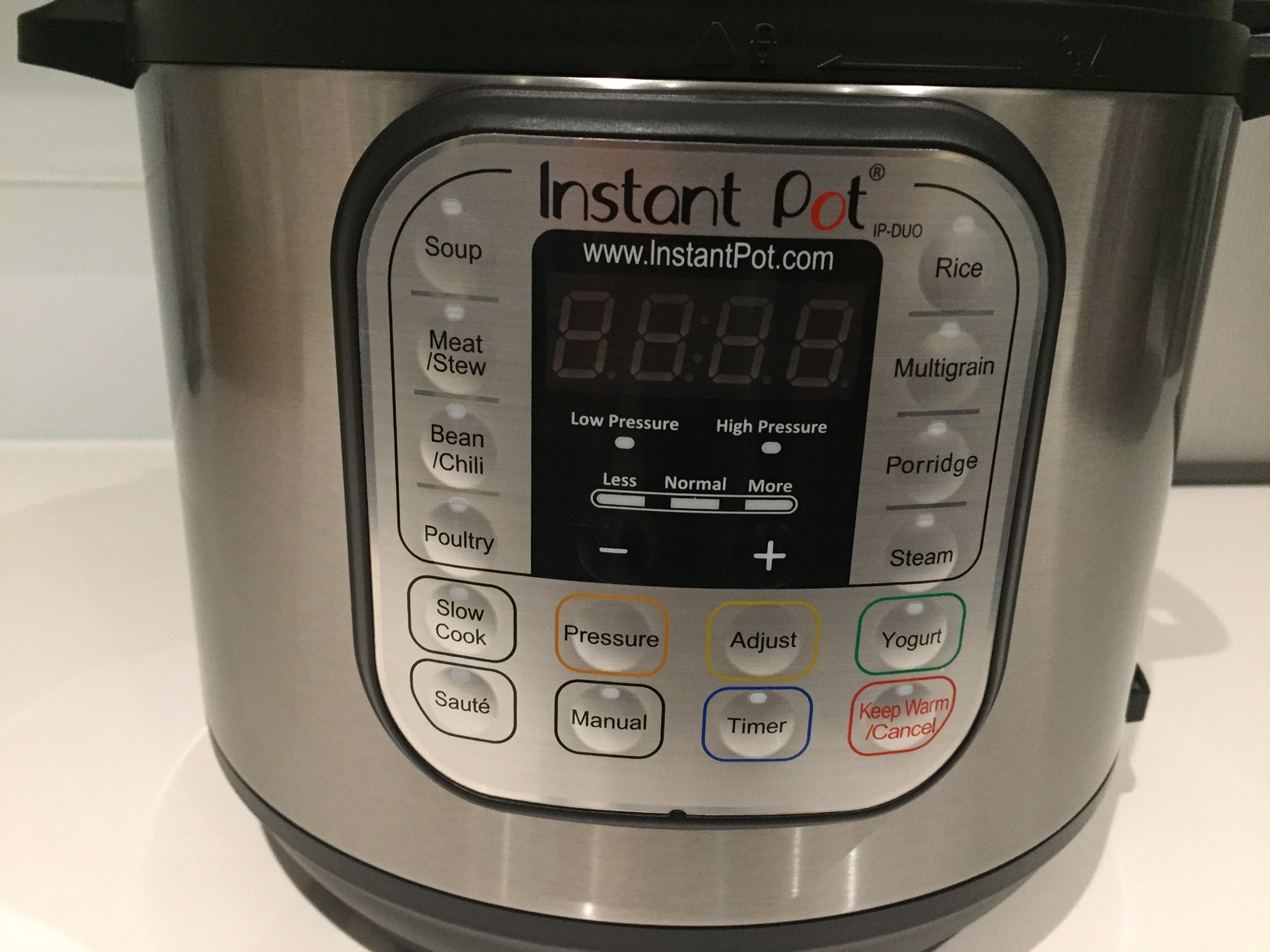 The Instant Pot comes with a recipe booklet which includes how to make rice, braised ribs, roast baby potatoes, creme brulee and so much more!
The instant pot comes with a metal rack, 2 plastic spoons, condensation collector, measuring cup, power cord and stainless steel insert. Everything you need to start cooking! I also love that the power cord can be detached for easy storage.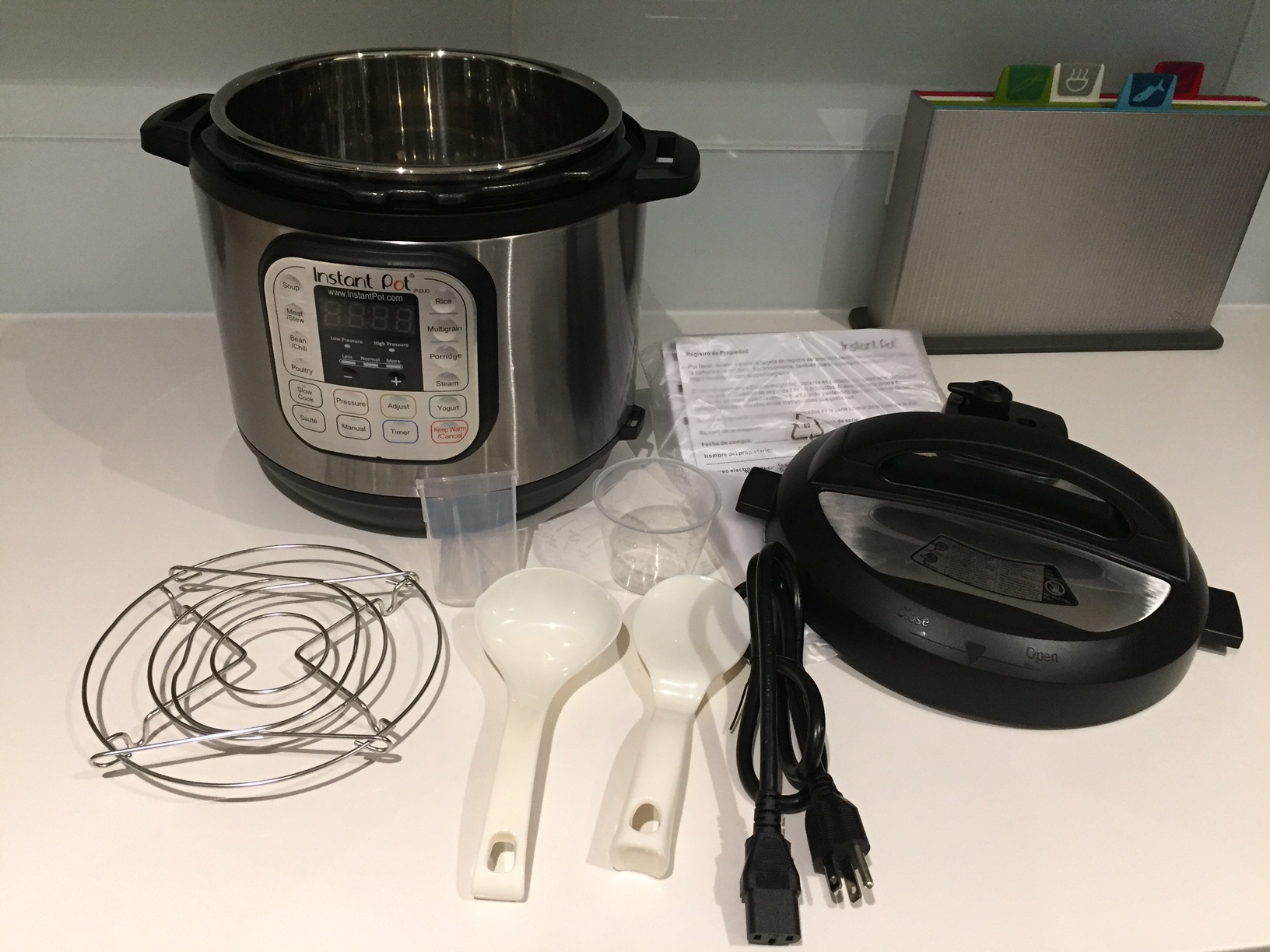 Why not just get a pressure cooker or a slow cooker, you ask? Because the Instant Pot gives me one-pot flexibility. First, it allows me to sauté, which means I don't need another pan to brown meat for slow cooker recipes. I hate additional cleanup and during the week, I simply won't cook if I have to use multiple pans. I can't overstate how great it is to literally make the entire meal in one pot. Another cool feature? It makes perfect rice. No, really – you won't get rice like this from a regular stovetop pot.
Recipes
Since it was chilly out when I got my Instant Pot, I figured a good first recipe to try would be chicken noodle soup. It came out absolutely delicious and the noodles were cooked perfectly rather than turned into mush, which I was afraid of with a rookie-cook-meets-electronic-cooker situation.
All I had to do was chop up some carrots, garlic, an onion, and celery and throw them in the pot with some butter on "Saute" mode. I then poured in broth,italian herbs, put in shredded cooked chicken, noodles, and some salt pepper for seasoning. I pressed the "Soup" mode on the instant pot which was pre-programmed to 20 minutes (time is adjustable), It was fast, tasty and most importantly, healthy!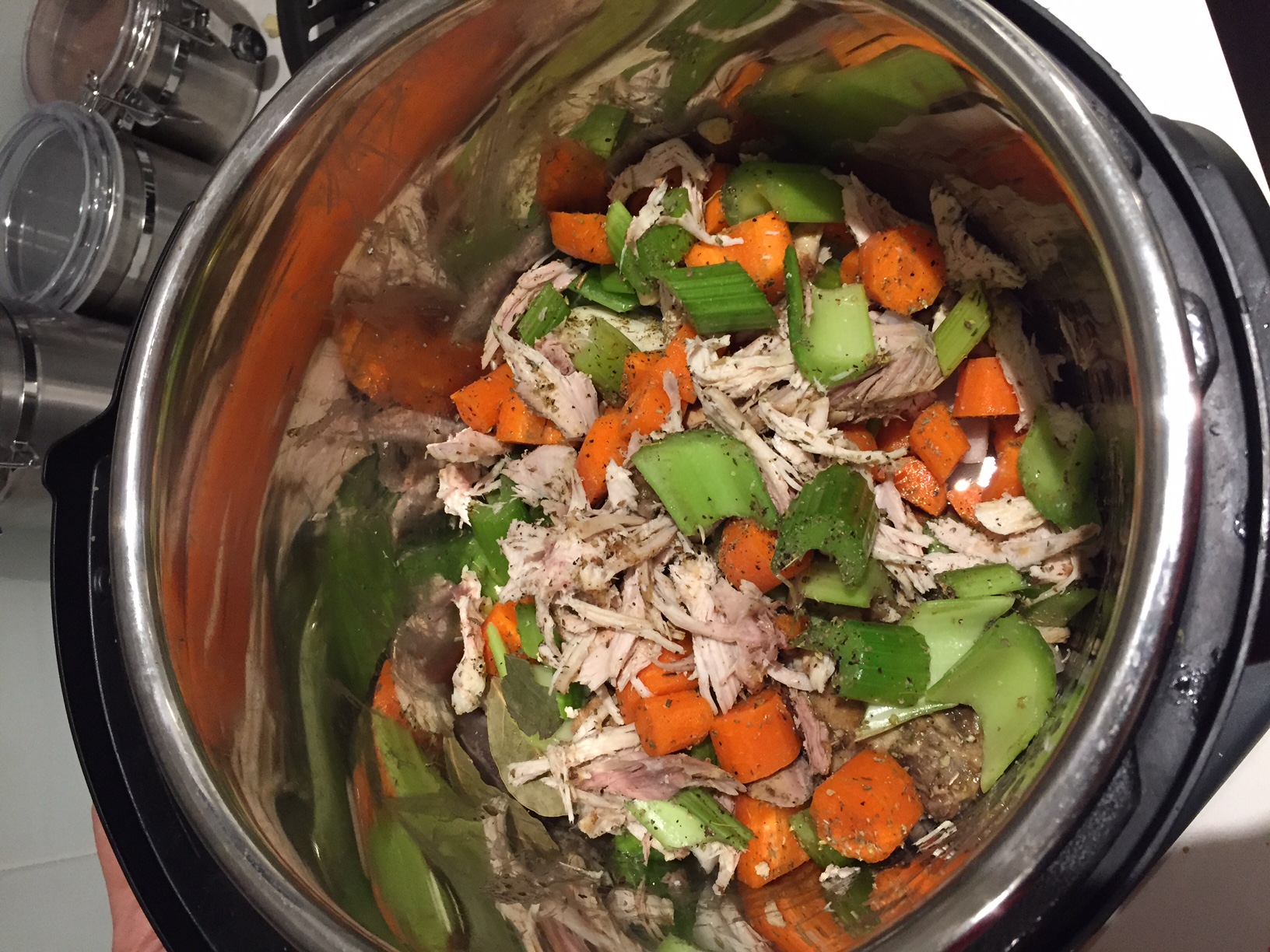 Next recipe? I thought I'd give a roast with vegetables a try. I gave the meat a good sear to brown it before putting in some onion, carrots, celery, salt, pepper, and rosemary. It took just 45 minutes to cook it on the "Meat" setting, which was much shorter than cooking it on the stove all day – and it tasted amazing.
I've experimented with a lot of different recipes (it makes great oatmeal, too, by the way) and have been happy with the way everything's come out, so far. If I forget to get a recipe started before I leave for work or want to throw something together on a weekend evening, the super-fast pressure cooker functionality is helpful. I plan on getting a steamer basket for it to make baked potatoes and veggies. The stainless steel cook pot inside cleans up incredibly easily, but it does stain up a bit. I don't mind, though, as long as it keeps putting out yummy food. Looks like the Instant Pot has turned this microwave devotee in to a real cook!