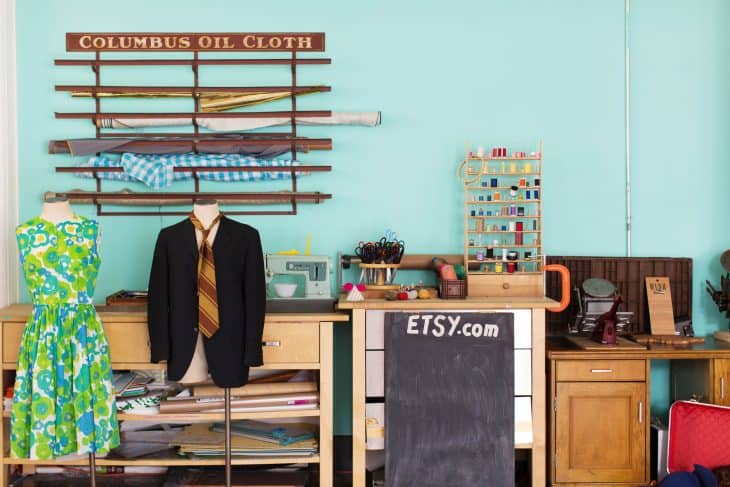 If you love a good bargain on homemade craft items at markets, then chances are you've heard of the biggest online craft market. Etsy was founded less than ten years ago, but has become the leading ecommerce website specialising in vintage and handmade items, as well as craft supplies. The most popular Etsy stores can sell more than a thousand items per day, and net their owners thousands of dollars in profit per week.
So how can YOU start making money on Etsy? Is there something you are good at making and love practicing? Is it fairly straightforward to post these items? Gloves, jewellery, hand-drawn birthday cards, and countless other clothes, accessories, homewares and gifts are all popular on Etsy. Some stores also specialise in vintage or craft supplies – along these lines, you could sell old-fashioned mason jars, antique garage signs, beads, or the movements from broken clocks. If you have a really easily replicated craft idea, you could also think about selling your patterns or DIY kits instead of or as well as your original handiworks.
How much of your income do you get to keep through Etsy?
• Etsy charges a flat 20 cents per listing. Every ad can include up to 5 photos, and will stay up until it sells, or for 4 months.
• If and when your items sell, Etsy charges you 3.5% of the listed cost (not including postage). These fees get added to a monthly bill.
• Each month Etsy invoices you for listing fees, transaction fees, and any shipping labels you bought through Etsy.
• It's up to you how you get paid. The main method used to be PayPal until Etsy developed their own online payment system, called Direct Checkout, which can accept debit and credit cards.
• PayPal charges a 30 cent flat fee per transaction, on top of 2.7 per cent of the whole sum the buyer paid (item cost plus postage). PayPal automatically subtracts this from whatever the buyer paid and deposits the remainder into your PayPal account. Although it's theoretically very easy to transfer money to and from PayPal via your bank account, keep in mind that PayPal charges fees anytime money crosses a national border or changes currency. I'm honestly not sure if that doubles up as well – i.e. what happens when you transfer money to your friend from your USD$, US-based PayPal account to a UK PayPal account in pounds sterling.
• Direct Checkout will charge 25 cents per transaction on top of 3 per cent of what the buyer paid (item cost plus postage), or 4 per cent for Europe and for Australia and Canada if shipping overseas. All your income collects into your Shop Payment account, which makes deposits weekly into your bank account.
If you are interested in making money on Etsy, start by browsing Etsy for inspiration and to see what does well. Bear in mind that some of the most successful Etsy stores only made a few dozen sales in their first year – don't give up if yours isn't wildly profitable in its first few months. Good Luck!