My friends and I have always talked about an epic vacation where all of us could go together. And by vacation, we mean a real vacation spot which does not include local camping or a ski trip. Mexico and the Caribbean have always been on top of our list. I was talking to my co-worker about random vacation spots, and he was telling me that I should really consider a rental property in St. Barts instead of the usual, run-of-the-mill all-inclusive deals in Mexico. I had heard of St. Barts before, but never really considered it a vacation spot, so I started to do some research.
I quickly realized that there are a number of beautiful villas in St. Barts available for rental. St. Bart's is commonly associated with the rich and famous, but even average Joe's like myself can find something on this tiny volcanic rock in the middle of the ocean. There are a lot of luxury villas available to be rented out, and the prices can be pretty reasonable depending on how luxurious the villas are. If you go in a large group and split the bill, it's definitely a great alternative to the over packed resorts we've all become so accustomed to.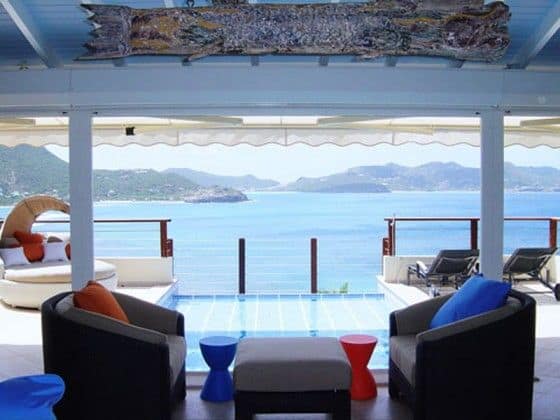 Saint Barthelemy, commonly known as St. Barts, has a population of less than 9,000 people and is situated about 112 miles east of Puerto Rico. St. Barts is an overseas collectivity of France and has French influence dating back to the early 1600's.
Modern Day St. Barts
So, what can you possibly do on such a small island? The answer is simple, relax! There are 14 beaches on St. Barts and each features gleaming white sand. The beauty of this place is that even in peak season, beaches are not very crowded. There are also a number of spas you can go to at the local hotels as well as independently operated by locals. The same can be said for fitness clubs.
For those who get bored of relaxing on the beach with beautiful European women, you can also choose to out for a dive in the warm Caribbean waters, wind surfing, deep-sea fishing, jet skiing, kite surfing, or sailing.
Because of the major French influence, fine dining and shopping are abundant on the island. There's also plenty of shopping for those of you that like that sort of thing, with a wide range of shops selling well known brands. You know, not like this sort of thing. This isn't Mexico after all.
If you're looking for a vacation spot where the main purpose is to relax, enjoy the sun, and stay in a luxurious private villas then you might want to consider St. Bart's as your next travel destination. If I can't get a group of friends to visit this beautiful island, perhaps this can be my honeymoon destination.