Cigars make excellent stocking stuffers during the holidays. If you're a cigar lover, getting cigars for Christmas is a thrill. For many shoppers, knowing what cigars to get is the challenge. Deciding on the right brand, size, and strength is confusing if you're unfamiliar with cigars or you don't smoke them yourself.
That's why cigar samplers are the most popular gifts for cigar lovers. The best cigar samplers include a variety of different blends and sizes from the top brands. Plus, there's a good chance you'll expose your favorite aficionado to a new blend he or she may not have had before. If you've got friends or family members asking what cigars to get you this year, or you need to get cigars for somebody important, forget about going on a wild goose chase. Here's a list of the Top 10 Cigar Samplers you can score this holiday season for a juicy Black Friday discount.
Ashton is a top-shelf brand renowned for a premium portfolio of Dominican cigars including, Ashton Classic, Ashton Cabinet, Ashton Aged Maduro, the 94-rated Ashton VSG, and more. The Ashton 5-Cigar Sampler includes five iconic cigars blended by legendary cigar-maker Carlito Fuente. Mild, medium, and full-bodied blends reflect an amazing range of tasting notes, including cedar, almonds, leather, coffee beans, and earth with signature Dominican spices.
Arturo Fuente 'Xtremely Rare' Sampler
A combination of ultra-rare and classic cigars makes up the Arturo Fuente 'Xtremely Rare' Sampler. The Fuente family produces many of the world's most sought after Dominican cigars, including Fuente Fuente Opus X, Arturo Fuente Hemingway, the Arturo Fuente Chateau Series, and Arturo Fuente Magnum R. All are represented in a delicious 10-cigar collection guaranteed to impress any cigar lovers you're shopping for this year.
La Aroma de Cuba/San Cristobal '92-95' Rated Assortment
Two of the most popular Nicaraguan brands join forces in the La Aroma de Cuba/San Cristobal '92-95' Rated Assortment. Award-winning cigar-maker Jose 'Pepin' Garcia blends all five editions in a rich collection of premium Nicaraguan cigars, including the 95-rated La Aroma de Cuba Mi Amor, 94-rated La Aroma de Cuba Mi Amor Reserva, 92-rated San Cristobal Revelation, and more. Bold, balanced, spicy, and sweet tasting notes characterize a mouthwatering assortment.
San Cristobal 60-Ring Assortment
Ultra-thick, big ring gauge cigars have only grown in popularity over the past decade. It's impossible to round up the best cigar samplers to buy this year without including a big ring gauge exclusive. The San Cristobal 60-Ring Assortment fits the bill perfectly. Celebrated cigar-maker Pepin Garcia includes a trio of his finest Nicaraguan blends (2 each), featuring three wrapper varietals: Ecuador Sumatra, Ecuador Connecticut, and Nicaraguan. Discover hearty tasting notes of wood, leather, and earth as well as nuts and white pepper.
Padron 1964 Anniversary Maduro Sampler
Padron enjoys a reputation equaled by few brands. Three '#1 Cigar of the Year' titles from Cigar Aficionado and dozens of 90-plus-rated blends have elevated the brand's prominence to a mythical level over the past thirty years. The company's bestselling blend by far is Padron 1964 Anniversary. It's available in a Natural or a Maduro wrapper. The all-Nicaraguan blend is presented in five classic box-pressed shapes that deliver notes of cedar, cocoa, cinnamon, and baking spices.
In the pantheon of premium Nicaraguan cigars, My Father possesses immense appeal. Top-rated father-and-son cigar-makers Pepin and Jaime Garcia achieved their success early with the original My Father blend. Five unique shapes are drawn from a recipe of premium Nicaraguan binder and filler tobaccos beneath a Cuban-seed wrapper leaf in the My Father Sampler. Savory, spicy, and complex tasting notes emerge in a 94-rated full-bodied blend.
Indulge in 8 ultra-popular Oliva cigars in the Oliva 8-Cigar Assortment. The brand's 95-rated Oliva Serie V, 94-rated Oliva Serie O, 92-rated Oliva Master Blends, and more are included with a pair ultra-rare Oliva Serie V Maduro cigars in a complex collection of premium Nicaraguan handmades. A full suite of different wrapper varietals is represented in a versatile collection of cigar sizes.
Rocky Patel 'Luxury Collection' Sampler
Fans of the Rocky Patel brand can't help but be won over by the gracious cigar-maker and brand founder, Rocky Patel, every time they have the pleasure of meeting him in person. Taste his top-selling cigars in the Rocky Patel 'Luxury Collection' Sampler. Five unique blends include the 95-rated Rocky Patel Decade, 90-rated Rocky Patel Renaissance, 'RP' Vintage 1990, 'RP' Ocean Club, and 'RP' Velvet Edition. Rocky blends his best cigars with premium Nicaraguan and Honduran tobaccos beneath an assortment of well-aged wrapper leaves. If you've got a devoted Rocky smoker on your gift list, you can't go wrong with the 'Luxury Collection.'
Perdomo 10th Anniversary Sampler
Brand founder Nick Perdomo knows how to marry quality, value, and tradition in his popular portfolio of Nicaraguan cigars. The Perdomo 10th Anniversary Sampler highlights his bestselling blend in three distinct wrappers: Ecuador Connecticut, Sun Grown, and Nicaraguan. Six chunky Toro-sized cigars deliver easy-burning notes of coffee beans, black pepper, nuts, leather, and wood.
Alec Bradley 'All-Star' Sampler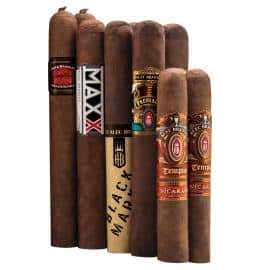 The Alec Bradley brand experienced a meteoric rise in the premium cigar business when the 96-rated Alec Bradley Prensado debuted and won Cigar Aficionado's '#1 Cigar of the Year' title in 2011. Enjoy immense savings on Alec Bradley Prensado along with the 94-rated Alec Bradley Family Blend, 90-rated Alec Bradley Black Market, and more in the Alec Bradley 'All-Star' Sampler. A premium collection of the brand's most popular cigars is assembled for a fraction of the original asking price.