It has been well over a decade since Mazda promised to bring a diesel engine to Canada and the United States, the time has finally come, Mazda recently introduced the SKYACTIV-D engine on the CX-5 Signature. I can't remember the first time I heard about a Mazda diesel, but I do believe they were talking about bringing the diesel engine in the 2010 Mazda6, a lot has changed in the last 9/10 years.
Back then, electric cars were just a dream, the words "diesel gate" meant nothing, climate change wasn't all over the news, and Greta Thunberg was only a few years old. Things certainly have changed in the last decade, many carmakers are abandoning (at least in North America) diesel engines, while a few are actually adding diesels to their lineup (new Jeep Wrangler Diesel for example). Auto manufacturers are spending billions on electric vehicles, which Mazda is also introducing. So, does a diesel Mazda have what it takes to thrive in an ever climate conscious environment?
To find out, we tested a 2019/2020 Mazda CX-5 Diesel for a week.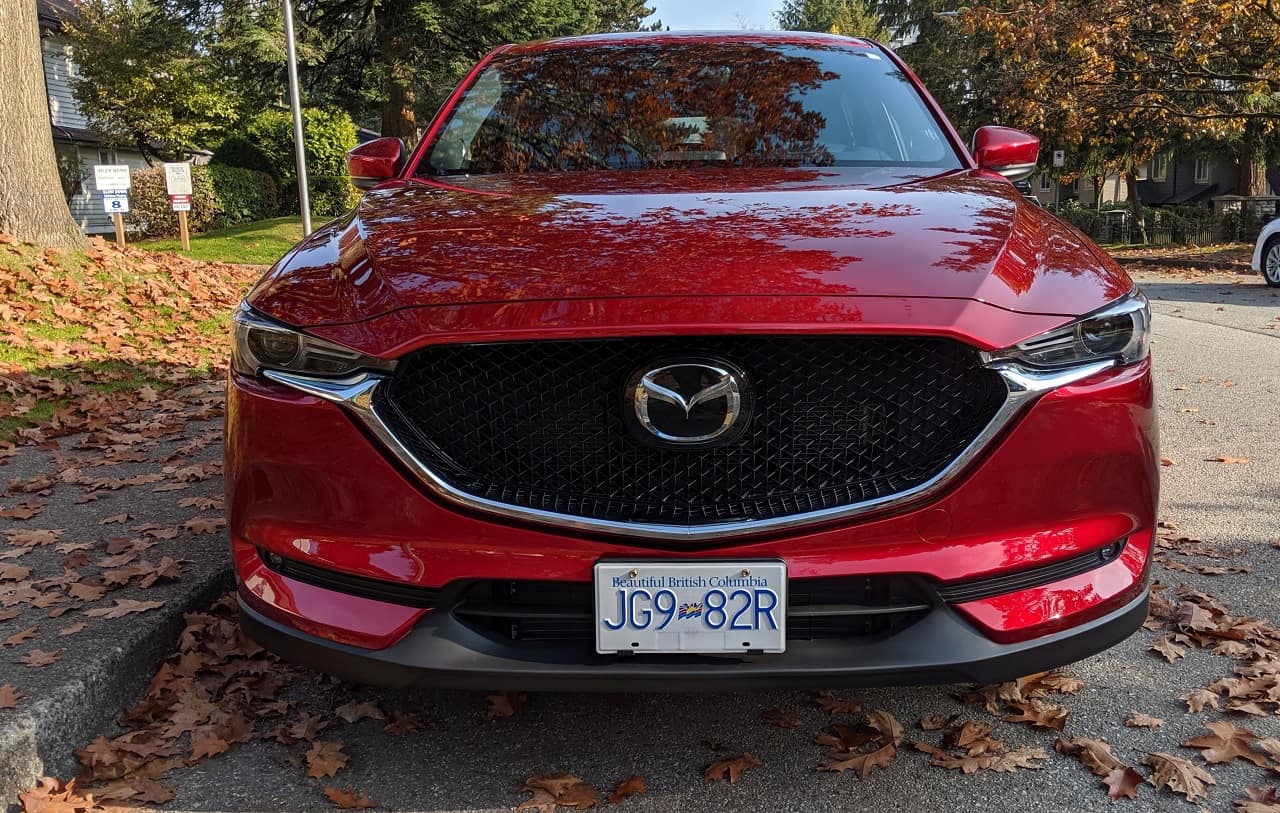 The 2019 Mazda CX-5 Diesel is only offered on the top of the line Signature trim. I have already reviewed the 2nd generation Mazda CX-5 quite extensively, have a look here to read my old reviews. This post is going to focus mainly on the diesel engine.
The 2019 Mazda CX-5 Signature has a starting price of $40,950 for the turbocharged 2.5-liter gasoline engine, adding the 2.2-liter twin-turbo 4-cylinder diesel engine adds $5,000 to the price tag, for a total price of $45,950, this price does not include $1,895 for Freight & PDI and taxes. The CX-5 Diesel isn't a cheap vehicle, Mazda is selling it as a premium vehicle, that's why the diesel engine is only offered on the Signature trim.
The 2.2-liter SKYACTIV-D engine produces 168 horsepower at 4,000 rpm and 290 pound-feet of torque between 2,200 and 5,500 rpm. The horsepower and torque numbers are significantly lower than the 2.5-liter turbocharged gasoline engine's, which produces 227 HP (250 HP on premium fuel) and 310 pound-feet of torque. Power is sent to all four wheels via a 6-speed automatic transmission.
Diesel engines are known for their fuel efficiency, especially on the highway. The 2019 Mazda CX-5 Diesel is rated at 8.9/7.9/8.5 liters/100 kilometers in city/highway/combined driving. Comparing it to the gasoline powered CX-5 Signature, the 2.5-liter turbocharged gasoline engine consumes 10.8/8.7 L/100 km in city/highway driving. The diesel engine is about 20% more efficient in the city and 10% on the highway, which is the opposite of what I was expecting; I expected the diesel to be more efficient on the highway. Also, diesel is normally a bit cheaper than gasoline, which increases the difference between the fuel consumption of gas vs diesel when converted into dollars, however, the week I was reviewing the CX-5 Diesel, regular gasoline was priced at $1.409 and diesel was priced at $1.519, which is a difference of just over 7% premium on diesel fuel.
For our week long review, based on the onboard computer's output, we averaged 9.0/7.0 L/100 km in city/highway driving. My city average was spot on with the claimed numbers, but I managed to better the highway number.
I have not driven too many diesel vehicles, as there aren't that many options available in Canada for diesel vehicles. However, the few diesel vehicles I've driven were all equipped with bigger V6 engines and in luxury cars, although Mazda is marketing the CX-5 Diesel as a premium car.
I found the diesel engine to be on the loud side, especially when just putting around in the city. Diesel engines are supposed to be louder than gasoline engines, but going from gasoline powered cars into the CX-5 diesel did take quite an adjustment and I had to lower my expectation for sound insulation. I don't know how much quieter Mazda could've made the interior, as I don't have anything to compare it to, but for me personally, I found it too loud and I personally would save the extra $5,000 and just buy the gasoline CX-5 Signature.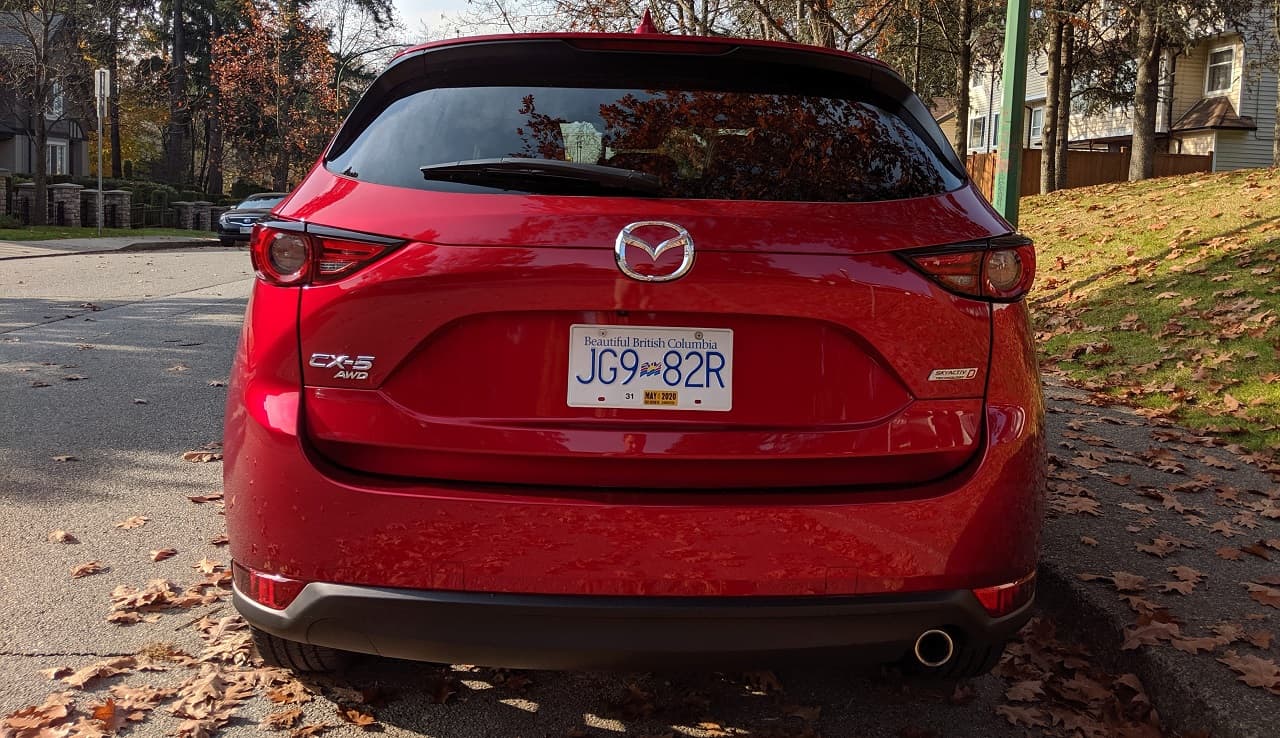 The diesel engine isn't bad at all once you get over the noise it makes; the beauty of a diesel is the availability of low-end torque, and boy does the CX-5 feel good during acceleration. During acceleration, the engine just keeps pulling and pulling, there seems to be no end to the torque curve, it feels like a little locomotive. I enjoyed this part of the diesel engine a lot and at highway speeds, the engine gets very quiet and the drive is quite enjoyable. The transmission and AWD system work seamlessly with this new engine, and the CX-5 Diesel still handles very close to its gasoline counterpart, it still has that "zoom-zoom" DNA.
The decision to bring a diesel engine to market at this time might seem a little odd to some, as people are moving towards hybrids, plug-in hybrids, and electric vehicles. But I believe there's still room for diesel engines, and the SKYACTIV-D engine is not the old school diesel engine that are famous for sending clouds of smoke from the exhaust pipes. In fact, I stood next to the exhaust tips while the CX-5 Diesel was running, there was no sign of smoke or that horrible diesel smell.
I'm not sure how well the Mazda CX-5 Diesel will sell, but Mazda is giving consumers an option; only time will tell how well these SKYACTIV-D engine equipped Mazda vehicles will sell.