My family has this tradition around the holidays: we like to head up to a cottage, get a nice fire going, and sing Christmas carols together until we can't stand it anymore. My favorite part of the whole thing was always breaking away from the caroling to bring some wood for the stove, and over the years I fashioned all sorts of ridiculous things to help me bring the wood in. One time, I decided using a little sled to bring the wood in from the woodpile was a good idea, and I dragged it inside the cottage. I wish the WoodOX Sling existed back then, but it does now and I'm going to pick one up for this year.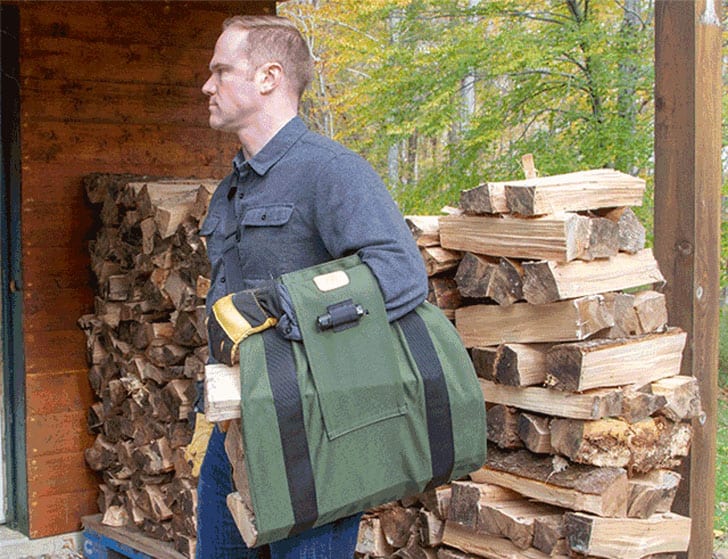 The WoodOX Sling is, as its name implies, a sling to carry your firewood indoors. Carrying firewood by hand is always a bad idea, because you usually need more than just one or two pieces, and carrying enough inside to last you a night can be a lot to ask. Using totes or other bags, I quickly found out, doesn't work either, because it hurts your back a lot. If you've got some distance to trek, you need something that's easy on the back, too. The WoodOX Sling is designed to save your back, because its design positions the wood under your arm, distributing the weight across your upper body. The redistribution of weight changes your center of gravity, and it makes it so much easier to move around.
The most exciting thing about the WoodOX Sling to me, though, is that it leaves my hands free! I'd always struggle to open doors, move tree branches out of the way, or even unload my wood bags with my old methods of carrying wood indoors. I'd have to perform all sorts of gymnastics to make it work, at the expense of my back. The WoodOX Sling is going to allow me to carry way more wood than I ever could with my hands, sled, or backpack, it's going to be way easier on my back, and it's going to allow me to have my hands free to do whatever I need to do. I'm really excited about this, and the fact that it's got its own little flashlight, so I won't fall in the dark when I need to grab firewood for our stove.
If you'd like to look into the WoodOX Sling yourself, check out their website. They've got all sorts of rewards to say thank-you for supporting the product!