Introducing the Newest Boombox
The JBL PartyBox On-The-Go is a fantastic addition to any dorm party; its excellent 21st-century features bring your dorm to life. This PartyBox can sync with all your other devices, whether a smartphone, extra speakers, bright lights, or a classic USB stick, all through Bluetooth, USB, AUX, and True Wireless Stereo (TWS).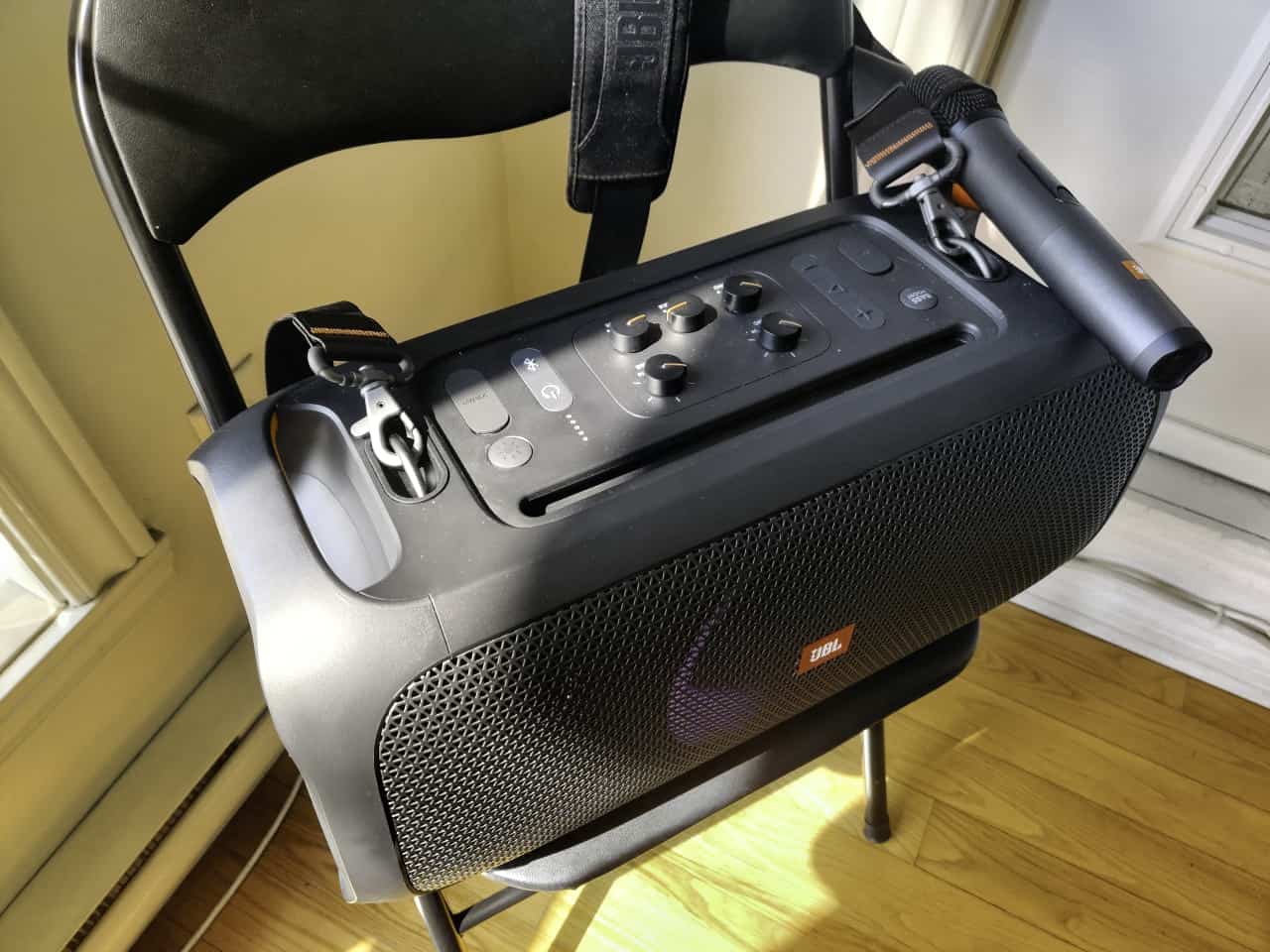 What's more is the JBL wireless mic gives your dorm party more pizazz that connects you and your vocals straight to the music, blending right in, just in case you sound terrible without a bit of help. Also included is a bottle opener in case you're having trouble with your drinks; a padded shoulder strap to turn the PartyBox into a fashionable handbag and become even more portable in every sense of the word; and a rechargeable battery that will last around 6 hours. If the party leaves the dorm, the JBL On-The-Go PartyBox will be able to keep up with you wherever the fun takes you.
High-Quality Sound
There'll be no issues with someone not being able to hear the music at your dorm party. The output power of 100W RMS and 50 Hz – 20 kHz bring the party to you, and a > 80dBA signal-to-noise ratio will help you see, hear and feel the beat. Whether you're right up next to the PartyBox, or at the edge of the party, you won't be able to escape the dorm party ambiance – especially if it's linked up with two compatible speakers with the True Wireless Stereo Bluetooth connections established.
Great For Drinking With Friends
IPX4 splash-proof protection is perfect for keeping your JBL On-The-Go PartyBox safe during many circumstances of any dorm party. We all know it can get hectic during beer pong or similar drinking games, and sometimes one little splash can ruin all the fun. With the PartyBox, you don't need to worry about any of that due to the water (and alcohol) resistance.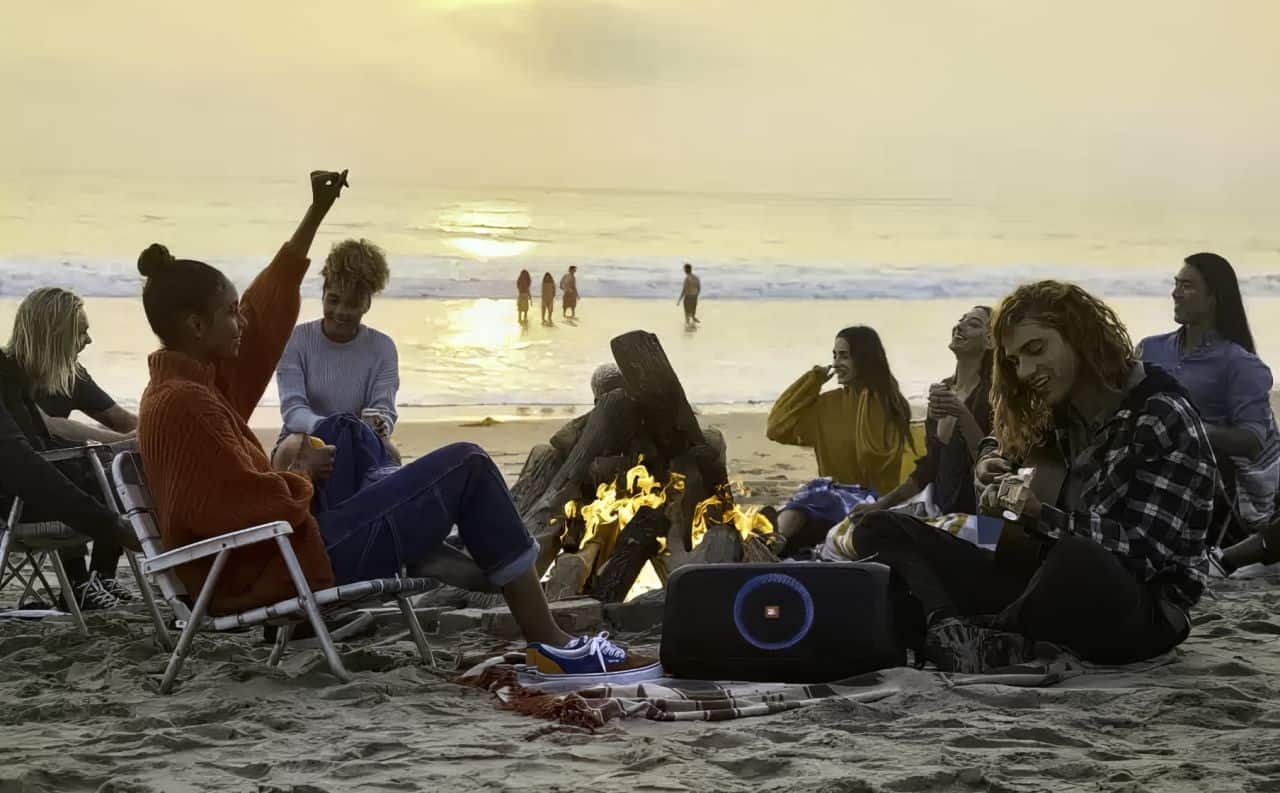 Additionally, the aforementioned bottle opener is attached to the shoulder strap included with the PartyBox, meaning you won't have to let go of your grip on the tunes. At the same time, you open more bottles to keep the party going. JBL's On-The-Go PartyBox is filled with fantastic designs that support functionality, so you aren't distracted from the action for too long.
Bluetooth pairing is almost as easy as plugging in a USB stick filled with music or placing your phone on top to instantly pair the devices and resume the music. On top of that, the dials to control bass, treble, echo, volume, and so on are easily accessed, which makes adjusting your settings to get the right atmosphere super straightforward.
Plug and Play
The built-in microphone input does a fantastic job of letting you take part in the action without any add-ons since the microphone is included. There are even two microphones in Asia Pacific countries, except India and Japan. Although, if you have some, that can't hurt either since there are inputs for guitars, too, if you're so musically inclined. With a guitar attached to the PartyBox, you can either strum along to your favorite playlist or make your songs for everyone to hear. A little bass boost couldn't hurt, either.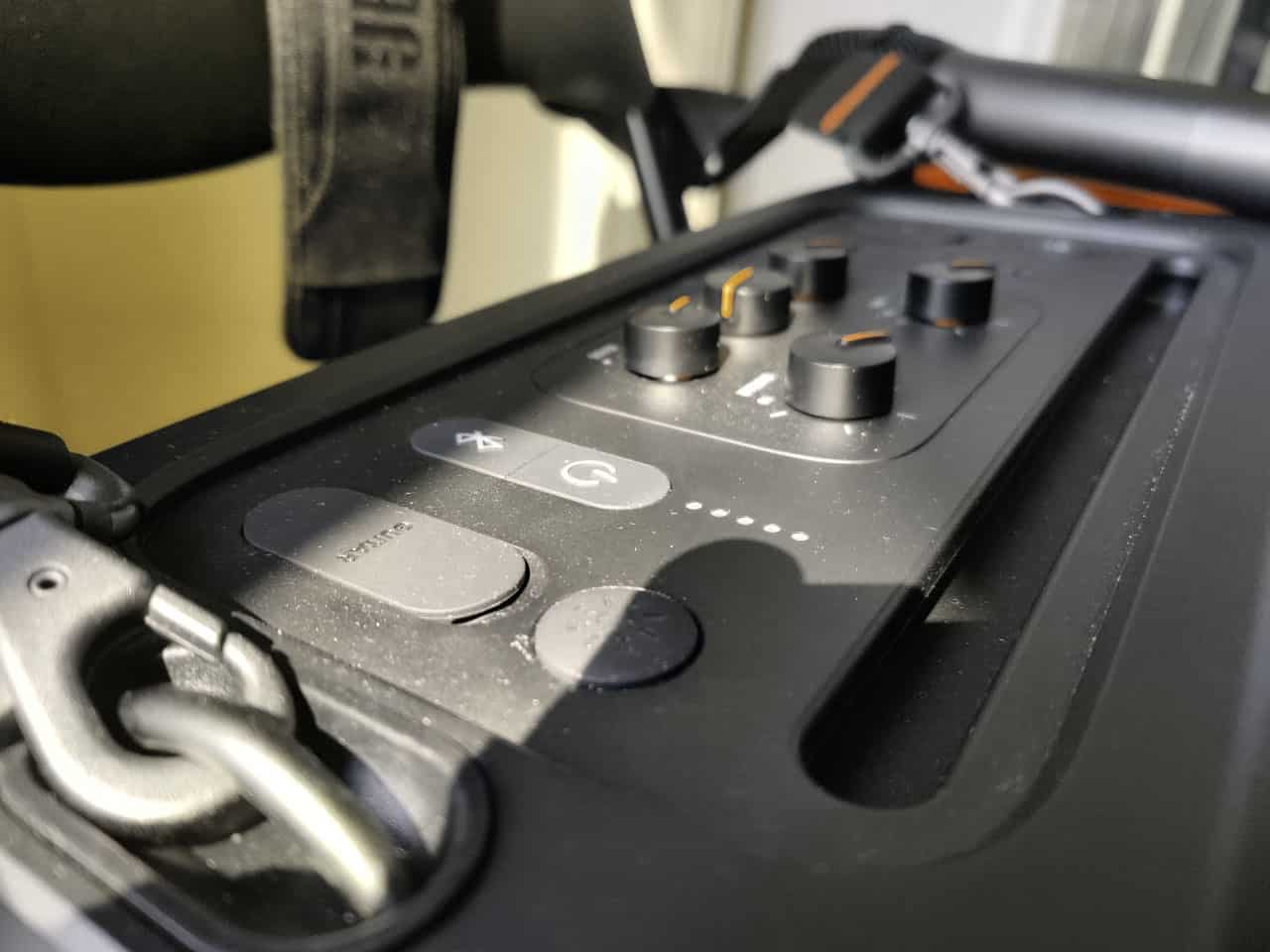 Furthermore, with the microphone input, the bass, treble, and echo settings are still customizable while singing. This means you can change the effects of your voice, even with a friend with dual mic inputs. Perhaps for karaoke or studio-like audio settings for a personal stage at your dorm party.
Are you ready to party?
The JBL On-The-Go PartyBox is an excellent addition to any party, small or large. It offers a great design, easy portability, and IPX4 splash-proof protection, meaning your speaker will be protected from any water or alcohol damage that might occur during your party.
One time, I was at a party, and the DJ stopped playing music to talk to the crowd. Everyone started talking, and the party just died. With the JBL PartyBox, you never have to worry about that happening – you can control the music yourself and keep the party going no matter what.