All About Agent 47's suit
Since the hit video game Hitman: Codename 47 was released by IO Interactive in 2000, Agent 47 has donned the same attire throughout the series: a classic black suit with a white shirt and red tie. The plain suit is the perfect disguise for a secret agent, as it draws little attention due to its simplicity. I mean, aside from the signature red tie, which insinuates that perhaps Agent 47's business is more violent than many bystanders may anticipate.
The Hitman suit has been a staple of every game in the series. It's the basic starting suit you spawn with by default in every mission; however, many DLC suits can be acquired alongside other disguises in missions that may provide extra benefits. For example, one of the best ways to unlock some white suits is by completing specific elusive target missions with a rating of "silent assassin."
The original suit is not bulletproof. However, before each mission, body armor can be bought and applied to allow Agent 47 to take more damage. This increases his resistance to gunshots, making him much more durable during gunfights which he would otherwise not be with just the suit alone.
In short, the suits are as iconic as Agent 47's Silverballer pistols. They help you blend into your environment and carry out your deadly mission.
Where to get Hitman's suit
Hitman's suit is, of course, based on a real-life black suit. However, if you want the real deal with great accuracy, I recommend JBsuits, which has an authentic suit for sale with worldwide shipping and a perfect fit guarantee.
Agent 47's suit is a custom, professionally made cosplay outfit created using top-quality material with remarkable craftsmanship for a timeless appearance. You can even complete your Hitman clothing set with their overcoat, also available on their site.
The Hitman suit includes a two-button blazer with two-button cufflinks and comfortable lining, complete with lined suit pants. The shirt, tie, and gloves change based on Agent 47's mission, so that part is up to you.
Whether you need a Halloween costume or are just a big fan of the Hitman series, JBsuits has you covered with their excellent replica of Agent 47's suit. They're affordable suits that look good.
Now all you need is a clean shave of the head and a barcode.
History
In the first mission of Hitman: Codename 47, "Training," Hitman initially wears a patient's clothing in an asylum. In the neighboring room to Agent 47's is a suit prepared by Dr. Otto Ort-Meyer to be later used by Agent 47. Otto Wolfgang Ort-Meyer (also known as Dr. Ort-Meyer) is one of five genetic fathers and was responsible for his creation.
To escape the asylum, Hitman had to disguise himself as an orderly and abandon the suit. One year later, a similar style of clothing was acquired by Agent 47 and, from that point on, was his most preferred outfit for missions.
By the events of Hitman: Absolution, Agent 47 is well acquainted with his tailor – Tommy Clemenza – who is also 47's International Contract Agency contact and lifelong friend. In Hitman (2016), more varied forms of apparel have entered Agent 47's wardrobe, depending on the situation he is in for each mission.
Appearances
Hitman: Blood Money (2006)
The Hitman: Blood Money suit is a two-piece black, two-button notch lapel suit. Agent 47 wears it in the game with a white shirt and black pinstripes. Similar to the signature suit, it has black gloves and a red tie (which varies in style and patterns from game to game).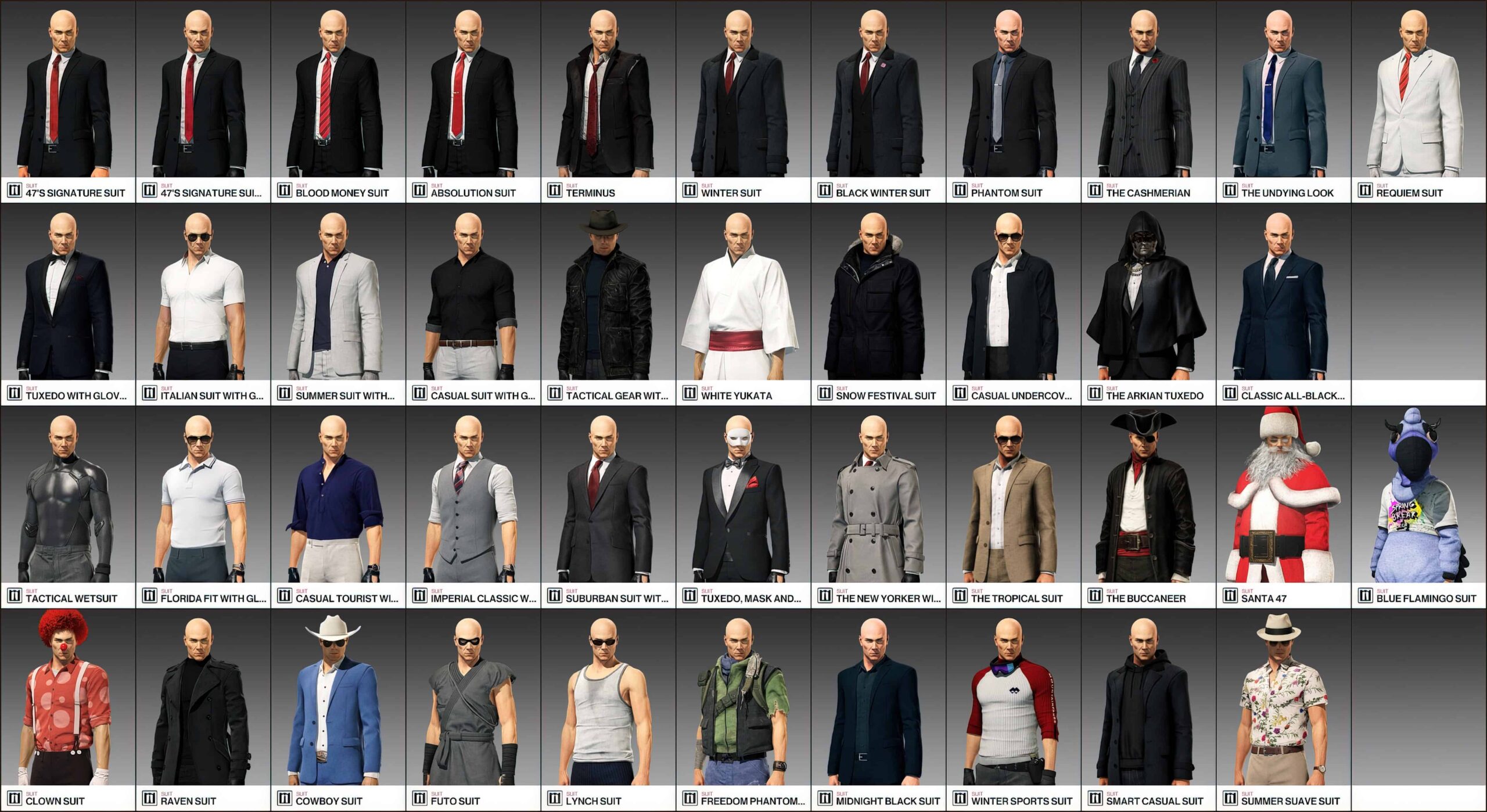 Hitman: Absolution (2012)
In Hitman: Absolution, a similar black notch lapel two-piece suit is worn by Agent 47, complete with a plain white cotton French cuff shirt. During this game, he often wears a solid red tie and occasionally a black tie. Sometimes no tie at all, depending on the mission. The gloves in Hitman: Absolution is also slightly different from previous iterations, as they have an opening on the back of the hands. The cufflinks and tie clip bear the Hitman Insignia – an elusive symbol throughout the Hitman series, which is usually known as a heavily modified "Fleur de Lys."
The origin of the insignia is unknown. However, it is known to be associated with Dr. Ort-Meyer's and Agent 47's belongings, respectively.
The previously mentioned Tommy Clemenza also makes his appearance in this game and runs a tailor shop in Chicago.
Hitman (2016)
The "Signature Suit" is dubbed Agent 47's suit in Hitman. The usual black jacket and suit pants are included, alongside a white shirt and burgundy tie. Although, it does not have the classic gloves. This suit is included as one of the default skins in the game and does not need to be unlocked, along with a few others.
Hitman 2 (2018)
No tie clip is present in the Hitman 2 suit, but other than that, it's pretty similar to the Absolution suit in every other way. Rest in peace, tie clip; you shall be missed.
Hitman 3 (2021)
There are far more suits and new unlockable ones in the latest installment, Hitman 3, alongside plenty of hidden outfits to help you in any scenario. I'll talk a little bit more about these right after this.
What are some of the crazier suits that you can unlock in the Hitman games?
Aside from bland pieces like gray suits, brown suits, and tuxedos – which are all still great for specific situations – there are some genuinely wacky ones that you can find in the Hitman games.
You've got a floral suit, some purple, Western, African, and even maroon suits.
And here's a complete list:
Freedom phantom suit
Pink suits
Black pinstripe suits
Silver suits
Requiem suit
Futo suit
Brown pinstripe suits
Brown tweed suits
Midnight black suit
Green suits
Gray pinstripe suits
Green tweed suits
Gray tweed suits
Tan pinstripe suits
(I bolded the really special suits)
As you can see, there are a lot of suits to choose from depending on your mission. You can go for an iconic black suit, or you can go for something that will stand out more. It's up to you!
What else should I know if I want to cosplay as Agent 47?
Aside from finding the perfect suit, you'll also need to make sure you have the following:
A red tie
A white shirt
Black shoes
Black leather gloves
A Plastic pistol
You can easily find these items online or at your local costume shop. Once you have everything, put it on, and you're ready!
If you want to go the extra mile, you can also get a bald cap to help you achieve Agent 47's signature look. This is optional but will help you look more like the character. And if you're bold, you can even shave your head.
With the release of the latest Hitman game, there are bound to be plenty of people cosplaying as Agent 47. So if you're thinking about it, make sure you have everything you need to look like him!
And that's all you need to know about cosplay as Agent 47!
Closing Thoughts
There you have it! A quick overview of Agent 47's suits throughout the years.
I think my favorite suit is the Freedom Phantom Suit from Hitman 3. It's all black and has a cool mask that covers Agent 47's face. Plus, it comes with its unique ability that allows you to see enemy patrol routes, which can be helpful when planning your next move.
What's your favorite suit? Let us know in the comments!