I'm always on the hunt for the perfect swimsuit- I want something that is going to be comfortable and lightweight while also looking great at the same time. I don't want something that is going to fall apart before the summer even ends or takes ages to dry. That's why I'm loving the TanThrough swimwear line from CoolTanⓇ, which is revolutionary because it lets you tan right through your swimsuit, without having those awkward tan lines you usually get from normal swimsuits.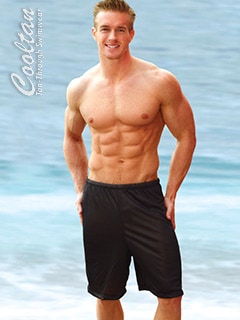 CoolTan is making it easier than ever before to get an amazing tan. Because their suits are TanThrough getting a tan can be as easy as walking along the beach, surfing or boating, or playing beach volleyball. You won't have to worry about having a tan chest while having ghostly pale legs anymore. CoolTan's TanThrough secret is their specially formulated Microsol V fabric which is knitted to let in half the sun's rays to get you an even, overall tan in around the same time as you would in a medium level SPF sunscreen. This porous fabric is also great at letting air and water pass right through the suit, wicking moisture to keep you cool and drying up to 3x faster than normal fabric. This is a major bonus because you won't have to wait hours for your suit to dry before throwing it back in your bag. Plus you won't have to worry about being hot and uncomfortable on even the hottest of days thanks to that lightweight fabric that lets your skin breathe to keep you nice and cool.
These suits are incredibly comfortable but don't compromise on how great they look. CoolTan has a variety of styles for men including briefs, hipsters, jammers, swim trunks, and board shorts. There are a number of colors and patterns to choose from to find your new favorite swimwear that will give you a great tan while looking amazing all at the same time.
CoolTan knows that you can't spend your whole life in a swimsuit (as much as we wish that were true!) and so have created an even easier way to get a tan as you go about your everyday activities with their TanThrough shirts. Tan right through your polo, henley, t-shirt, or v-neck shirt as you're playing tennis, golf, or even just walking around your neighborhood. Let your shirt work for you and get you a natural glow without having to put in any work.
Check out CoolTan's website to discover your new favorite TanThrough swimsuit or shirt and see for yourself just how easy it is to get a tan, no more tan lines required.