Make the switch now from loud gas and propane generators and go completely solar!
The portable solar storage pioneer Bluetti announced approximately two months ago, in July 2021, the release of a breakthrough product in the industry; a completely modular solar power station – the AC300 and its accompanying LFP battery module, the B300 (3,072Wh).
Portable solar power users quickly got wind of the AC300's release as it immediately became trending throughout the United States, particularly among users in California, Texas, Florida, and New York.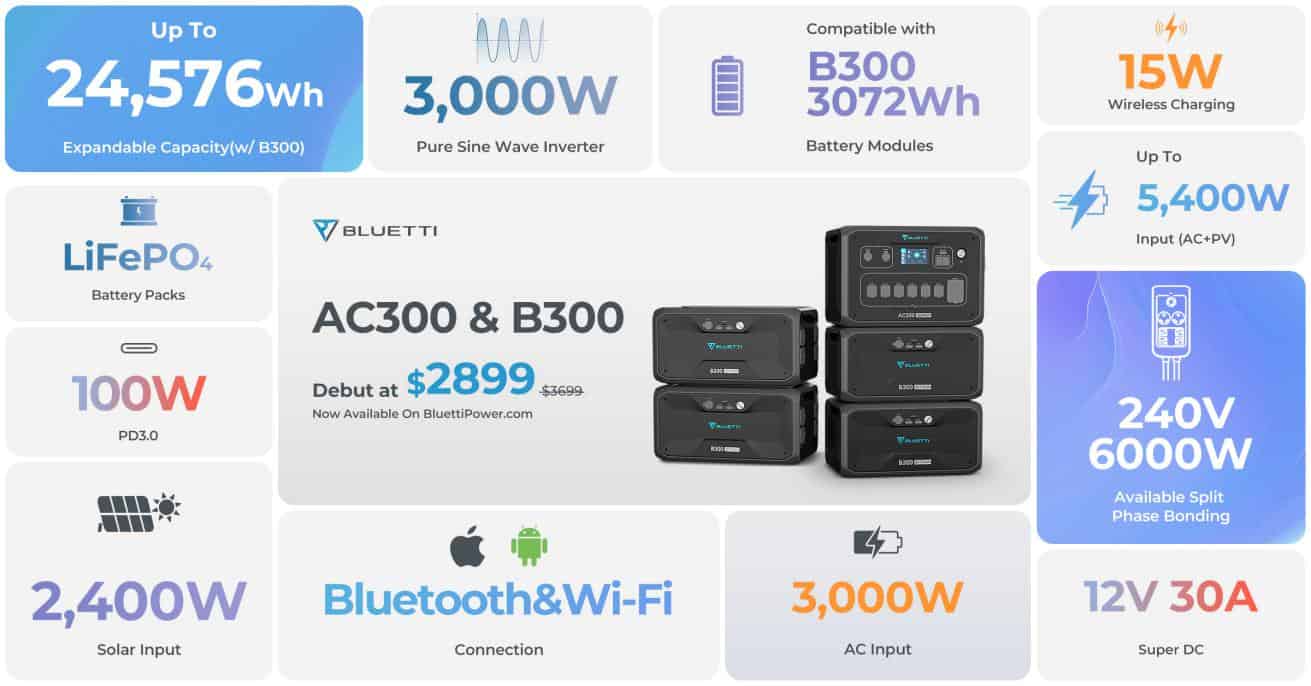 Two months of waiting is finally over with the arrival of the Bluetti AC 300 and B300!
Solar vs. Gas Generators (Why the Solar Generator is the Best)
The Solar Generator:
Efficient, near-noiseless operation (up to 35dB, as quiet as a small desk fan)
Uses infinite and clean renewable energy from the sun or wind
Allows for 24/7 solar energy availability
Minimal maintenance needed due to few moving parts
Powerful UPS (Uninterrupted Power Supply) keeps the energy flowing even during a power outage
The Gas/Propane Generator:
Somewhat noisy (up to ≥70dB, much like a washing machine)
Not recommended for indoor use as it emits dangerous carbon monoxide
Depletes fossil fuels with its higher carbon footprint
Many moving parts make it a challenge to maintain
Costly fuel consumption per month
Solar generators utilize free energy from the sun as opposed to dirty fossil fuels. Unlike most conventional generators, solar panels last for up to 25 to 30 years, allowing you to get energy for the whole lifespan of the solar generator. The lack of moving parts lets you use your solar generator with little to no maintenance, leading to fewer repair costs.
The green technology in solar generators provides financial benefits and is also more kind to the environment. Solar generators gain an edge over gas generators by being practically free from harmful emissions and fewer operating noises, harming the environment and people.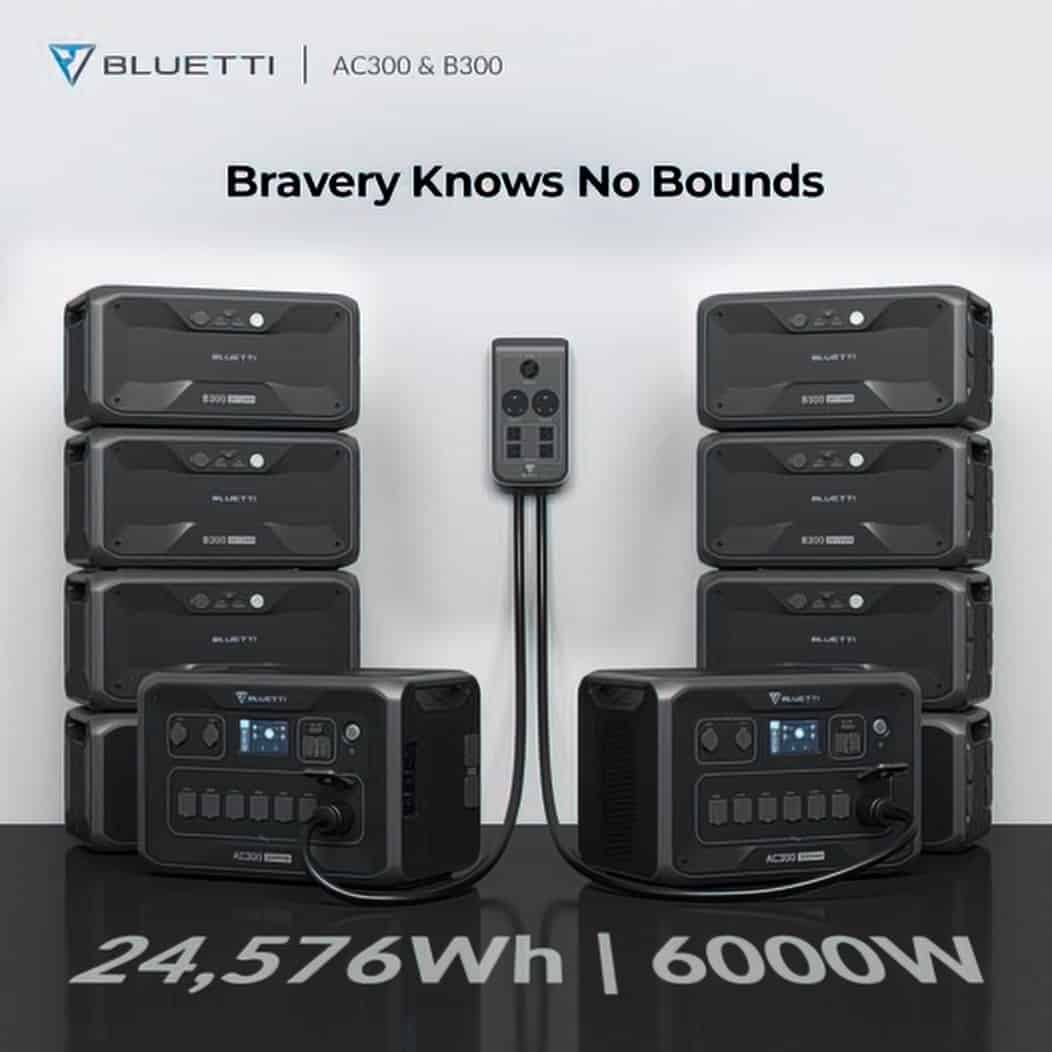 Lastly, while gas generators are usually bulky and weigh up to 250 pounds, the Bluetti A300 solar generator weighs only 44 pounds. In addition, its external B300 battery weighs 74 pounds, making the solar generator convenient to move around.
As with standard generators, the lighter it is, the less energy efficient it becomes, but not the Bluetti A300. Despite its considerably smaller size, it packs a punch and rivals heavier gas generators for the same energy production.
Why Choose the Bluetti AC300W generator?
No need to worry about power running out-Bluetti AC300 is 100% modular. It accepts up to four B300 battery modules per unit, giving you a total of 12,288Wh.
A modular generator means it is easy for people to transport vast amounts of energy without any difficulty. A generator as a whole is too heavy to transport, but one can carry each module easily.
With top-of-the-range LFP cells, the AC300 can repeat through more than 3500 cycles leading to 80% of its original capacity. (In other words, the device can last through one cycle a day for ten years).
With a capacity of 2,400 watts, you can take full advantage of MPPT solar charging full-time.
It comes with a 3000-watt pure sine wave inverter (no power brick required—just one charging cable will do the trick).
By connecting two B300 battery modules to the AC300, it can charge both from the sun and an AC source simultaneously, adding up to 5400 watts.
The new BLUETTI Fusion Box Pro is designed for use, which doubles power, voltage, and storage capacity up to 6000W, 240V, 24500Wh.
A smartphone app can control all of these features through Wi-Fi and Bluetooth.
Where to Get the Bluetti AC300 and Delivery Methods
One can purchase brand new Bluetti products through the official website at blueettipower.com.
An AC300 with 1× B300 battery module begins at $2899 (the original price is $3699, that is $800 OFF for a limited quantity).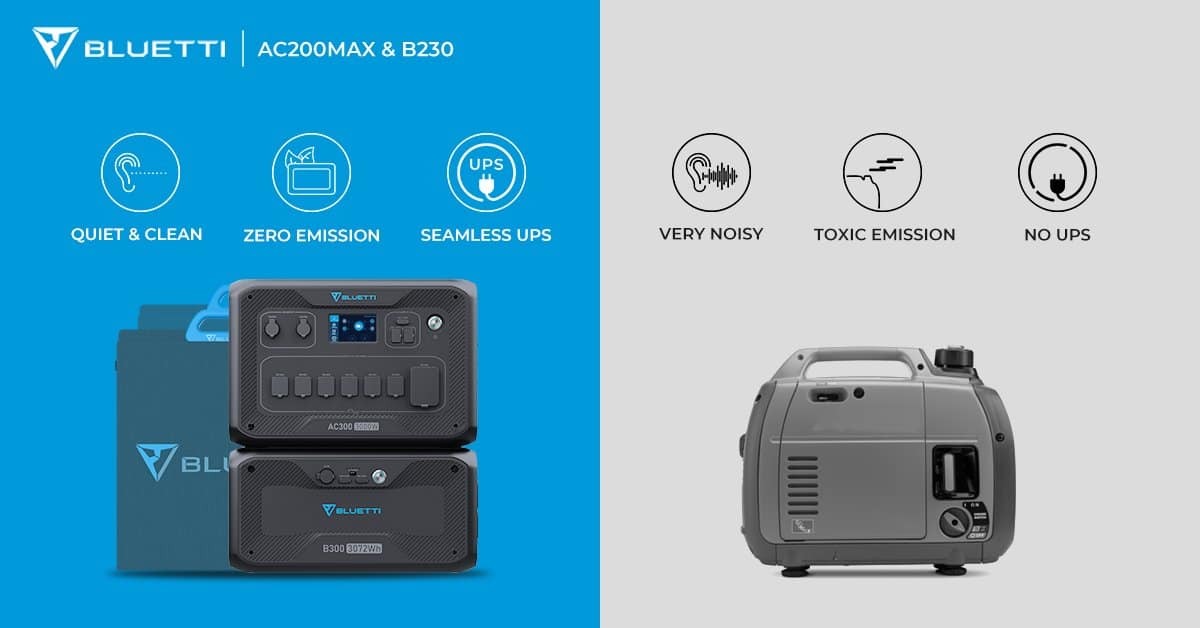 An AC300 with 2× B300 battery modules begins at $3648 (the original price is $4498, that is $850 OFF).
Get a discount of up to a thousand bucks when you buy some AC300 bundles.
The delivery date is 3-5 days after the order date, according to Bluetti's statement.
Back in Stock-The AC200 MAX
The Bluetti AC200 Max is now back in the market after being sold out on its debut release, along with its B230 battery.
Furthermore, the AC200 MAX has a 2,048Wh integrated LFP battery pack (with expandable capacity) – an all-around improvement on the beloved AC200/P.
Both B230 and B300 batteries are compatible with the AC200 Max, unlike AC300, which only works with the latter.
The AC200 MAX provides a whopping overall capacity of 8,192Wh (when connected to two B300 batteries).
Additionally, BLUETTI offers a discount coupon for the AC200 MAX, which means one can now purchase it for $1,799, a $300 savings. Bundle purchases can result in even bigger savings.
Ready for clean, simple, and raw power? Visit bluettipower.com.