I discovered bouldering several years ago after realizing that winters are far too long and that while I enjoy getting exercise, the copious amounts of snow made me want to stay indoors more often than not. I had heard about indoor bouldering before but never really gave it a try until a friend of mine invited me to accompany her to the rock gym.
I'll be honest, at first, I was terrible at it. It's not easy scrambling up walls without any ropes or gear, and more than once, I found myself slipping and falling (gently) onto the padded floor below. But I kept at it and eventually started to improve. And as my skills improved, so did my enjoyment of the sport, and after nearly a decade of climbing, I can confidently say that it's one of my favorite things to do.
Nowadays, I go bouldering three times a week, and I even own a pair of dedicated bouldering pants! A garment I decided to invest in after decimating many high-end streetwear pants from brands like Mission Workshop and Outlier. Oops!
Wait, What the Heck Is Bouldering?
If you haven't heard of bouldering before, it's essentially rock climbing without ropes or gear. The goal is to climb up a boulder or wall (usually no higher than 20 feet) using nothing but your hands and feet. It's an incredibly challenging and rewarding sport that requires a lot of upper body strength, endurance, and problem-solving skills.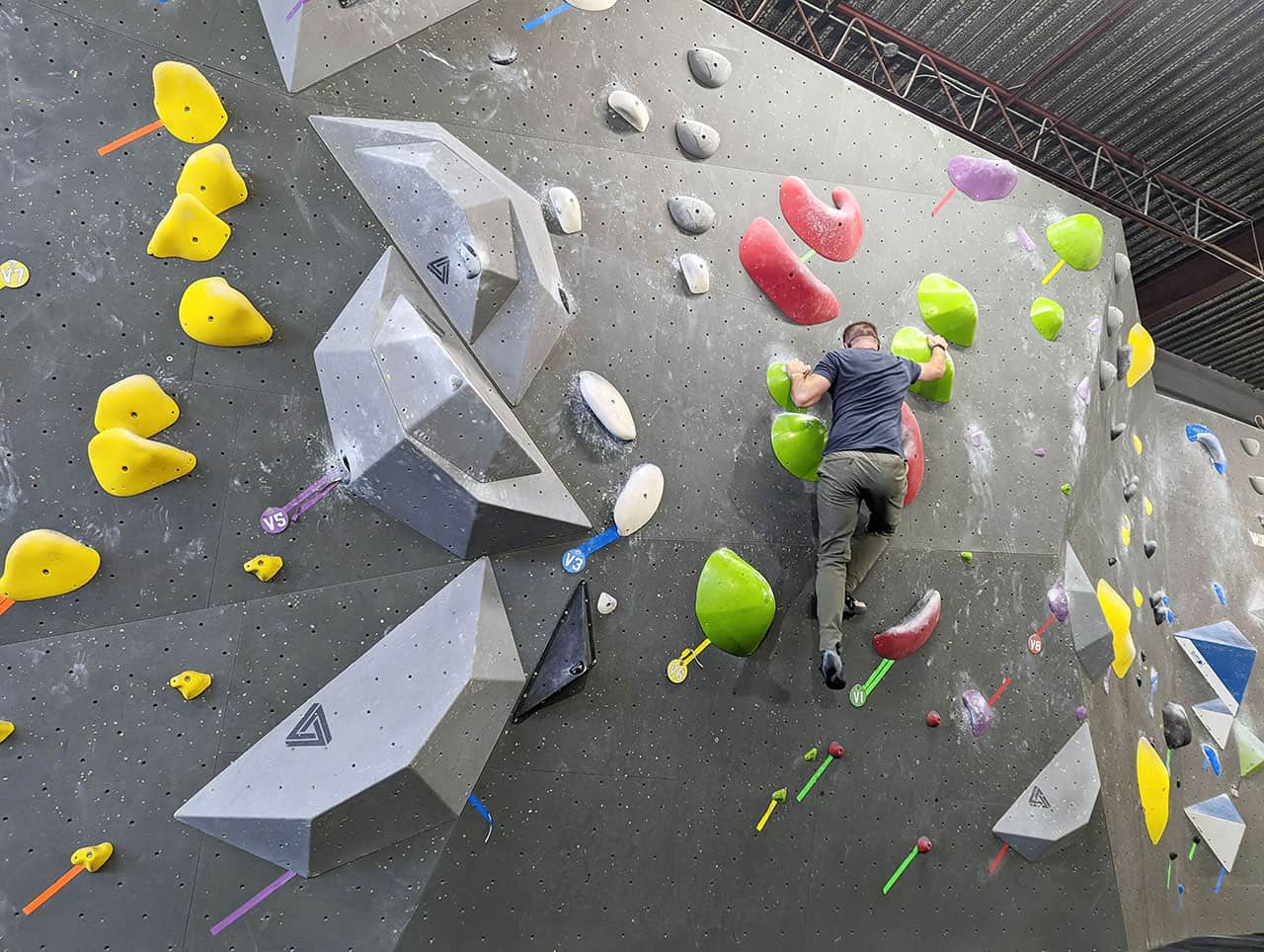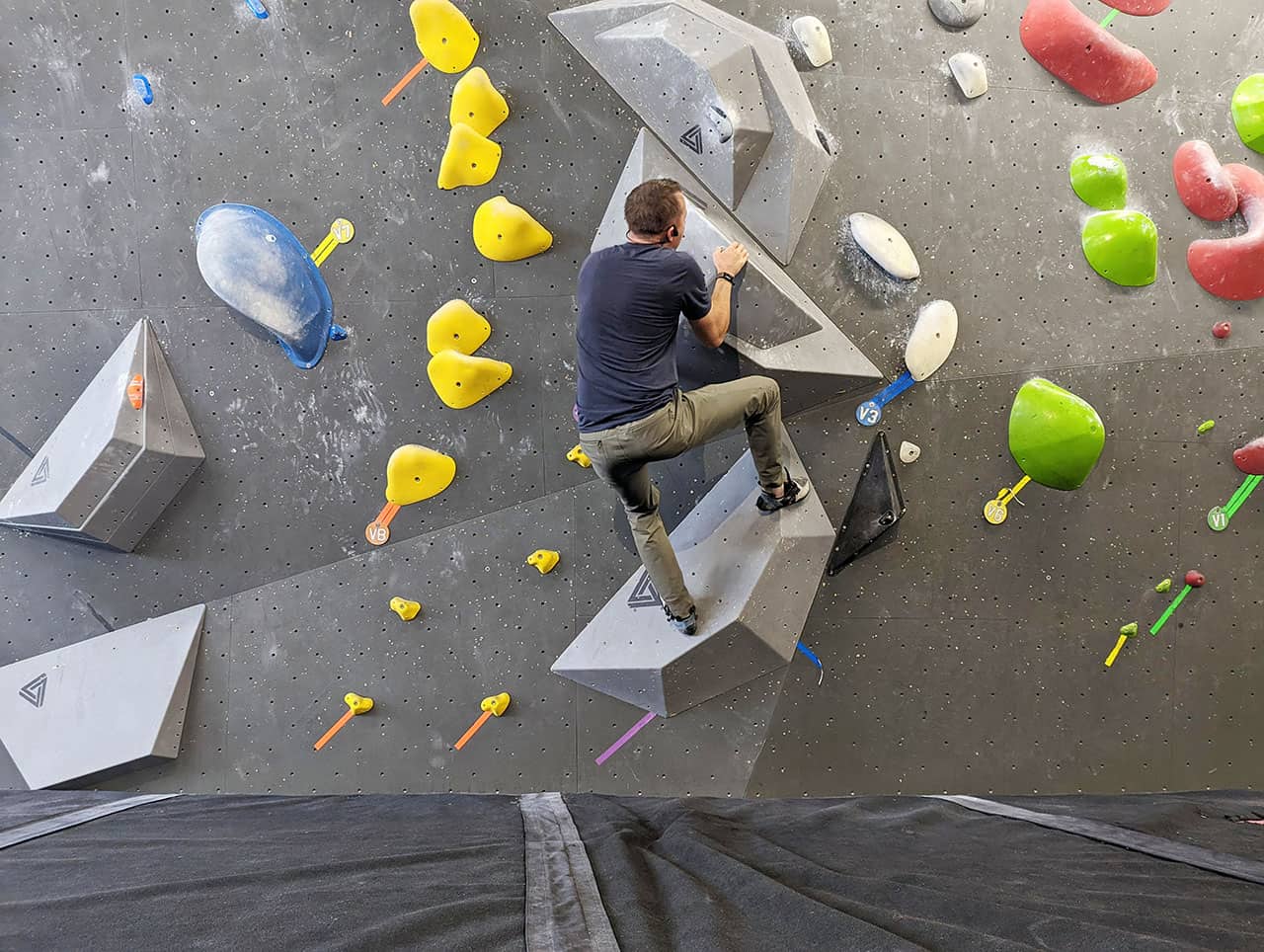 I obviously love bouldering and encourage everyone within earshot to try it. I've written about the benefits in other articles (which you can read here and here). Still, today, I want to focus on one particular gear that has improved my bouldering experience: a good pair of bouldering pants.
The Benefits of Bouldering Pants for Climbers of All Levels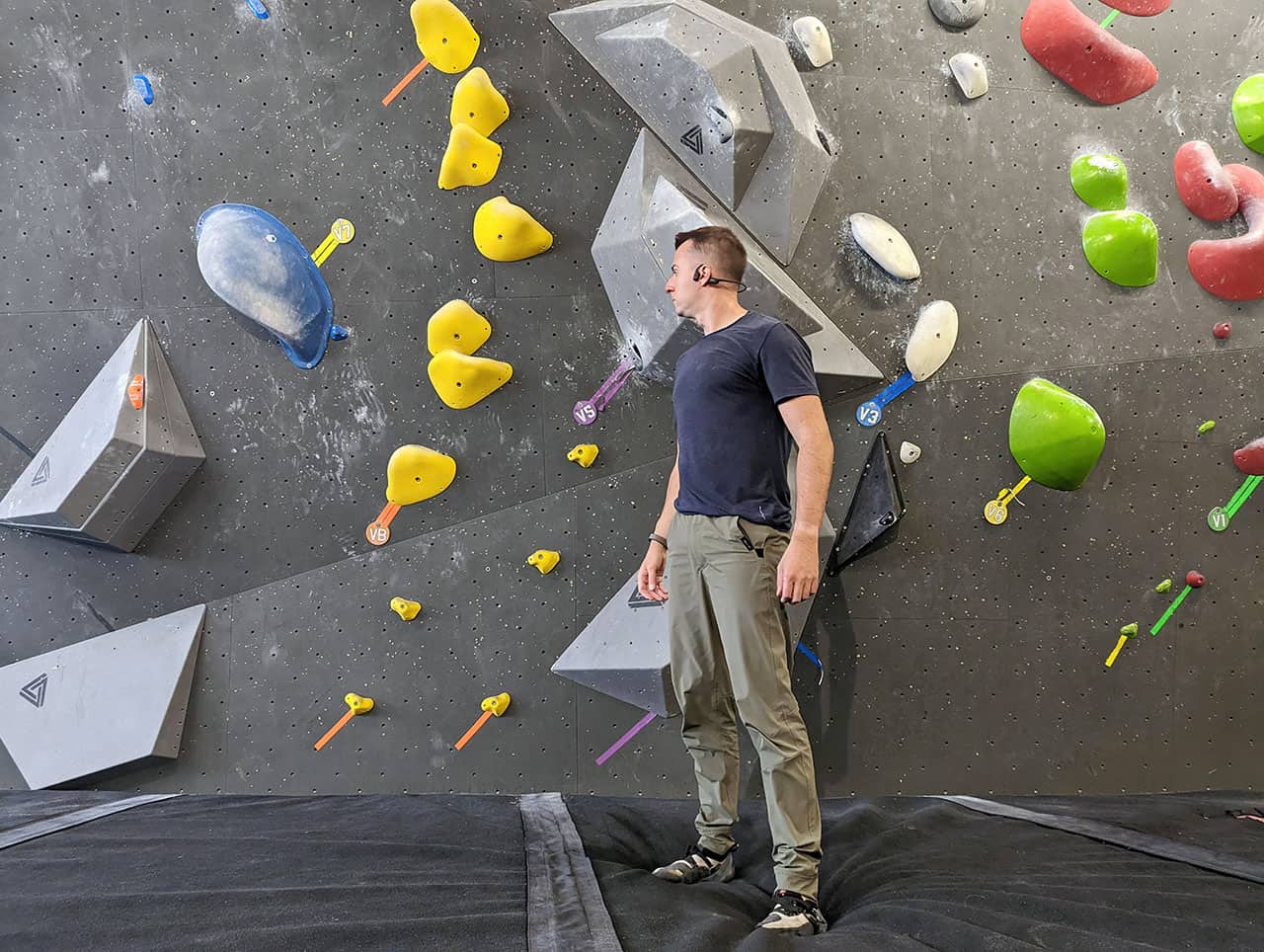 Bouldering pants are explicitly designed for the sport of bouldering and offer several advantages over regular streetwear pants. For starters, they're usually made from a much more durable fabric that can withstand the wear and tear of climbing. They also often have a slimmer fit that allows for a greater range of motion, and they typically have pockets positioned strategically to hold chalk, brushes, snacks, etc.
I've tried several brands of bouldering pants over the years, but my current favorite is the Avid Ultralight L4 Pant from Beyond Clothing. I've been wearing them for the past few months, and they've held up incredibly well to all the abuse I've put them through.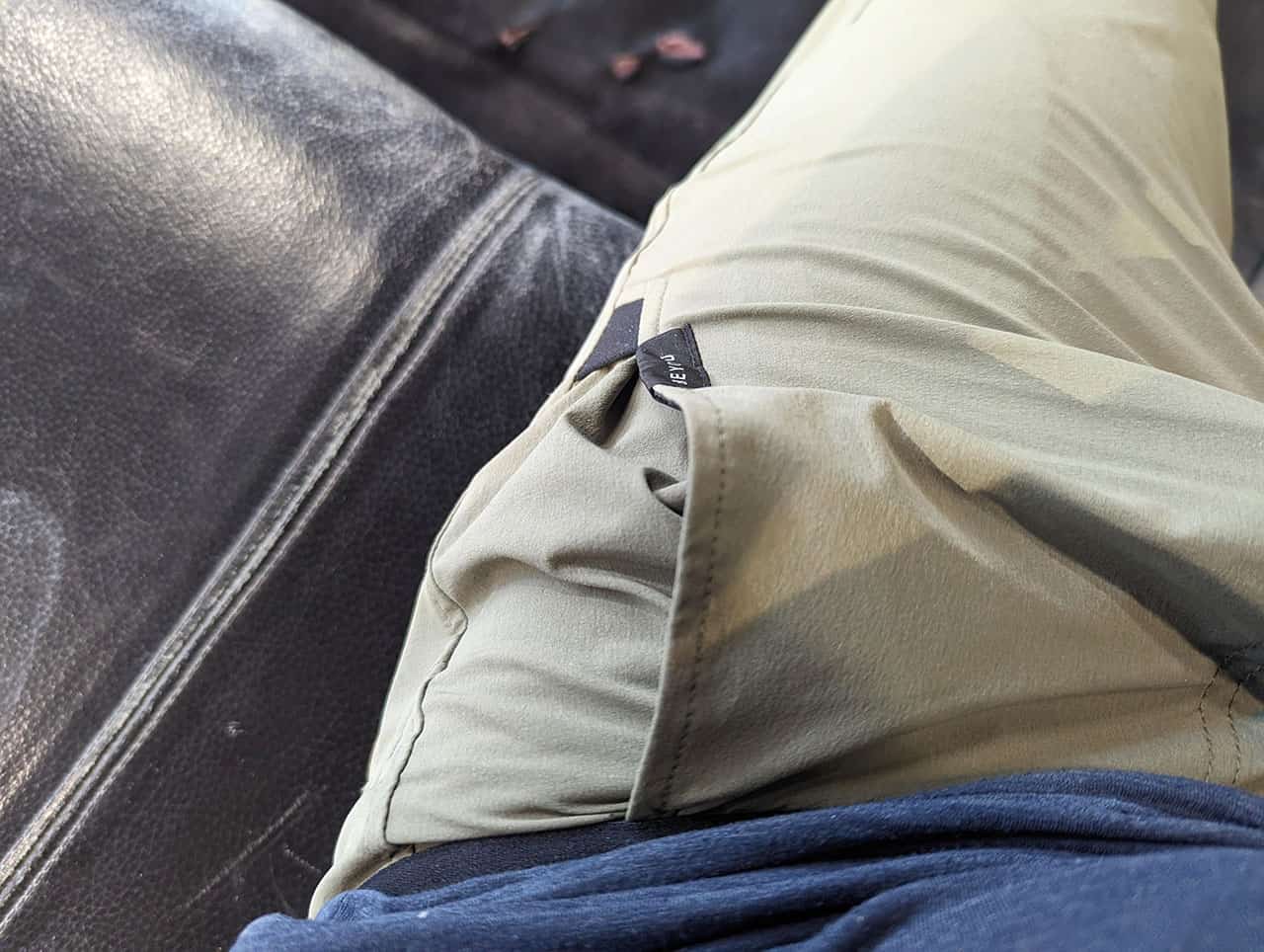 They're made from a super tough and abrasion-resistant 4-way stretch fabric, and they have a slim yet comfortable fit that doesn't restrict my movement. The pockets are also positioned perfectly for easy access, and I love that they have a DWR (durable water repellent) coating to keep me dry when I'm sweating up a storm.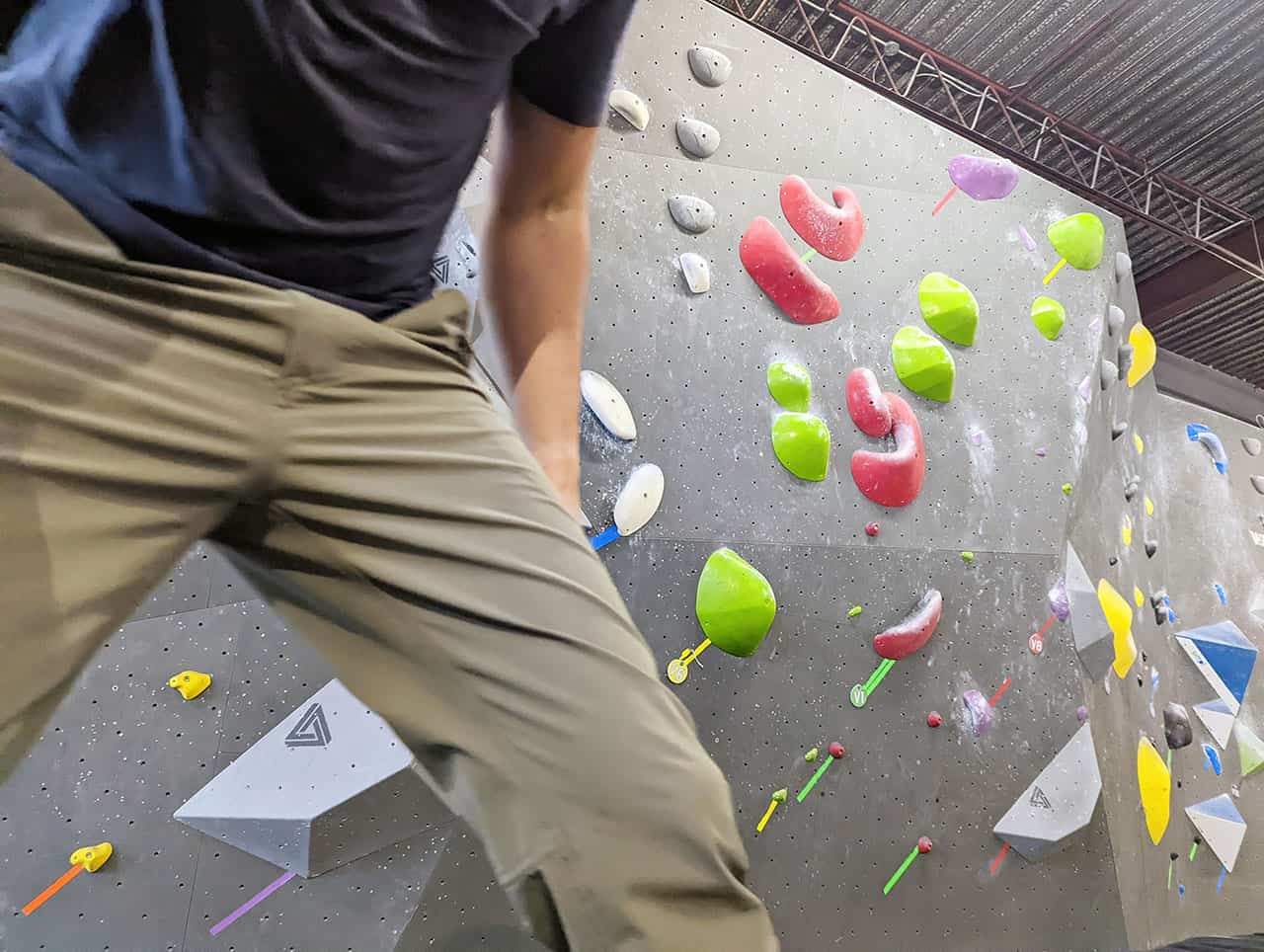 If you're looking for a good pair of bouldering pants, I highly recommend checking out the Avid Ultralight L4 Pant from Beyond Clothing. They're the best bouldering pants I've ever worn and have helped me take my climbing to the next level. And the best part is that I like them so much that I've also been wearing them outside of the gym – which is starting to annoy my wife, as I wear them to bars, restaurants, and basically anywhere else I go.
And since initially writing this review, I learned that Beyond Clothing has released these pants in a new colorway called "Nightbreak", which looks absolutely fantastic.
FAQ (Frequently Asked Questions)
I'm writing a small FAQ because I suspect some of you might have questions about bouldering pants. If I don't answer your question here, feel free to leave a comment, and I'll do my best to get back to you ASAP.
Do You Need Bouldering Pants?
No, you don't need bouldering pants to boulder. You can boulder in any clothing, including regular streetwear pants, leggings, shorts, etc. Bouldering pants will offer you several advantages over regular pants, including a more comfortable and unrestricted fit, increased durability, and pockets designed to hold climbing essentials like chalk and brushes.
Are Bouldering Pants Expensive?
It depends. You can find cheap bouldering pants for around $50, but the higher-end pairs can cost upwards of $200. In my opinion, the sweet spot is about $100-$150. That's where you'll find the best combination of quality and value.
What Brands Make Good Bouldering Pants?
There are a lot of great brands out there that make bouldering pants, but my favorite is Beyond Clothing. I've been wearing their Avid Ultralight L4 Pant for the past few months, and they're the best bouldering pants I've ever worn.
Where Can I Buy Bouldering Pants?
You can find bouldering pants at most outdoor retailers and online. I usually buy mine from Amazon because they have a great selection, and the prices are hard to beat.
How Should Bouldering Pants Fit?
Bouldering pants should fit snugly but not restrict your movement. They should also be long enough that they don't ride up when you're climbing. Beyond Clothing's Avid Ultralight L4 Pant is an excellent example of a pant with the perfect fit for bouldering.
Do Bouldering Pants Come in Different Colors?
Yes, most brands offer their bouldering pants in multiple colors. Beyond Clothing, for example, offers their Avid Ultralight L4 Pant in Green, Grey, and Black. All the colors you need.
Do Bouldering Pants Have Pockets?
Yes, most bouldering pants have at least one pocket to hold climbing essentials like chalk and brushes. Some even have multiple pockets for snacks, your phone, etc. Beyond Clothing's Avid Ultralight L4 Pant has four pockets – two in the front and two in the back.
What Type of Pants Should I Wear Bouldering?
The type of pants you wear bouldering is really up to you. I've seen people boulder in everything from leggings and yoga pants to regular streetwear jeans and khakis.
Ready To Go Beyond Regular Pants?
I wanted to wrap up by saying that I wasn't especially surprised when I realized I liked these bouldering pants from Beyond Clothing. I started wearing one of their jackets a few years ago and have been impressed with the quality and performance of their products. They seem to set the bar higher with each new release, and the Avid Ultralight L4 Pant is no exception.
I hope this article has convinced you to try bouldering and/or buy a pair of bouldering pants. And if you're looking for the best bouldering pants on the market, I highly recommend checking out the Avid Ultralight L4 Pant from Beyond Clothing. Trust me; they're worth every penny. However, you won't be paying many pennies because, at only $90 USD, they're pretty affordable.