The idea of emergencies happening unexpectedly can be a nerve-racking idea for some. Like a dark cloud hovering in the horizon waiting to strike without warning. For those wanting to avoid being unprepared at the worst possible times, several precautions can be done from the comfort of your own homes. For those living in areas that regularly face natural calamities like weather disruptions, you have classic items like battery-powered radios and flashlights.
These two items have been a staple for emergency kits since the invention of portable power. People used radios to keep informed on the latest happenings in any emergency. Flashlights give illumination to an area when weather conditions prevent electricity from getting to your house. For the most part, they do the job they are given. However, in today's modern era where any and everything runs on portable power, keeping a bunch of triple-A batteries just is not enough anymore.
Here is an interesting Kickstarter idea for those like me who want to be always prepared in today's modern times.
Introducing the Solar Foldy
The Solar Foldy is a pocket-sized power source that acts as a power bank for most mobile devices, while also providing a source of light. In today's world, a mobile phone is the quintessential pocket device for any person in any situation. It can make calls, receive messages, has built-in cameras, flashlights, radio, and access the internet. Third party apps make mobile phones' capabilities expand even more. The only downside of this tremendous technological creation is its battery life.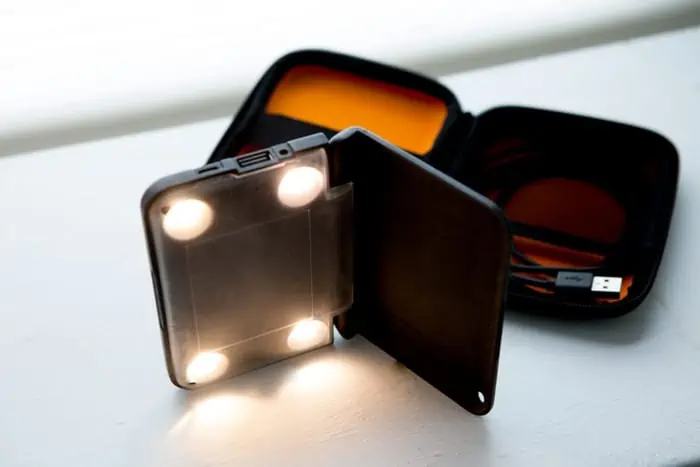 Many modern phones focus around 'performance', which leads to a lot of drain in terms of battery. Most phones today barely last 12 hours before needing a charge at the nearest socket. In case of emergencies where electricity is unavailable, your phone can be your only connection from your families and loved ones. Solar Foldy acts as a power bank that is capable of recharging electronics in emergencies. The Solar Foldy charges two ways – first, you get your traditional electric charge over the socket. The second involves the solar panels attached to the device itself. Advertised, an 8-hour charge using solar power can provide enough energy to power 200 hours of light.
With it, you can charge your mobile devices using the USB input located in the design. This gives your phones, tablets, and other electronic device more breathing room when it comes to battery. In times of emergencies, you can never underestimate the power of extra battery life.
Outside the power and light features, the Solar Foldy is also built like a tank. Since we are talking about emergencies, the device's parts can outlast what the elements have to offer. It is water-resistant, portable, foldable, lightweight, and incredibly durable. With it, you are guaranteeing your household a reliable emergency power source. In a world run by technology, it can be a crippling blow if your devices run out of battery. Do not let it happen to you. For an ease of mind, get the Solar Foldy today!