Are you and your partner craving some excitement in your love life? Look no further; we've compiled a list of 27 creative and sexy date night ideas to ignite that spark between you two! From steamy game nights to romantic picnics under the stars, these ideas cater to every type of couple.
So grab your favorite personal lubricant, and let's dive into this tantalizing guide filled with passion, romance, and adventure – get ready for endless possibilities designed to strengthen connections and communication.
Key Takeaways
Sexy date nights are essential for strengthening connections and communication in long-term relationships.
Incorporating aphrodisiac foods into dates, such as picnics or intimate fondue nights, can create a more sensual experience.
Trying out new activities together, like a game night with a twist or private wine tastings, helps break the routine and fosters emotional bonding through shared experiences.
Communication and creativity are key elements for any successful relationship.
Table of Contents
The Importance Of Sexy Date Nights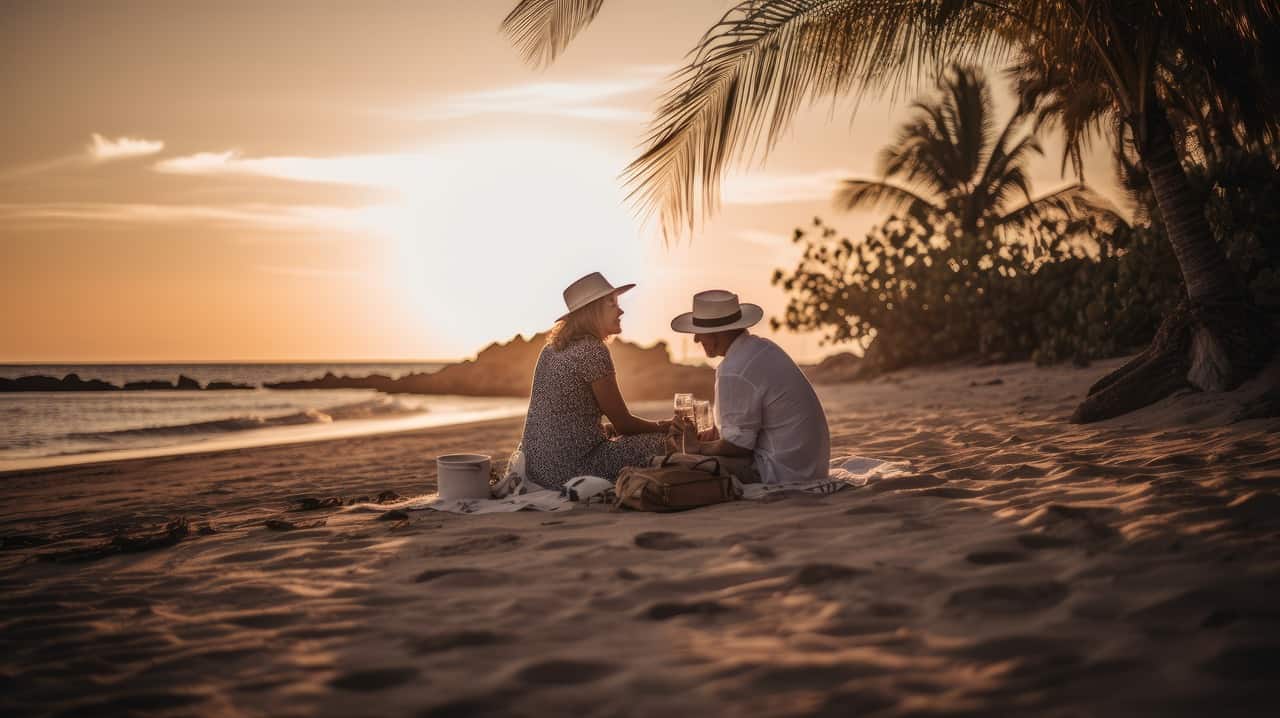 Sexy date nights are crucial for strengthening connections, improving communication, and breaking routine in long-term relationships.
Strengthening Connections
Investing in sexy date nights plays a significant role in strengthening connections between couples. By dedicating time and effort to creating unique and intimate experiences, you are deepening the emotional bond that holds your relationship together.
Sharing new adventures (like attending a burlesque show or embarking on a moonlight hike) enables couples to discover more about each other while building trust and intimacy.
Even simple activities like hosting a private wine-tasting party or spending all night wrapped up in bed create opportunities to connect meaningfully with one another.
Improving Communication
One of the key benefits of investing in sexy date nights is the improvement of communication between you and your partner. Open, honest, and continuous dialogue about desires, boundaries, and fantasies can strengthen emotional bonds while increasing intimacy in your relationship.
For example, trying out a new activity like an erotic art class or role-play provides an opportunity for both partners to communicate openly about their preferences and comfort levels, enhancing mutual understanding and trust.
Sharing personal goals such as home improvement projects or future vacation plans also fosters deeper connections by showing that you are committed to nurturing your love life together.
Breaking Routine
Breaking routine is essential for maintaining a healthy, happy, and exciting relationship. Falling into the same habits day after day can lead to boredom and stagnation, which can ultimately put a strain on your connection with one another.
For example, instead of sticking to the same old dinner-and-a-movie scenario every weekend, explore something more adventurous, like attending a burlesque show or testing your culinary skills by cooking aphrodisiac foods for each other.
Incorporate unconventional dining experiences such as blindfolded taste testing or creating DIY love potion cocktails. These creative date nights help break the monotony of everyday life while enabling couples to continue discovering new things about each other – even if they have been together for years.
Sexy Date Night Ideas For Every Couple
Game Night With A Twist
Unleash your competitive spirit with a game night that takes things to another level. Choose from classic board games like Monopoly or Scrabble and add a twist by introducing sexy challenges or stripping rules.
Spice up the night even more by playing strip poker with your partner, where every lost hand means you lose an article of clothing.
Another way to rev up game night is hosting a murder mystery party where guests have to solve puzzles and clues while dressed in character costumes. Make it sensual by choosing a theme that allows for intimate interactions between partners, such as The Roaring Twenties or Venetian Masquerade Ball.
Visit A Sex Shop
A visit to a sex shop can be an exciting way to explore your fantasies and spice up your love life. It's a great opportunity to discover new ways of pleasure, communicate openly with your partner, and find products that will enhance your intimacy.
From sensual massage oils to vibrators and bondage gear, the variety of items available can help you experiment with different sensations and techniques.
Shopping together in a sex store can be fun as well; it allows you to share curiosity and excitement while choosing items that suit both of your interests.
Romantic Picnic In The Park
One of the most classic and romantic date ideas is a picnic in the park. This is a wonderful way for couples to spend quality time together while enjoying the beauty of nature.
The setting can provide an intimate atmosphere that fosters communication, relaxation, and closeness. In addition to charming surroundings, couples can add elements of seduction by bringing along aphrodisiac foods such as saffron, oysters, watermelon, cherries, or mangos.
Intimate Fondue Night
If you're looking for a fun and flirty way to spice up a date night, why not try an intimate fondue night? This classic Swiss dish is perfect for sharing, with melted cheese or chocolate providing the ultimate sensual indulgence.
To add a sexy twist to your fondue night, consider incorporating succulent strawberries into the mix. Their juicy sweetness pairs wonderfully with the rich and creamy flavors of melted cheese or decadent chocolate. The vibrant red color of the strawberries will also add a visually enticing element to the experience.
Stargazing And Night Sky Exploration
Enjoying a night under the stars is always romantic and mysterious, making it an excellent option for couples looking to spice up their love life. Whether you choose to set up a tent in your backyard or go for a midnight walk, stargazing can create an intimate atmosphere that allows you to connect on a deeper level.
You can use apps like SkyView or Star Walk 2 to identify constellations and planets while enjoying each other's company.
To take your night sky exploration date to the next level, consider booking an observatory tour or attending a public event that offers telescope viewings of distant galaxies and stars.
Allowing yourself to get lost in the beauty of the cosmos with your partner by your side is sure to be an unforgettable experience that strengthens your emotional bond and brings you closer together as a couple.
Recreate A Favorite Romantic Movie Scene
Another idea to spice up your date night is to recreate a favorite romantic movie scene. This can be an enjoyable way to relive the romance and passion of your favorite movies with your partner.
A popular example is from "Ghost," where the couple sculpts together, but you can choose any beloved flick that resonates with both of you.
Recreating a romantic movie scene can also be a fun way to improve communication between couples as they work together on the scene's dialogue and actions.
It offers an opportunity for couples who may not typically engage in creative activities together to tap into their imagination and have some fun.
Plan A Sexy Photoshoot
Capture the steamy and intimate moments between you and your partner by planning a sexy photoshoot. Whether it's in the comfort of your own home or booking a professional photographer, this idea is sure to bring excitement into your love life.
Consider using ASTROGLIDE Personal Lubricants and Vaginal Moisturizers as part of the shoot for added intimacy and fun. Remember that consent and trust are crucial when taking provocative photos, so communicate with one another beforehand about boundaries and expectations.
Private Wine Tasting
One creative and intimate date night idea for couples is to have a private wine tasting. This involves sampling different wines and learning about their flavors, origins, pairings with aphrodisiac foods, and how they are made.
A cozy setting with dimmed lights and soft music in the background will enhance the romantic atmosphere of this experience. Couples can take turns picking out the wines or opt for a blind tasting challenge to make it more exciting and interactive.
This is an excellent opportunity to explore each other's palettes while enjoying some quality time together.
Sensual Bath For Two
A sensual bath for two can be a perfect date night idea to help couples relax, connect and build intimacy. Essential oils, candles, and music are great ways of creating a romantic atmosphere.
To make the bath more enjoyable, adding rose petals or using bath bombs will give it an extra touch of luxury.
Communication is always important in any sexual activity you engage in with your partner. Make sure to talk about what both of you feel comfortable with beforehand and respect each other's boundaries during the experience.
Strip Poker Night
If you're looking to add a little excitement and daring to your date night routine, why not try hosting a strip poker night? This fun activity is all about letting loose and having fun with your partner while exploring each other's sensual sides.
Of course, consent and comfort levels are key here – make sure that both you and your partner are on the same page before diving in. To get started, simply set the mood with some candles or dim lighting, choose a deck of cards, and let the game begin! And remember – this is meant to be a playful experience that brings you closer as a couple, so don't worry too much about winning or losing.
For an even more tantalizing twist on strip poker night, consider incorporating Astroglide lubricants into your playtime for added pleasure. Whether it's during massage time or shower sex after the game (consensually!), these high-quality personal lubricants will help enhance those intimate moments even further.
Just remember – communication is key when it comes to trying new things like this together as a couple.
Rooftop Bar Evening
A rooftop bar evening is a perfect way to add some extra romance and excitement to your date night. With the city skyline as your backdrop, you can enjoy delicious cocktails, great company, and breathtaking views.
Choose a trendy or upscale bar with comfortable seating, cozy lighting, and an intimate atmosphere. This type of setting can help you relax and let go of any stressors from the day while being in each other's company.
You could also opt for a more relaxed atmosphere by selecting a rooftop bar that offers free-flowing appetizers or discounted drinks during happy hour.
Moonlight Hike
Moonlight hikes are a great way for couples to experience the beautiful outdoors and connect with nature while spending quality time together. It's a romantic and adventurous date night idea that offers fresh air, physical activity, and stunning scenery all in one package.
To make sure that you enjoy the hike without any hiccups, be prepared by bringing adequate gear such as hiking shoes, jackets, or blankets (depending on the weather), some snacks, water bottles, a flashlight/headlamp, or other lighting equipment, if possible.
Not only does this type of outdoor activity offer emotional benefits like bonding time with your partner, but it also has physical health advantages, such as improving cardiovascular fitness levels when done frequently.
These strong bodies create extended stamina, which can spark increased passion between partners.
Erotic Art Class
Engaging in creative activities such as painting with your partner can be an enjoyable experience, but have you ever considered taking it to the next level with an erotic art class? It's a fun and unique idea that encourages intimacy and creativity all at once.
Erotic art classes allow couples to explore their sensuality through the medium of art while exploring each other's bodies.
It's essential to communicate openly about boundaries and comfort levels before embarking on any sensual experience together, including an erotic art class.
By doing so, you'll ensure that both partners are comfortable during the activity, creating trust between you two.
Movie Marathon
One of the most classic and romantic date night ideas is a movie marathon. This idea may not seem particularly adventurous or sexy at first glance, but it provides an excellent opportunity to spend quality time with your partner while snuggled up on the couch.
Choose a theme like "romantic comedies" or "action films," make some popcorn, and settle in for a cozy evening together. You can also switch things up by adding some wine or cocktails into the mix or creating a fun game to play during the film.
It's best to avoid movies that are too intense or emotionally draining if you're looking for something more relaxing, but there are plenty of rom-com out there that will keep you laughing throughout the night.
Hot Air Balloon Ride
One of the most romantic and thrilling date ideas for couples is a hot air balloon ride. Imagine soaring above treetops, taking in panoramic views of breathtaking landscapes while holding hands with your significant other! There's something incredibly intimate and unforgettable about this experience that will bring you closer together.
Whether it's watching the sunrise or sunset from high up in the sky, it's bound to be a magical moment that you'll always cherish.
As mentioned earlier, a hot air balloon ride is recommended as a romantic and thrilling date idea. This activity is perfect for adding an extra dose of adventure to your love life while enjoying beautiful scenery at the same time.
Nude Beach Adventure
A nude beach adventure may not be everyone's idea of a good time, but for couples seeking a daring and exhilarating experience, it can be an unforgettable date night. The freedom and liberation that come with bearing it all in public can create a sense of intimacy and trust between partners.
It's also an opportunity to push boundaries together and step out of comfort zones, which can strengthen emotional bonds. However, before embarking on this type of adventure, it's important to research etiquette and rules for the specific beach to ensure safety and respect for others' privacy.
Consulting each other about boundaries beforehand is crucial as well.
Karaoke Night
Karaoke night is an unexpectedly fun and playful date idea that can help couples break out of their routine and build stronger connections.
Whether it's singing cheesy love songs or belting out classic rock anthems, karaoke night is all about letting loose and having a good time together. Plus, if you're feeling daring, you could even perform a duet together to really up the romance factor.
And to add some extra flair to the evening, consider dressing up in fun costumes or props that fit your song selections.
Couples Dance Class
Why not try something new and exciting for your next date night? Take a couples dance class together! Not only will it provide an opportunity for some physical activity, but it also promotes bonding between partners.
Learning a new type of dance requires communication and trust, which are important aspects of any relationship.
As mentioned in our important facts section, trying new experiences, like taking a couples dance class, can strengthen emotional bonds in long-term relationships. Make it even more fun by picking a style you both enjoy or have always wanted to learn.
Sexy Hotel Getaway
Looking to escape the daily grind and indulge in some much-needed alone time with your partner? A sexy hotel getaway might be just what you need. Whether it's a five-star luxury resort or a cozy bed and breakfast, taking the time to plan a special trip together can reignite the passion in your relationship.
To make your stay truly unforgettable, consider booking a room with stunning views or amenities like a private hot tub or fireplace. For those who prefer more adventurous experiences, try something new together, like skydiving or bungee jumping.
Sunset Cruise
A sunset cruise is a romantic and memorable date night experience that every couple should try at least once. Imagine being out on the water while watching the sunset over the horizon with your significant other by your side.
The gentle rocking of the boat and the soothing sounds of waves create an intimate atmosphere for romantic conversations, making it a perfect time to express heartfelt emotions.
Sunset cruises are typically held in luxurious boats or yachts, which offer exceptional views of city skylines and prominent landmarks such as lighthouses or famous bridges.
You can sip champagne while enjoying gourmet meals prepared by onboard chefs, creating unforgettable taste experiences.
Romantic Scavenger Hunt
A romantic scavenger hunt can be an incredibly fun and exciting way to spice up date night. It adds an element of mystery, adventure, and excitement to the evening.
You can plan out a series of clues that lead your partner on a journey throughout your home or neighborhood.
For example, you can start with a simple note hidden in the dresser drawer that leads them to the kitchen, where they find some snacks and wine waiting for them. The next clue might take them outside to find a rose hidden behind a tree which leads them to the local park where you have set up a picnic blanket with their favorite meal.
The possibilities are endless when it comes to planning a romantic scavenger hunt.
Beach Bonfire Night
One of the most romantic and unforgettable date night ideas for couples is a beach bonfire. Grab some blankets, chairs, and your favorite snacks to enjoy by the fire.
Not only does it provide a cozy atmosphere to cuddle up with your partner, but the beach also offers stunning views of the night sky.
Grabbing ASTROGLIDE O organic lubricant can be an excellent way to make things even moodier; A massage with this product will add an extra level of intimacy and relaxation for you both to enjoy in each other's arms before heading home at the end of a beautiful evening under stars.
Road Trip
Embarking on a road trip with your significant other can be an incredibly romantic and adventurous date night idea. It allows for quality one-on-one time while exploring new places together.
Consider packing a picnic basket full of tasty snacks and stopping at scenic rest stops along the way. Play fun car games like I Spy or 20 Questions to pass the time and create lasting memories.
Don't forget to bring ASTROGLIDE personal lubricants along for any intimate moments you may have during your travels.
Attend A Burlesque Show
Attending a burlesque show is a unique and exciting way to add some spice to your date night. Burlesque performances are known for their tantalizing costumes and seductive dance routines that are sure to leave you both feeling in the mood for love.
Check local listings to find out when and where the next burlesque event is happening in your area.
During the show, expect plenty of eye candy as performers turn up the heat with sultry moves and flirtatious interactions with each other and audience members. Communication and consent are always important in sexual activities, so if this is new territory for you or your partner, make sure you take things at a pace that feels comfortable for both of you.
Afterward, continue the theme of sensual indulgence by incorporating some aphrodisiac foods or setting up a bubble bath or other romantic ambiance at home.
Watch Porn Together
Exploring the best premium porn sites and watching porn together can add a thrilling and intimate dimension to couples looking to enhance their date nights. It's an exciting way to increase arousal, promote open communication, and encourage experimentation in the bedroom.
Remember that consent is key when it comes to exploring sexual activities like watching porn or creating sex tapes.
Blindfolded Taste Testing Experience
Blindfolded taste testing is one of the unique and playful date night ideas that couples can try. This activity involves blindfolding each other and feeding different foods or drinks to identify them without looking.
It's a fun way to explore different tastes, textures, and flavors while building trust with your partner.
When planning this date idea, it's important to ensure that both partners are comfortable with trying new foods. Communication is key in setting boundaries and creating a safe environment for exploration.
Additionally, using a silicone-based lubricant like ASTROGLIDE O during shower sex may enhance the experience even further.
Create Your Own DIY Love Potion Cocktails
One of the most exciting and romantic date night ideas to try out with your partner is creating DIY love potion cocktails. It's a fun way to experiment with different ingredients and tastes while also setting a sensual mood for the evening ahead.
To make the perfect love potion cocktail, you can start by selecting aphrodisiac foods such as saffron, oysters, watermelon, or cherries to include in your drink.
Then add some alcohol like vodka or champagne for a little kick.
Once you have created your perfect love potion cocktail, sip on it slowly as you enjoy each other's company. This fun activity will no doubt put both partners in the mood for some intimate time together.
Tips For Planning A Sexy Date Night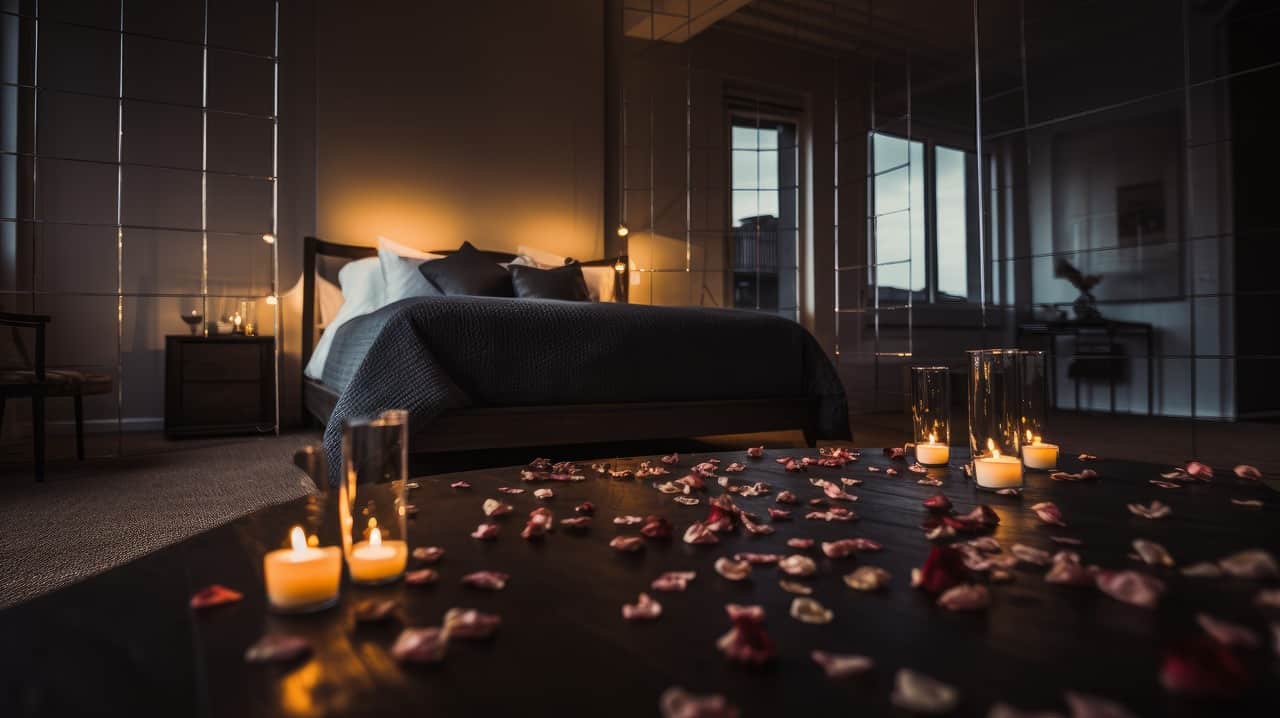 Surprise your partner with something unexpected, role-play to add excitement, dress up to enhance the mood, and try new experiences for a memorable and adventurous night.
Surprise Your Partner
Surprising your partner can add a new level of excitement and anticipation to your date nights. It doesn't have to be an elaborate or expensive surprise, just something unexpected that shows you put some thought into planning the evening.
For example, you could plan a surprise picnic in the park with their favorite foods and drinks or create a scavenger hunt where each clue leads to another romantic location or activity.
You could also surprise them with tickets to see their favorite band, book an overnight stay at a luxurious hotel, or rent a private room for a couple's dance class. Surprising your partner is not only fun but also helps keep the spark alive in long-term relationships and adds an element of spontaneity that breaks up the routine.
Role-play
Role-play is a fun and exciting way to explore your fantasies with your partner. It can add a new level of intimacy and excitement to your sex life, allowing you to step out of your comfort zone and try something new.
Choosing roles that excite both partners can be a great way to enhance the experience. For example, one partner could play the part of a naughty librarian while the other takes on the role of an eager student.
Or perhaps you might choose more adventurous roles such as doctor and patient or police officer and criminal.
Adding props or costumes can also help make role-playing feel more authentic and immersive.
When done correctly, role-playing can help improve communication between partners by encouraging open dialogue about desires and boundaries in a safe environment.
Dress Up
Dressing up for a date night can be a fun and exciting way to spice things up. Whether it's wearing sexy lingerie or dressing in themed outfits, putting in the extra effort to look good for your partner can reignite passion and create a sense of excitement.
It shows that you are willing to go the extra mile to make your partner happy, which can strengthen emotional bonds and deepen intimacy. You don't have to break the bank when dressing up either – it's all about being creative with what you already have or finding affordable ways to accessorize.
Adding creativity to dress-up ideas is one important aspect of date nights, as it allows couples to explore different fantasies and live out their desires together in a safe environment.
Role-playing games also improve communication skills between couples as they negotiate how best they can role-play while having fun at the same time.
Try New Experiences
Trying new experiences can be a great way to add excitement and freshness to your date night routine. It doesn't have to be something extreme like skydiving or bungee jumping, but rather something out of the ordinary that you both haven't tried before.
It could be anything from checking out a new restaurant with unusual cuisine, taking a dance class together, or learning how to make cocktails at home. One couple shared that they decided to take an improv comedy class together and had an absolute blast laughing and learning new skills.
It's important not only for the novelty factor but also for the bonding experience it creates between partners when trying new things together. Research has shown that shared adventures release adrenaline in our bodies which helps us bond more readily with those around us.
Frequently Asked Questions About Sexy Date Night Ideas
What are some unique date night ideas to try and spice up my love life?
Some creative date night ideas include going on a sunset picnic, taking a cooking class together, having a game night with sexy twists, or trying out a new adventurous activity such as rock climbing or bungee jumping.
How important is it to have regular date nights in a relationship?
Having regular date nights is crucial for maintaining intimacy and connection in a relationship. It allows couples to spend quality time together outside of their daily routine and helps them prioritize their commitment to each other.
Is it necessary to plan extravagant dates for successful date nights?
No, it's not necessary to plan extravagant dates in order for them to be successful. Simple activities like going on walks, binge-watching your favorite TV shows, or cooking meals together can be just as enjoyable when done with the right company.
What should I consider when planning romantic dates?
Some things you may want to consider include your partner's interests and preferences, budget constraints, location, and scheduling conflicts, among other factors that could impact the success of your planned activity or outing.
Conclusion
In conclusion, spicing up your love life with creative and sexy date night ideas is a great way to strengthen your emotional bond. From a game night with a twist to an intimate fondue experience, these ideas offer something for every couple looking to break their routine and explore new avenues of intimacy.
Planning a surprise, dressing up, trying new experiences, and role-playing can add excitement to the date night. Remember that communication and creativity are key elements in any successful relationship.