Community centers have historically been the heart of local neighborhoods, playing a monumental role in knitting people closer, fostering intellectual growth, and providing the most essential services to those they serve.
For instance, the Caribbean island of St. Croix was ravaged by Hurricane Maria in 2017.
Undoubtedly, these centers are more than just buildings, and their importance becomes even clearer in regions recovering from disasters.
In the aftermath, the people came together to rebuild and support one another, but the long-term effects of the hurricane echoed long and hard. A critical issue that arose amidst the chaos was the lack of safe and engaging after-school youth programs, which are especially essential for children who might be at risk of problematic behaviors when unsupervised.
The lack of access to high-quality after-school programs or any safe spaces for children to learn and grow set the stage for an initiative that is in the process of becoming the very soul of the island's community— Lion Haven.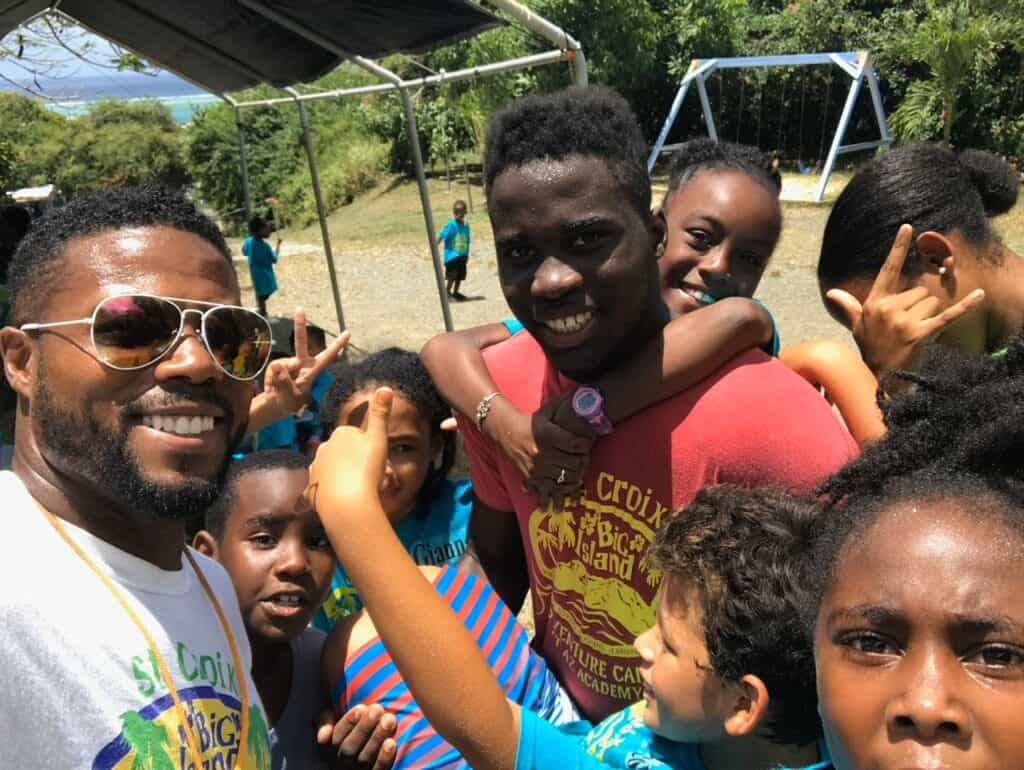 Founded by former NFL player-turned-teacher Justin C. Smith, Lion Haven is not just on a mission to fill a critical void left by the hurricane, but it is providing a source of hope and recovery for the island's most vulnerable groups.
Smith understands the harrowing reality of struggling with confidence and the sense of belonging first-hand. Once a successful football player, a career-ending diagnosis forced him to hang up his helmet prematurely. As sports had always been his identity, this sudden shift left him at loose ends. He dabbled in personal training, yet the fulfillment he sought remained elusive.
His move to the US Virgin Islands was a leap of faith, yet his struggles and depression followed him to St. Croix. For years, he looked for a higher purpose and found solace in a newfound passion for working with children. As a coach and P.E. teacher, he soon became an integral part of his students' lives. He offered them more than just a chance to exercise their bodies, yet he still craved a deeper connection, a broader impact.
It was his role as a summer camp counselor and after-care coordinator for after-school activities that finally allowed him to realize where he belonged and the profound influence he could have on young lives.
Witnessing the social and financial isolation and disparities among his students and their families, especially in the wake of Hurricane Maria, Smith felt deeply motivated to try and mend the voids of the community. This desire was what led to the conception and the early stages of Lion Haven.
Lion Haven's mission is multi-faceted— a reflection of the complex problems it seeks to tackle. Topmost on its agenda is the issue of educational disparity, a particularly sore spot for Smith, who has worked with underprivileged children and youths for many years.
He reveals through after-school programs, tutoring, and other educational sessions, Lion Haven can provide the youngest generations with the resources they need to dream big, succeed, and bridge these gaps. "Many studies have already shown that students who participate in these kinds of programs perform better in school and obtain better grades," Smith says.
Another critical challenge that Lion Haven has attempted to solve is social isolation, a pervasive issue for the St. Croix community.
And then there's economic inequality – a problem many discuss, yet few attempt to address adequately.
Lion Haven plans to make some considerable strides in this direction. By eventually offering job training programs, career counseling, and financial literacy programs, once the center is built, they plan to equip countless individuals—especially those with limited skills and job opportunities—with the tools they need to achieve economic independence.
While this is just scratching the surface of Lion Haven's visionary program and impact, one thing is certain: the center will become the shining example of what can be achieved when vision, passion, and drive come together.
Lion Haven, a beacon of hope for St. Croix, is on a mission to empower its community and heal the wounds left by Hurricane Maria. You can find out more here about how Justin C. Smith is leading the charge in building a community center that nurtures education, empowers youth, and fosters unity. With the help of individuals everywhere, Justin is building a brighter future for St. Croix and inspiring positive change.