Hybrids and electric cars are becoming the norm nowadays, and we have a lot of choices. With rising gasoline prices, at least in Canada, it makes sense to buy a hybrid, as fully-electric cars are still out of the price range for a majority of consumers and there's still the range issue. Honda doesn't sell any fully-electric vehicles in North America, they do sell the Honda E in Europe, a car I'd love to see here. However, Honda does offer two hybrids and a plug-in hybrid. We reviewed the Accord Hybrid last week and this week we get behind the wheel of a 2021 Honda Insight Hybrid Touring.
The 3rd generation Honda Insight was introduced in 2018, as a 2019 model. The Insight is based on the Civic and replaces the Civic Hybrid. I'm not sure why Honda didn't just call it the Civic Hybrid? Although the Insight does look different from the Civic, I personally like the looks of the Insight over the Civic.
2021 Honda Insight Canadian Prices
The 2021 Honda Insight comes in only two trims in Canada, Insight Hybrid and Insight Hybrid Touring. The 2021 Insight Hybrid starts at $28,490 and the Insight Touring starts at $32,190; these prices do not include Freight & PDI ($1,700) and other fees ($125) and taxes.
The base Insight comes well equipped, it comes with features such as Collision Mitigation Braking, Forward Collision Warning, Hill Start Assist, Lane Departure Warning, Lane Keep Assist, Road Departure Mitigation, Traffic Sign Recognition, Adaptive Cruise Control, and LaneWatch.
With the extra money you pay for the Touring trim, you get chrome door handles, moon roof, rain sensing wipers, auto-dimming rear view mirror, Navigation, HomeLink remote system, power adjustable passenger seat (4-way), heated rear seats, leather seats, 452-watt audio system with 10 speakers, and SiriusXM.
2021 Honda Insight Engine
Both trims of the 2021 Honda Insight come equipped with 1.5 liter 4-cylinder gasoline engines, producing 107 horsepower at 6,000 rpm and 99 pound-feet of torque at 5,000 rpm. The gasoline engine is assisted by an electric motor, producing 129 horsepower between 4,000 – 8,000 rpm and 197 pound-feet of torque between 0 – 3,000 rpm. The combined output of gasoline engine and electric motor works out to 151 horsepower at 6,000 rpm. Power is sent to the front wheels via an Electric-Continuously Variable Transmission (E-CVT). There's quite a significant difference in output between the Accord Hybrid and the Insight, however the Insight has a much lower price and you do end up using up less gasoline.
These engines come with ECON buttons, which make the best use of the efficiency of the car. There are also EV and Sport button; like I said in my Accord Hybrid review, I really like the fact that Honda has included a full EV mode in a hybrid, I've only seen this mode on plug-in hybrids.
According to Honda, the 2021 Insight hybrid should consume 4.6/5.3/4.9 Liters/100 km in city/highway/combined driving. After driving the Insight for a week, about 180 kilometers, with a mix of 70% city and 30% highway driving, the onboard computer showed 4.3 L/100 km. I was driving quite conservatively and trying to use the electric motor as much as possible. I was able to beat Honda's number for the Insight, but not for the Accord last week. What's interesting is that when I had the 2019 Insight a couple of years ago, my consumption was 5.5 L/100 km. I know Honda hasn't made any changes to the Insight; I wonder if my driving style had anything to do with the impressive number of 4.3 L/100 km?
Driving
Driving a hybrid isn't as fun as an electric car, even a plug-in hybrid is more fun, like the Honda Clarity, but the cost of entry on the Insight is much lower than on the Clarity and not everyone has a place to plug in a car. Besides, a hybrid is not sold on the promise of a fun ride, it's sold on the promise of a fuel-efficient ride, which the Insight achieves.
Driving the Honda Insight isn't bad either, as long as you acknowledge the fact that this is a fuel-saving hybrid and not a sports sedan. The engine/electric motor work together well, to give you the best power or fuel efficiency depending on the driving conditions. In city driving, it does a great job at keeping up with traffic and the electric motor is used a lot of the time, as long as the battery has been charged up by deceleration and braking.
In electric mode, as you'd expect, it is very quiet. However, when the engine is on, it doesn't make a very unpleasant noise, and the E-CVT makes it feel very buzzy. Unlike the latest CVTs, which come with simulated gear shifts, the E-CVT feels like an older CVT, where you keep waiting for a gear to change and it keeps buzzing along. It also didn't help that I had spent the previous week in the Accord Hybrid, which is luxury car level quiet.
The Honda Insight is also not a big fan of steep hills, especially in Normal and Eco modes. Whenever I encountered a steep hill, I felt like I needed to put it in Sport mode, which gives an extra boost of power. Putting it in Sport mode feels like you're getting a push from behind, in this mode the car feels quite lively.
Styling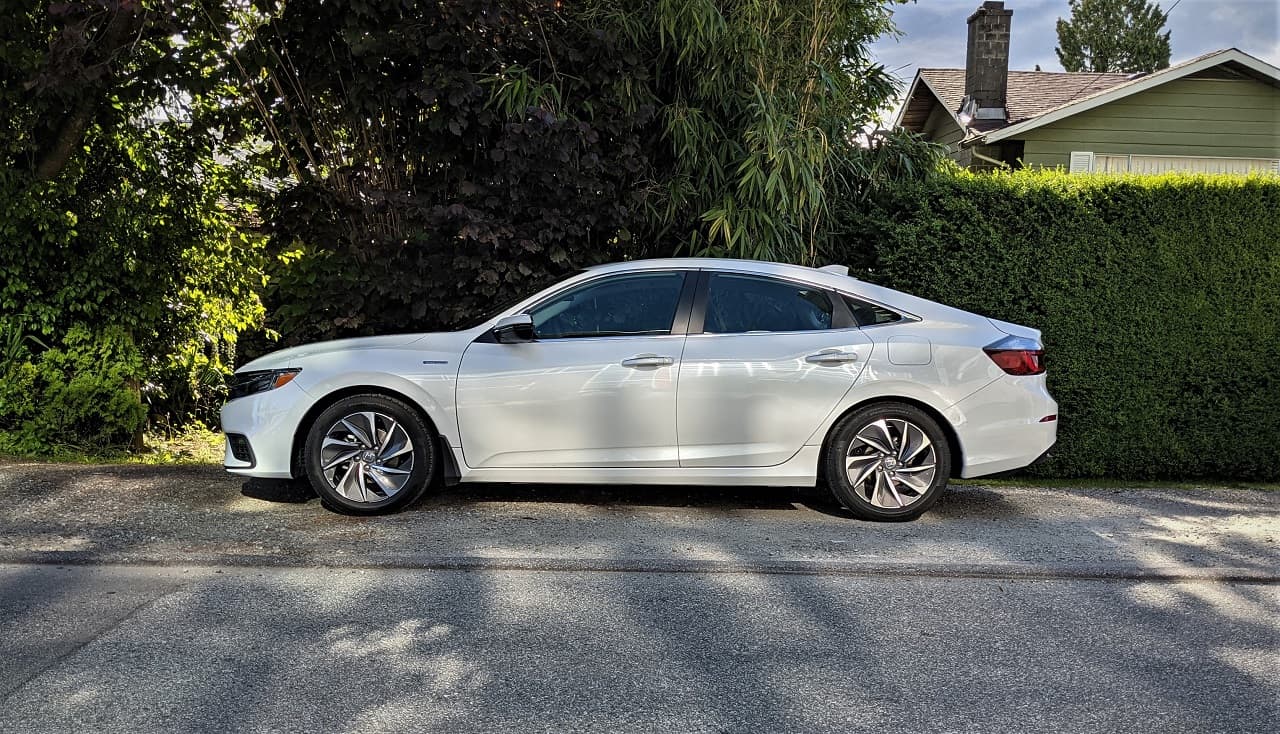 Styling is a subjective matter; I personally like the way the Insight looks. The Insight is based on the Civic, the styling on which took me a while to get used to, but I liked the Insight at first sight. It looks like a much more elegant and finished version of the Civic.
One issue I had with the styling on the Insight/Civic is the raked rear window, due to the rake of the window, when it rains, the water usually sticks around on the window, especially in slow city driving. It makes it very hard to see out of, it might seem weird, but a rear wiper might be appropriate here. I've had this issue with my dad's 2016 Civic, one solution I found was to apply rain-x to it, it helps a little.
The rake of the window also made it a bit difficult to install the tether on child seats behind the headrest, but that's not something you do on a daily/weekly basis, once the seat is in, it's in there for a while, so it's not too big of a deal.
Interior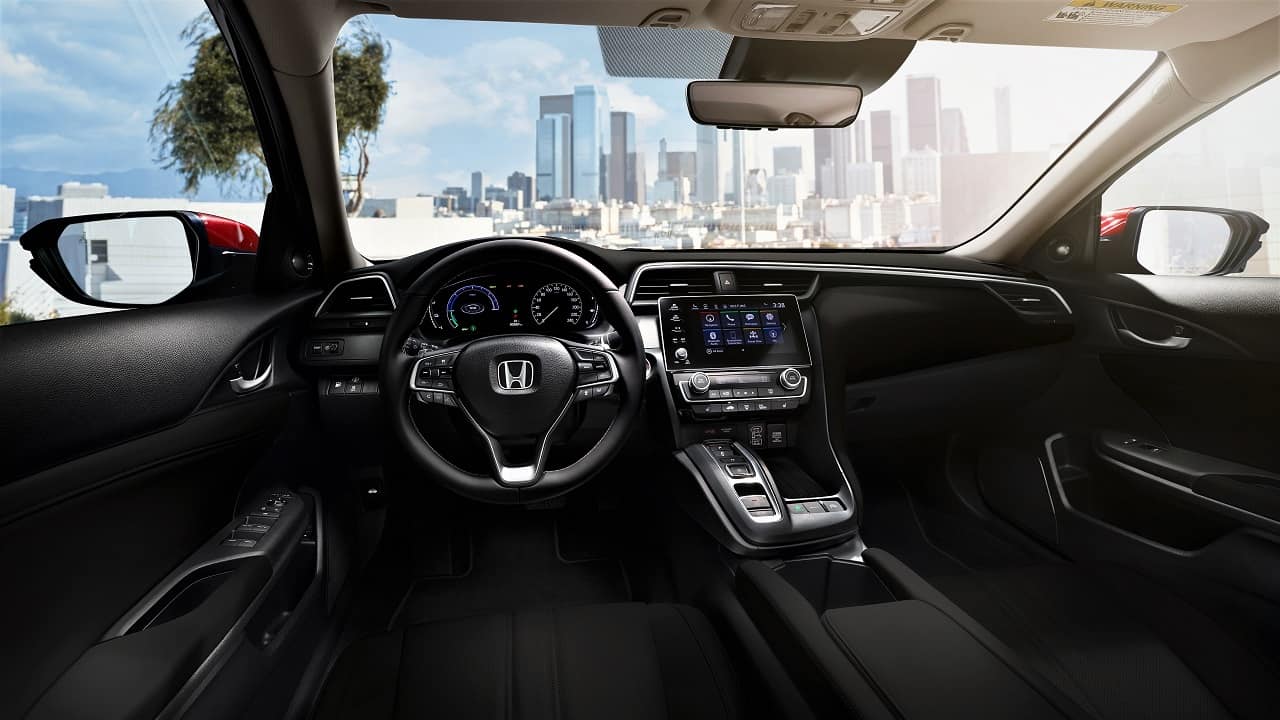 The interior on the Insight is very nice, it looks almost identical to the Civic's, which is a nice looking interior. There's a bit of a difference in the way the two air vents are placed at the top of the center stack, above the infotainment system. The other major difference is removal of the gear lever, in its place is a row of buttons, like on Acura products. This does free up a bit of space, personally I don't mind either setup.
The interior is a comfortable place to be in. It does get a bit noisy, but it's in line with other cars in this class. The interior is very roomy, the Civic/Insight are now mid-size cars, so there is a lot of leg room at the front and even in the back seats and the trunk can hold a lot of groceries, strollers, and baby stuff.
Tech/Safety/Convenience Features
As I mentioned above, both of the trims of the Insight are very well equipped. The "base" trim in Canada is essentially the mid-level trim in America, so it isn't bare-bones. Below is a comprehensive list of everything available on the 2020 Honda Insight.
Proximity key with push-button start
Remote engine starter
Walk-away door locks
LED headlights with auto-on/off
LED taillights
LED fog lights
LED daytime running lights
LED front turn indicators
Auto high beam
Rain-sensing windshield wipers
Brake Assist
Collision Mitigation Braking System
Electronic Brake-force Distribution
Forward Collision Warning
Hill Start Assist
Tire Pressure Monitoring System
Navigation system
Rearview camera
Lane Departure Warning
Road Departure Mitigation
Adaptive Cruise Control with Low-Speed Follow
Honda LaneWatch blind spot display
Lane Keeping Assist System
Traffic sign recognition
Vehicle Stability Assist with Traction Control
Final Thoughts
I think the 2021 Honda Insight is a great car and a great alternative for those looking for a fuel-efficient vehicle that's also better for the environment. It's also a good-looking alternative to the Toyota Prius, which in my humble opinion a not very good-looking car. The Insight has a lot of interior room, it comes with a lot of tech features we've come to expect from modern cars, and it should be pretty reliable in the long term.
For more information on the 3rd generation Honda Insight hybrid and other Honda vehicles, visit honda.ca.