One of the most challenging household chores is probably outdoor cleaning. This is especially true if you don't have the right tools to deal with those stubborn stains and dirt. On top of that, you have to do everything by yourself.
If you're sick and tired of this, perhaps now is the right time to consider investing in a pressure washer with an electric motor — to drive a pump. An electric pressure washer can make a wide range of outdoor jobs a lot easier. It can take care of your garden, tiles, driveway, outdoor furniture, and even your car.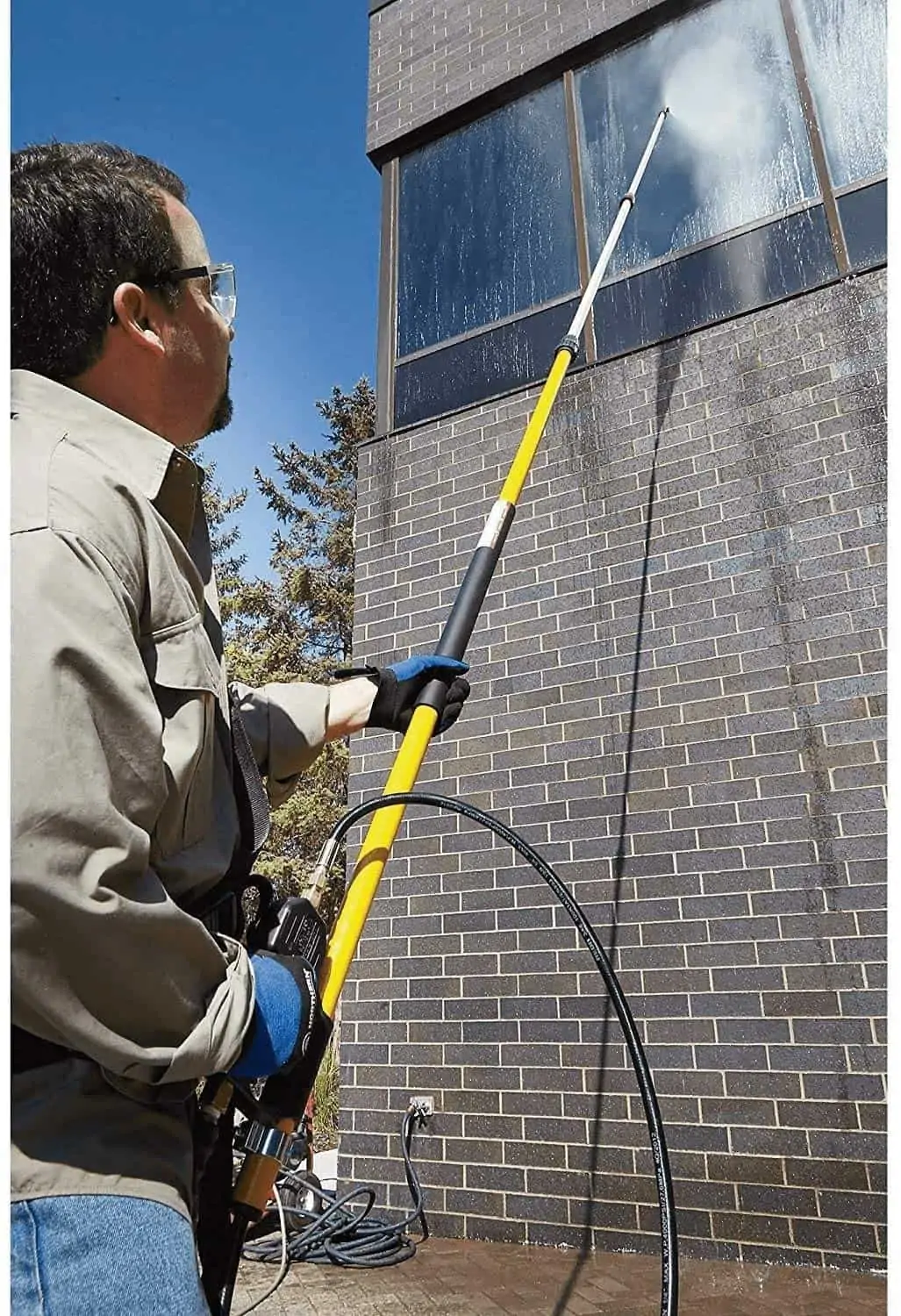 Now, you have countless options out there, making it tough to choose the right one for your needs. But a machine with 3000 PSI, such as the Powerhouse International Platinum is quite popular with consumers because of the immense power it offers. Because of this power, it can get rid of dirt, dust, and all sorts of grime off of various surfaces.
But will the Powerhouse Platinum live up to expectations? Let's go right ahead and find out.
Electric Vs. Gas Pressure Washer
If this is your first time to shop around for a power washer, you may be wondering which among the two types is better. When it comes to the overall performance, it is safe to say that there's not a lot of difference between a gas and electric washer.
When talking about pressure ratings, the average PSI of gas-powered washers is 2800. But some models can go as high as 4000 PSI. That's a lot more in comparison to their electric counterparts. Nevertheless, some like the Powerhouse Platinum is within that range with the price point being the key difference here.
Aside from the low cost, electric pressure washers take the upper hand in terms of weight, minimal maintenance, compact dimensions, and ease of use. Likewise, you can use them indoors. Meanwhile, gas pressure washers come with heavy-duty components and are more powerful.
Of course, you don't want to put a dent in your wallet when purchasing a pressure washer. So when on the market for one, make sure to consider your cleaning requirements to avoid settling for anything less or going overboard. But in general, electric models can take care of the majority of your cleaning needs.
Powerhouse International Platinum Overview
The PowerHouse Platinum sports a heavy-duty look. But what about performance? With a high-pressure pump that generates pressure for up to 3000 PSI combined with a 2.2 GPM flow rate, it is surely sufficient enough to manage most cleaning chores you will face. Since this machine is the electric type, it will not create as much noise as a gas pressure washer. And if you've used one before, you are well aware of how loud it can be.
Along with its sheer power, the Platinum boasts loads of accessories ideal for a wide range of cleaning tasks. Although this may not be on top of your list, you'll be thankful when you have the right attachment for a complex cleaning job.
Many users are impressed with the efficiency and sturdy construction of the Platinum. It comes with a powerful motor, allowing it to clean effectively and quickly. Aside from a plethora of accessories, this machine is equipped with a metal gun that will make your cleaning sessions more convenient. Furthermore, it features a quick connector system that allows a secure and prompt connection with various accessories you need throughout your task.
PowerHouse Platinum is surely a hardworking yet compact and lightweight electric pressure washer. It is also quite easy to move and operate. Check out this cleaning demo to see for yourself.
Pros:
Quick disconnects allow every attachment to lock securely and easily into place.
The attachments are versatile and handy, as well as suitable for almost all types of cleaning jobs.
Compact and will take up minimal space in your storage, thanks to its telescoping handle.
It comes with four caster wheels that lock with ease, providing excellent stability.
The combination of high-pressure and high flow rate is something you'll normally see in gas pressure washers.
Its flexible hose will coil smoothly and efficiently.
The unit's motor will stop once you release the trigger.
Extremely quiet.
Cons:
Its big power plug may not fit your outlet. However, you can solve this using an extension cord.
Some users find the spray trigger resistance is a little stiff.
Although the washer's caster wheels work well on hard surfaces, they are not the best when you roll them over grass, which is expected. But since the Platinum is light in weight, you'll have no problem carrying it by hand.
Best Features
Powerhouse International seems to have considered everything when designing the Platinum 3000 PSI electric pressure washer. Some of its features that you may find impressive are the following:
Handy trigger gun
The lance of the Platinum is made of stainless steel and has a quick-connect system, allowing you to switch from one tip to the next with ease.
Nozzles
This washer comes with 5 nozzle tips, ranging from low pressure for gentle pressure washing to an array of fan sprays. It also includes a 0-degree high-pressure jet for high-intensity cleaning.
Moreover, it features a couple of proprietary nozzles that die-hard fans of Powerhouse swear by:
High-pressure turbo nozzle. This generates a circular washing pattern that you may not find in any other electric pressure washer.
Angled nozzle. An efficient and handy tool that can turn the spray sideways for washing your gutters and other difficult-to-reach areas.
Telescoping handle
It is always great for a power washer to have a handle to make it easy to move around. However, most of the time, this can add size to it when not well-designed. That's another thing that sets the Powerhouse Platinum from its competitors. Its handle is similar to what you will see on compact, premium luggage. When you need the handle, simply pull it out and push it back in when storing your equipment. Hence, it will not take up a lot of space in your storage.
Removable wheel cart
The electric pressure washer has a wheeled cart where it sits securely in place. Moreover, it is built with four casters that provide superb stability whenever you're operating your machine on a hard surface. You can also lock these casters in place.
But as mentioned, you may find it challenging to maneuver over grass. So if you have to do a job on grass or uneven surfaces, you can just remove your Platinum from its cart and carry it.
Onboard power cable storage
How to store the power cord is one of the things that concern a lot of homeowners. Fortunately, that is not a problem with the Powerhouse International Platinum. It comes with a dedicated place for winding up its 35 feet power cable once you're done with pressure washing your space.
Flexible hose
A stiff hose is another nuisance that comes with using a pressure washer, which can affect your cleaning skills. Good thing this electric-powered washer has an especially flexible hose to help minimize this issue. On top of that, it allows for easy winding on the hose reel included with the unit.
Should I Buy The Powerhouse Platinum 3000 PSI Electric Pressure Washer?
At the end of the day, this is a decision that you have to make on your own. Nevertheless, the Powerhouse International Platinum is an excellent electric pressure washer with impressive features. The well-designed unit offers great value for money and has the right tools for practically all cleaning jobs you can possibly imagine.