Putting might seem so easy to master, but in reality, it is a very technical skill. However, there is also no reason why you can't improve your putting skills like the pro golfers you watch on television.
Putting is one of the simplest swings you can make on a golf course because there are no out-of-bounds, no rough, no bunkers, and the target is always there with you. It is an important component of golfing, and that's why the weekend golfers overlook it while the best golfers respect it.
The following are some tips you can use to improve your putting skills and better your golf game;
Keep your head steady
If you've asked around how to better your putt, you've probably been told to keep your head steady. If you'd like to improve your putting skills, you want to maintain your head position at all times.
This is because whenever you tilt your head, your body position shifts, and you end up compromising your well-executed setup. For this reason, the resulting putt will be less controlled and unsuccessful.
After hitting the ball, hold your focus instead of following the ball with your eyes. This is meant to ensure you keep a steady head.
Master putting from all ranges
If you're into golfing, from time to time, you'll find yourself putting at a long distance, and you'll need to focus more than ever. During practice, you'll need to come up with a technique that helps with your consistency to make putts in succession.
When you practice this technique from different ranges, it will boost your confidence to make even longer successful putts. You'll also need to pace your approach carefully when performing these long-distance putts.
Master the lines on the green
Mastering the lines on the green is important in improving your putting skills. If you'd like to learn how to putt better, you might want to learn about the lines on the green and what they represent. For example, on the fast greens, the left line will show you the amount of pace needed for play that day.
To put this in perspective, a lighter color on the green means that the turf is smoother. This means that you do not need too much pace when hitting the ball. Even though mastering these lines might take a while, they can improve your putting skills tremendously once you do.
Keep the shape of your stroke in control
Different people have different opinions when it comes to the best shape of the stroke. Some people prefer their putter to travel in an arc. This basically means that every time you make the stroke, the paint line will be closer to your body.
Some people also proclaim that a simple straight line is the best shape for your stroke. Both shapes work depending on which one you're most comfortable with. However, there are some considerations you need to make for each shape.
If you prefer the arc, ensure that your arc is always even. On the other hand, if a straight line is your preferred choice, your stroke needs to be as straight as an arrow and always aligned with the path your golf ball takes.
Adjust the length of your stroke
The length of the stroke refers to the distance the putter's head moves towards the target and back from the ball. It's important to note that the length of your stroke should always be determined by how far you want the ball to go.
This means that if you have to make your stroke longer, you want the ball to move a longer distance. Also, if the ball is closer to the hole, you want to ensure that your stroke is short. Even though the overall length differs depending on the stroke, there is one element that remains consistent.
You should ensure that the putter head moves the same distance back and forth for every putt you make. If you attempt a longer forward stroke which is shorter at the back, it will result in less control over the ball, thus an unsuccessful put.
Align your shoulders properly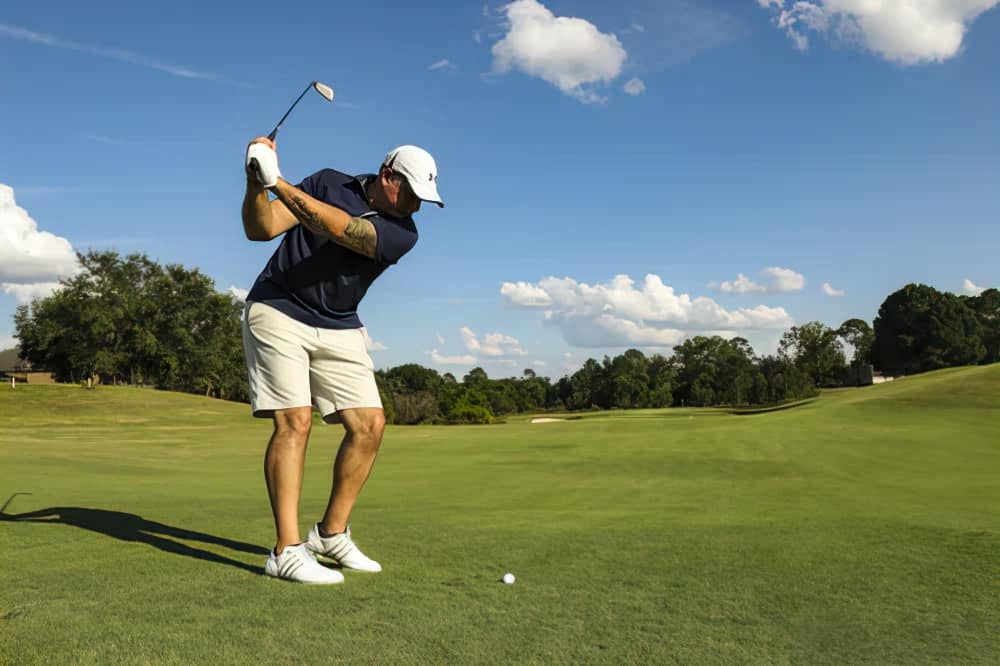 Your body alignment is very important for your putting skills. When attempting a putt, it's important to ensure that your shoulders are square and face the direction you want to direct the ball.
You can try placing your left arm below the right one. This will ensure that your shoulders remain square as you attempt the putt.
Even though putting is way more technical than it seems, it's not impossible to learn and master it. By following the above tips, you'll better your putting game in no time. However, it's important to remain open to changes from time to time if you want to see even better results.