Porsche is celebrating 60 years of the first Porsche Club that was started by 7 guys in Westphalia, Germany way back on May 26, 1952; 4 years after Porsche started producing cars. A few months later another Porsche club was started by 6 guys; today there are 640 official Porsche clubs with over 180,000 members in 75 countries around the world.
The extremely limited edition car is called the Porsche 911 Club Coupe and is based on the all-new 991 911 Carrera S.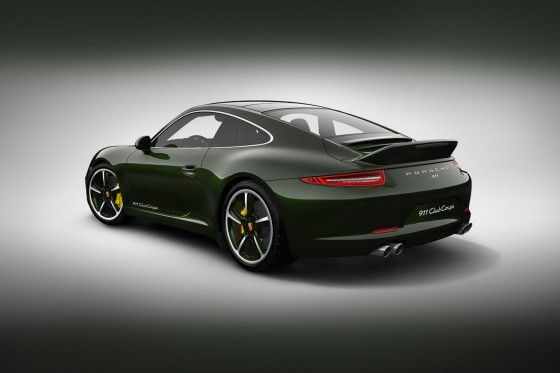 The 911 Club Coupe comes with the Carrera S Powerkit which boosts the engine's output by 30 horsepower to a total of 430 hp, helping the car achieve a 0 – 62 mph (100 km/h) in 4.0 seconds. The car sits 20 mm lower with the PASM option and rides on 20" SportTechno rim with yellow brake calipers. The Club Coupe features a new front bumper and a ducktail rear spoiler. The car is painted in a retro green color called "Brewster Green".
On the inside, the car features dark brown leather seats with beige stitching; the same color is a applied to the steering wheel, door panels, dashboard, and everything else. There is brushed aluminum trim on the door panels and the dashboard with "911 Club Coupe – personally built for ___" engraving. The blank space is where the owner's name would go.
Only 13 examples of the Porsche 911 Club Coupe will be built (the number 13 represents the number of members from the two original clubs) and only 12 will be available to club members, based on a lottery system. You'll have to register at the official site in order to be placed in the lottery and also need $175,580 (taxes not included) to own a very exclusive Porsche.