Aston Martin made a surprise appearance at this weekend's Concorso d'Eleganza Villa d'Este 2012, a prestigious car show that takes place annually at Lake Como in Italy, with the Aston Martin Project AM 310 Concept.  The AM 310 Concept is a pre-production version of the car that will be replacing the Aston Martin DBS, the final production model will be unveiled later this year with sales starting in 2013.
I'm not sure how much of this car's styling will make it into the production DBS replacement car (which is yet to be named) but judging by the pictures, the new car is more of a styling evolution than a revolution, the basic shape of the car is the same.  There is a bit of styling borrowed from the One-77 supercar with the rear end being more curvaceous and there is a sleek looking spoiler.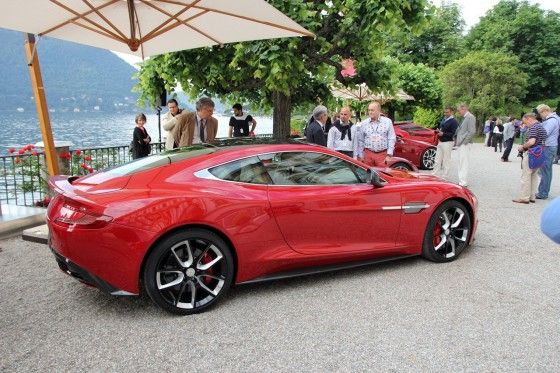 Aston Martin didn't provide much information about the AM 310 concept but did say the car will be powered a more powerful 6.0 liter V12 engine and a lighter version of the chassis being used the DBS will make its way into the new car.  We expect liberal use of carbon fiber in the new car which can be seen in the concept car's front chin spoiler, diffuser, side skirts, and rear view mirrors.
Aston Martin Project AM 310 Concept Pictures & Video
[Photos Via: autoblog.nl]