I often have friends ask me why I wear watches in this age of tech? In a world that's dominated by personal devices like smartphones, there isn't really a need for a wristwatch, if we're speaking practically. A smartphone does everything you can dream of, yet the number of watch manufacturers seems to be expanding rather than contracting.
Why? A watch is more than a time telling device, it's a fashion statement and in my opinion, a man (or woman) wearing a watch seems classier than others.
One of the newer watch manufacturers I've recently discovered is Nordgreen, a watch maker from the Netherlands. Nordgreen was established in 2017 and is the brainchild of Pascar Sivam and Vasilij Brandt. The company's chief designer is Jakob Wagner, who has worked for prestigious companies like Bang & Olufsen, B&B Italia, Cappellini and a handful of others.
The name "Nordgreen" is a combination of "Nord", the company's Nordic identity and "Green", the company's commitment to the environment. The company's commitment includes being carbon neutral by planting trees to offset the emission produced by their office in Copenhagen and the emission produced by shipping the watch. The packaging the watch comes in are made from upcycled materials and responsibly managed forests.
Nordgreen Watches
Nordgreen Watches offers both men's and women's watches; we'll focus on the men's line. In the men's line there are three different watches: Pioneer, Philosopher, and Native. Each of these watches come in a variety of dial colors, body colors/materials, and choice of straps/bracelets. By giving you so many choices, you'd be hard pressed to see someone else with the same combination of dial color, case color, and strap, as yourself.
Nordgreen Pioneer Gunmetal Watch Review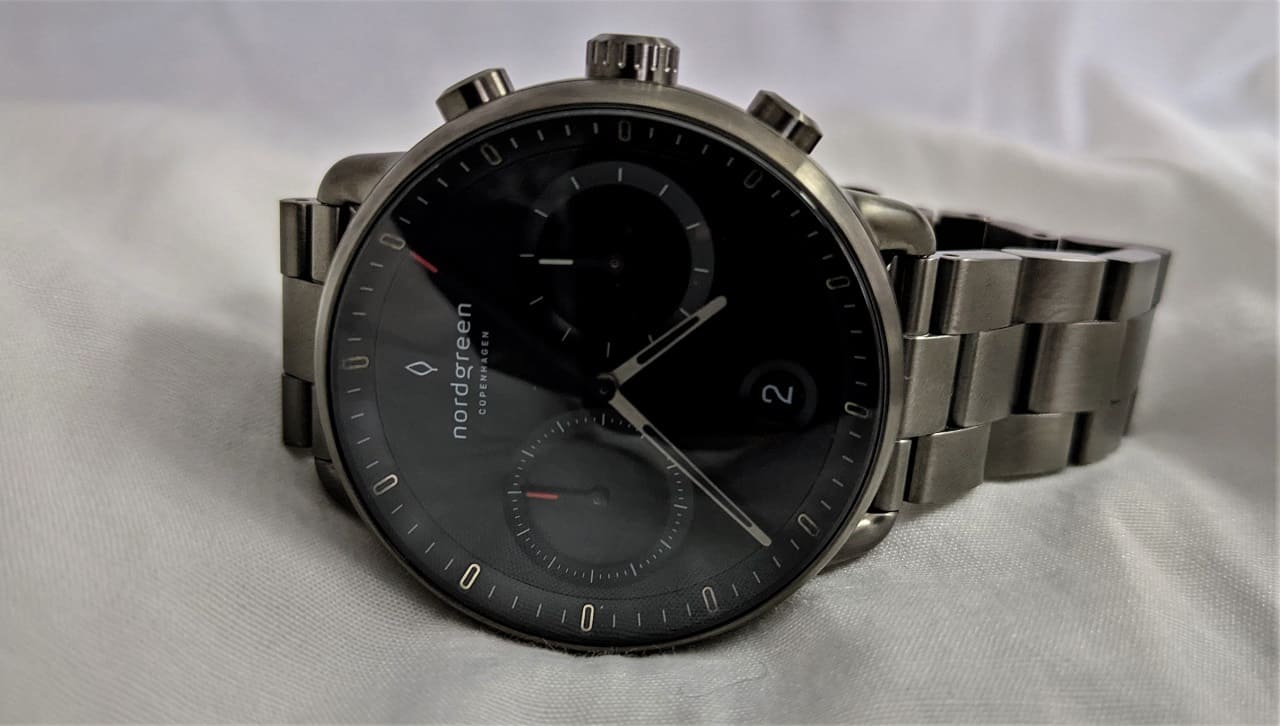 For my review, I received a Nordgreen Pioneer Gunmetal with a 3-link metal bracelet. This watch can be ordered with a silver case/bracelet and rose gold case/bracelet. The watch can be further customized with various straps like black rubber strap, various color leather straps, mesh bracelets, vegan leathers, and nylon straps. In addition to these, you can also choose between white, black, and navy dials. Like I said earlier, with the number of customizations available, you'd be hard pressed to find someone with the exact same watch as your own.
The Pioneer watch can also be purchased in a bundle that includes two additional straps, for a total of three straps. Our review Pioneer Gunmetal with 3-Link bracelet watch is priced at $314 USD and the bundle is currently priced at $360.
I chose the Pioneer over the other watches because I really like the look of chronograph watches, that's not to say the other watches in their lineup are not good looking. I chose this because I have quite a few watches that have simpler designs and I currently own only one other chronograph.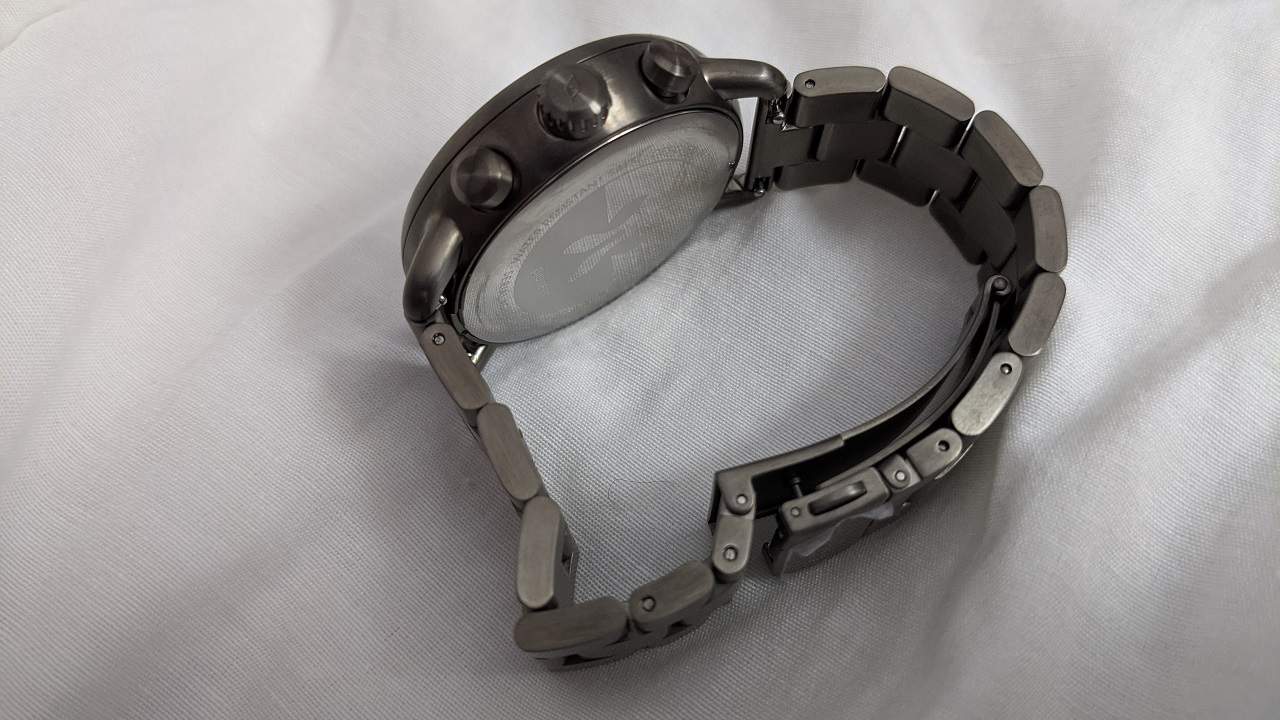 The Nordgreen Pioneer watch comes in a 42 mm 316L stainless steel case that's 11.9 mm thick. I do like the thickness of it, but I am surprised it's as thick as it is because it's not using an automatic movement; quartz watches are generally much thinner than their automatic counterparts. The dial features the familiar 2-subdial layout, with subdial on the right housing the seconds counter and the subdial on the left housing the minute counter for the chronograph function. The main dial features three hands, the standard hour and minute hands, and a large hand for the second counter for the chronograph. The dial also features a small date window at the 6 o'clock position. The side of the dial features a crown with the Nordgreen logo surrounded by a pusher above and below, for the chronograph function. Bringing it all together is a domed sapphire crystal.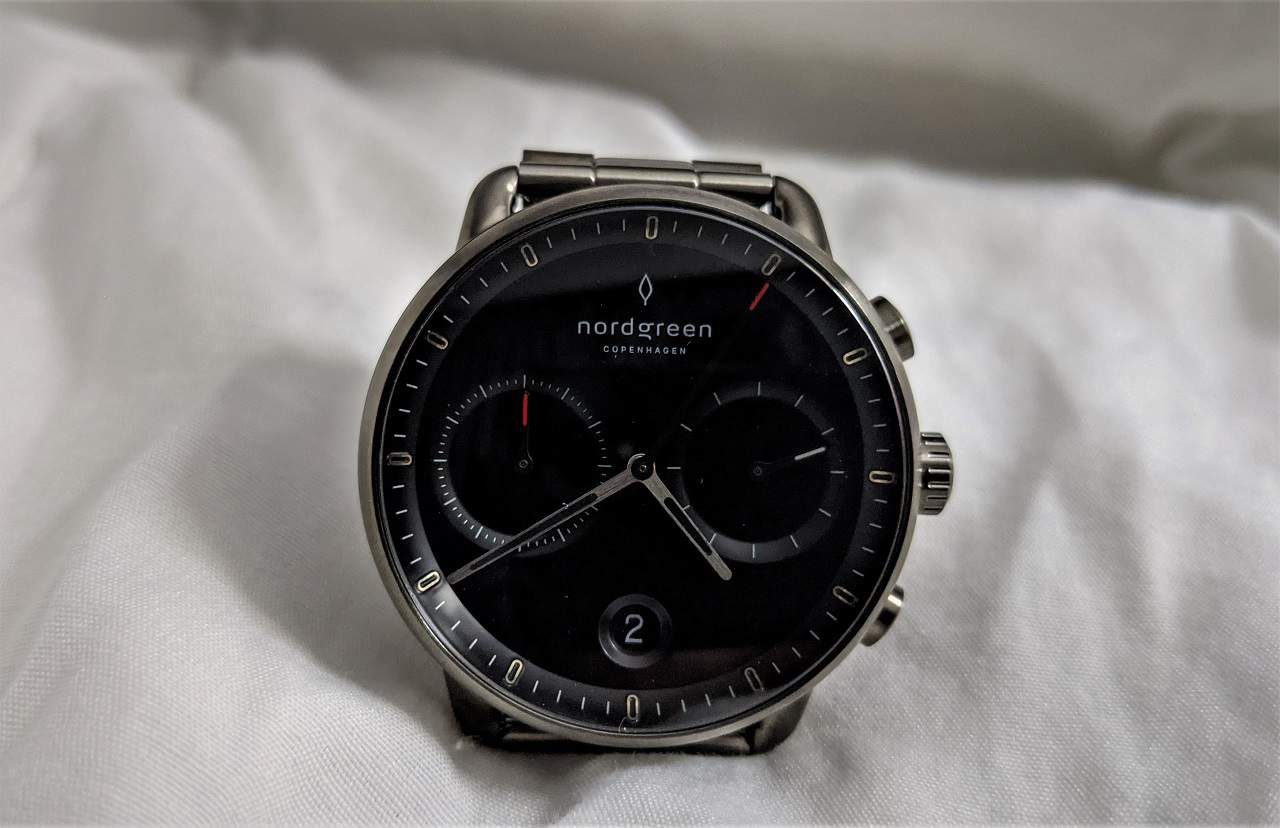 The Nordgreen Pioneer watch is powered by a Japanese quartz movement, although the company doesn't specify which manufacturer produces the movement. The watch is water resistant to 50 meters, although it says "rain resistant", so I'm not really sure what to make of that. Is it resistant to 5 ATM of rain pressure (which doesn't make sense) or you can have it submerged under 50 meters of water? Anyways, I don't think anyone actually dives with their wristwatches, if you really are into diving, you'd be using a watch (or an instrument) that's specifically made for the activity.
Overall Thoughts of the Nordgreen Pioneer Watch
I think the Nordgreen Pioneer watch is a good-looking watch and it looks more expensive than the price would suggest. It has a high-quality finish, is a good size, and has a nice "weight-y" feel to it. It could be mistaken for mid-grade Swiss watch. For more information on the Pioneer and other watches by Nordgreen, please check out their website.