When it comes to our outer layers, we first think of warmth. The temperature outside is below freezing, and you're about to hunt in the extreme cold.
And the truth is that one of the biggest challenges in hunting is staying warm. But what about comfort, breathability, and durability?
Getting wet and cold is natural when you're out in the wild all day. And that's where the merino wool base layer comes in.
Furthermore, merino wool clothing is incredible for a hunting base layer. It keeps you warm and dry from 35° C to -20° C. But the most crucial part is you will stay comfortable in cold conditions while wearing merino wool base layers.
With so many different layers and fabrics, which one is the most suitable for you?
Here, I will introduce you to the merino wool base layer, how these layers outperform other synthetic fibers, and the best merino wool base layer for hunting in the market right now.
No more waiting, Let's Check Out!
What is Merino Wool?
It's a natural fiber that comes from merino sheep. This merino sheep came from Spain and was later introduced to Australia in 1797.
The merino wool originated from Australia and can withstand harsh conditions of being exposed to weather, wind, and water with no problems.
The fabric has high moisture absorption capacity and an excellent combination of elasticity, durability, and comfortability.
Nowadays, merino wool is the primary source of premium outer layers such as crew neck, boxers, and base layers that cover your body from head to toe. Also, merino woolen layers are pretty popular today for cold weather hunting.
What Makes Merino Wool Base Layers So Unique?
The first thing about this wool is that it's a lightweight fabric with a thermal regulating capacity.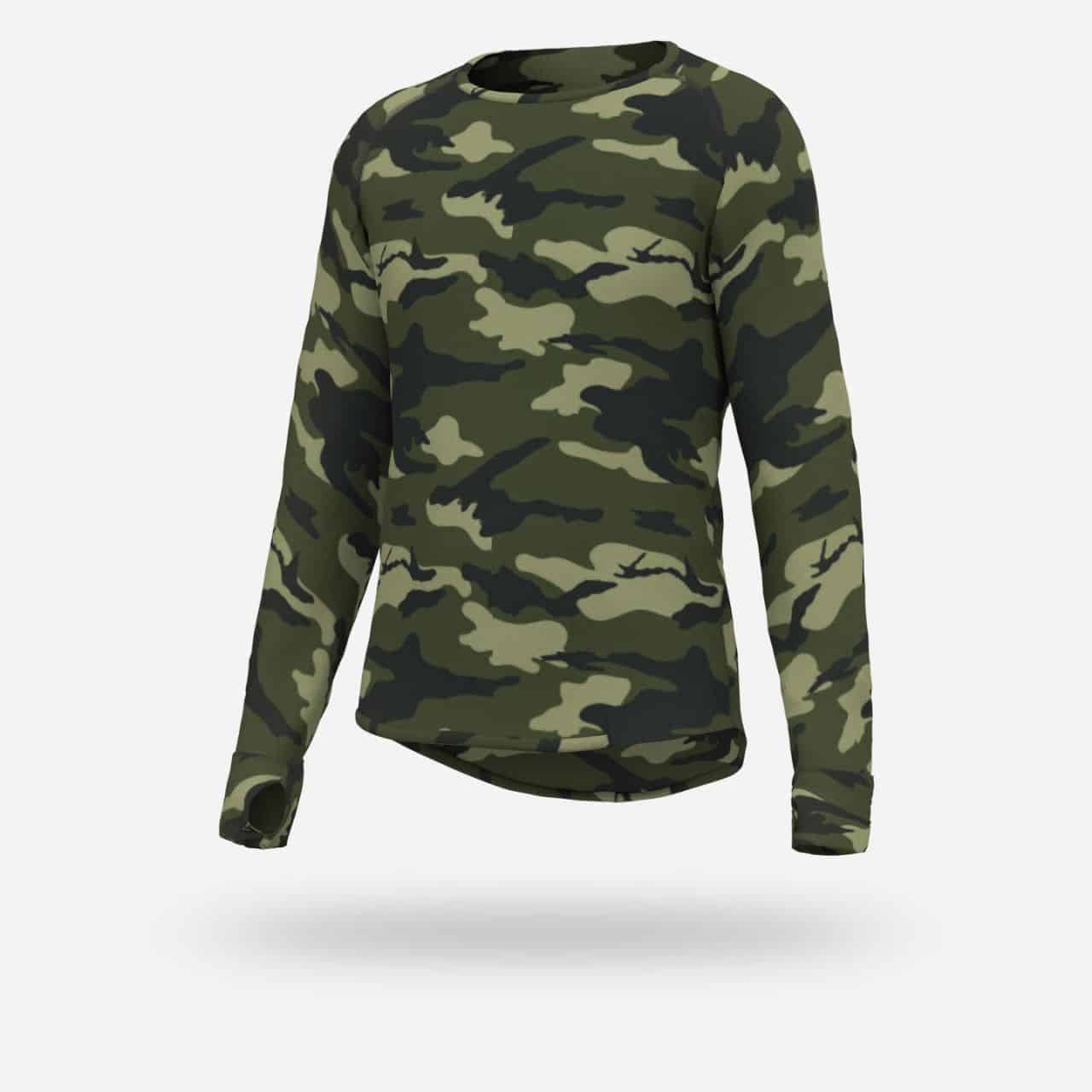 Also, it can absorb wick moisture remarkably well in the short term and balance this out with its dry rate in the long term. This is why you may feel very comfortable during your hunting trip, even with the high temperatures.
Another great thing about merino wool base layers is that it's breathable. Even though it has good thermal properties, you can still use it as an outer layer. And the reason is it still retains the ability to be breathable and thus provides an excellent warmth level even when you stay outside for long hours.  
The ability to maintain breathability means that merino wool base layers don't feel restrictive, unlike other fabrics such as cotton, polyester, or synthetic materials.
Additionally, merino wool is durable and will not get ruined if you wash them by hand. The elasticity of this fabric makes this possible since there are no strings or broken fibers to be found.
One last good point about merino wool base layers is that it's highly resistant to odors. Therefore, it will not smell bad after wearing them for a while.
Why Are Merino Clothes Perfect For A Hunting Base Layer?
Well, you may have known that there are tons of benefits of wearing merino clothing for hunting or working outside.
But why should you choose merino clothing for hunting purposes? And you might be wondering why merino wool base layers are ideal for hunting.
Here are the reasons for choosing merino woolen clothes for your hunting trips –
Warm during cold seasons
During the winter hunting season, going out into cold weather can cause skin irritation.
And this means that if your skin is not well protected, it will feel itchy and start to hurt due to exposure to harsh temperatures.
Another issue that comes with being outside in cold weather is hypothermia. People often want warmer clothes such as faux fur and other synthetic materials.
However, not everyone wants to wear warm clothes such as faux fur when searching for food in the wild since it is often very bulky.
Additionally, some synthetic materials are also very uncomfortable to wear. But merino wool base layers are perfect for wearing when you're out hunting in the cold weather, especially during the winter hunting season.
As mentioned earlier, merino wool base layers have anti-microbial and anti-odor properties that help protect your body from harmful bacteria and ground-in animal odors.
As a result, many hunters choose to wear merino wool base layers instead of heavier wool clothes because it is more practical for outdoor activities such as hunting, hiking, skiing, and fishing in freezing temperatures.
Cool during hot seasons
When it is hot outside, people prefer wearing light weighted jackets rather than heavier coverings like a heavy wool jacket in the summertime.
Many people don't know that merino wool base layers are naturally breathable because it acts as an in-between layer with a lightweight outer layer and a thick insulating layer underneath. It's more comfortable to wear during hot temperatures, especially during summer.
Merino wool base layers are moisture-proof, making them ideal for wearing on hot days.
When hunting in the hot season, merino wool base layers are suitable for protecting your skin from pesky bugs, and it helps keep you warm without overheating your body temperature.
It will keep you dry and off the ground.
Another great benefit of wearing merino wool is that it keeps you dry when you're out hunting in the wintertime because it repels water, wind, and snow.
Merino wool layers are breathable, moisture resistant, and smooth against your skin. They can allow perspiration to evaporate from your body instead of absorbing moisture by retaining water against your skin.
Therefore, merino wool's features make it perfect for use during a hunting trip, whether it's summer or winter.
And suppose you're interested in buying merino wool base layers. In that case, bn3th is an excellent brand because they produce durable, high-quality base layers for men and women, such as their merino wool full-length base layer, merino crew neck, and boxer brief.
Best Merino Wool Base Layers for Hunting (BN3TH)
Many brands are available today, but you have probably heard about BN3TH for their premium clothing and quality assurance. They are committed to producing high-quality clothing, including merino wool clothing for hunters.
What BN3TH produces are premium merino base layers, and their base layers are made with responsible wool standard fabrics.
Their base layers feature MyPakage Pouch Technology™ and Slim fit with no fly. Their merino bottom, base layer tops, and full-length base layers are superb for hunting in all seasons.
You can purchase BN3TH merino wool clothing directly from their website.
Wrap-Up Summary
Merino is a unique and durable fabric, perfect for hunting or casual use. You can use merino wool base layers for skiing, snowboarding, hiking, camping, fishing, kayaking, and many other activities.
After reading this article, you might find it interesting if you're looking for merino wool clothing.
I hope I have helped you choose a good merino clothing brand.
Therefore, I recommend you visit BN3TH's website and read the reviews that they have received from their customers.
Please feel free to leave your comments below if you think my guide is helpful to you.