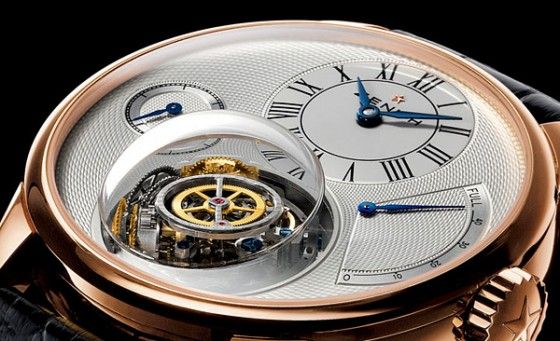 A stunning new limited edition watch by Zenith, the Christophe Colomb watch is named after the famous explorer Christopher Columbus and its design is inspired by marine chronometer instruments.  The entire watch seems to be designed around the glass globe placed at the 6 o'clock position on the watch face.  The glass globe contains a gyroscope-balanced regulator, a self-winding gyroscopic module to guarantee flat positioning of the regulator organ.  Or in other words, this thing keeps the watch accurate.
The hour and minute sub dial is placed above the glass globe at the 12 o'clock position.  On the right side, at the 3 o'clock position, sits the 50-hour power reserve indicator and on the left side is the small second sub dial.
The Zenith Christophe Colomb watch comes in an 18-carat Rose, White, or Yellow gold case and can be equipped with an alligator or crocodile leather strap.  Only 25 of these hand-made beauties will be produced and one can be yours for a low price of $209,000!  The only issue I see with this watch is how it will sit on your wrist and is it going to be comfortable?  Or maybe this watch is only meant to be displayed and shown like a piece of art work?
Zenith Christophe Colomb Watch Gallery:
[Source: Zenith]