It is important to be conscious about the things happening around the world. With so much going on in the environment related to climate change and pollution, it is important to know what's happening and what we can do to help.
With that being said, I want to make sure I'm doing my part by contributing to the betterment of the environment. What better way to do this than to replace my plastic water bottles with other alternatives that are actually beneficial for the environment.
As someone who drinks a lot of water, I knew I needed a water bottle that met all my needs, while being beneficial for the environment. While searching for the perfect water bottle, I came across the Kool 8 water bottle and I knew I had to buy it, no matter what.
After looking at countless reviews online, I finally decided to buy the Kool 8's stainless steel vacuum sealed water bottle in red. The modern look and sleek design is the reason I was so attracted to this water bottle, but with a bit more research, I realized that there was so much this water bottle had to offer that was both environmentally friendly and convenient for everyday use.
Product Review: The Kool 8 Water Bottle
As soon as I saw the water bottle, I was attracted to its modern design look and how it looks so unique. The aesthetics of the bottle is part of its power.
This water bottle does exactly all the things it mentions on the website. It is fully insulated with a double-walled vacuum insulation system which ensures that your drink stays at the same temperature throughout the day.
It is also super durable which prevents any tears on the bottle which is a big thing for me because I'm always throwing my water bottle around so I need to make sure the water bottle I purchase in scratch-proof.
Like I mentioned before, it's important for me to be conscious about my purchases because they not only impact me but the environment as well, so the fact that this water bottle and the company is socially conscious is a huge plus.
If everyone does their part by helping to reduce plastic waste, such as by purchasing plastic-free water bottles, we can make a big impact on the world.
As it mentions on their website, "…20% of the profit goes towards delivering clean water to underprivileged regions in the world" which made me feel even better about purchasing this water bottle.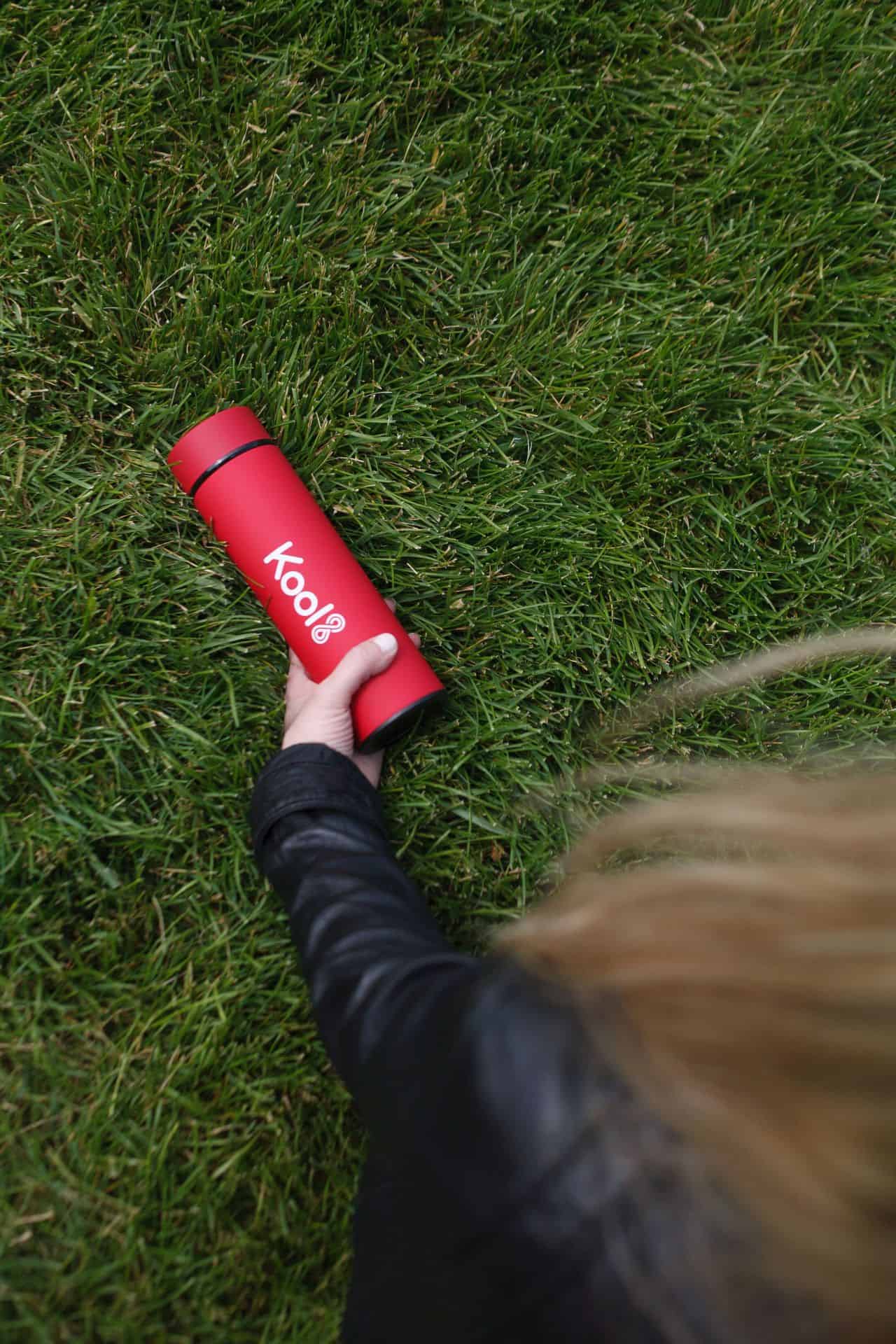 As someone who grew up in North America, I am blessed to have fresh drinking water available everywhere.
But with an abundance of water available, there are equal amounts of plastic being used. However, most of these plastics do not get recycled properly.
Plastic pollution has become a huge problem, especially in North America and most of the plastic just ends up in the landfills, polluting our oceans. Plastic water bottles are one of the main reasons for the plastic pollution we see today.
There are many things you can do to reduce climate change right now. One quick way to do this is by purchasing a reusable water bottle, as I have done.
By trying to achieve a plastic-free nation, it will not only benefit the animals that are currently being affected, but the health of humans as well.
Other Features to Take Into Consideration
The features of this water bottle were the reasons I finally decided to buy this water bottle. Below are some of the features that you should also take into consideration if you are on the lookout for a new water bottle.
This water bottle is temperature controlled
I tested this myself and my cool drink to stay cool for up to 24 hours and your warm drinks for up to 12 hours. This feature is a huge selling point as most water bottles do not have this feature which becomes super inconvenient.
One other amazing thing to take into consideration is that this bottle is designed to last for years. This is beneficial for anyone who wants to buy a water bottle that will last them for years without having to repurchase a new water bottle every year.
It has a modern and sleek design
The simplicity of this water bottle will go along with everything you own. The modern and minimalist designs keeps you looking modern and caught up with the latest trends. It also comes in various unique designs to choose from which makes it suitable for anyone. The colors that the Kool 8 water bottle comes in includes grey, red, green, lime green, and pink.
The water bottle is super convenient as it is easily portable and keeps your drink at your desired temperature. This can make such a big difference when you are out all day on a hot summer day and want to keep your drink cool so you can stay hydrated.
…and most importantly, it is super eco-friendly.
This is one of the best selling features of the water bottle. The Kool 8 water bottle is environmentally responsible and BPA free. The chemicals found in plastic water bottles have a negative impact on the environment, which is why it is so important to use products that are BPA free.
The Bottom Line
The Kool 8 team has done a great job by successfully creating a water bottle that is socially conscious, gives back to the community, has a sleek design, and has lots of functionality features. Overall, I give this water bottle a 10/10 as it is designed successfully.
You can visit www.waterbottle.io to purchase the water bottle that is eco-friendly, as well as good for the environment. Finding a convenient and functional water bottle, that looks unique as well can be difficult to find, so make sure you visit the website and make your purchase right now.