Recently, I almost jumped a buddy I saw wearing a Knot Theory tie, and that led to our article on the Canadian company. Turns out that the neckwear isn't the only sexy thing the design house is known for- meet Tanya Huang, the creator of the Knot Theory line.
Unfinished Man:  You were originally in software engineering- lucrative and challenging, but maybe not so glamorous. What made you break out of that industry?
Tanya Huang: I've always embraced being a geek. I love math, love technology, and thought Angelina Jolie in Hackers was ultra cool and sexy. Yet at the same time, I love art and fashion. During school I'd be sketching designs before computer science finals, dreaming up my own runway show themes in class. One of my early personal coding projects was my version of Flickr – I wrote it so I could showcase my fashion designs.
Both software developers and fashion designers are creators, so in many ways the two worlds are actually very similar.
I wanted to break out of the software field because the nature of my job shifted and I wasn't creating according to my own vision. Even more so was that I began to have a burning desire to explore fashion more, to reincarnate as a fashion designer and let the artistic side come out.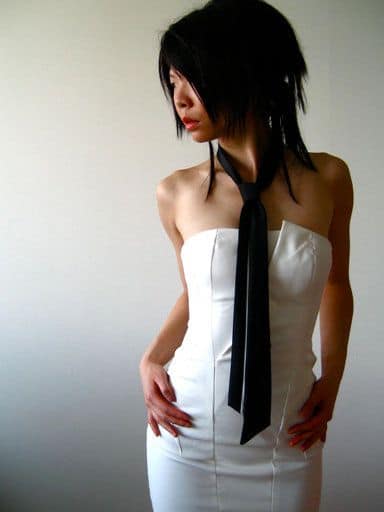 UM: Why ties? As a female designer, it's a ballsy move that's almost like redesigning the wheel.

TH: What we wear today compared to a century ago is very different. Yet, ties have not changed during this time. As a designer and an innovator, I really to want to advance neckties to the next level; to begin a new necktie era.
More than just in design, a tie comes with certain negative connotations today: it's an unimaginative Father's Day gift, it's for the stifling corporate world, and it's obligatory-wear at formal occasions.
My vision is that when someone sees a Knot Theory tie, they see none of the above. Instead they'll see sexiness, boldness, and confidence – and most likely worn by someone that is the same.
UM:
Is there a man in your life?
TH: Not at the moment. I'm in work-hard mode so I meet lots of people but rarely go on dates. Though sometimes I wish we've already invented the Marilyn Mon-robots. A male version that is 😉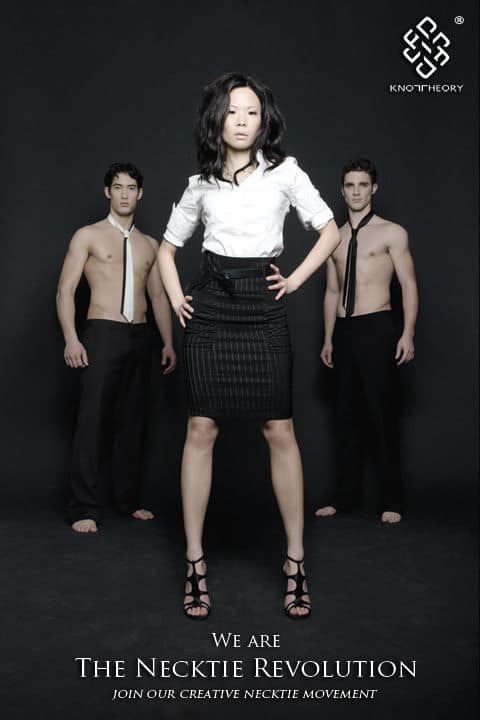 UM: We're loving your product photos; is business-sexy something that you aim to bring to the mainstream?
TH: Thanks! The product photos emphasize business-sexy, pairing the ties with slim shirts, pin stripes, and pencil skirts. This is just one of many ways to wear Knot Theory, however. Recently fashion stylist Christie Lohr styled four completely different looks for Knot Theory, from hipster to avant-garde to business-chic to resort-casual. These ties really are versatile.
If there's anything I wish to bring to the mainstream it would be confidence – the confidence to sincerely express and rock your own style!
UM: Have you done any modelling yourself?

TH: A little bit. When my Asian female model had to cancel at last minute for Knot Theory's photoshoot, I found myself stripping to my thong and cameoed for one shot for fun. Somehow, I got on a model agency's roster after that.
UM: It seems like all of your designs are a study in contrast- blacks and whites, sharp edges and negative space. Where did you draw your inspiration from?
TH: For Collection Duello I was inspired by architectural silhouettes, light, and shadows. The tie colours are muted because I wanted to emphasize the shapes – something that was less explored in ties before.
UM: It took seven steps of refinement to get to the line that we know and love now- did you have any spectacular failures along the way?
TH: The knot was the hardest part to develop, and with each iteration it got one step closer to its current elegant form. It was analogous to watching the evolution of amphibians. Somewhere in between the knot went through an awkward stage and looked more like a calamari. Thankfully it outgrew that.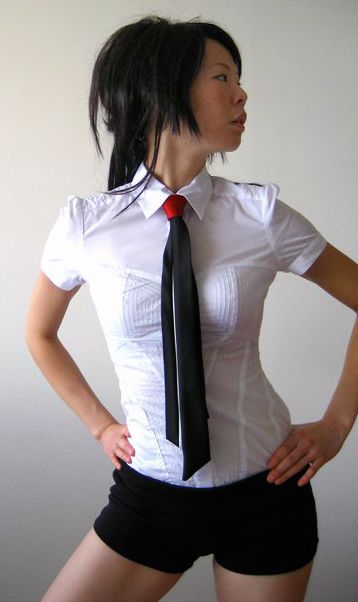 UM: Do you think that men fully realize the potential of the tie as a must have fashion accessory?

TH: I think both men and women haven't really looked at ties as a must-have. With the lack of updates neckties in the past 90 years, that's not surprising.
With Knot Theory and the creative necktie movement it is leading, I hope to see men and women realizing the potential and versatility in this modernized neckwear.
UM:
If you could tie up one man, who would it be?
TH: Someone with the looks of Sam Saffman and the exuberance of Richard Feynman 🙂