Insta360 has introduced the smallest, stabilized action camera to accompany you on your adventures. The Insta360 Go uses FlowState image stabilization technology to obtain clear and steady video clips. Its smaller than a flash drive, weighs about 18.3g and is waterproof with it being able to go under at a few seconds at a time. The Go has 3040×3040 pixel camera sensor and a six-axis gyro and accelerometer. This enables it  to capture wide angles and tracks the camera's movements as it shoots. So, you can skate, bike on a bumpy trail, or go running and you'll still have stabilized images and clips without all that bluriness.
The Insta360 Go can be attached to your clothing or can be worn around your neck as a necklace. It can also be mounted on a pivoting stand with a base unit. The Go can record 15 or 30 second clips of real-time footage, so it's made more for action shots rather than recording your entire experience. You will have to keep pressing the record button if you want to record different action scenes you want to share. However, you can extend that time to 30 minutes if you use the stabilized hyperlapse mode, which will give you a 5 minute video. You can also use a static time-lapse mode to get up to eight hours of recording for a nine-second clip.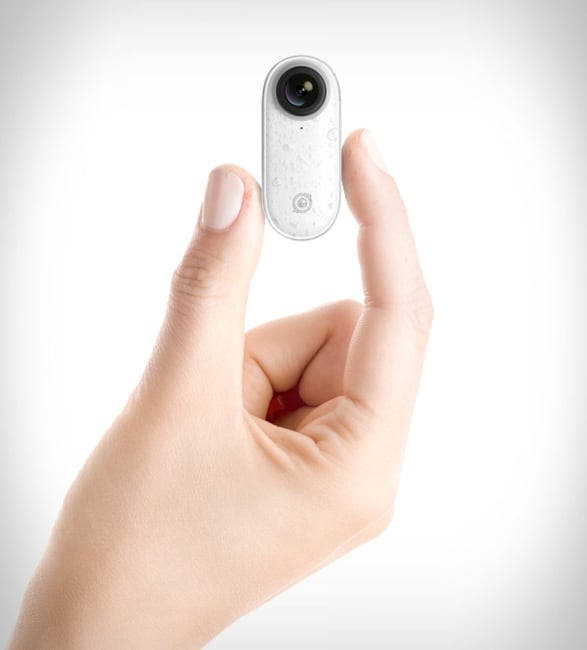 The Go can be charged through the charging case, which also doubles as a file transfer that can be plugged into your smartphone. The Go records videos in 16:9 1080p at 25fps or 1600×900 at 30fps for slow motion. Through the app, you can edit your photos and videos. The app uses AI to choose which moments it thinks are best and syncs them to music to give you some awesome video clips for you to share with the world. The Insta360 Go will definitely add some extra excitement on your adventures and costs $199.
[Buy It]