You just bought a nice new 60″ plasma television. You saw it in the store, it looked beautiful, and you just had to have it. The only problem is that by the time you got it home, you realized that you weren't, you know… exactly sure where to put it. Fortunately, there are plenty of plasma TV stand designs.
That's good news, right? When you start to research, you'll find hundreds of interior design offers to consider. However, if we don't count the various shapes, materials, and color palettes, your choice will be limited to three basic options:
Keep it low…
Low TV stands usually feature some space for an actual TV, a couple of shelves below and – depending on the particular model – some cabinets or drawers. Yet, additional storage space is often optional. There are classic rectangular stands and wooden corner TV stands; stands finished in high gloss and soft wood stands; contemporary looking stands with glass, chrome, LED lighting, etc.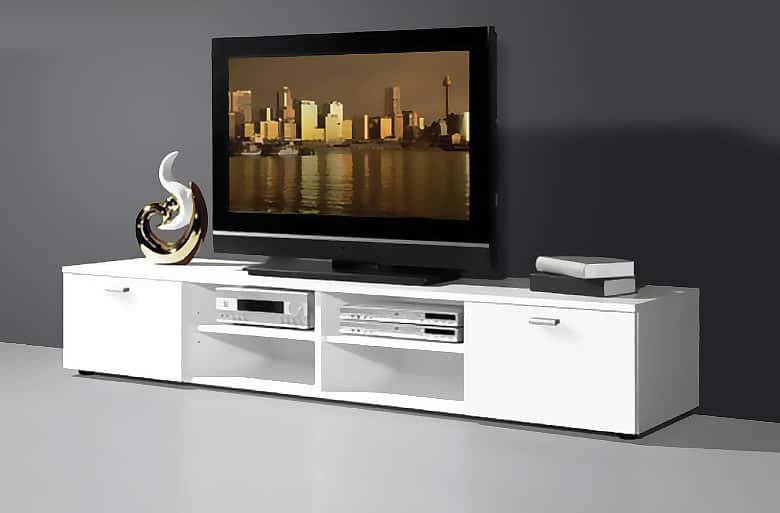 As a rule, a low stand is an ideal solution for any apartment – you just have to decide on your interior design theme.
Keep it on the wall…
If you do not need any extra storage and would like to avoid clutter as much as possible, you might want to consider hanging your plasma TV on a wall.
An arrangement like this will save you plenty of space and will help to create a stylish, memorable atmosphere in your room. Plus, a wall plasma TV stand with bracket will fit into any interior theme – you will not have to bother finding matching furniture or try to attune the stand with the rest of your furniture items.
The Whole Package
If you are designing your living room from scratch, check out entire living room sets. Normally, they feature a low TV stand or some space for a wall bracket and beautifully designed shelves, cabinets, or drawers. Setting up your TV unit like this is one of the most sophisticated and stylish solutions available. Of course, you will have to think about the space of your room and try to integrate the set into your interior. Fortunately, this will not be a problem due to a number of design themes, matching both modern and traditional interiors.
If you're not afraid to shop online, there are plenty of potential options to consider at stores like Furniture in Fashion. Sites like this generally offer high quality solutions at a reasonable cost, making them much more affordable than local options, even when you factor in the shipping costs. Just a thought.