If shopping for clothes for your girlfriend feels a bit like venturing into a fashion warzone, you're not alone. Believe me, I understand that choosing the perfect outfit in just the right size and style can seem daunting at best.
That's why I've put together this all-encompassing guide to help you better grasp her unique tastes, confidently select an ensemble she'll adore, and maybe even save a few bucks in the process! Are you ready to become her go-to personal shopper? Let's dive in!
Key Takeaways
Look at your girlfriend's clothes. Find out what she likes. Do this by looking at colors, brands, and styles.
Know her size. You can do this by looking at the tags on her clothes or asking in a smart way.
Always keep in mind her style, color preferences, and lifestyle while choosing the perfect gift or clothing item.
Spice up your gift with must-have accessories like silver bracelets, pearl earrings, trendy hats, or bags that complement her outfits well.
Table of Contents
Understanding Her Personal Style
Guys, get this: diving into your girlfriend's wardrobe might seem like uncharted territory, but it's necessary. Check out her closet – the dresses she wears frequently are clues to her personal style.
Peek at clothing tags for brand names and preferred materials. Is she a fan of girly dresses, or does she rock high waistlines? Observe other details, too, like colors, patterns, and cuts; these will give you hints about what to buy.
Don't stop there; look at how those clothes match her lifestyle: Are they more work-appropriate staples or vacation-friendly sundresses? Understanding all these pays off when choosing that perfect dress gift!
Assessing Her Tastes
It's time to play detective! Look at the clothes your girlfriend loves to wear. Does she prefer bright, bold colors or soft pastels? Maybe she opts for a lot of prints or stays with solid shades.
These are clues about her taste in fashion. Listen up when she talks about clothes, too. She might drop hints about the styles and cuts that charm her most. All this sleuthing will help you shop smartly for her next gift!
Observing Her Wardrobe
To buy the perfect clothes for your girlfriend, peep into her wardrobe. It will tell you a lot about her style and taste in clothes. You will see the colors she likes to wear most of the time.
Not just that, but the types of dresses she wears too! Look at dress cuts, patterns, lengths, and necklines.
Check out tags on her clothing, also. They are found inside the back part of a dress or shirt. These tags will give you the brand names she buys from most often. Also, they show what size fits her best in different fabric kinds.
You might even spy on some unique pieces! If there's one special dress or top she can't stop wearing, then you know it's a winner.
So next time you plan to surprise her with new clothes, keep this info handy!
Considering Her Lifestyle
She likes doing yoga on the beach, doesn't she? Pick a comfy dress that can stretch. Or perhaps she works in a fancy office? Go for a neat shirt, dress, or work-appropriate staples. Think about her everyday life and style.
You want to buy clothes that fit into her world.
I know you love her in red, but does it suit her lifestyle? Staples like jeans are great if she's more laid-back or casual. A silk slip dress might be perfect if she's into fancy dinners and parties.
Look at what types of dresses she wears daily – this is key to picking out something just right!
Getting the Right Size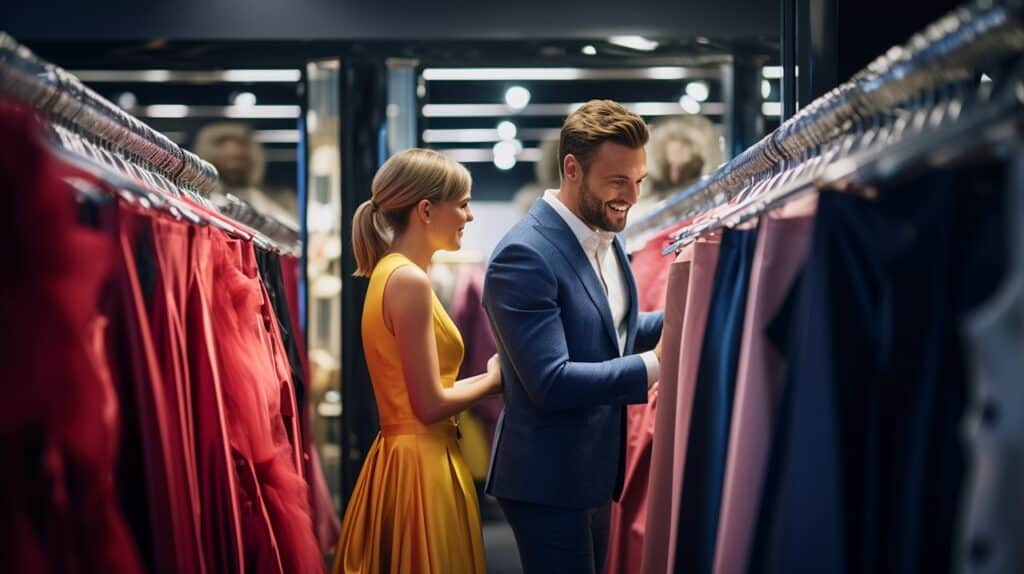 Embarking on the quest for the right size can be a true test of your investigative skills. Snooping around clothing labels in her closet is not as creepy as it sounds, trust me! Subtle questions during casual chats might also drop some useful hints here and there.
And if you're really desperate, well, comparing with your own sizes could offer clues – but tread that path cautiously!
Checking Her Clothing Labels
I sneak into my girlfriend's closet. I check the clothing labels. They reveal her clothing size and the brands she likes. Many don't know that women's dress sizes change across brands and fabric types. It gives me an idea of where to shop and what sizes to look for. Her favorite brands matter, too. Those clues aid in finding a perfect dress surprise for her birthday or our relationship milestone. This method is more fun than asking her size in a straightforward way!
Asking Her Subtly
Sneaky but smooth. That's the game plan for finding out her clothes size. Slide it in during normal conversation. For example, if she talks about a dress she likes, say something like "Wow! What size is that?" Get ready to remember, or better yet, scribble it down when she isn't looking.
Believe me; this will save you from the awkwardness of guessing and getting it wrong. It's easy to mix up an eight with a ten! If all else fails, use your eyes well – watch when she shops and sneaks a peek at clothing tags in stores.
Comparing with Your Size
You might think you've got no clue about women's sizes. But don't worry! You can use your size as a rough guide. If she is smaller than you, her clothes will be smaller too. Let's say, if you wear a large t-shirt, she may fit into a small or medium one of the same brand.
Just remember that this isn't always precise because women's sizes vary much more than men's across different brands and fabric types. So consider this tip as just another piece in the puzzle for getting her size right!
Choosing the Perfect Clothes
"Dive into the world of fashion, finding the style that'll make her smile and colors she can't resist. Who knew seasonality could play such a pivotal role in clothing choices? Don't miss out on tips to find the perfect fitting dress, just ahead!".
Selecting the Right Style
You need to think about the right style for her. Look at what she likes. Does she wear short dresses? Or does she pick maxi dresses more often? Think about her body type, too. Some dress styles look better on certain shapes than others.
For example, a wrap dress flatters almost everyone. A-line dresses work well for women with pear-shaped bodies. Sheath dresses can show off a great waistline, and fit-and-flare ones are good if she has an hourglass figure.
Don't forget the occasion you're buying for as well! Is it a birthday dinner or something casual like going to the beach? Keep all of these things in mind when picking out her gift.
Considering the Season
The time of year is key to buying clothes. Think about the weather where she lives. If it's hot, pick light and airy pieces like a sundress. Go for warm clothes if it's cold, like a cozy sweater or scarf.
Don't forget rain gear in wet seasons, too!
Make sure what you buy fits all her needs. For winter, a warm coat might be good. In summer, a nice pair of shorts can work well. The right fabric makes things better, too – go for cotton in summer and wool in winter! This way, the gift suits both her style and the season she will wear it.
Opting for Her Favorite Colors
Colors say a lot about a girl. So, the best dress color for your girlfriend is her favorite one! You should know it by now. If not, it's easy to find out. Look at what she wears often or ask her casually about her preferred colors.
If you see a lot of pink in her wardrobe, get that cute pink dress! Is she into blues? Grab that blue denim jacket, then! Buying clothes in her favorite colors will make your gift really special.
It shows you pay attention and want to make her happy and confident. It makes shopping fun, too!
Shopping Tips
Before you venture into the world of women's fashion, start preparing ahead – yes, it's like a mission. Don't rush through racks; take your time to check every detail. When lost in the maze called 'women's section,' don't hesitate to ask for help from those who know better – salespersons!
Preparing Ahead
It's smart to get ready before you shop. Make a list of the items your girlfriend needs. This will save time and money. It's also good to know her size, favorite colors, and style.
Look at what she wears most often for ideas. Check her clothes tags when she is not around. Be sure you have enough money for your shopping trip too!
Taking Your Time
Don't rush when you shop for your girlfriend's clothes. This is not a race. You need to take your time. Look at all the dresses in the store and think about what she would like. Try to picture her in each dress.
It is okay to go back another day if you can't find anything right away. Shops change their stock often, so there may be new items next time. Just make sure that you have enough time before her special day!
Asking for Assistance from Salespersons
Don't shy away from asking for help from salespersons. They know the store like the back of their hand. Tell them what you're looking for, and they can guide you to the right spot. Give them a brief on your girlfriend's style and size, too.
They can suggest pieces that fit her taste. Just make sure not to buy everything they recommend; stay true to your girlfriend's style!
Shopping on a Budget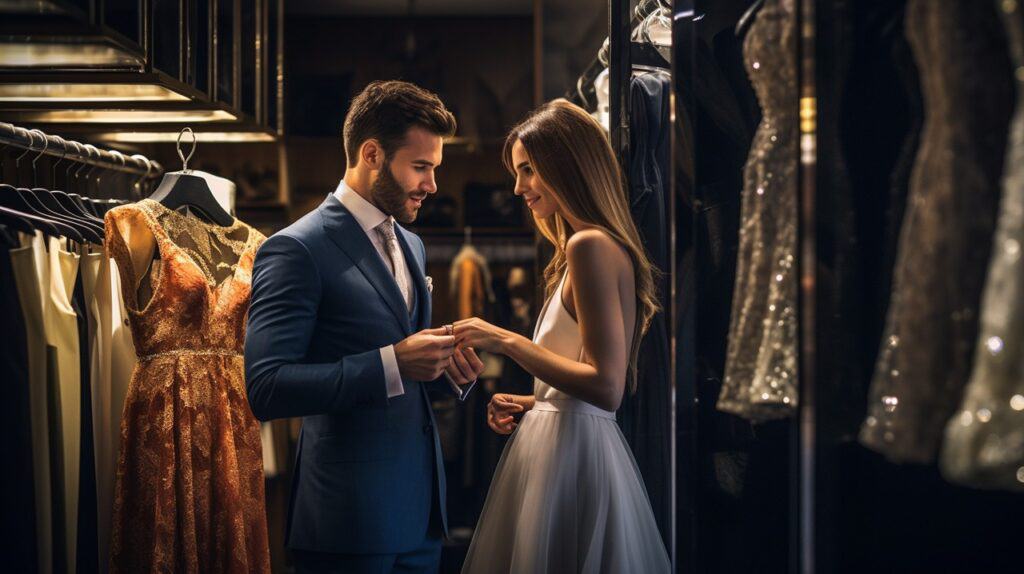 Looking to save some money on your girlfriend's clothing gifts? Here are some tips for scoring deals at thrift stores, outlets, and sample sales:
Check thrift stores – Thrift and consignment stores can have amazing finds at rock-bottom prices. Search through the racks to uncover hidden gems.
Hit the outlets – Outlet malls offer brand-name items at discounted prices. Look for extra markdowns and coupons for even more savings.
Attend sample sales – Sample sales are temporary events where designers sell excess inventory at steep discounts. Sign up for email lists to get notifications of upcoming sales.
Scan sale racks – Department store clearance racks can have major deals on last season's styles. Sort through to find her size and favorites.
Use coupons and rewards – Sign up for store loyalty programs and newsletters to get coupons and extra discounts sent to your inbox.
Shop off-season – Buy winter coats and boots during summer. Get swimsuits and sundresses when it's cold out. The selection is great and prices are low!
Look for online deals – For instance, https://dieseloutletshop.co.uk offers 50% off on women's wear. Many e-commerce sites run regular sales and promos.
With some strategic shopping, you can find stylish steals to gift your girlfriend without breaking the bank. She'll be thrilled with both the clothes and your bargain-hunting skills!
Gift Ideas for Your Girlfriend
From top clothing brands and must-have accessories to trending fashion items, there are tons of fantastic gift ideas for your girlfriend. Consider her taste and style preference while selecting the perfect gift.
Surprising her with a dress from ASOS.com or a custom-made piece from Abercrombie & Fitch can be a big hit. Accessories like jewelry can also make great gifts, but ensure they match her personal style.
Observe the types of patterns, colors, and materials she usually wears or look at fashion magazines to understand what's currently in trend. Taking note of these details will help you choose the best clothing gift that would fit not just her body but also her personality perfectly!
Top Clothing Brands
When it comes to picking out a stylish gift for your lady, choosing something from one of these top clothing brands could make a big difference. These brands are known for their high-quality, trendy designs and variety of options that cater to different styles and preferences. Here's a handy table that might help you on your quest:
| Brand | Style | Price Range |
| --- | --- | --- |
| Zara | Fast fashion, trendy | $$ |
| Gucci | High-fashion, luxury | $$$$$ |
| Forever 21 | Casual chic, young and hip | $ |
| Prada | High-end, classic | $$$$$ |
| Madewell | Contemporary, relaxed | $$$ |
| Levi's | Casual, denim | $$ |
| Michael Kors | Designer, sophisticated | $$$$ |
| H&M | Fast fashion, budget-friendly | $ |
Now remember, it's not just about the brand but also about knowing your girlfriend's personal style. With these options, you're sure to find something that fits her taste perfectly. Happy shopping!
Must-Have Accessories
Silver bracelets are on top of the must-have items. They go with everything and add a touch of class. Then, we have pearl earrings. They are timeless and make your girl look classy. Scarves can spice up any outfit and are perfect for every season. You should also think about buying her a nice belt. Belts can pull an outfit together and give it a fresh look.
Trending Fashion Items
You need to know about the hot fashion picks now. You can surprise your girlfriend with one of these top trends. First, sunglasses are always a cool choice. Look for unique frames and colors she will love. Next, nail polish is a great pick. Choose vibrant shades that match her style.
FAQs About How to Buy Clothes for Your Girlfriend
How can I save money when buying clothes for my girlfriend?
You can shop at thrift stores, outlet stores, or sample sales to save money on clothes. Also, consider shopping during seasonal sales.
What should I keep in mind regarding her personal style and comfort?
Look at the dress patterns, colors, and materials she likes most. Dress fit and clothing comfort level are also critical things to observe.
How do I find out what kind of dresses she prefers?
Pay close attention to the types of dresses she looks at often or wears regularly. You could also ask her friends for fashion advice as they might know her dress preference better.
Should I opt for a certain size when buying a dress?
It's best to look into her closet for style and brand information, where you may find tags that mention size details, too! If you are not sure about the right fit, then opting for larger sizes is advisable, as these can be altered later.
Which type of dress is best suited for different occasions?
For formal occasions, choose ball gowns while cocktail dresses serve as perfect date-night options; vacation dresses cater well to casual settings, considering a universally flattering style like A-line could always be considered a safe bet.
What does Sarah McDonald suggest about choosing clothes wisely?
Sarah McDonald from Pivotal Style encourages individuals by sharing strategy-related secrets like 'Shop the mannequin,' which utilizes a retail store's look designed by experts, thus making selection easier.