Have you heard the great news? There's no need to dress yourself in the morning anymore! By taking one simple pill capsule before you go to bed, you'll awake with a fashionable and comfortable outfit laid out for you, ready to face the day! How does it work? We have no idea, but the outfits sure look great!
OK, so you've probably figured out that's not what a capsule wardrobe actually is. Instead, a capsule wardrobe is a strategy for filling your closet with a modest selection of great-looking clothes that you'll actually wear. Thus, once you've created one, getting dressed is almost as easy as the scenario we just described. So let's find out how to make it happen.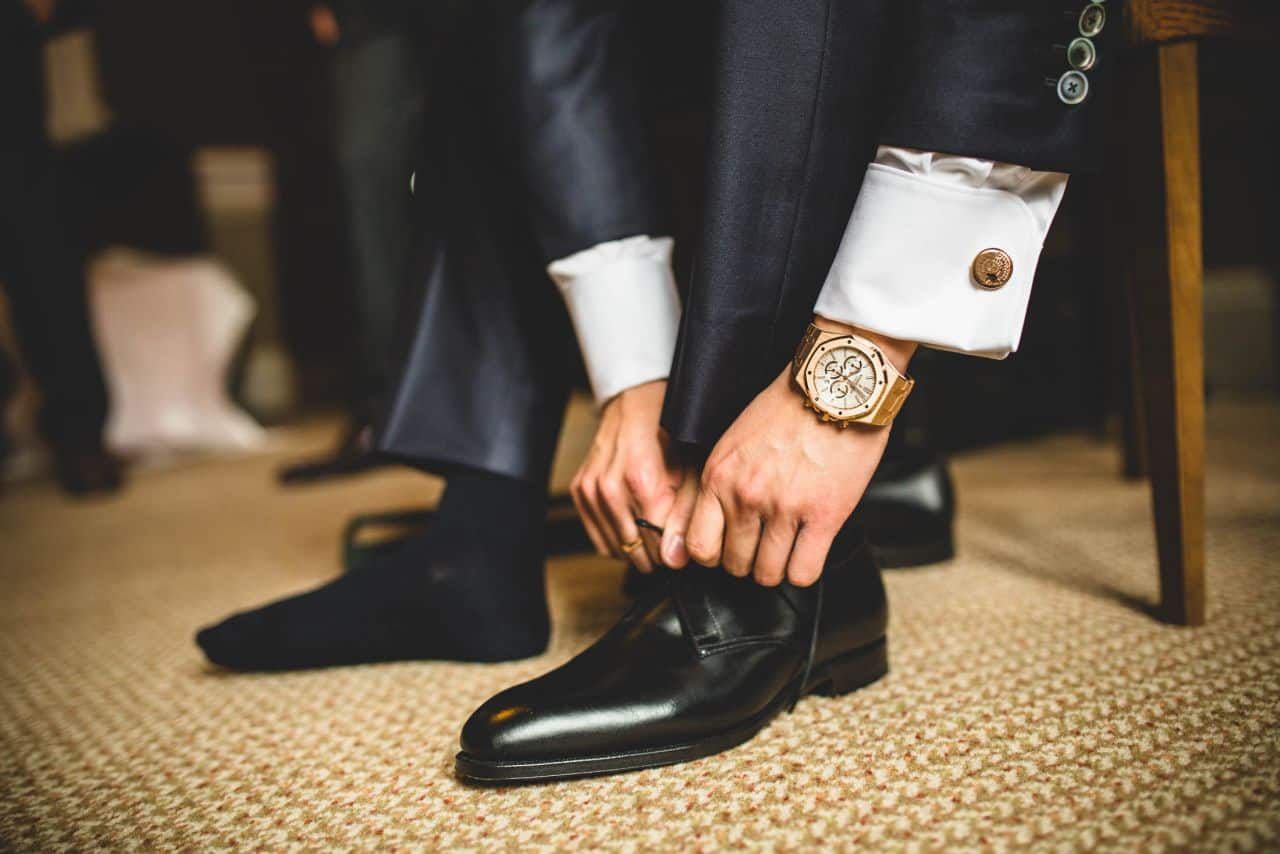 Defining a Capsule Wardrobe
Here's the basic concept of a capsule wardrobe: You curate a relatively small and simple selection of timeless, high-quality clothes, all of which go with each other. This includes basics like some dark-colored men's jeans and tasteful button down shirts, but it can expand to just about any piece of clothing you want to wear frequently.
The "capsule" part refers both to the compact nature of your new wardrobe and the way that various parts of it can be switched around. For example, your "fall/winter capsule" might include a pea coat, boots and sweaters. When warmer weather comes around, pack away the winter capsule and break out a spring/summer capsule with your shorts, tank tops and other warm weather clothing. Many guys also have a work capsule for their office clothes and a travel capsule for when they're out on the road.
Why Build a Capsule Wardrobe?
So, why go to all the trouble of building a capsule wardrobe? Many guys have found that it gives them some real benefits:
It's easy to match complementary colors since you'll rarely have to worry about two items clashing.
You'll almost always have an outfit to wear that looks decently put-together.
Capsule wardrobes make it easy to travel with a great-looking wardrobe, even for an extended period of time.
You don't need to buy all new clothes — feel free to incorporate pieces you already own.
If you have to meet a dress code, you can create a capsule of clothing that will ensure you're always in compliance no matter what you have left in your closet.
The only real downside of a capsule wardrobe is that you'll probably have to do laundry and/or dry cleaning a little more often since you'll have fewer clothes overall.
The Basic Qualities of a Man's Capsule Wardrobe
Building a capsule wardrobe requires paying a little more attention to the clothes you buy and choosing them more intentionally. To make sure you're maximizing your investment, look for clothing with the right characteristics:
Versatile Colors: Neutral colors are always a safe bet in a capsule wardrobe and should make up most of your clothes. Black, navy and gray are a great place to start, with dark brown being the best color for shoes. For the rest of the wardrobe, pick some items in bolder colors that you look good in and enjoy wearing.
Timeless Styles: What's trending on Instagram often isn't what you want for a capsule wardrobe — unless you want to replace your capsule every year. Pick the classic over the flashy and the timeless over the trendy.
Comfort First: Comfortable clothing is a must for a capsule wardrobe. Try everything on before you make it a permanent addition to your capsule and give some careful thought to whether it'll be comfortable to wear regularly.
High Quality: You're not looking for the cheapest option. You're looking for the one that will last through frequent wearing and washing. Be choosy and select good quality clothes made from durable materials, like wool jackets and Oxford cloth button downs.
What Clothes Does a Man's Capsule Wardrobe Need?
Every guy's capsule wardrobe will look different, depending on factors like your required work dress code and the colors that look best on you. That said, these are the foundational elements of most guys' capsule wardrobes today:
Suits: If you wear suits regularly, they'll obviously be an important part of your capsule wardrobe. Three suits — one black, one navy and one dark gray or charcoal — are generally accepted as a good starting point, and they'll combine well with lots of different shirts and ties.
Jackets: Even if you don't wear suits often, it's always a good idea to keep at least one blazer or sport coat on hand. If you're looking for one jacket that goes with everything, it's hard to go wrong with a navy blazer.
Shirts: You want at least a week's worth of shirts, possibly a week and a half, so aim for seven to 10 different options. Unless you're building an office capsule for a specific dress code, spread out your shirts among the various styles of shirts for men, including Oxford button-downs, polos and t-shirts.
Pants: Light colored chinos and dark jeans are the go-to options here. They go with just about everything and they look good on a variety of body types. One pair of each is a good start, with chinos for more formal contexts and jeans for casual, possibly with one extra pair depending on which you wear more.
Shoes: One pair of casual shoes for men and one pair of formal shoes will give you a solid footwear foundation for your capsule wardrobe. Dark brown Oxfords or loafers are a reliable choice for formal shoes that go with most things. For casual shoes, gray or white sneakers are a great option, while a pair of dressy boots straddles the line between formal and casual nicely.
Accessories: A selection of great accessories like watches, ties, sunglasses and belts can provide much-needed spice to a capsule wardrobe. They can perk up a plain outfit or add a new twist to one you've seen before, which makes them perfect for this less-is-more style of dressing.
Finally, remember that you don't have to keep wearing one capsule for the rest of your life! Don't hesitate to switch out a few items you've gotten tired of, or to add new ones regularly. The point isn't to never buy new clothes again — it's to do it more intentionally and to buy stylish, versatile pieces that offer more bang for the buck.