While having decent tech is crucial to any creator, having a decent equipment bag is just as important.
It may be something we overlook, mistaking a heavy and expensive camera bag for a smaller version that actually does the job properly. The last thing we need is having to dig through an overcrowded, overly-large bag for a tiny yet vital lens in the worst possible moment.
The Hex Mini Sling is a camera bag that's reliable, durable, and stylish. Built with the everyday creator in mind, every detail has been thought out and carefully designed to give us the perfect minimalist tech bag.
With a 2.5L capacity, the Hex Mini Sling can fit a DSLR, mirrorless, or mini drone. And they've thought of the little things too – the sling also has additional compartments for your phone and extra charging cables.
Premium Quality
When you first pick up the Hex Mini Sling, you'll realize it's been made to last. The exterior has been coated with 900D Poly material, making it totally waterproof and safe for your gadgets.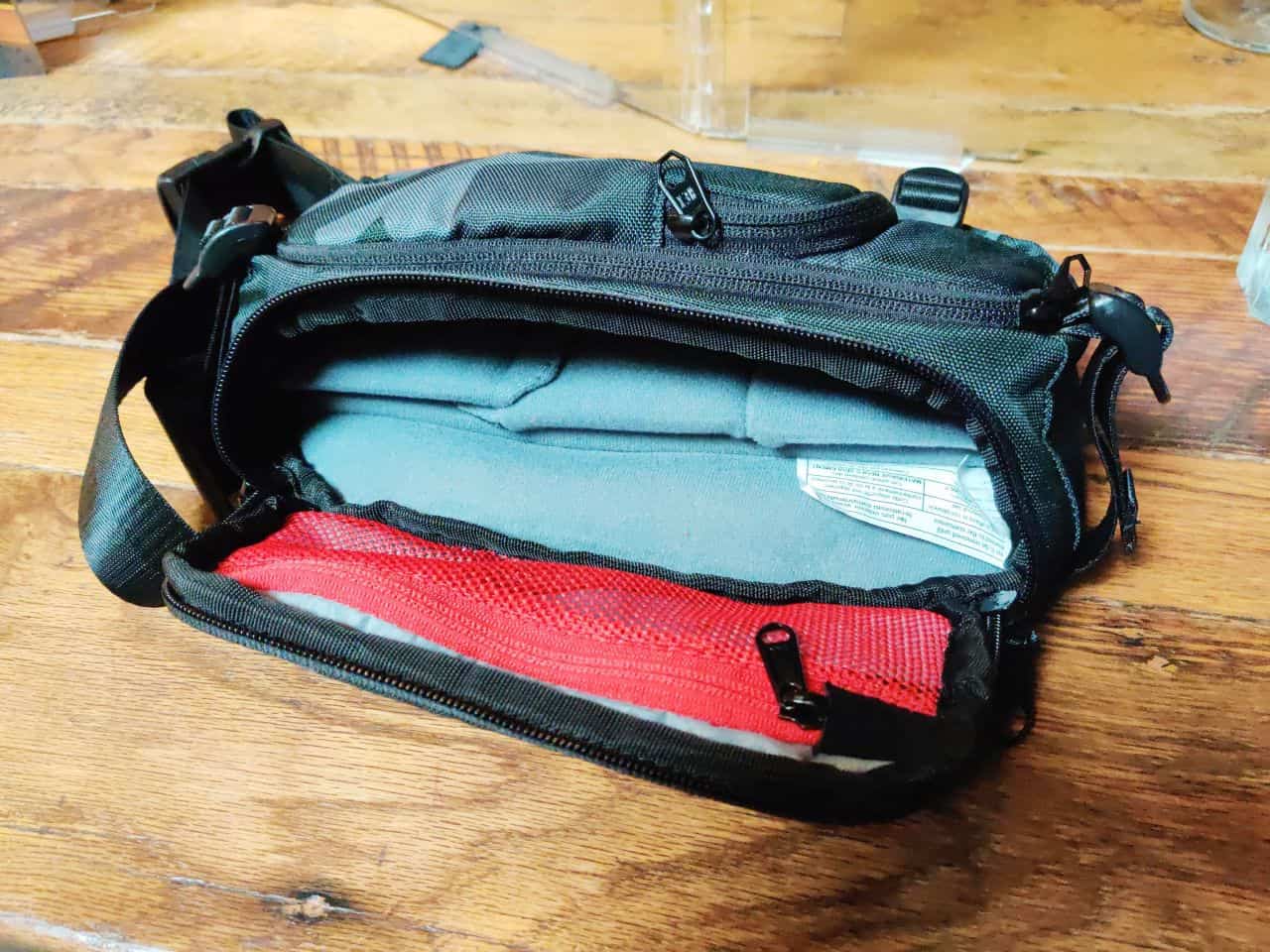 "For the small company I hadn't heard the name of before, I was surprised at the quality!" – Youtube review from a Hex Mini Sling user
Mini but Mighty
With three main areas to store equipment in, the Hex Mini Sling packs a punch for such a small bag.
The main compartment, which you'll probably use the most, has a velcro divider that can be sectioned into three parts. This is ideal for separating your lens, camera, and any other larger equipment you may have.
If you're the proud owner of a mini drone, you're in luck with being able to use the Hex Mini Sling to carry your flyer. It just may be too small for a regular-sized drone, and you'll need to check the measurements before purchasing.
Right at the front of the Hex Mini Sling, you'll find a small pocket suitable for your phone, sunglasses, or anything else you see fit. This is also lined with faux fur for extra protection.
Above this is a section just a little bigger than the phone pocket. Use this to store your additional cables, leads, memory cards, or any other small pieces of equipment.
Easy access for on-the-go travel
The Hex Mini Sling is designed to be accessible. It's made specifically for everyday camera use, with different interchangeable panels and folds to completely compress and flatten if needed. This makes it easy to pack away in your wardrobe, suitcase, or backpack at the end of a long day.
Adjustable bottom carry straps make carrying a tripod even easier, and YKK zippers allow for easy openings.
Designed with the consumer in mind
Choose your Hex Mini Sling in either a Glacier Camo design or a solid black or khaki color. With additional EVA padding, your equipment is always safe and securely tucked away inside the adjustable dividers.
Where you wear the bag as a waist pack, crossbody, or over the shoulder, the strap has a wide range of adjustability for maximum comfort.
"Equip the Creators"
The team at Hex has a motto. They're all about equipping creators to ensure their lives are made easier with their products. The attention to detail with the Hex Mini Sling makes it clear that they're all about the consumer. No detail is overlooked, and the simple act of carrying your camera without hassle or risk is made so much easier.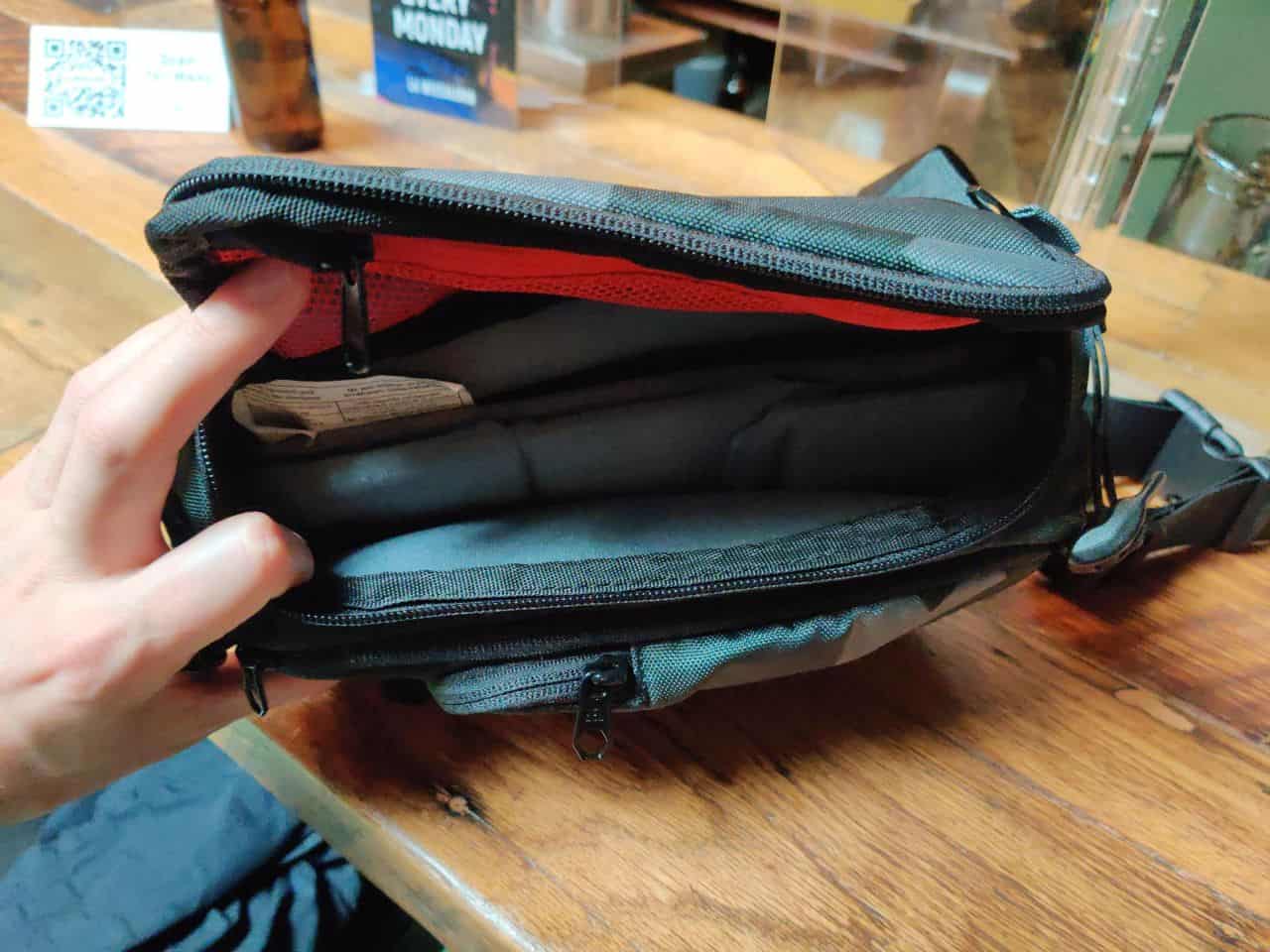 And it's not just for cameras and drones. The Hex Mini Sling can be used for whatever you desire – a Nintendo Switch, headphones, keys, wallets, and phone chargers can be stored inside the bag. It's all about choosing the equipment you want with you, and what you need to protect the most on your travels.
The Verdict
The Hex Mini Sling is a minimal, everyday camera bag for creators who want to have easy access to their equipment, all whilst keeping it safe and secure in a reliable bag.
However, the dimensions are pretty small, so if you're someone who needs to cram in more than just a few pieces of tech, you may want to upgrade to the larger size.
For us, having a space to carry our DSLR, an additional lens and our mobile phone is enough. The mini, simple design makes it perfect for us to carry around our most needed equipment, and to have access to it in the quickest way possible.