This post is sponsored by Good Guy Wellness and #MenWhoBlog, all opinions expressed are my own.
I recently wrote a post about my attempt at slowing down hair loss and hopefully eliminating it. Hair loss is a fact of life for most men, every man in my family has suffered from hair loss as they've gotten older. Most of the "older" men in my neighborhood have lost most of their hair, the only older man I know (in his late 60's) that still has a full head of natural hair is my father-in-law, which is pretty rare. So, I can assume my son will have a full head of hair even when he's old, from what I hear you get your "hair genes" from your mother's father, I don't really know how true that is. But that's my son and he has a long way to go before he worries about such things, and this post is about me and my hair. I don't really know what my maternal grandfather's hair would have been like when he got older because he passed away at a relatively young age.
I have tried to take things into my own hands, by getting a hair loss prevention kit from Good Guy Wellness. Thankfully I still have a full head of hair, but I do feel it's getting thinner. Some of the contributing factors to my hair loss are a very stressful life (hopefully the stressful part is over soon), use of hair gels since high school, use of harsh shampoos, and all the junk in the air.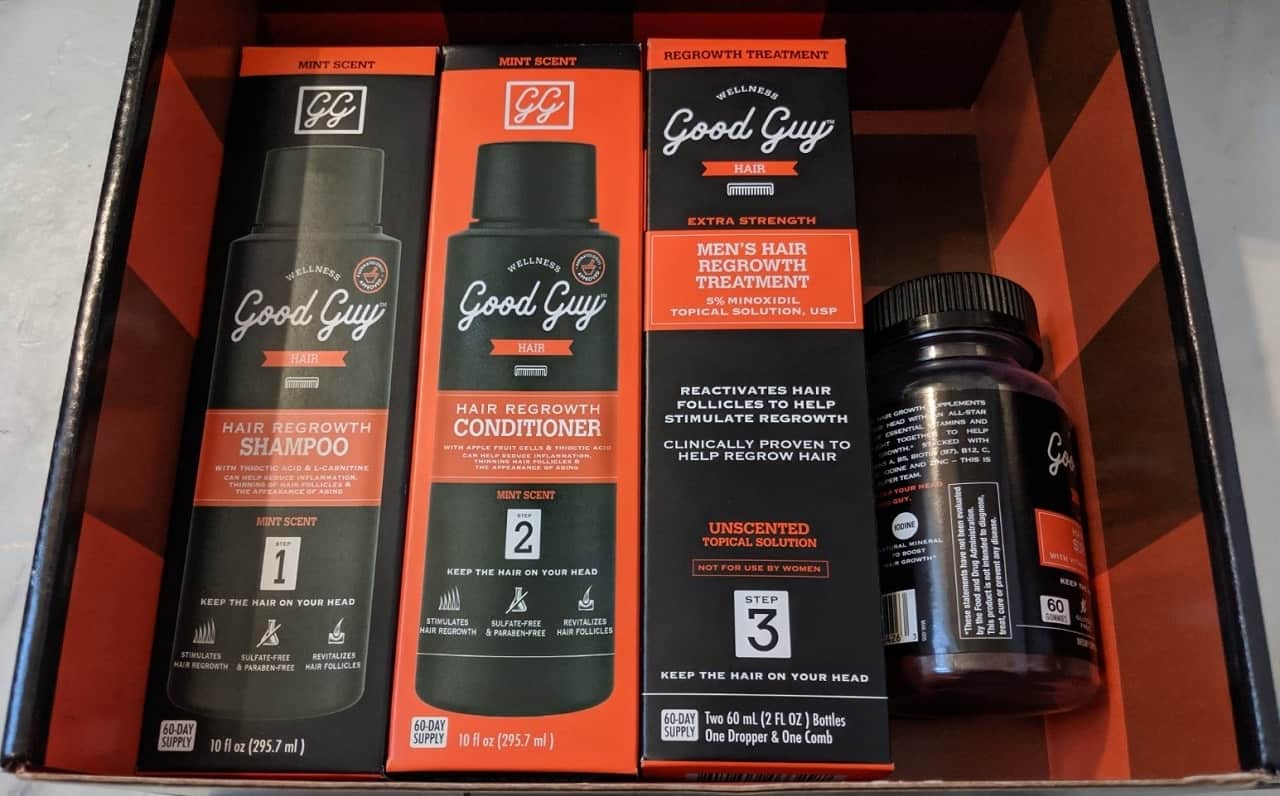 I've been using the full kit, called "The Mane Attraction" from Good Guy Wellness for about two months (so about 30 or so uses, I only shampoo every other day). The kit consists of a shampoo, conditioner, hair growth supplements, and minoxidil treatment.
About 30 uses isn't long enough to come to a conclusion about my hair count, I think using this stuff for a year would give a better idea of how good it works. But I can say the shampoo and conditioner have a very nice smell, and my hair feels way smoother and softer after use. Normally I use some sort of Dove shampoo, never really looked at the bottle, that left my hair soft but with the Good Guy Wellness product, I felt my hair much fluffier and soft to the touch, which my wife loved. So, if you want the ladies enjoying your hair, this product is for you and as an added bonus, you should have a full head of hair when you get older.
The other two products are pretty simple to use, the 5% minoxidil treatment is applied to the scalp twice daily and is unscented. The hair growth supplements included in the kit are pretty tasty, they almost taste like gummy bears but do leave a bit of an aftertaste, which is not really a big deal and is easily remedied by drinking a mouthful of water.
Losing hair is a sensitive subject for men, I still have a good amount of hair and can't imagine myself with a bald/balding head. As I get older, I'm becoming more self-conscious of this issue, even though as I get older, I get more confident, but I'd hate to lose my beautiful hair. Thankfully there are products available that I can take now to completely stop hair loss or at least delay it by a decade or two.
So, are you ready to #thinkaHEAD and do something about the inevitable hair loss you're likely going to suffer from or do nothing and go bald? Have a look at Good Guy Wellness and pick the hair loss kit that works best for you. You can also win one of their kits and a $75 gift car with our friends at ManTripping.