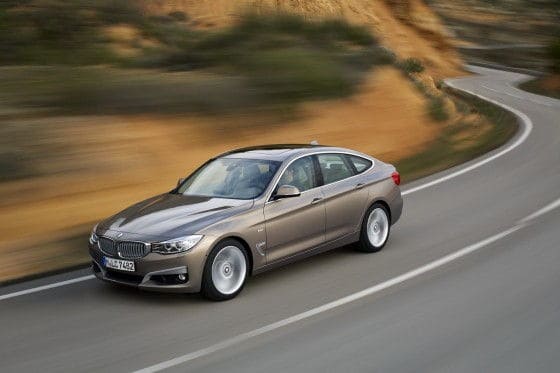 My eyes are still sore from the hideous BMW 5 Series Gran Turismo and now the company has officially unveiled the BMW 3 Series Gran Turismo which is the same thing but on a smaller scale. It seems like the ugly genes just keep on spreading in the German automakers world like an out of control disease. It's a bit surprising to see this variant of the 3 Series being released considering the 5 Series GT isn't exactly a hit in the market place. We'll see how the sales are when the BMW 3 Series hits the US show room floors later this year.
The overall length of the 3 Series Gran Turismo is 7.9-inches longer than the BMW 3 Series Touring (which is a far better looking vehicle) and the GT's wheelbase is 4.3-inches longer while standing 3.2-inches taller than the Touring model. The only useful thing about the 3 Series GT is the additional cargo space this design has to offer. The GT variant features 18.36 cubic feet of space which is almost one cubic foot more than the 3 Series Touring.
I can't complain about the front fascia on the 3 Series GT and high-quality interior which we have become so accustomed to. One design element that I do like about the BMW 3 Series GT is that all four doors have a frameless window design. It's the rear quarter and back of the vehicle which I don't really care for. I was never a fan of the Gran Turismo styling and my opinion on that will remain as such. The 3 Series Touring (wagon) is much more handsome and has a better flow to it.
In the North American market, the BMW 3 Series Gran Turismo will be offered in two models, the 328i with a turbocharged 2.0-liter four-cylinder producing 240hp, and the 335i which is powered by a turbocharged 3.0-liter inline-six producing 300hp. Both models will feature an 8-speed automatic transmission.
In Europe, customers will be able to choose five different models starting with the 320i which produces 181hp from a 2.0-liter turbo, the 328i, 335i, and two four-cylinder diesels. The first diesel option is the 318d producing 141hp and the 320d producing 182hp. The Europeans always get more options than North Americans which sucks but when it comes to the 3 Series GT, they can keep the entire thing.
All-Wheels drive models will also be hitting dealerships but at a later date. Is it true BMW will be releasing a 3 Series Gran Coupe? What do you guys think of the BMW 3 Series Gran Turismo?
BMW 3 Series Gran Turismo Gallery