Sometimes, rather quietly, men ask us about how to buy a suit. These days, men who say suits aren't "in fashion" aren't in touch, or perhaps they don't know how to buy a suit that fits. Today's perfectly-cut suit belongs – even demands – a prime spot in your wardrobe. Here are some thoughts about how to improve suit selection and fit to complement your life:
Suit Jacket: If asked, "What fabric should I choose for tailor made suits jackets?" most men automatically respond "wool." And they're mostly right. Wool suits with a soupcon of man-made fibers are more durable and comfortable than ever.
Consider these tips when buying a jacket:
Note that suit jackets should button without stress or "pull:" No need to leave a button or two unbuttoned to make it look "casual." With regard to buttons, a double-breasted jacket looks modern and even powerful, but it's probably too much for a casual lifestyle.
Consider body type: An overweight individual may not like his looks in a double-breasted jacket because it tends to call attention to his core. A larger man may prefer his look in navy or gray. Chalk stripes can make an average height man look taller, but not if he's shorter than average…
Sleeves should allow for just a touch of cuff to show: French cuffs with cufflinks look fresh now. Finely-detailed jackets also have working sleeve buttons (known as surgeons' cuffs) that allow the wearer to roll them back.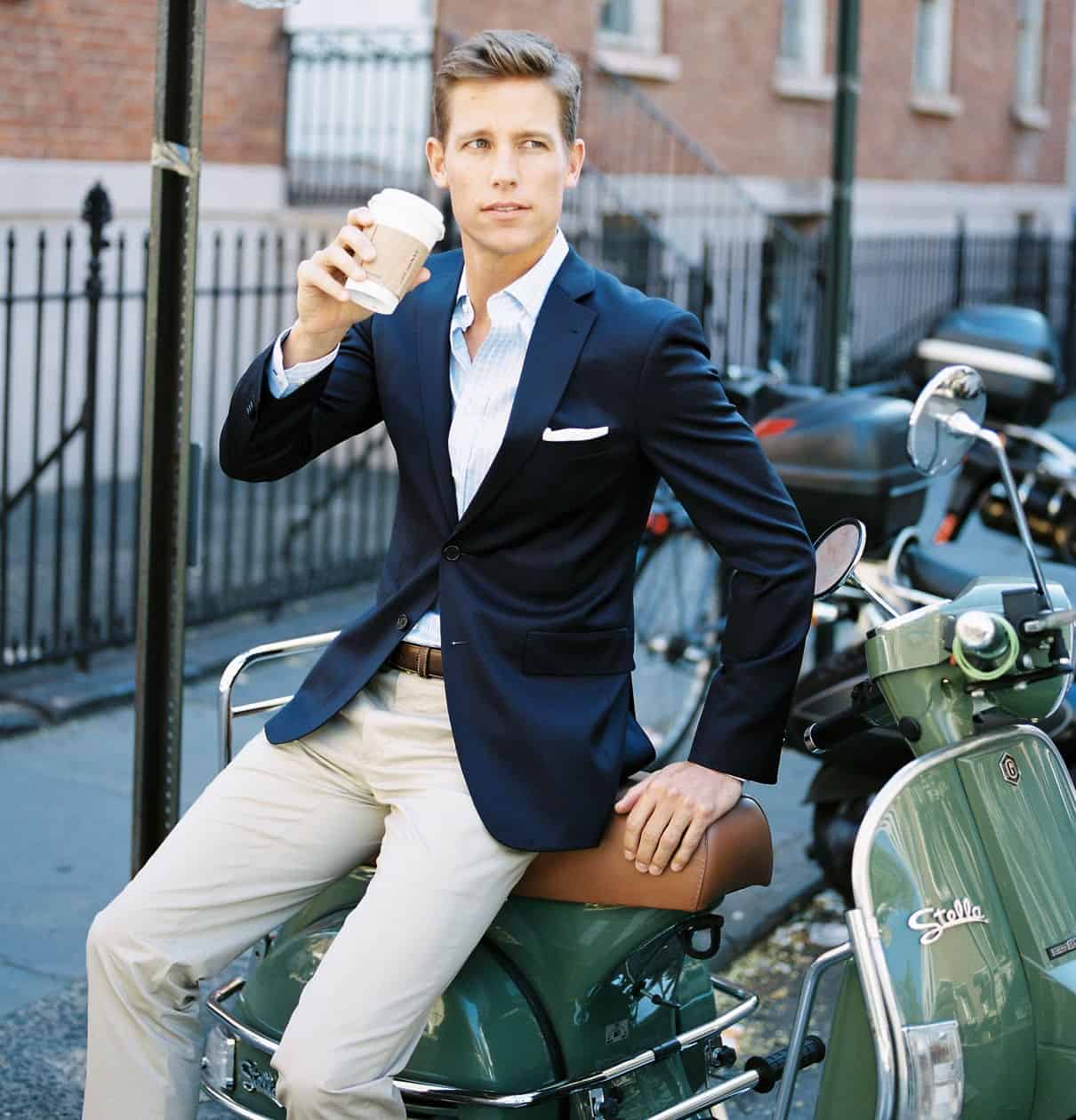 Suit Trousers: Purchasing two pairs of pants for the suit jacket is a smart way to maximize your suit investment. Don't wait!
Here are a few tips about trousers:
Men who wear suits know to lift the pants up at the knee before sitting down. Stress points stretching can happen over time, so keep fabric at the knee from puffing or sagging.
Holding this thought: a classic pair of suspenders keep pants in place. Some men prefer belts at the waist–this is a matter of personal preference.
Cuffed trousers…seem quite dated and really only seem to pair well with double-breasted jacket. 
Fit: Our overview is a good start for the man in search of an improved appearance. Consideration of fabrics, style, color, accessories, and shoes is fine, but you want to know how to get the perfect fit you're after…We found Knot Standard's "Match Your Favorite Suit" method. It's a fantastic idea–and it works:
Start with your suit selection (a brand of suit you own that fits you well right now) from the drop-down menu.
Then, select suit size, style/fit (Classic, Slim, or the unique Fit purchased from the Brand, all of which are present). You're prompted to select extra trousers (we love this feature) in waist sizes 26 to 48 inches.
Finally, Knot Standard gives you the option to change anything you desired about the original suit, including changes to the sleeves and body.
According to Matthew Mueller, CEO and Co-Founder of Knot Standard, "Our newest measuring system – "Match Your Favorite Suit"—is born out of the desire by men to find something that "fits just like the suit I my closet, but with a little more room or a little tweak." In keeping with our tradition of innovating to change how men buy clothes, we set out to build a solution that can reverse-engineer a man from the clothes hanging in his closet. The result is "Match Your Favorite Suit" – it requires no measuring, takes only seconds to complete, and not only tells us what your body looks like, it also tells us a lot about your preferences. The result is an entirely new way to make sure you get something that not only fits, but will fit in the way you expect it to. In short, we make custom clothes for you that fit just as well, or even better, than the clothes you already love to wear."
Yes, the right suit counts. If in doubt, ask a woman or another man wearing a perfectly fitted suit.