We're heading into Christmas time- holiday soirées and New Years are coming up, and with them, they bring the kind of sexy parties that require you to shave off your winter scruff (and your terrifying Movember stache) and get all gussied up in a nice manly suit. Unfortunately, there's nothing that can ruin a guy's charm and chances faster than an ill fitting suit. If you're looking to buy a suit that fits, or just trying to figure out if the one in the back of your closet can be salvaged for one more year (definitely not because you got fat… I know you've been working out, bro,) we can help. Rather than panicking, relying on friends, or avoiding the best fêtes of the season because you're worried about your suit, here are some easy tips to make sure you look fantastic. You can check them in seconds using only your arms, so take your sartorial situation into your own hands and guarantee your suit doesn't kill your holiday game.
How To Buy a Suit That Fits – Use Your Head…Er, Arms
Making sure that you wear/buy a suit that fits is more important that you think- you can buy the most expensive 1818 Suits from Brooks Brothers, but even Brooks Brothers can't help you if you look like a lumpy ass linebacker. Sometimes, you see a guy who's got it all in terms of being put together, but something is just… off- well, that's because his suit doesn't fit. So forget about spending all the hard earned cash you have, and spend your time getting what you want and making sure it…suits you.
1. Shoulder Pads and Shoulders in General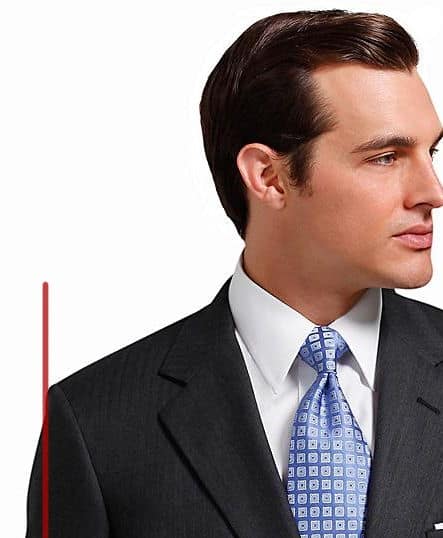 Most suits have some structure or padding in the shoulders. This is because if you have broad shoulders you are extra manly and that means extra good. But, in all seriousness, having that nice, square balanced look across your shoulders is one of the biggest things that you notice when you buy a suit that fits. You might not be able to put your finger on it, but trust me, if your shoulders are out of whack, it stands out as wrong immediately. If you want proof, just check out this post I wrote on some truly atrocious men's fashion- there are all sorts of wacky shoulder issues up in here.
When standing in front of a mirror, check that your shoulder pads end where your shoulder ends. If it sticks out further, you end up looking like you've got some crazy bat wings, and when you move, your whole suit will wear you. Too short, and you'll look like you have permanently bad posture, and like you're constantly hunching in on yourself. You'll also get a weird pyramidal look, and unfortunately, we can't blame that on aliens.
This might seem like pretty simple stuff, but it's easy to get caught up in the details like your killer lapels, or the hot red tie you picked out because you're in your scarlet fever stage. Take a second to stand straight, and look at your shoulders while they're level. Don't fall for an over padded shoulder because you want to look bigger, and don't think that because your shoulders are creeping up because they're too short that it makes your pipes look ready to burst.
2. Arm Length and Cuffs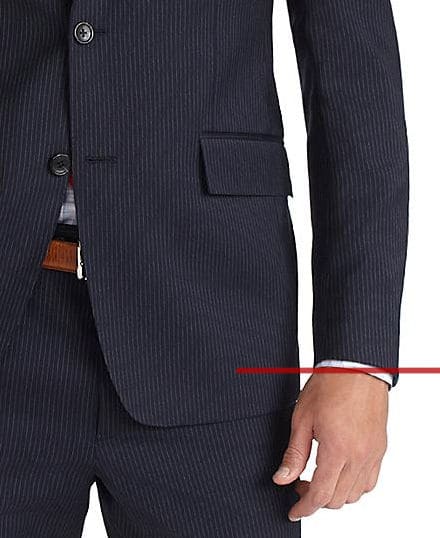 This one often causes guys trouble, just because it doesn't really seem like a big thing, and it's extra effort to get tailoring done. Maybe you find a suit that fits in every way but the arms, and you think you can get away with it because you'll take the jacket off or put your hands in your pockets- the truth is, you still didn't buy a suit that fits! Your sleeve should rest right where the base of your thumb joins your wrist, and there should be about a quarter to a half inch of your shirt showing.
Sleeves that are too long don't just look silly, they will drive you insane. You'll be wishing you could roll up your sleeves or be dipping them into the hors d'oeuvres, but mostly, you'll end up wishing you could rip them off like the Hulk. Or maybe Hulk Hogan. I've also seen a lot of hipster guys with exceptionally short jacket sleeves (and even ankles in slim fit pants… which is just sad)  showing off oversize cuffs. I'm not into that whole genderless malleability look, where male fashions trend into metrosexual or androgynous territory. Power to those who like it, but when I say buy a suit that fits, I'm talking about a classic, manly fit. You may not be trendy or edgy, but you will never, EVER go out of style. Sexy style.
3. Fit Across the Chest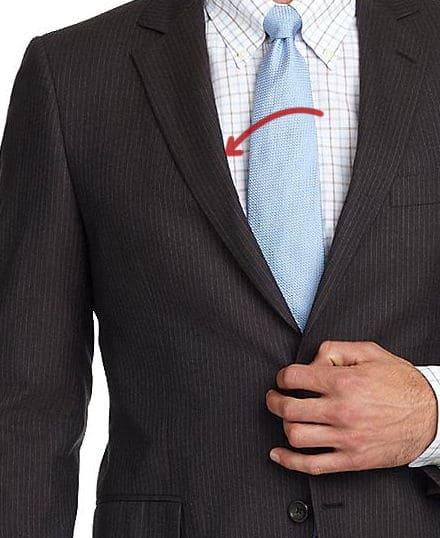 I have a friend who tests the fit of his jackets by arching his shoulders and seeing if the button flies off. While I can't deny that this does work in some fashion, your local haberdasher will be pretty miffed with you. Rather than do some sort of wacky dance in front of the mirror, ruin a number of suits while trying, or buy something that you drown in (you won't grow into it), there's a simple check to make sure you have the right amount of play across the chest of your suit.
When facing the mirror with the jacket done up, take your hand, lay it flat and slide it under your lapel and across your chest. This movement should be easy to make, and your hand should have room without wiggling it in there like Napoleon. If you pat your chest with your hand there, there should be an inch or two play. If you make a fist and press it to your chest, it should pull at the fastened button. Any more than that, and you won't get that clean, fitted look across the back and around your sides.
4. Length of the Jacket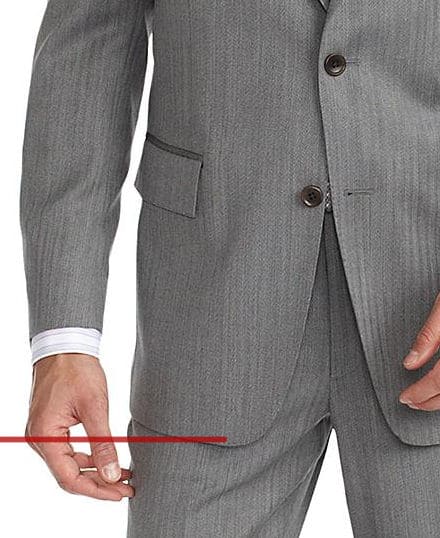 The length of your jacket can have a pretty big impact on how you look overal. Too long, and you'll look like you have weird baby legs. Too short and you'll look like a creepy Slenderman or Steve Urkle.  Look straight on in the mirror, stand with good posture and let your arms hang naturally at your sides. The bottom of your jacket should be in line with your knuckles. The body has an amazing way of proportioning itself properly (…usually) so the easiest way to look your best and buy a suit that fits is to follow nature's cues.
There are a lot of suits out there, and they run the gamut in pricing and styling. It's a scary world filled with choices and women and things that go bump in the night. One of the great things about heading towards becoming a finished man is the ability to take care of yourself, solve problems, and be confident. No matter what  your style or budget, the absolute best way to look great in your formal wear is to buy a suit that fits, and there's no magic or mystery required- you've got all the tools in your hands… er, arms.